So Brett asked me to do a story on the Worlds Toughest Mudder Community (original article here). Heretofore in this article, we will simply refer to the WTM Community as "The Community."
Regarding "The Community," like most of my relationships in the past have been: it's complicated. A good community grows ever so slightly when a new person joins and takes on active participation. I've seen so many groups in which one person or a small clique of people attempt to dominate a discussion or concept. This is NOT that community. We have new people enter us every day (double entendre… BAM), and the team of people keeps getting bigger and bigger.
Here is why I think The Community is the best in OCR:
1) The race leaders don't feel pressured to respond or dominate the discussion.
Ryan Atkins rarely responds or posts unless he is prompted. Deanna Blegg mostly talks about how she loves everyone else. Amelia Boone, the most active of the elite runners, mostly talks about Pop Tarts and her undying love for her boyfriend (ok, maybe only Pop Tarts). It's also one of the very few places in OCR where the athletes feel they don't have to hashtag everything under the sun.
2) For 98% of the runners, World's Toughest Mudder is a spiritual experience, not a race.
WTM is the Vatican City of The Community, the gathering place where people shed their regular existences to express their extraordinary resolve. 1200 runners toe the line in Las Vegas, where our head deacon, Sean Corvelle, provides us with a little more insight into ourselves we haven't thought of. Then we run laps under ridiculous duress in horribly varying temperatures while we ponder what Sean has told us. I am not exaggerating when I say that people's lives are changed by this experience. Mine certainly was.
3) We are the embodiment of the "movement" that Will Dean speaks of.
Will Dean always mentions that when he was building Tough Mudder, he wanted to start a "movement," an event that fosters camaraderie. To win most obstacle course races, you have to cross the finish line first. With Tough Mudder, your sense of accomplishment comes from helping others. The camaraderie carries over to World's Toughest Mudder and is embodied in The Community. TMHQ supplies checks to those who are the fastest and last the longest, but this doesn't make you a winner in the Community. Nobody cares if you win and you're a dick.
Further Proof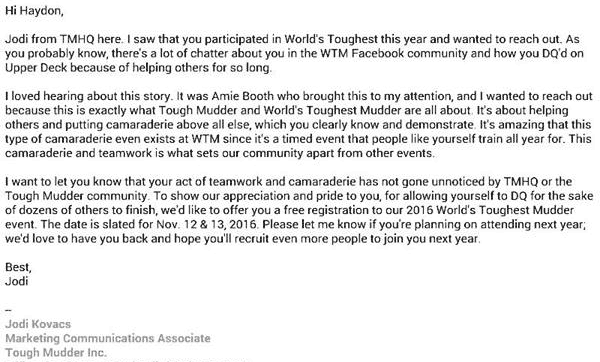 The biggest reason I ran with Team Four Eyes (KC Hereth, Joe Van Dyke, and Walter Lyon) this year is because they are LEGENDARY in their efforts to help people over obstacles on the course… something I resonate with.  These guys win… at life.
We don't love Amelia Boone, Deanna Blegg, Juliana Sproles, Ryan Atkins, and Junyong Pak simply because they're great athletes.  We love them because they openly support the efforts of The Community on and off the course.  It's the same reason we will accept Chad Trammell into our ranks (just an excellent human being).
Quite simply: Everyone has the capacity within them to be great.  The Community and WTM is a stage in which you can demonstrate that greatness.
4) The Community doesn't start and end at WTM.  
There are dozens of selfless acts in which Community members have figured out ways to get other Community members to the race who have fallen on hard times.  Sometimes those selfless acts extend outside the scope of the event, such as watching children for a weekend, helping out at one another's house, supporting a $50,000 fundraiser for Wounded Warrior Project (thank you!!!!), or visiting deep friends who have been stricken with Cancer.
Many of us now have new lifetime friends through The Community.  Some of us have found life companions.  In any case, the hearts of individuals in The Community are extraordinary.  You won't find a better gathering of selfless souls with altruistic goals.
5) Will Dean is a very attractive man.
I just needed a fifth bullet point to round them all out.  
Community Leaders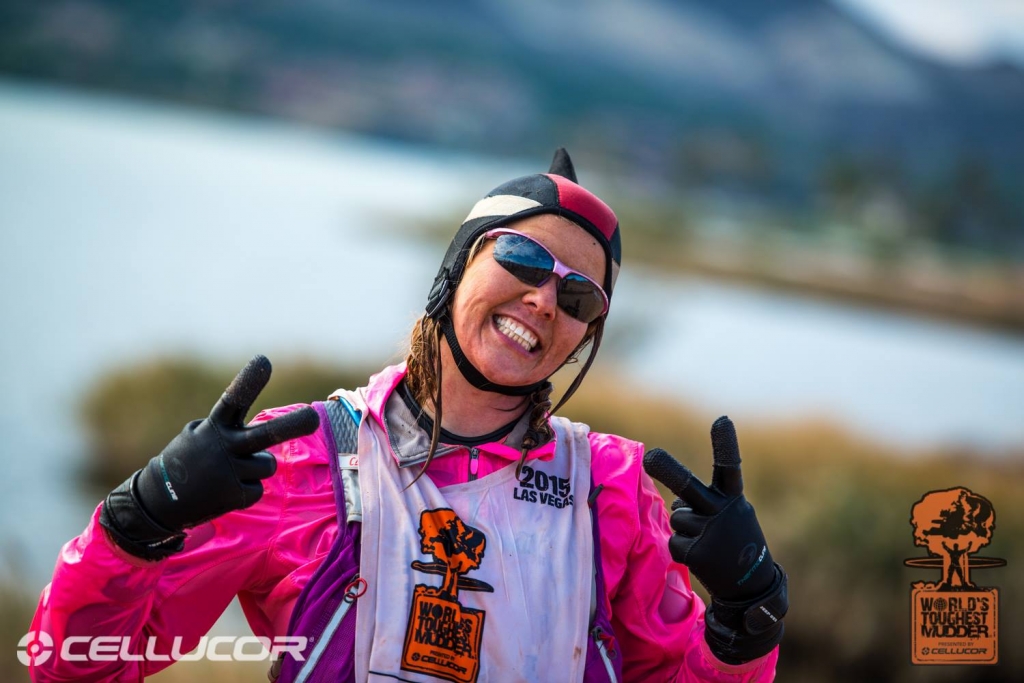 That sums up my thoughts on The Community, but it would be remiss of me to not mention our esteemed leaders. Everyone in The Community is a leader in some way, but the efforts of these folks are very visible:
1) Ken Jacobus, Community Founder. 
He is the Godfather and Founder of the modern community.  This guy was the original coordinator of pre and post events, attempting to get people together for dinners since 2011.  He is also the lead admin for the Facebook group.  Nobody can touch this dude.
2) Jim Campbell, Inspirational Leader. 
Da Goat.  Toughest SOB On The Planet.  He goes by many names, but I like to call him a friend when he's not trolling me.
3) Melissa Dugan, the Organizer.
This amazing woman is the silent partner behind many things; including the Orphan Tent, the dinners, and many other events.  She also does almost every Tough Mudder that TMHQ puts on.
4) Carlo Piscitello and Joshua Cox, the Voices. 
What other OCR community has their own show?  This show is littered with dick jokes and beer… with a few insights to help you with WTM.  Mostly dick jokes and beer, though.
5) Eric Jenkins, the Muscle and Hustle. 
I'm pretty sure this guy has done more Tough Mudder laps than Trump has uttered "China" in his presidential bid (https://www.youtube.com/watch?v=RDrfE9I8_hs).  He does things behind the scenes for people, and also organizes some events for many of our Community folks.  His efforts to raise money for Wounded Warrior were tremendous in this space.
6) Keith Allen, Shoe and Gear Guy.
Most people think of him as a troll.  That's kind of his side gig.  He's actually one of the most intelligent people on the planet and has great insight into what people should prepare themselves with at the event.
I'm lucky and thankful to be a part of The Community and I hope that it continues to show the rest of the OCR world what it means to be successful in both racing and life.
Next article: How I met the World's Toughest Mudder while on a date with the other World's Toughest Mudder
---
Disclaimer: The viewpoints expressed by the authors do not necessarily reflect the opinions, viewpoints and official policies of Mud Run Guide LLC, or their staff. The comments posted on this Website are solely the opinions of the posters.