It's that time of year. Time to give the loved ones around you something special for the holidays. But then the question becomes what to get the OCR enthusiast in your household. Don't worry we compiled a list of items to help you and your loved ones get everything they want this year including the wishlists of some of our staff at MRG.
Race Entries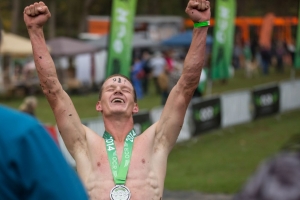 Race entries are always a good idea for the OCR enthusiast in your life. Whether you decide to splurge on a season pass for your loved one or a single race entry, nothing says I love you to your significant other, sister, brother, or friend like giving them the gift of a race experience. Even better make it a group outing for both of you and turn the gift into an activity you both can share.
The MRG Team suggested: Branch out in 2016 find one or two new events near your home. Check out our map and savings page.
Stocking Stuffers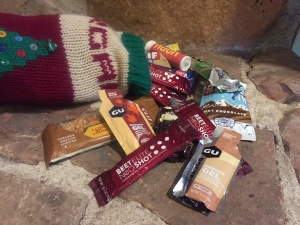 Skip the toothpaste, socks, nail clippers, and nail files in this year's stocking. Instead for the OCR enthusiast fill their stocking with sports nutrition, you know all the bars, gels, gummies, drink mixes and more this year. A quick trip to your local outdoors shop is a great place to pick up a variety of nutritional items to throw in a stocking. Not only will you be able to fill your loved one's stocking as it hangs by the fireplace but also give a gift that says you care about your partner, child or friends passion. Be sure to also throw in from Neosporin and bandaids, always an OCR staple.
Some of the favorites from MRG staff: Beard™ Bars, Clif Bars, Epic Bars, Beet Elite, GU-Roctane Energy Gels, or GU Energy Gummies
Budget Conscious Gifts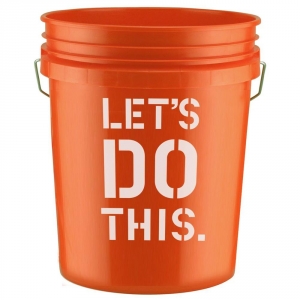 For those on a budget, this holiday season have no fear MRG is here for you! Obstacle Course Racing items don't have to be expensive. A quick trip to the local hardware store can give you all the basics for a great set of OCR presents. Create a custom 5-gallon bucket for your loved one, take the 5-gallon buckets sold at a local hardware store and a little bit of spray paint to make a custom training bucket. Bonus if you are crafty enough to add the person's name. The hardware store is also a great place to find cinder blocks to carry, logs to throw and carry, as well as all the materials to create a slosh pipe.
For those looking for a little more traditional gift consider items like Playout The Game, a sturdy pair of wool socks from Darn Tough or Smartwool or other smaller items.
Our MRG staff suggests: Checking out Groupon for deals on items like arm guards or calf sleeves.
Training Tools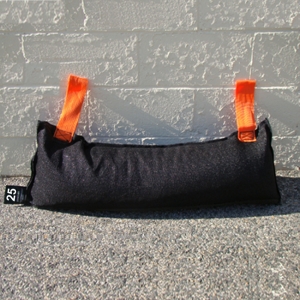 Some of the easiest OCR training tools are listed above, however if you are ready to level up your training tools there are a number of items to help your favorite OCR enthusiast this fall. When we polled our team an overwhelming number of them agreed a Wreck Bag was at the top of their training wish list. The Wreck Bag is the perfect training tool for those looking for a lasting, durable, not sand "sandbag". This bag will maintain it's shape and size through all weather conditions.
Other training tools include Sinergy Sports Pups to help build strength in your pushups without breaking the bank. Also, check out their new High-Speed Heavy Rope. Other popular items are the Hyperwear weighted vest or Sandbells (also known as the Spartan Pancake), Dirt in Your Skirt Spear Kit, Ruck Sack from GORUCK and Ruck Plates to go with it.
Additional items to throw into the training mix are OCR shoes, like Icebug, Inov-8, Reebok and Salomon. Compression wear is always a favorite for the OCR athlete from companies like Athletics8, CW-X, and others. Probably one of the most popular items this fall during the championship season was the DryRobe, perfect for before and after the race to keep you warm.
Our MRG staff highly recommended: Icebug and Wreck Bag
Book Worms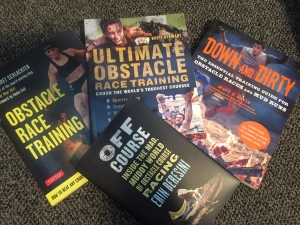 For the reader in your family, there are a number of books popping up about the sport of obstacle course racing. Everything from the coffee table read to in-depth training books have been written about the sport now. Below is a list of books handpicked for the OCR enthusiasts bookshelf.
Confessions of an Unlikely Runner: A Guide to Racing and Obstacle Courses for the Averagely Fit and Halfway Dedicated by Dana Ayers
Down and Dirty: The Essential Training Guide for Obstacle Races and Mud Runs by Matt B. Davis
Get Muddy: Personal Stories of Obstacle Course Racing by Gail Waesche Kislevitz
Obstacle Race Training: How to Beat Any Course, Compete Like a Champion and Change Your Life by Margaret Schlachter
Off Course: Inside the Mad, Muddy World of Obstacle Course Racing by Erin Beresini
Spartan Up!: A Take-No-Prisoners Guide to Overcoming Obstacles and Achieving Peak Performance in Life by Joe De Sena
Ultimate Obstacle Race Training: Crush the World's Toughest Courses by Brett Stewart
Our MRG Staff is biased on this one, but we think why pick one! 
Personal Training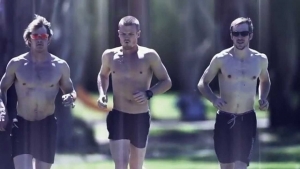 For those looking to take obstacle racing to the next level in 2015 consider asking Santa for an OCR personal trainer. Whether you find a local trainer in your idea or work with one of the stellar coaches online. A few of the favorite online coaching programs are:
Obstacle Course Training. Three of the best OCR athletes in the world have joined together to offer creative online training programs for athletes looking to workout without a gym. Jon Albon, Ryan Atkins, and Matt Murphy have banded together to offer a unique training opportunity as well as personal interaction with some of the best racers in the world.
Obstacle Dominator. Fitness Guru Ben Greenfield and elite racer Hunter McIntyre teamed up to create Obstacle Dominator. Check out their 8-week program for all fitness levels. Greenfield and McIntyre have worked together to create a unique training program with access to interviews with industry insiders.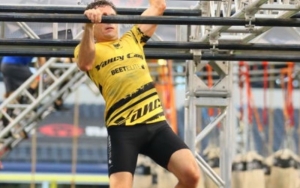 Tough Training. Chris Rutz of Tough Training is an OCR original. He creates custom OCR training programs for a select number of clients. Rutz combines the Spartan SGX coaching pillars with CrossFit Endurance Coaching.
Yancy Camp.  Yancy Culp of Yancy Camp trains many of the top obstacle course racers today and has created programs for athletes of all levels. Want to train like your favorite OCR athlete? Yancy Camp offers you programs to put in the same training as some of your favorite athletes.
The MRG staff: Can we have them all coaching us? Be sure to mention Mud Run Guide when you sign up your favorite racer.
Showing off Your Bling Gifts
Let's face it when it comes to racing most are all about the bling! This year give your favorite OCR fan a gift to let them show off the bling in their house. Have a shadowbox made for all those medals or bibs; turn those extra t-shirts into a blanket, comforter, and pillow cases. You can even have old bibs made into coasters, bags, and more. Are you the crafty one in the house? Turn all those old race bibs into a scrapbook along with photos of the different events for a loved one or friend. These can be low-cost gifts to fit almost every budget.
The MRG staff: Pick a few favorites from your loved one's collections and have them put into a shadowbox. We also love t-shirt blankets. Check out our articles What to do With All These Items Series – T-shirts, Bibs, and Medals
Splurge/Wish List Items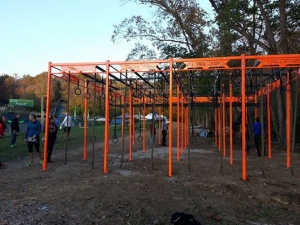 While you may not have a vault of money hidden away for gifts this year it's fun to imagine. Our team compiled their ultimate splurge items for the OCR Enthusiast. We call these the ultimate items. High on our list was our very own Platinum Rig. Also making the list was the customized Singery Sports Rage Cage, because who doesn't want a Rig or Cage in their backyard or garage?
Also on our list for splurge/wish list would be an around the world OCR trip. We wouldn't mind hopping on a plane and hitting up OCR's around the world in the process. Who wouldn't want to combine world travel and OCR?
Overall, no matter what you get your favorite OCR athlete this year you can be sure they will give you an extra smile this holiday as you help feed their passion. Be sure to check out our race discounts and gear discounts pages to make sure you save the most you can this season so maybe next year you will be on that OCR World Trip!