Last week BattleFrog Series on the heels of their championships announced for 2016 they would offer a variety of multi-race and season pass options for competitors at all levels. The season pass allows loyal BattleFrog athletes the chance to get the most of their race experience.
We reached out to BattleFrog's Lifestyle Director Corinna Coffin to tell us more about the new multi-race and season pass options. Coffin, was instrumental as part of the group that created the season pass for BattleFrog. When we spoke with her, she mentioned it was a great deal for athletes of all levels and is excited to see more people do multiple BattleFrogs in the coming year.
We also asked Coffin about her own racing for 2016 and you should expect to see her at at least eleven races in 2016. The full press release below on the new season pass.
BattleFrog Season Pass Information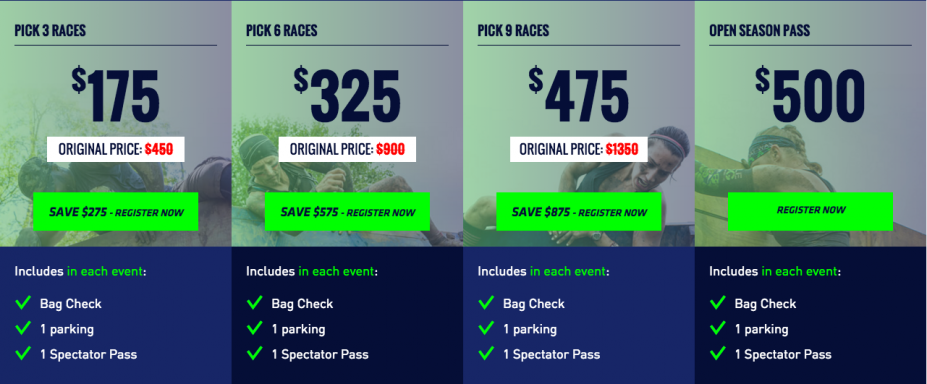 BattleFrog, the nation's fastest growing obstacle course race (OCR) series and the title sponsor of the 2016 BattleFrog Fiesta Bowl, has unveiled long-awaited 2016 season passes as a Christmas season special.
BattleFrog's Chief Executive Officer Ramiro Ortiz heralded the Christmas season release saying, "This highly anticipated offering is a bargain for the entire BattleFrog community." OCR Industry Analysts already acknowledge that BattleFrog is the best value in participation sports, hands down. But the new passes will provide extra discounts and benefits which, according to Ortiz, mean "Battlers can enjoy BattleFrog year-round, throughout North America at a fraction of single-race pricing. As our mascot Rippit would say: BattleFrog – Gotta Live it! This is the gift your favorite athlete will want in their stocking."
This Christmas present not only comes with significant discounts for multiple races, but also includes convenient perks including free parking, bag check, and a free spectator pass. This is the ultimate gift for someone you care for.
Prices for 2016 Season Passes, which are valid for all forty-three regular season BattleFrog races throughout North America, will be as follows:
| | | | | |
| --- | --- | --- | --- | --- |
|   | 3-Race | 6-Race | 9-Race | Full Season |
| BattleFrog Open | $175 | $325 | $475 | $500 |
| BFX & Elite | $270 | $480 | $680 | $750 |
To see the full suite of options and prices, visit www.battlefrogseries.com and lock in your holiday savings today. (Prices are in USD and do not include taxes, fees or insurance).
The announcement of Season Passes comes fresh on the heels of the close of BattleFrog's 2015 season and blockbuster reviews of its "Open Championship". The Open Championship saw the crowning of OCR's "dream couple" Ryan Atkins and Lindsay Webster as BattleFrog Champions at Rock Springs Run State Reserve near Orlando. Set against the beautiful Wekiva River shoreline, the race highlighted some of Florida's most beautiful terrain and wildlife. To read more about the BattleFrog Open Championship, please see our December 12, 2015, press release available here.
The BattleFrog Open Championship also featured the latest breakthrough in race experiences: highlight personal videos of each racer were recorded and mixed by BattleFrog's Strategic Vendor: iRewind. As part of its groundbreaking agreement for the entire 2016 season, BattleFrog is offering every Battler free highlight videos of their race which will be shareable on social media. Ortiz excitedly observed that "free personal highlight videos is just one more way that BattleFrog adds value for its Battlers. We have singular locations, well laid-out obstacle courses and cutting edge technology. Come and see for yourself why Battling is Believing in 2016." More information about this exciting development is available here.
The 2016 BattleFrog Season kicks off on the west coast with stops in San Diego (January 23), Phoenix (January 30), Los Angeles (February 6), San Francisco (February 20) and Las Vegas (February 27) before returning to BattleFrog's home town of Miami on March 4, 2016, where BattleFrog will also be hosting its first twenty-four hour race, to be followed by its full course offerings at an event to be held March 5, 2016. BattleFrog offers forty-four races in thirty-three cities in 2016 throughout North America.