The West Coast debut of BattleFrog Series has been overwhelmingly positive, but not without trepidations. Attendance has been light to moderate, but those who have gone have vocally enjoyed themselves tremendously. The initial grumbling about the "San Francisco" race being held at Lake Sonoma, which is a rather a long distance from the actual City by the Bay slowly quieted, as social media photos began to emerge of breathtaking views and promises of impressive elevation. As it became clear that the terrain unto itself was going to be an amazing obstacle, registrations came in, and racers got excited. Christopher "Beard" Acord put out a promise of a free beer on him to any athletes who could finish in sub 2 hours. A pretty good indication that we were in for one heck of a ride.
BattleFrog NorCal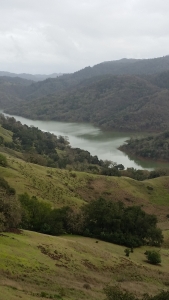 The day before the event was wet and gloomy, and mud was definitely going to be prevalent along the nearly 7-mile course. But the Race Gods smiled down on race day, and the sun broke through for perfect weather. At 9:00 am, we entered the corral to Coach Pain's always inspiring words, and we were off.
The first few obstacles were typical though the new MOBS units holding them together looked fantastic and felt VERY safe and sturdy. All seemed par for the course until we were stopped dead in our tracks by the next obstacle – the hill scramble. This one was a beauty – a true hands and feet scramble for many, that had several false crests and slowed down a lot of unsuspecting racers. The 360-degree views, however, were a stunning distraction and kept everyone loving every painful step. This was not a hateful never-ending Wintergreen sufferfest however – this felt…good.
At the top, the hills kept coming and going at a very sustainable pace. The obstacles ranged from your favorite standards (wedge walls, inverted walls) to exciting and innovative versions of others (The Weaver, and a new configuration for Tip of the Spear) and then…there it was. The game changer.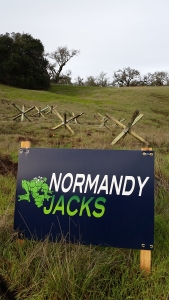 I always get a little inner smile when I hear "Which ones are the women's bags?" and the volunteer at this Wreck Bag carry seemed to enjoy it just as much. "These ones to the left" he replied – pointing at, what was quite obviously, a pile of the exact same 50# bags as all the others. Some people looked delighted, others, terrified. But everyone stepped up to the challenge. This particular carry had some slippery hills and we watched a lot of racers go down on their behinds (by choice or otherwise), lose their bags down the side of the hill (I guess it isn't cheating if it's an accident) and some even rode their bags to the bottom. Not to shamelessly plug Icebug shoes, but… I had a lot of people looking enviously at my feet right about that time. Of course, what goes down, must come back up, and the uphill carry was a delicious killer.
The best part about heavy carries is that when you shed your burden, you feel so light that sprinting is a must. More walls, the return of the always fun caving ladders, and a wonderful slog through the immensely refreshing Lake Sonoma flew by before the Jerry Can Carry once again taxed our stamina. It was blessedly brief however, and the obstacles and gorgeous terrain that followed were all challenging but really fun and doable, even for a miniature human such as myself. Favorites like the tree cargo and 60 Degrees were welcome by everyone and smiles were way more prevalent than grimaces, despite the difficulty some were experiencing. I talked to a lot of racers around that point, not identifying myself, and every last one of them were excited to sign up for the next race. There was no question that BattleFrog was triumphant in their risky decision to take the location so far into new territory.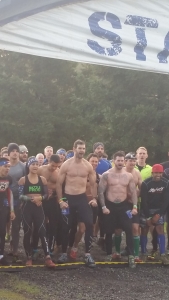 The course map had been released a couple days earlier, and many of us knew and dreaded what was coming up. However, the terrain and views were so exquisite, that people were saying they found themselves reenergized with every step. Brand new race director Adam Washburn knew this intrinsically when he was plotting the course with Acord, and he truly showed his natural talent for the job in the choices made. We ran into him at the first of the "Hell Series" (Double-length Platinum Rig, Monkey Bars, Rope Wall) where he had planted himself for hours, tirelessly coaching and encouraging racers across the brutal cage. I feel very safe saying that there are a lot of people who owe their bands to his constant inspiration – never realizing he was the cruel mastermind behind that beast in the first place. Myself – I enjoyed some delightful 8 count body builders there without shame and in good company.
In a show of true understanding of the human spirit – BattleFrog did not let the race end on an obstacle that promised a high failure rate. It is important that people end their experience feeling accomplished, and with the always visually daunting but doable BF staple, the Delta Cargo as the final obstacle, we crossed the finish line exhausted, exhilarated and happy. We, along with the approximately 1700 other racers that crossed that line that day earned the heck out of our medals.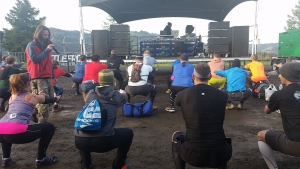 I am told that the owners of the location were delighted with the outcome of having BattleFrog there, and so for those who are feeling major race envy as all the social media ravings are posted, keep your sights on 2017 for redemption. This was a race to not miss again. It made fans of the brand even bigger supporters, and those who have been on the fence into admitted allies. Above all else, this race solidified the East Coast resident BattleFrog as a true West Coast contender. And, by all means, don't take my word for it…see for yourself. You will be glad you did.
Oh, and for those of you keeping track – no one collected on Beard's challenge.
Rating: 5/5
---
Have you done a BattleFrog?  Leave your own BattleFrog review and feedback…
Use discount code MRG20 for $20 off your next BattleFrog Series registration!