Antelope Canyon 50 – A Chance to Run in Breathtaking Slot Canyons!
With my wife Kristen and daughter Vivi in-tow, we hauled the Mud Run Guide RV a couple hundred miles and thousands of feet in elevation, topping out at about 7,321′ in Flagstaff. Luckily gas is cheap right now as a 30-something foot RV towing a car isn't the most economical way to go to a race series that takes great pride and a considerable effort to offer environmentally sustainable, destination trail races in one of the most stunning regions of the planet.
The long miles you can log in the back country in a single outing gives you this unique experience. You will walk away from our races feeling like you've pushed your limits physically while being visually rewarded as well. In addition, you can take pride in the fact that you have participated a ground-breakingly sustainable event, with zero waste sent to the landfill or waste water treatment facilities.

Each of the races in The Grand Circle Trail Series is completely unique from the others due to the amazing geological diversity in the region. This area has the highest concentration of national parks in the country as well as many tribal parks, national monuments, and wilderness areas that are every bit as amazing.

We strive to provide the special touches at our races that will leave you with fond memories that remain long after the pain of running them subsides. What better place to meet new friends in the ultra and trail running community? 

You, as a trail runner, will have the opportunity to experience the landscape in a way that few others are able. – Ultra Adventures 
All the reviews of Ultra Adventures' events were incredibly positive, and so many athletes consider their Grand Circle events as once-in-a-lifetime, must-do trail runs. Antelope Canyon 50 featured some breathtaking views and also included running on some areas that aren't open to the public. So, we'd get an amazing chance to spent hours where very few humans get to go! I'd clicked "interested" on the Facebook event weeks earlier, and just a few days before the trail run I found out good friends and MRG contributors Eric and Nina Acuña would be there along with Chris Cow, Anne Plourde, and ultra-running legend, Patrick Sweeney. I registered and was in; excited to hang with my girls and friends, check out some amazing scenery on the run, and meet up with Race Director Matt Gunn up in Page, AZ at the natural stone amphitheater that would serve as the start and finish lines.
Well, I started off really anxious to get up to Page and run, and then something very strange happened.
The Course Looks Stunning – Yet I Just Don't Want to Run
Only twice in my life have I ever felt such an overbearing sense of melancholy before the start of an event; standing on the edge of Tempe Town Lake right before Ironman AZ in 2009, and last weekend before Antelope Canyon 50. Well, that's not exactly accurate; IMAZ '09 was really more of a panic attack, similar to the first time I went skydiving and my body completely seized up. In both of those scenarios, the terror came on – and left – just as swiftly, and I was able to unfreeze long enough to make the jump. Each of those events ended up being high points in my life, made even more so by overcoming those extremely rare panic attacks. I'm not the toughest, strongest, fastest, (handsomest, smartest, I could go on here…) guy, but I'm usually pretty chill and have never been deeply afraid of a challenge. That's what made my extreme discomfort with Antelope Canyon 50 all the more puzzling to me; it began during the 4-hour drive from Northern Phoenix and grew the entire trip, through dinner, and was especially haunting overnight during a tumultuous night of rest, far be it from actual sleep.
The uncomfortable dread in the pit of my stomach didn't taste like fear, as I've run over 50 miles a handful of times and had a decent idea what was in store – or at least I thought I did – and it didn't feel anything like a normal case of stomach butterflies or frayed nerves any athlete gets at the starting line or before a big game. It wasn't until the alarm went off in the RV at 5:05am that I finally verbalized it to Kristen, who I'd managed to keep awake all night with my constant tossing and turning, that I felt underprepared, overwhelmed, and completely blah about what should be an epic journey. I sucked it up and threw on my gear* and although my stomach wasn't quite interested in food at this point, I munched on a Clif bar and drank a cup of coffee on the dark path down to the start line listening to the Navajo tribal leaders chanting an Indian prayer for our safe passage through their lands. Did I mention it was dark? Well, that would be due to forgetting my headlamp back in the RV with absolutely no time to head back and get it, and knowing Kristen and Vivi were finally getting some decent sleep with me out of there.
I'd delayed as long as possible, and literally found Chris and Anne who'd picked up my bib for me the day right as Matt Gunn yelled GO! and sent a few hundred of the 50 mile runners off into the dark. While pinning my bib (I forgot my XRacewear shorts at home, see my Gear below) and putting my biodegradable coffee cup in a recycle bin, I lost Chris and Anne, and had yet to see Eric anywhere. Looks like I was heading out alone, in the dark, with no headlamp. As I prepared to go, Nina Acuña yelled to me that Eric was already long gone, and she still had about an hour before the 55k kicked off. At least I knew he was there somewhere, and the first section of the course featured an out & back, so I was comfortable I would at least see an occasional familiar face. I pondered for a moment dropping to the 55k race and running along with Nina, but was immediately overcome with a sense of relief and renewed excitement; I now really, really wanted to run the 50 mile race. Let's just chalk it up to the Navajo prayer moving me to enjoy the gift they were giving us of experiencing their lands.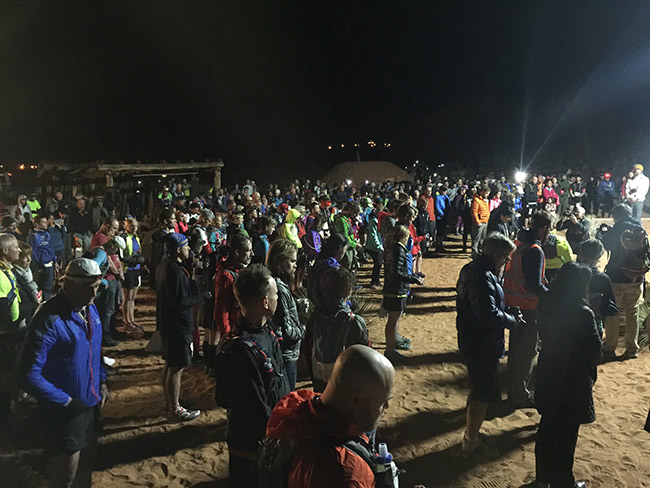 Before I get too far into the race, let's go back before the start and review my gear. Why? Because I made some conscious choices and even a few mistakes, all right here for your entertainment:
Gear and Nutrition are Super-Important, Don't Forget Anything!
I have no excuses here; I know the conditions, I have awesome friends and sponsors who provide me with incredible gear, and I've been running long enough to know what I need for nutrition, hydration, and stuff. On top of it, I have a freaking storage locker on wheels along with me, and an endurance-event experienced wife to make sure I had everything I needed – and I still made some gear mistakes, primarily from over-thinking what to use. Below are my choices, and why I think they were good or bad:
Shoes
My Choice: Hoka One One Stinson ATR
Reasoning: I thought super-cushioned shoes would be the right choice for 50 miles, not realizing 40 of it was in soft sand, and the rest was running directly on rock.
Good: Overall, they were comfortable with a wide toe box, the upper prevented sand from seeping in the materials and I only drained the sand from my shoes twice while my running partner emptied his, and even then there wasn't that much.
Bad: Ultra-cushioned shoes feel like I'm disconnected from the ground by a pair of stilts, with the ground being 90% soft sand and the other 10% being technical sections, there was absolutely no need for running in moon boots.
Should've Chosen: Icebug Zeals, as these lightweight shoes would've excelled in traction on both surfaces, were wide enough to allow my toes to splay out over long distances, and the upper material would've prevented 100% of the sand from creeping in through the materials. Also, the Zeal has an innovative midsole that wraps the foot medially, providing support that would've been a benefit ass the miles crept up. Finally, I've worn these shoes for multiple events and never had an inkling of a hot spot, while the Hokas were relatively new, and ended up producing an Achilles blister around mile 30.
Ankle Gaiters, Socks, Compression Sleeves
Gaiter Choice: Icebug Gaiters
Reasoning: 40+ miles of sand. Duh.
Good: They were the all-stars of the day, absolutely zero sand entered my shoe around the cuff/collar, and they kept sand off my socks as well. The fit was perfect, even though they aren't adjustable like other models I saw other runners wearing. Well, I saw them mostly when those other runners were stopping to empty their shoes out.
Bad: Getting the bottom strap over the huge soles of Hokas took a little bot of effort, but completely worth it. The fit was exactly what the conditions called for.
Sock Choice: Injinji 2.0 Men's Trail Midweight Mini Crew Toesocks, Granite, Medium
Reasoning: Injinji are known for no-blisters, and I've had success with them in the past.
Good: Performed as expected, comfortable, no blisters, stayed in-place very well.
Bad: Though they were very comfortable and performed well, I wondered if I would've been better served with a traditional sock as the limited amount of sand that did creep into my toe area actually settled between my toes on the outside of the sock. I was *this close* to wearing MudGear compression socks, and in either case I slathered my feet with Trail Toes and had zero issues with toe or forefoot blisters. The only issue I had with my feet at all was a slight Achilles irritation from the Hokas rubbing on what seems to me is an inexplicable seam in the ankle portion of the Injinjis. Not a huge deal, but any irritation can potentially lead to issues.
Compression Sleeve Choice: 2XU Non-Stirrup Compression Calf Guard
Reasoning: Anything that may potentially prevent fatigue is good by me. Do compression sleeves work? Ehh… maybe? I guess it doesn't hurt to try. Overall, I think they are comfortable and that alone is worth it.
Good: Performed exactly as expected, results are completely subjective, but I knew that going in.
Bad: The only part I don't like about any compression socks, tops, or tights is trying to get them off post-race. Several times over the years I've experienced nasty calf cramps after a race while trying to remove my calf compression sleeves. Cue the irony.
Shirt
My Choice: Hammer Strength Apparel Training Day (loose fit) top
Reasoning: These are the most versatile tops I own; light and cool in the heat while substantial in the cold. Breathable, flexible, and sweat-wicking as the conditions demand, and most importantly, chafe-free. Since I knew I was wearing a hydration vest, I wanted to make sure the shirt I chose would be breathable and also not chafe around the arms or neck. Guess what? It didn't!
Good: Of all the shirts I own, I feel this was the best possible choice. I nearly chose to wear a Hammer Strength Race Day (compression) top which has the same wicking and similar comfort, but the only one I had was in black, and I assumed it would be too hot in the sun all day.
Bad: I wish I'd washed my red one in time, the blue is nice and all, but my red one has the MRG logo on it. #represent
Shorts & Compression Shorts
My Choices: Athletics 8 Elite Compression shorts and Under Armour running shorts
Reasoning: I love the A8 Elite Compression shorts for longer distances to keep my quads and hips from being too sore, and wanted a pair of lightweight shorts to cover my man-parts, plus an extra pocket or two would be nice.
Good: The A8 Elite Compression shorts performed exactly as expected, and were actually even more comfortable than I remembered. The UA shorts were fine, but weren't the ones I intended to wear.
Should've Chosen: I sincerely thought I'd grabbed my XRacewear digital camo shorts as they are roughly the same pattern, and was severely bummed to not have those shorts with me, as the whole "pinning my number on" caused me to lose track of my friends at the starting line, and I also really like using the bib pocket to put a Honey Stinger waffle in, and the back pocket to put a gel in.
Remember: Always re-check your race gear, even if it looks like you grabbed the right shorts!
Hydration Pack & Nutrition
With aid stations on average every 6 miles, I knew there was no huge reason to overdo it with a hydration pack and decided against my Camelback with a bladder for an Ultimate Direction 2-bottle setup. Full disclosure, I just thought it looked cool and had seen Scott Jurek sporting the same one in photos during his assault on the Appalachian Trail record. While I like the ability of a bladder to hold more liquid, I knew I'd be filling up several times, and the dual bottles also allowed me to have one filled with water and another with electrolytes & energy tabs from Nuun and Hammer Nutrition. With bottles, I could change flavors as needed and refill very easily at aid stations. The only mistake I made all day with my bottles was to accidentally drop tablets into each bottle, I had no fresh water to soak my headband down and also got into a situation where my electrolytes were a little too far out of balance, as evidenced by my fingers swelling up. This was easily remedied at the next aid station, really a non-issue, but something I should've been more on top of. Nutrition-wise, I carried 3 gels with caffeine (I drink a lot of coffee, and my tolerance for caffeine is extremely high) and some delicious Honey Stinger waffles. Man, are those things yummy. Why so little on-board nutrition for a 50 mile race? Glad you asked. By reputation, I knew Ultra Adventures had extremely well-stocked aid stations, and boy, they didn't disappoint. The 5 and 11.5 mile aid stations were the same on during an out & back through Lower Antelope Canyon, and that was the only "basic" aid station with water, HEED, fresh fruit and other snacks. All the others we encountered from 17.5 on were an absolute smorgasbord with everything your body could want out there on the run. My new favorite ultra snack? Fresh cantaloupe with salt sprinkled on top, without a doubt.
Hydration Pack Choice: Ultimate Direction AK 2.0 Race Vest
Reasoning: 2 Bottles allowed for easy fill-up at aid stations, 32 oz. of fluid was a perfect amount of liquid to make it from station to station, and wouldn't slosh around as much as a bladder does.
Good: Performed perfectly, was light, comfortable, snug, stayed in-place, and had very easy to open pockets all over the place. I was able to carry everything I needed for nutrition and hydration easily; I love this pack.
Bad: I received this pack the day before I left for the race and never had a chance to even try it on – the test fit with bottles was on race morning. Normally, this is a bad thing, and I was initially worried the small/medium would be too tight. I'm only 5'9″, 159 lbs, and I was able to crank it down nice & tight for a perfect fit. No arm or neck chafing, although I wondered if my posture was tilted forward slightly due to the extra weight/position of the bottles on my chest. Either way, no issues at all.
Nutrition Choices: Gu's, Honey Stinger Waffles, Hammer Nutrition Endurolytes, nuun Energy dissolving tabs
Good/Bad: I felt like I nailed my nutrition, there was only one hiccup with putting nuun tabs in both bottles, blocking myself from having straight water to wet my headband, and possibly screwing up my electrolyte level by taking too much in between the Endurolytes, Heed, and nuun.
No bonking, no headaches, no GI issues, etc. It felt good to totally nail my nutrition for once!
Section 1: Antelope Aid – Start to mile 14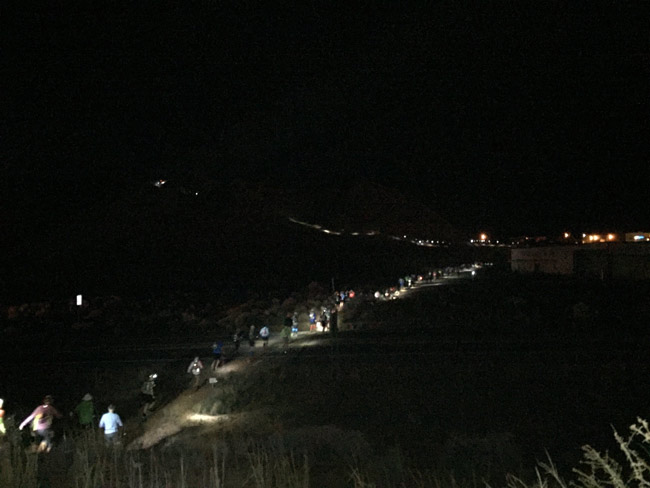 The 6am start meant we headed off into darkness, and I'm one of the few morons that didn't wear a headlamp. Luckily, the pace was somewhat slow, and even starting out dead last due to my delay pinning my race bib on, I was able to catch up with several large groups who were taking it very easy on the singletrack leading out of the amphitheater and up into the hills. There were a few sections where we had to scamper over sandstone outcroppings that felt more like an adventure race than a trail run. Still unable to take in the scenery around us, we plodded down some power line trails leading away from Page toward Antelope Canyon. I say plodded, because 100% of the trails from mile 1 to 20 were running in soft, deep sand.
The first slot canyon we ran through was pretty small, but beautiful and set the stage for what we'd experience several times later on in the day. As the sun crested atop the buttes around us, it lit up the bright orange sandstone that was carved by water and resembled  golden waves on both sides of the runners that are frozen in place. Danger wasn't far away, as we reached the middle of this first slot canyon, there was a steep descent into a black abyss that was a shocking contrast to the beauty around us. With warning signs to keep us away from the impassible area, we scampered up the sides of the canyon, and ran on some tight singletrack looking down over the deep chasm to our right as we approached the 5 mile aid station. Our numbers were dutifully collected by a volunteer who informed us we'd beaten the first cutoff time while we refilled some water and set off for the main attraction, Antelope Canyon.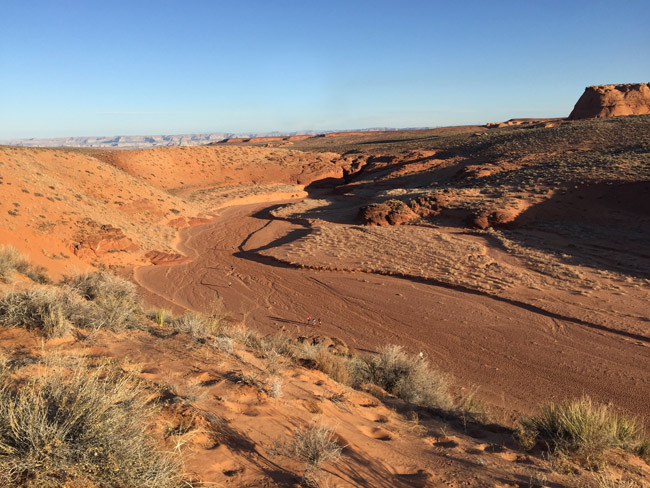 The loop from mile 5 to 11 took us through a deep, sandy riverbed where we experienced the softest, and finest sand of the day. Going was slow at first, but once we saw the leaders coming back from the turnaround, it seemed like everyone picked up a pace a bit. On thing that clearly separates ultra runners from your standard marathoners is everyone – I mean absolutely every athlete I saw – cheered on the leaders and vice versa. Somewhere around mile 6.5, a woman came flying straight at the small group I was running with, high-fiving us and cheering our accomplishments… come to find out, she was the race leader, and had opened up a 2 minute gap on the guys. And yes, the dudes chasing her were equally as gracious, and a chorus of "Great job!" accompanied every runner that sped past us heading back to aid station 11.5.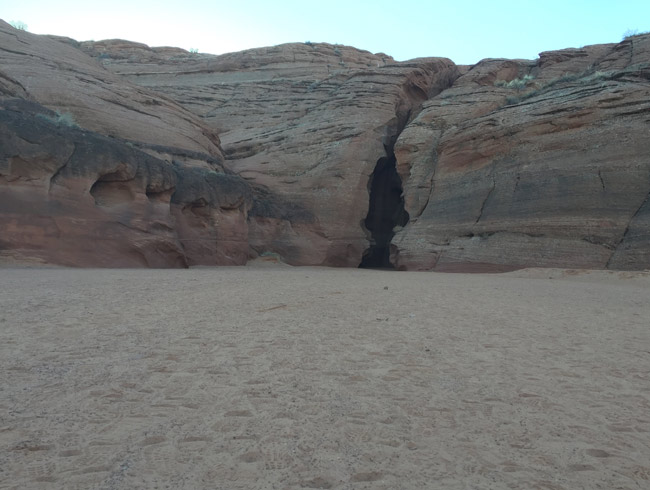 In the video from Matthew Van Horn below, the drone passes right over my head right about mile 7.5, and you can see from the runner's point of view how the ridiculous the experience seems of running straight toward a huge wall of rock with only a thin black crack allowing you a sliver of space to run through! After nearly 8 miles of hard work in the sand, we were finally about to experience the beauty of Antelope Canyon!
Part 2 – Misery Loves Company and Closer to the Edge
In part 2, I catch up with Chris Cow and Anne Plourde, then meet up with Eric Acuña, my race partner for the rest of the day. Yet to come: Aid station foibles and feasts, a "composting port-o-potty" experience, the longest 5k ever, Horseshoe Canyon, running on the edge of a 2000′ cliff, and natural obstacles that would make any OCR look tame.