Follow all the BFX24 Coverage on our Official Live Coverage Page.
BattleFrog Series has their first 24-hour event, BFX24, this weekend outside of Miami, Florida. Starting Friday afternoon athletes will be testing their endurance on the course designed by OCR superstar, Ryan Atkins. The five-mile course features twenty-six obstacles for competitors to navigate through. The field for the race is small but stacked with outstanding athletes from across North America and beyond fighting for the top spot this weekend.
BFX24 Women to Watch
Lindsay Webster – Canada
Lindsay Webster is the reigning women's OCR World Champion and has numerous BattleFrog podiums to her name. She has become one of the most dominant women in the sport of OCR. While this will be her first 24-hour obstacle race her athletic pedigree is deep as a former national level mountain bike competitor and avid outdoorswoman. Her competitive advantage just might come from her training partner, Ryan Atkins. Webster has spent the last couple of years crewing for Atkins at World's Toughest Mudder and knows what it takes to be a winner. Now it's Webster's turn to take the main stage in a 24-hour competition.
Morgan McKay – Canada
Morgan McKay is one of the front women going into BFX24 this weekend. She is currently coming off a strong showing at FUEGO Y AGUA ENDURANCE's SURVIVAL RUN NICARAGUA. McKay is no stranger to extreme endurance challenges with several World's Toughest Mudder races under her belt as well as Spartan Death Race. She is a former BFX winner and has experience on BattleFrog obstacles. Look for McKay to battle with Webster.
Sarah Watson – USA

Sarah Watson is coming off a third-place finish at the Las Vegas BattleFrog over the weekend. She is the newest member of the BattleFrog Pro-Team. Watson has been consistently rising in the ranks for the last year in the OCR world, and looking to go the distance this weekend in Florida. In 2014, Watson took on her first 24-hour event at World's Toughest Mudder. She also has demonstrated extreme mental grit finishing first at Joe Decker's 12-hour Southwest Suck in 2015.  This weekend, look for Watson to be strong and efficient on the BF obstacles she's become very familiar with so far this season.
Adriane Alvord – USA

Adriane Alvord is looking for a good showing this weekend in Florida. Alvord a former BFX winner is heading into this weekend looking strong. Alvord is no stranger to the BattleFrog obstacles having completed several BattleFrogs in the last year. Alvord has been training hard and recently won the 8-hour Polar Bear Challenge at Shale Hill.  This will be her first 24-hour event but is looking to excel and has tailored her training for BFX24.
Maria Sentmanat – USA

Maria Sentmanat is another woman to watch out for this weekend at BFX24. She is a past BFX winner in Miami. This Miami native is looking to excel over the weekend. She is no stranger to longer distance events with several half distance triathlons in her background as well as a marathon. She has structured her training around this event and is looking to succeed on race day.
Melissa Dugan – USA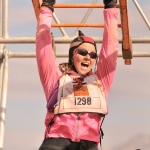 Melissa Dugan is no stranger to the 24-hour looped format. She has competed in World's Toughest Mudder in both 2014 and 2015 and likes the loop format. Dugan is better known for helping others on the course, but she is also a strong competitor and not to be overlooked this weekend in Florida. Look for her experience at WTM to play to her favor this weekend when the race gets into the dark hours of the morning.