It was a busy week for our sport all over the world; you had "normal" OCRs, a three-day challenge in paradise, televised team relays (with Ninjas and Frogs), and an unveiling of some new & exciting obstacles.
 —
OCR is Worldwide, and so is MRG!
The States brought out some favorites with Spartan Race heating up Las Vegas, Warrior Dash bringing their own celebrities to SoCal, Savage Race spinning wheels and climbing fences in Florida, and BattleFrog tearing up the beach and the airwaves in Georgia.
Outside the US, NSW Australia had their brutal and amazing Raw Challenge and the Netherlands brought the good pain with their Strong Viking. In Bermuda, a three-day Triple Challenge brought people from all over to Run, climb, swim and crawl along some of the most vibrantly colorful urban terrain imaginable.
—
Got TV? Of Course!
American Ninja Warrior swung through Atlanta this weekend for the first taping of the 2016 season. Mother Nature never plays favorites (remember Houston last year?) and this year was no different – an uncomfortably brisk evening of competition for our ninjas took place for 2 nights, and the caliber of athletes was more than enough to heat up the course! BattleFrog Series filmed not one, but two shows last week, starting with season 2 of their College Championship and then the new Legends Championship!

We're not here to play spoilers, so even though the MRG Team was lucky enough to have our fingers all over all three shows, we're holding off till they hit the airwaves so we can all enjoy 'em together!
---
SPARTAN RACE LAS VEGAS
With all of the races around the world this weekend, Spartan still managed to bring racers out in impressive numbers with the perfect weather, fun terrain and the Spartan atmosphere we have all come to love.
The Spartan Race Super Las Vegas podium saw some hard-hitters with Cody Moat, Glen Racz and Chad Trammell stepping up to the men's spots, and Sarah Woodward, Faye Stenning and Jessica Textoris taking it for the women.
Save 15% on Spartan Race w/code SR10MRG15
---
SAVAGE RACE FLORIDA
With an early leak of their newest novel obstacle "On the Fence", there was plenty of excitement around Savage Race this weekend in Dade City, Florida – and that was only one of 5 new ones our friends rolled out! No surprise, as pioneering new inventive obstacles is what they are best known for, and this year there's surely no disappointment. Our own Brett Stewart took part in their season kick-off party, and even though mother nature threw a curveball the Savage team knocked it out of the park…kinda like the Orioles did to CC Sabathia over and over on Friday night! (Look for our recap(s) soon!)
On Saturday, Savage Race favorites "Air Force" Ken Corigliano, Jude Louis and Joey Cooper stood up on the men's podium and the women's winners featured the amazing Rachel Corvington, Ashely Samples and Jamie Stiles.
(Sunday Savage PRO results haven't made their way over yet, we'll post on our socials as soon as they are finalized) 
Save $5 on Savage Race w/code MRG5
---
BATTLEFROG GEORGIA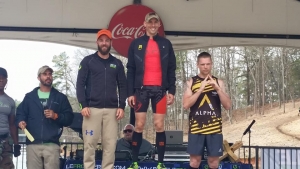 Threats of thunderstorms did not keep anyone away this weekend, and the rain held off and gave way to perfect weather for this gorgeous race in the hills and beachside at Lake Lanier Island. GORMR took biggest team, and team member Delaine Anderson said with the perfect obstacle spacing, the fun challenges, and awesome terrain, this was her "Favorite BattleFrog yet" . The podium was packed with A-listers with Robert Killian, Marc-Andre Bedard and Jesse Bruce crushing it for the men and Lindsay Webster, KK Stewart and Alexandra Walker making it look easy for the women.
Meanwhile, about ¼ mile away, some of the best athletes from around the world rubbed shoulders with some of the most impressive college up-and-comers at the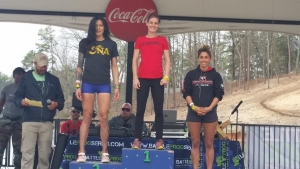 ESPN taping of both the College and Legends Team Championships. Spectators enjoyed watching the course that you could see from beginning to end and seeing teamwork in the most incredible sense of the word, as competitors cheered each other on, supporting their rivals as well as their own teammates. They may be opponents on the course, but off, there was nothing but camaraderie. The shows will air in July and August and if you missed them live, you will not want to miss them then.
Save $20 on BattleFrog Series w/code MRG20
---
BERMUDA TRIPLE CHALLENGE
Just off the East coast of the US is the gorgeous island of Bermuda, who hosted a three-day event for OCR lovers everywhere. On Friday, athletes were treated to an urban footrace with 27 obstacles through the historic town of St. George, Saturday treated them to a picturesque race along the south shore and Sunday offered a 5k run, swim, climb obstacle assault at His/Her Majesty's Dockyard. Within the confines of the once Royal Navy outpost and safe harbor, now a tourism hot spot, participants ambushed the old base lands in an action packed circuit exploring the old stone buildings, wharves and fortifications. With colorful buildings, gorgeous shores and historic backdrops, this was a special treat for athletes looking for something truly new and exciting.
---
WARRIOR DASH SOCAL
Our friends at Warrior Dash slid into a warm & sunny SoCal… ok, maybe it was a little chilly and overcast, but it was an amazing day for all – especially when WD added something that was pretty cool for those who noticed a familiar face in the mud! Chelsea Handler was on the course filming a segment for her Netflix show, Chelsea Does, and really did the course along with our buddy Cookie (Steffen Cooke) and all the other Warriors including "Spartan Dave" Cantu and featured contributor Chris Cow. Look for their recaps & social updates this week, and you can find the top 10 men & women who qualified for the OCR World Championships here!
Top 3 Overall Men:
1. Taylor Turney, 2. Orlando Lopez, 3. Luis Rogel
Women:
1. Cindy Lynch, 2. Chloe Melikian, 3. Catherine Textoris
Save $5 on Warrior Dash w/code WD2016MRG