With races spanning beginner-friendly to truly "Xtreme", and temperatures ranging from brisk to cloyingly humid, we saw an exciting array of events this last weekend. Spartan Race had a brisk send-off in Atlanta, BattleFrog Series held their inaugural BFX24 endurance event in Miami, Terrain Racing, Warrior Dash, and Dirty Girl Mud Run brought the party to Texas; in Dallas, Austin, and San Antonio!
BATTLEFROG BFX24 – MIAMI FLORIDA
The weather was hot and the competition was fierce. With some expected front-runners, some last-minute hard hitting registrants and some surprise dark horses, Canada showed up to win, and all the athletes who undertook this event impressed. From 5pm Friday to 5pm Saturday, racers looped the challenging 8k course designed by the unstoppable Ryan Atkins. New BattleFrog Series race director Adam Washburn took the role of volunteer on this race and had the following to say about Atkins' debut as 24 hour race director:
"Ryan really did a great job using the Miami venue to its full potential. The final rig at one point had hundreds of onlookers cheering for both the open and BFX24 racers finishing their last laps; a great boost in spirits and was noticeably appreciated by every athlete. Well placed obstacles and running paths meant spectators and pit crew had easy access to their racers throughout much of the event, enhancing the experience and making it that much better."
24 hours later, male winners Austin Azar, Van Tran and Matthew Hanson stood on top of the podium, with female winners Morgan McKay, Sarah Watson and Adriane Alvord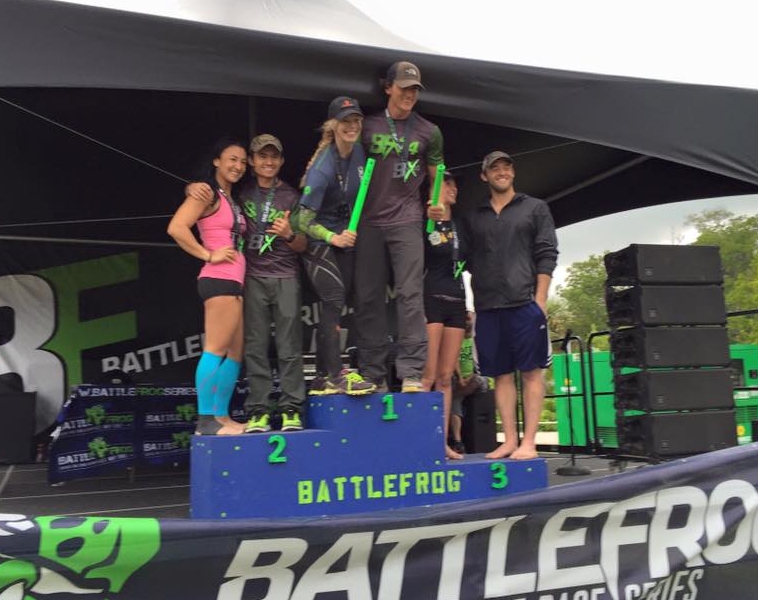 WARRIOR DASH AUSTIN – TX
Texas always comes up big, and this weekend was no exception! Warrior Dash kicked off their 2016 season with a with a bang – actually, more like 2 cannons breathing fire – onto a very muddy course about 35 minutes away from Austin, TX. Lone Star Spartans member Deann Rodriguez is in good company when she told us how much she enjoys this event for entry level and accomplished athletes alike:
"They really do a phenomenal job making it fun for everyone"
Jack Bauer (Mud Run Guide's own "Faces at the Races" author), Victor Frances and Michael Mark took home the top three men's spots this Saturday, and the women's accolades went to Alexandria Walker, Shena Hardy and Chelsea Johnson.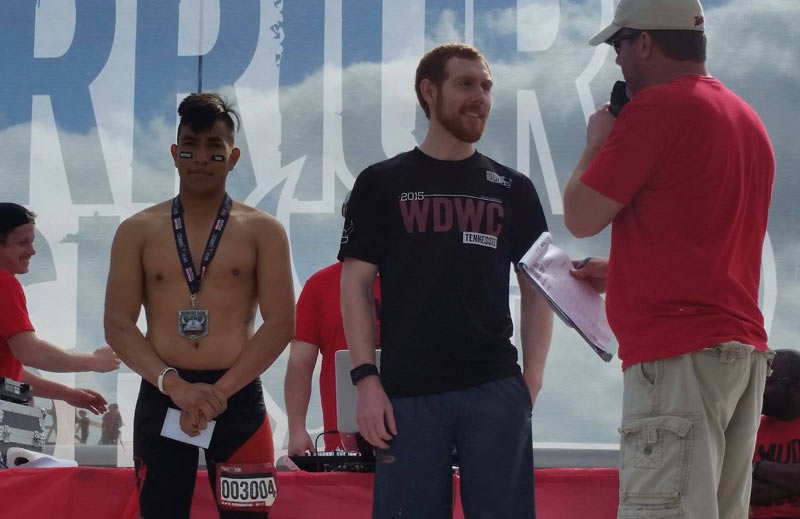 TERRAIN MUD RUN – FT. WORTH, TEXAS
With a 5k and 10k option, this southwest favorite turned national race series loves to find new and innovative ways to challenge their participants. 5k 1st place male finisher Beni Gifford said about Saturday's race,
"It's never an easy race when I'm battling with Matt. He pushed me the whole way and it made for a high charged race, for me and for the spectators. I really love Terrain Racings new obstacle called Monkey Balls; rock climbing grips to hanging ball and cone grips…takes out a LOT of people!"
For the women, Terrain Mud Run's twist on OCRWC's "Skull Valley" called Monkey Balls proved to be incredibly difficult, only 2 elite females made it all the way across:  Jackie Rust successfully crossed to win the 5k and Lynnae Kettler completed it twice for the 10k victory!
5k: Beni stood atop the podium with Matt Campione and Miles Keller 2nd and 3rd, respectively for the men.  Lynnae Kettler took first place in the 10k distance followed by Shannon Miller, and Christina "Honey Badger" Armstrong
10k: The women's solo 5k champ was Jackie Rust as no other elite women made the Monkey Balls obstacle. On the men's side, John Fitzsimmons took first, Chad Miller (Sharon's husband) took second, and Aaron Brabson claimed third.
SPARTAN RACE WEEKEND – ATLANTA, GEORGIA
Saturday and Sunday in Conyers, GA was all about Spartan Race. Many of OCR's finest showed up in full force, and Atlanta-based team Georgia Obstacle Racers and Mud Runners snagged the honor of Biggest Team. GORMR's Delaine Anderson loved the new division format and said,
"When the terrain is put to great use, the number of obstacles is appropriate to the distance so that it's an OCR and not a trail run, and you finish a course feeling alive and challenged – that's a great race! I've been racing at the GA Spartan Sprint since 2011, and this year's Sprint knocked it out of the park!"
Saturday had Robert Killian, Chris Schapman and Nathan "NaPalm" Palmer taking the men's top three, with Kate Cramer, Terra Jackson and Heather Williams sealing it up for the women. Sunday showed the return of Chris Schapman and Nathan Palmer, with Michael Miraglia taking third, and Terra Jackson coming back to win, with Charlotte Curtis and Katie Salmons wrapping up the podium for the women.