Bermuda's only obstacle course series, the Bermuda Triple Challenge kicked off this past weekend on the beautiful island. In its 3rd official year, the Triple Challenge has become a favorite of locals and one that is drawing attention from the international community as well. It consists of 3 days of events. The first race is Friday night, the second on Saturday morning followed by the final event on Sunday morning. Each event is unique, held in a different location on the island and challenge racers in various aspects.
The event is produced by a team of volunteers and is 100% non-profit. Funding comes from their major sponsors: KRyS Global, Chubb, The Argus Group and the Bermuda Tourism Authority. The Bermuda Triple Challenge has a unique scoring system which incentivizes all participants to raise funds for the event's charitable partners, which are; The Reading Clinic, Knowledge Quest, Raleigh Bermuda, Somerset Primary PTA, The Sunshine League & SCARS. Teams navigate the courses on their way to record a finishing time, but can supplement their physical prowess with their fundraising power. Every dollar raised aids competitors and boost their points total as teams compete for cash prizes.
Day 1 – Argus Urban Foot Race
Set in the old town of St. George's, the first race was around 3k but felt much longer due to the 25+ obstacles and CrossFit challenges throughout the streets. Right out of the gate, we launched into a not so light tire drag through a roundabout only to immediately scurry under what was probably the lowest truck I have ever seen. We encountered walls, burpee stations, lunge stations, monkey bars, massive tires to flip, a rope climb, climbing over and through cars, a unique cargo net climb over the side of a storage container to name just a few. The race ended at the doorsteps of St. George's historic town hall where a DJ awaited with music pumping and a ton of cheering spectators.
Day 2 – KRyS Global Island Challenge
Hosted by the Bermuda Regiment at their Warwick Camp Facility, there was a 5k or 10k option for racers. This was a beautiful course where you were one moment running through beach trails and the next you were on the pink sanded beaches with a perfect view of the Atlantic. The scenery was stunning enough to make you want to stop and enjoy the view until you saw you had to carry a sandbag full of wet sand or a cinder block up steep hills. This course was also jammed packed with obstacles along the beach but after doing a loop back, racers got to face the real obstacle course. Participants were taken through the Bermuda Regiment's Assault course, which was a succession of military style obstacles. Probably the highest confidence climb I have seen on any course which dropped you down onto a cargo net roll, barbed wire crawl, Tarzan swing, monkey bars, balance beams, hurdles and an A- framed cargo net, were just a few included in this area. A short sprint downhill got you to the finish line where the complimentary Bermuda Regiment and Butterfield & Vallis Family Style BBQ was waiting for racers on the Officers Mess Lawn. Here the runners gathered for socializing, cheering on finishers and congratulating each other for a job well done.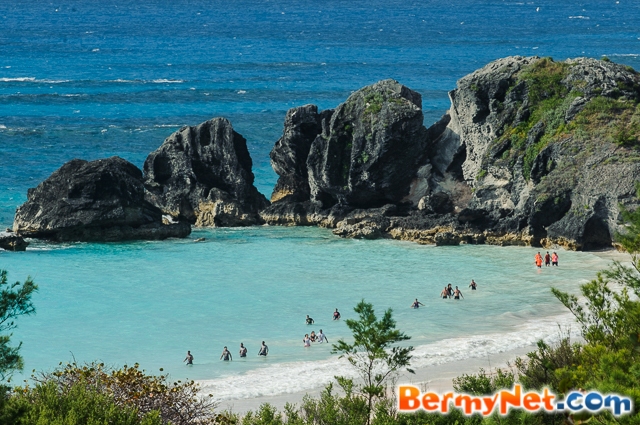 Day 3 – The Chubb Royal Challenge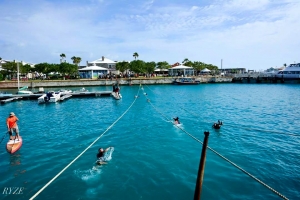 Race #3 was held at the Royal Dockyard, and I had the luxury of pulling up to this race via boat, so I got to see what we were in for first hand. The first thing I noticed was this was the coolest looking venue I had seen. It was pointed out to me that atop the hill was an old jail in the process of restoration, which we would get to run through. The second thing I noticed were three ropes from wharf to wharf for a super long traverse. I was excited and a little nervous too because I saw a lot of water in this course and swimming had never been my strong point.
I made my way to the start line and by this time, we were all licking our wounds from the previous two races. I don't think a lot of us had expected this event to be as challenging as it was. But, we were all pumped and ready to go. We took off for a short run around the pier where the first thing we did was take a leap off into the Atlantic for a swim. From a non-swimmer perspective, this was a pretty long swim with the waves slapping you in the face, but the Regiment was alongside the swimmers in a boat to assist when needed. Next, we went for a short run into the old jail where we came across some hurdles, lots and lots of stairs and rope spider webs, up to the roof. Volunteers were here with multiplication flash cards which you had to answer correctly or else face the penalty of burpees. From there we took off for a run which led us to the National Museum of Bermuda which was an old military fort with cannons and all. Here we had a very long log carry and a spear throw. After making our way through a run of a mini golf course, we came upon an ice bath plunge immediately into a Tarzan swing off the pier. This was probably my favorite obstacle. After a few smaller obstacles last but not least was the traverse from pier to pier which was incredible and then another long swim. Runners were gassed by this time but still had enough to make the sprint to the finish line and the end of the Bermuda Triple Challenge. Awaiting us here was a complimentary brunch provided by Buzz / Butterfield & Vallis and lots of hugs with other racers.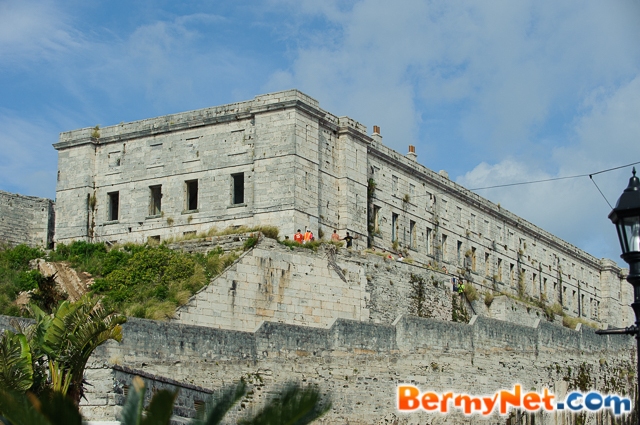 This was one of the most memorable race weekends I have ever had and give it five stars! I highly recommend taking a look at it as a destination event for 2017. The three courses were unique and awesome and well worth the 2-and-a-half-hour flight to Bermuda. The courses were challenging, and the staff did an incredible job. While there were no medals given, we did get t-shirts and a weekend full of fantastic memories of racing and making new friends.
Rating: 5/5
---
Have you done a Bermuda Triple Challenge?  Leave your own Bermuda Triple Challenge review and feedback…
Rating: 5/5
---
Have you done an Bermuda Triple Challenge?
Leave your own Bermuda Triple Challenge review and feedback...