The 2016 Savage Race season rolled into central Florida like a thunderstorm; high energy, loud, bustling, and of course, wet. While Mother Nature provided some of her own "enhancement" to the already muddy & wet course – extreme weather and torrential downpours made the course even more challenging for some of us, and lightning strikes within 10 miles necessitated a 2 hour course closure – the Savage team led by founders Sam Abbitt and Lloyd Parker had developed an event with plenty of "thunder and lightning" by design.
Check out our Savage Race Dade City 2016 Video Coverage here!
The Course:
The 7+ mile course was packed with 27 obstacles, including favorites such as the baddest monkey bars in OCR, Sawtooth, and last year's innovative Wheel World, ranking up there with Savage's famous Colossus and Davy Jones' Locker. 5 obstacles were innovative, brand-spankin' new ones making their Savage debut:
Savage Race "Gets It"
Savage Race is well-known for its reputation as the race that does a whole lot right, and "gets it" as we found out when Margaret spent a weekend with Sam, Lloyd, Bo, and the crew at least year's central Florida event, which boasted over 9,000 runners during the 2-day OCR festival. She remarked
"There is a reason why it's hard to find a bad review about Savage Race, and I experienced it over the weekend. After finishing my lap on the course, multiple employees asked me what I thought of the event. Something not just reserved for a writer or some of the elite racers. I witnessed the staff doing the same with athletes of all abilities and heats."
Savage Race has its own vibe that's different from other big events, missing is the somewhat menacing "Aroo" of Spartan, the military-inspired "Hooyah" of BattleFrog, or Tough Mudder's "Quite possibly the toughest event on the planet*" and even without these catch phrases, Savage Race has been able to develop an identity among newbies and serious obstacle racers.
Comparing Savage Race to other big events, I'd say the vibe is most similar to Warrior Dash and Rugged Maniac; albeit more than double the distance of both, SR is more challenging than the former and a little more "polished" than the latter. While I'll concede this is their first event of the season, every obstacle either looked brand new or very well-maintained, and extremely well-built – yet with more wood structures than I'm currently seeing from big events as Spartan and BattleFrog move to modular steel and aluminum trusses.
*Yes, I realize TM has dropped this tagline, but the sentiment still rings true.
Fear Factor: The Obstacles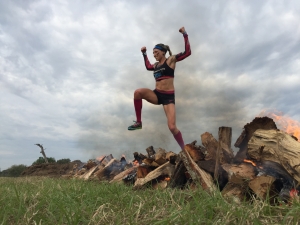 The originality of Savage Race obstacles is what sets their 2 dozen man-made contraptions apart from other races; while BattleFrog is developing their aluminum-based MOB-stacles and Spartan Race hasn't rolled out anything new so far this year, Savage has kept the fear-inducing obstacles like Goliath and Davy Jones' Locker, while adding some unpredictability with On The Fence and PoleCat. SAVAGERIG is a nice addition as well, but here's where they differ from the rig(s) at BattleFrog – they didn't go overboard to make an incredibly difficult challenge on top of all the other challenges. The SAVAGERIG was a fun, challenging way to end the race with a crowd favorite, NOT a final obstacle to break nearly every athlete and create a huge back-up. Entering a rig with grip-strength intact turns the obstacle into a completable challenge, not a recurring suck-fest trying to get through over multiple attempts. The last grip-intensive obstacle before SAVAGERIG was over a mile away, and it showed with the high completion rate and smiles on competitors' faces. Huge crowds braved the pouring rain (when I got there) to cheer on and laugh along with (and sometimes at) the athletes as they figured out the best way to swing and climb through to get the bell.
The layout of Little Everglades Ranch is just about perfect for an obstacle race, 7 miles of uncongested running and optimal obstacle placement created an event that was fun for all, and surely challenging enough for the SavagePRO athletes as well.
The Future of OCR is in the Hands of Newbies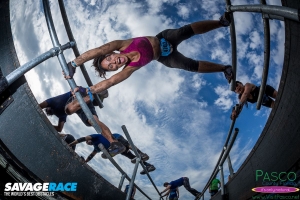 When you hear "7 miles" you may not immediately think that Savage Race is perfect for first-timers, but it wasn't that bad of a fit. Sure, I'd still steer an athlete looking to do their first OCR to Warrior Dash, Rugged Maniac, and Terrain Mud Runs as my top options, but I'd put Savage Race in front of Spartan Race, even though the Savage distance is double the Spartan Sprint, due to the difficulty of Spartan's rope climb, Atlas carry, and Hercules Hoist. BattleFrog Series has distanced themselves as the most difficult race in OCR's with jerry can carrys, multiple rigs, and the upgraded Tip of the Spear.
Did I see hundreds upon hundreds of newcomers at last weekend's Savage Race? You betcha. I'd wager to say at least 30% of the field were brand new to the sport, and 50% of the crowd had only done other Savage Races in the past. Whether it's brand loyalty or an appreciation for what Savage Race is doing – it's working.
For this sport to survive and grow, athlete development and retention is huge, and that only happens when you create a positive experience for all the athletes – experienced and newbies alike – who will not only come back, but tell their co-workers, friends, kids, and neighbors about it, and most importantly, bring them along to future events.
—
Save $5 on Savage Race with discount code MRG5