The SISU Forge will always have a special place in my heart. It was my first endurance event back in 2014, and my first real introduction to the crazy and wonderful people of Team SISU.  I've been fortunate enough to be able to attend the Forge every year since making me one of only two athletes (along with Patrick Scully) to participate in all three of them.
SISU is a combination of stamina, perseverance, courage and determination in the face of hardship.  It is a word that defines the Finnish character and explains how they were able to withstand and defeat the vastly larger and better armed Soviet forces during WWII.  Team SISU is based in Southern California but has members all over including Canada and the UK.  It attracts and creates impressive athletes and has its own Pro Team and podcast (SISU radio hosted by Athlete on Fire).  The group also produces several major events each year that draw athletes from across the country to participate – the SISU 24 Adventure Run, the SISU Forge, and the SISU Iron.
This past weekend was the 3rd annual SISU Forge, a 13h overnight ruck led by Dave Lokey and Louis Lopez (Lolo), a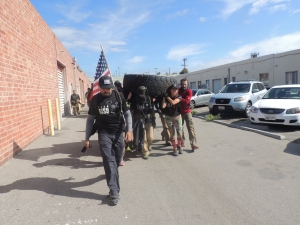 nd it did not disappoint.  It is an event designed to push you to your limits and "help you find your SISU".  Patterned on the GORUCK Challenge – Team SISU is also a GORUCK training partner – the Forge turns individuals into teams and forces them to work together and support each other to finish. As the event directors said at the beginning – "If one person quits, the whole team has failed."
The original Forge (Fraternal Overnight Grand Rucking Event) back in 2014 was designed to unify the SISU community, and events were held simultaneously in 4 different regions; the Midwest, the East, Texas, and California.  The original plan was a one-off, but many inquiries about it the following year made the race directors reconsider and institute the Forge as an annual event.
Asked how th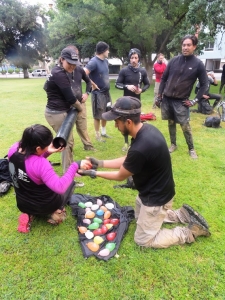 e Forge differs from GORUCK events, Dave Lokey replied "We borrow a lot of concepts from GORUCK, as they essentially created the rucking as an event model. However, we are not military and don't want to pretend we are. We have the utmost respect for what they have done and steered clear of appearing military as much as possible. You will not hear us referring to ourselves as cadre. We try to make our events true to the SISU brand in that they are hard and test your mettle. We want to push the participants to and beyond their perceived limits but never quit. And although GORUCK also pushes the idea of working as a unit, we do not want drops. The bond that runs through our community is special, and we take pride that in 3 years, we haven't lost a single participant."
The Forge combines urban and trail hiking through the night, and it's guaranteed that they'll find a really big, seemingly endless hill to climb somewhere in the middle of the night.  Each Forge has had a unique flavor to it; the first started at the Santa Monica Pier and roamed through downtown Santa Monica, played on the beach, and climbed an endless trail in the dark to a beautiful (and cold!) lookout point.  In 2015, the event started at the Hollywood Bowl, trekked through Hollywood on Oscar weekend, and spent most of the night on the trails in Griffith Park, dragging a heavy tire above the Hollywood sign.
This year, the starting point was Steel Barbells CrossFit gym in Sherman Oaks.  The warm up was a wonderful example of the push we'd get throughout the night – titled the "Forge 1000" it consisted of 1000 reps of bodyweight exercises interspersed with 200m runs.  In itself, it was one heck of a workout, and most people would be more than happy to call it a day at this point, but here this was just the beginning.
After briefly refueling, we donned our rucks (minimum of 15% of your bodyweight, and yes, they did have a scale, and yes, they did adjust for anyone who was slightly underweight for the event), were randomly divided into two teams, grabbed the bonus weights (a variety of different sandbags, wreckbags and kettlebells), and set out into the night.
Along our over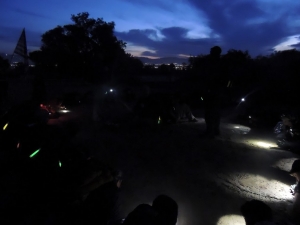 night stroll, we'd pause to jump in a lake, roll around and learn to work together as a team in a park, and climb a never-ending hill through posh neighborhoods to Topanga Canyon.  Time hacks with punishments for missing them and rewards for making them meant we pushed hard through the night, and the weights were passed around frequently.  The stronger helped those who were hurting so that the team could succeed.
Highlights of the festivities included a relay race down a steep, technical trail in the dark to retrieve the rucks that we'd been "allowed" to drop at the base of the trail, and my favorite part of the festivities which has become a firm tradition at the Forge – a wrestling match conducted from our knees with rucks on where the goal is to "turtle" your opponent.  While each
pair wrestled, the remainder of the participants performed basic PT; once you won a match, you could take a break.  In the first Forge, this activity was interrupted in the most memorable way possible as a police chopper, and SWAT teams showed up… but that's another story.
As the sun rose, the long march back to the starting point began.  As we pushed our worn bodies and sore feet to make the last time hack, many thought the event was over.  Of course not.  Grab a couple of big tires for one more lap of the gym, then line up inside, and prepare for one last challenge – an epic and hilarious dance-off to bad disco music (Good Times by Chic).
Dave Lokey and Louis Lopez make a great team. Dave says "Lopez, and I work well as a team because we balance each other. If it were up to him, we might still be out there right now carrying that tire in Topanga Canyon. (Editors note: they took mercy on us and left the tire where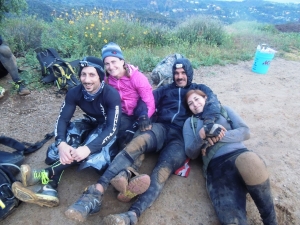 it was waiting for us in the truck this time).  He wants the event to evolve as the team has. Because many of the members Team SISU have become stronger and evolved into robots that just smile when you make them suffer, he is always pushing the envelope to make it a challenge. I'm always concerned that we can pull off the logistics of the event without pushing too far and that everyone walks away having had a great time. I want it to physically onerous, emotionally satisfying, and also FUN!"
Louis agreed "Lokey hit the nail on the head.  He does balance me out.  I can lead people into different PT for hours and have done these events myself I can assure you we would still be out there; I was shooting for a 24-hour event.  He has common sense.  Safety is also a big concern of mine, so I'm always looking out for the group in case things happen.  Lokey also has a way with police officers and authority where I don't and believe me the helps a ton."  Yep, we're both glad that Lokey was the one talking down the SWAT team back in 2014.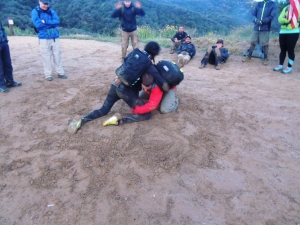 Whether it's taken on as a standalone, or as training for even bigger and tougher challenges (SISU Iron, Agoge, etc.), the Forge is a great event with terrific people involved.  For me, this time around taught me that I hurt less when I'm helping others who are struggling more than I am.  I can't think of a better way to spend a Saturday night.
I also asked the event leaders what they want people to know about the Forge.  Lolo answered "I want people to push themselves to the limit and say I can't believe I did that. To give people confidence… and have them understand it's not always about just one person.  I want them to bond in misery and come back with a better sense of friendship or build new friends."
Lokey's response was similar "Mostly I want people to know that great things happen at the Forge. I'm not talking about the things that are done physically as that is just the catalyst for greatness. From the suffering, bonds are forged. Strangers become friends. Individuals become one team."  And when done so well, the team becomes family.