The Quarry Crusher Run is in its 5th year?  Why haven't I run this before?
The Quarry Crusher Run Series is held in 4 states (SC, GA, AL, MD).  The SC run was held at the Vulcan Materials Company Quarry in Columbia.  The race started a few city blocks from the quarry.  Once you hit the quarry you went down into the quarry all the way to the bottom (they're still digging!) and then painfully all the way back up. The out and back course averaged a 10% grade over about 3.7 miles.
The only "obstacles" on this course were the slippery gravel that lined the quarry path, so you may be asking yourself "Wait, this is Mud Run Guide.  How does this relate to OCR?" The answer is "In a bunch of ways."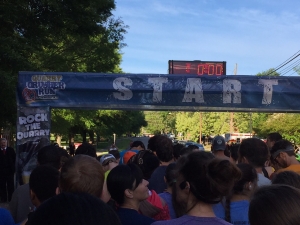 Have you run Spartan Race in Asheville?  If not, I can tell you that the inaugural Asheville race was also run in part through a quarry.  How about Spartan Wintergreen?  Wintergreen is held mostly up and down a ski mountain. In general, OCR's of all brands try to maximize the use of terrain to test your limits.  The parallels of the OCR community to the Quarry Crusher Series make this a great series to target as training races and to keep you focused on hill work.
I'm apparently not alone in my opinion.  Opening up a quarry and allowing hundreds of strangers to race down to the bottom and back up drew a good crowd from the OCR community.  I saw Spartan Finisher t-shirts, some Tough Mudders, a good representation from the military and a cadre from the local Sherriff's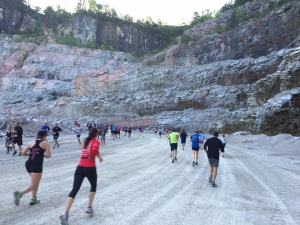 Department that ran the entire race in full tactical gear.  There were also a bunch of GoRuck aficionados on the course as evidenced by their t-shirts, patches, rucks on their backs, and their familiar call of "Hey you Weirdos!"
In addition to being a fun race, this race definitely upped my OCR game.  The steady decline and merciless incline running definitely worked my legs and calves in a huge way.  The loose gravel path worked on my ankle stability and terrain awareness.  The occasional softball sized rock and the slippery turns on the downhill switchbacks really kept my mind present on the course.  These things are all positives on a training run, which is what the Quarry Crusher was for me.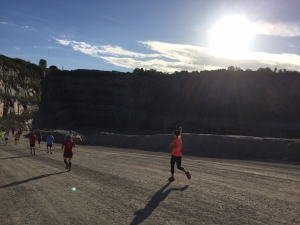 This race however, was not for the faint of heart.  It worked me more than any Warrior Dash ever has.  No I didn't get to lift anything heavy.  I didn't get muddy, there were no ropes to climb, and I didn't get to throw a spear.  All of those things are fun, and on any given Saturday I love to do those things when I can.  But when an OCR isn't accessible, the Quarry Crusher run crushes any other 5k or even 10k I've ever done both in terms of difficulty (only a few studs were able to finish this beast of a race without walking a portion) and also in terms of fun.  They even have a Double Crusher option if you're insane enough to race down into the quarry twice back to back.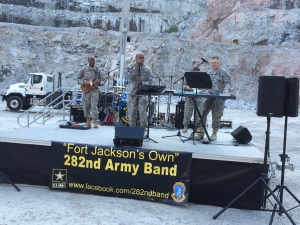 Let's face it – obstacles can be effectively trained in the gym, on a playground, or in your garage.  But you simply can't excel, or at least you can't improve in the OCR world unless you have a strong engine beating inside your chest.  The Quarry Crusher Series will have your heart beating out of your chest, but you'll be having so much fun you'll barely notice.
Combine all of the above with a very reasonable entry fee, the access to a private quarry not usually seen by the general public (I lived in Columbia for 3 years and never knew this place existed) then add in a high quality t-shirt, and a surprisingly beefy finisher's medal and the Quarry Crusher Run Series gets 5 out of 5 stars from me.  If you live in South Carolina, Atlanta, Birmingham, or Baltimore I'd highly recommend checking this race out.  You'll be glad you did.