Name
Samantha Ellison
Age
14
Lives
Princeton, WV
Grade
8th grade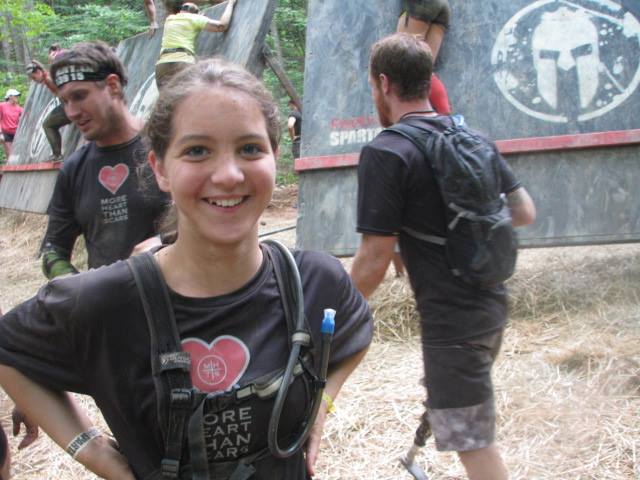 Favorite OCR Series
Spartan Race
Favorite Obstacle
Inverted wall
Least Favorite Obstacle
Rope climb
Ideal Race Distance
5 miles
2016 OCR Goals
To get better at doing obstacles and not have to do any burpees
Quick Bio
I'm a funny, outgoing girl who loves corny jokes, band, riding horses, and hanging out with my friends.
Why do you compete in OCR and how did you get started in the sport?
OCR is fun and I get to race with my parents.  I got into it because my parents race, and after I did one with them, I wanted to get my Trifecta.
Do you think it's important for parents to consider OCR as a sports option for their kids rather than the typical bigger team sports (softball, basketball, soccer, etc.)?
Yes, because it's not like the typical sport that other kids do.  I think it's harder.  My friends are surprised when they find out I do it and they think it's cool, so they want to do it, too.
You're more about helping others get through the course than racing in the elite heat.  What's the most gratifying part about helping others?
The feeling you get when you see them do obstacles and finish the race.  They're so happy and I just like being there with them.  My favorite moment is when they cross the finish line.  I can't help but be happy and want to dance because I helped make it happen.
I heard you helped Thomas Mills, who has Cerebral Palsy, across the Spartan Race course in Charlotte.  What made you decide to take part in this effort?
We helped Thomas Mills complete his first Spartan Race.  He's a 13-year-old boy with Cerebral Palsy.  I helped pull his wheelchair at times and I tried to help keep the course clear for them.  I like to show that anyone can do this.  I really liked helping out a boy my age, but I was actually kind of scared in the beginning because I was afraid that I would do something wrong and accidentally hurt him.  My dad got me involved and showed me what it was like to work together as a team to do something bigger.
That wasn't the first time that you did something like that.  When else have you helped someone with disabilities complete a race?
Justin Falls is a paraplegic and was at the Asheville Super Spartan last year.  We took him through the whole course so he could get his Trifecta.  It was really cool to be helping because I didn't really know that people like that did races, and I never really thought I could help them to complete their goals.
What is your favorite OCR moment?
When I got my Trifecta, everyone was congratulating me and telling me how awesome it was.  I told my friends, and they thought I was crazy.  Now I've convinced three friends to race, too.
How many medals do you own and what do you do with them after the race?
I have six medals and my parents made a collage with my Trifecta medals and pictures.  I hang the others on my mirror so that I can see them when I'm getting ready.
Do you feel that there are a lot of teenagers at races?  What would you do to make OCR more appealing to teenage athletes?
I've seen a few, but there would be more if they knew people their age were doing it.  It would be cool to have a teen heat.  We'd be like the Spartan teen army.
Who are your favorite racers on the pro circuit and why?
Amelia Boone because I see her winning races on TV (Spartan Race).  I also like Corinna Coffin because she is really fast, strong, and nice, and she also went to Virginia Tech.  I like watching them on TV Spartan Races and watching how they compete and do the obstacles.  I like Morgan McKay, too.  She's friends with my dad and (recently) won BFX 24.  She's really funny on Facebook and seems really cool.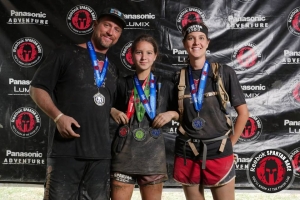 Your dad is a Death Racer.  Can you tell me a little bit more about this passion and/or if it's inspired you to do a Death Race eventually?
He's always training and says he meets the best people in the world.  There isn't going to be another Death Race so I can't do it, but I did want to do it while it was still going.  One of his friend's daughters did Death Race last year and I wanted to do it with her, He asked me if I wanted to do Agoge but my mom said no.
What went through your head the first time you crossed the finish line?
"I'm glad that's over!!!  I can't believe I made it, I'm really here!!!!  This is so cool!!!!!"
What is a typical week of training like for you?
I have track practice in the evenings, and sometimes I run the hill in my back yard.  My dad sometimes makes me run with him and do burpees.
Do you have any secret talents?
I can bark like a very realistic dog!  I can also climb trees really well and I'm amazing at hide-and-seek.
How would you improve the pre- and post-race activity areas to be more engaging, fun, etc.?
They need an area for people to hang out that don't drink.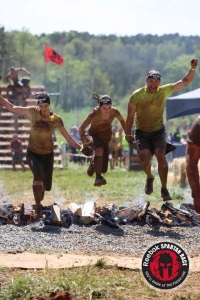 Which classes are your favorite and least favorite in school?  Outside of obstacle course racing, are you involved in any extracurricular activities?
My favorite class is either band or math and my least favorite is social studies.  I'm in the band and I play volleyball, track, and ride horses.
Have you thought about which colleges you want to attend or what major(s) you might choose?  If so, where/what are they and why do they appeal to you?
I want to go to Virginia Tech to be a veterinarian because I love animals and have always wanted to help them. Seeing animals not getting proper care makes me cringe.  I chose Virginia Tech because they have a great Veterinarian School, it's pretty close to home, and my dad works there.
Do you have anything else you'd like to add (about OCR or life in general)?
I have quotes on notes posted in my room, and one of my favorite is – "Tell me that I can't… then I will prove you wrong."  I try to live by that because I believe if you work hard, you can achieve anything.