Age
40
Lives
Sioux Center, IA
Occupation
Project Manager
Favorite OCR series
BattleFrog and Spartan Races are my favorites, but I am planning on running in a Rugged Maniac, Savage Race, Conquer the Gauntlet, Warrior Dash, and Bone Frog later. I really like race series that support our troops and are there for good causes, like St. Jude Children Research Hospital, the American Cancer Society, and the Spartan Foundation.
Favorite obstacle
I like the Jerry Can Carries at Battle Frog Races and Spear Throw at Spartan Races.
Least favorite obstacle
Platinum Rigs – I'm not very good at them yet and have not completed one yet without taking a penalty, but I will conquer them by the end of the year!
Ideal race distance
8km or a Spartan Super
2016 OCR goals
— Complete all of the 40 races I have signed up for
— Qualify for the OCR World Championship
— Run a race with my brothers because it has been 20 years since I did something with them
Social media
Facebook: https://www.facebook.com/Chris-Fischer-Journey-1057925924270377/?fref=nf
Instagram: https://www.instagram.com/fish14bb/
Website: You can read more about my story on my website (http://www.fish14bb.com/)
Brief bio
I am just a normal guy who was born and raised from a small town in Wisconsin. I always loved to play sports and be part of a team. The most important things to me are my faith, family, and friends. I am somewhat new to this OCR community but have really enjoyed it thus far and looking forward to continuing to meet new people! Oh yeah, one more thing: I have lost over 200 pounds in the last two years!
Why do you compete in obstacle course racing?
I found that it makes me really happy and pushes me to be the best that I can be! Also, I have really enjoyed the people that I have got to meet and the community that I am getting to be a part of! Everyone just seems to be so genuine.
Have you overcome any significant setbacks, such as injury, personal trauma, etc.?
When I started this journey, things have not always gone the way that I have wanted them to. The one thing that I have always tried to do is always have PT's (Positive Thoughts) on everything and always remember never to give up just keep moving forward, no matter what that obstacle may be in your life. If you believe strongly in something or someone, giving up is not a choice you can make!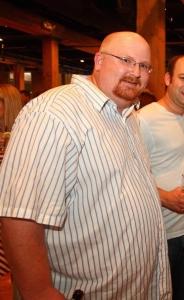 The little things seems to add up the most and most people don't realize how easy it is to gain weight. Walk me through your battle with being overweight and how you overcame it.
Life is about balance and if you don't live your life that way, things get way out of whack! For me, I was so focused on work and being the best that I could be. I lost sight of things and what was important to me. Even when I wasn't working and when I would get home at night I would not take the time to cook a meal. I would just stop at a fast food joint because it was easy. I would eat and then sit in front of a TV and watch shows that would help me change my mood like. If I felt inspired, I would watch a sports movie instead of getting off my butt and working out which feels much better than sitting (trust me). Work was everything to me and it became what defined me. There was no balance in my life.
Then one day someone came into my life and she changed everything in my life. For the first time in a long time I started to see life a lot differently and believed that I could actually lose all this weight. I knew it would be tough but that I could do it. She told me to take one day at a time and even though I did I didn't see myself at my ideal weight right away, I decided at that moment I was going to work out and eat better. After a while, days turned into weeks and weeks turned into months of thinking that way. The weight started coming off and I was also much happier and more at peace than I had ever been in my life. I loved sharing these moments with her because she always had the warmest smile and it made me happy. I started to get balance in my whole life!
Was there a turning point when you finally realized you needed to make a change?
I was taking a physical for work and it was taking longer than expected. After a while, a doctor and two nurses came in and began asking me a bunch of questions like, "Do you have blurry vision?" "Are you short of breath?" and, "Are you feeling dizzy?" I was getting a little freaked out but then they told me my vitals from my blood pressure and blood tests were through the roof. Technically I should have been in a coma at that moment. I said I was fine but I had to fill out a paper that allowed them to release me from the doctor's office. I still have a copy of the paper that I signed as memory of how bad it got.
What I didn't tell them (and what I have only ever told one other person) was from the weekend before my physical when I was mowing the lawn at my house. I have a riding mower but around my trees I push mow it. Anyways, when I began to push mow that Saturday, I was starting to sweat really bad and my chest was starting to hurt. I was really getting faint, so I went into my house to sit on my couch. I don't remember much after that. All I know is that I was working on my lawn at 9:00 AM on Saturday and when I woke up from sitting on the couch it was 10:00 PM on Sunday. The rest is a blur. Something needed to change!
I can't even imagine how difficult it was to lose literally half your body weight over the past two years. How did you do it?
Hard work, dedication, and never losing sight of those goals that I had set for myself. It also helped to make my journey public. The support I received from others was tremendous and without that it would have been tough. I also want to give special credit to a person that came into my life and really help keep me focused on what I wanted to accomplish. What made her so special is she never judged me for being overweight and always treated me in a positive manner. We would talk about our health and people in our lives and their health, and when we did, I could always see how much she cared for them and wanted others to be healthy. Without ever telling me to get in shape, she would always encourage me and support me when something good happened in my life and I would do the same for her. We even got Fitbits and made a competition with each other on how many steps we were getting each day! She is an amazing woman because I don't think she even realized the difference she made in my life. She always and still does bring out the best in me!
Was there ever a time during your first race that you thought you couldn't finish? Once you did finally cross that finish line, what thoughts were going on in your head?
Yes, definitely! The first race I did was a Spartan Beast Race in South Carolina. Even when I was in high school and in really good shape I had never run or even walked over 8 miles. Before the race, I found myself going to complete in an event that was 13.2 miles long with hills. I'm not going to lie to you that I was pretty freaked out and afraid that I was going to fail and end up quitting the race or not even starting it. I manned up though and thought about how hard I worked and how many people were supporting me. I didn't want to let anyone of them down.
I also thought about that special person in my life who gave me as a present that I carried with me to every race. It was a Christmas decoration in the shape of an angel. I know it sounds cheesy but for me it motivated me before and during the race. It made me think of all the moments that we shared and the things me discussed with one another and brought me to a place in my mind where I thought I could do anything. That helped distract me from the pain I was feeling in my body while I was racing and the nervous energy I had before the race. On a side note, I carry that angel with me on every race I run and it helps motivate me during every time!
Once I did cross the finish line I was overcome by emotion because I had never done anything like this before in my life. To be honest, a year ago I would never imagined myself doing anything like this. My college buddy, Paul, went down there with me race and it was pretty cool to be able to share this with him. He was really supportive of me after the race and shocked that I had done this. I know it may sound weird but when I crossed that finish line, it was like a new chapter in my life had begun, one where I was going to start living my dreams!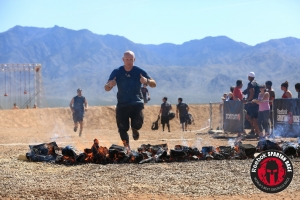 I heard your goal is to run 40 obstacle course races. How did you arrive at that goal and what's the status of your progress?
Well it is pretty simple really. I just turned 40 and thought it would be a tough goal to reach for having to run races almost every weekend and sometimes multiple races on weekends. Currently I have run 8 races and I am about to get into the toughest part of my schedule.
What is the best part of attending obstacle course races? Is it the challenge of racing, meeting new people, helping others, or something else that drives you?
I have many reasons but I really do love the challenge of being able to race considering I was pretty unhealthy for a long time. It feels really good to do something that I never thought I would be able to do. I also love meeting new people and hearing their stories as well. I have realized that you can discover more about a person during a race than in a year of conversation.
Do you struggle with self-image issues despite your weight loss success story? If not, how were you able to overcome that mindset and stay positive?
When I was at the peak weight of 416 pounds I felt so trapped. I was embarrassed at what I looked like and my personality was pretty toxic because I never wanted people to worry about me. I would put on many faces during that time. I thought I always had to be happy-go-lucky because that's what I thought fat people did. Deep down, I was pretty miserable and unhappy at things in my life.
When it comes to living a healthy lifestyle, what are your top-3 recommendations?
I know it sounds cliché but the most important things are diet, exercise, and setting goals.
— Diet: My diet had to change because I was eating so much fast food since it was easy. Nothing in life that is worth anything is easy, even your diet.
— Exercise: Start out each day with a little exercise and you will be amazed at how great you will feel the rest the day.
— Setting goals: Don't make it just be about weight loss. I found when I set goals, health, work, and helping others achieve their goals it made it so much more meaningful.
How has your family's view on fitness changed ever since you decided to pursue a healthy lifestyle?
My family has gotten involved and are making strides to become healthier as well. The biggest difference I have noticed is that some of my friends that were overweight as well have begun joining in on this journey and make healthy decisions in their lives. To me, that is the most rewarding thing about this journey that I have been on. The most lasting differences you make are the ones that impact other people.
So many people lose a bunch of weight after being motivated short-term then again most of it back once the motivation wears off. What steps are you taking to make sure this doesn't happen to you?
I get up each day and realize that I can live my dreams rather than just think about them, as I did for so many years! I have an incredible support network of friends and family that are always encouraging me, even in the difficult times. I have made it a habit each day to get up and work out in the morning to start my day off on a good note. Finally, I have never lost sight of the person that came into my life and really changed my frame of reference on how I looked at life in general. She has always been an angel in my life and fuels the fire that burns inside of me that keeps me moving forward!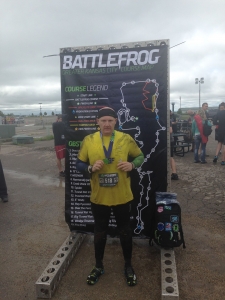 How do you train for obstacle course races? Do you have a coach, training group, online workout plan, etc.?
I train on my own and from reading various obstacles races publications and workout plans. I developed my own personal plan that is targeted with daily milestones to encourage me. It helps me because I am very competitive. Being able to achieve milestones every day keeps it fresh for me and also rewarding.
Do you follow any of the elite racers on the pro circuit? If so, who are your favorite racers and what did you think of them if you've met any of them in-person?
I follow many elite racers. I like Cody Moat, Ryan Kent, Amelia Boone, Lindsay Webster, and Ryan Atkins for their commitment to excellence. I like watching Lindsay on the Spartan Race show on NBC because she is a fierce competitor but she always seems like she is having fun running her races. I can relate to that because I really enjoy running these races and it always makes me smile on race days. I also like Coach Pain because he gets everyone pumped up before every BattleFrog race. I finally got to meet him and he is the coolest person!
Give me a fact about yourself that would impress most people?
I spent my 30s sitting in a chair watching the world go by around me, but now in my 40s I am going to live each day to the fullest. I try to be an inspiration to anyone who wants to hear my story! Everyone has a story and that is the one thing that I have really enjoyed in being a part of this OCR community!
What's your 15 seconds of fame moment?
Not that it is a big fame moment but a project that I built was featured on a Super Bowl commercial. It was a new BMW plant that I built and I thought it was pretty cool. When it aired, a bunch of people where calling me asking if I had seen it.
Is there anything else you'd like to mention (about OCR or life in general)?
I truly enjoy being a part of this OCR community and it has been one of the most rewarding things in my life. The people I have met have inspired me more than they know. I would love to hear others' stories and be able to share my story with others. That keeps me going and really drives me. I want to say thanks to all of the people that supported and been there for me. And finally, to the person that has made such a huge impact in my life: I couldn't have done this without you and thanks for being who you are!
Running these races is not easy but nothing in life that is worth is ever easy! If you have not raced yet, you need to try it. Trust me, it is so rewarding when you cross the finish line. "Sometimes life is about risking everything for a dream no one can see but you." Get off that couch and get out there and start living!