If there was any question as to whether or not the OCR season has jumped off – there isn't after this last weekend! From coast to coast and across the world, events arrived in full force, even leaving athletes in some areas having to make the difficult decision as to which they would attend!
Today we will take a look at some of your tried and true US favorites, as well as a quick peek at an amazing event unlike any other we have seen in Glasgow, Scotland, where they may give you wings, but what you really needed was gills! Read on…
---
TOUGH MUDDER OPENING DAY – GULF COAST FL
One of the most highly-anticipated events of the season, Tough Mudder opened up its calendar to big crowds, and fun, new surfaces, and obstacles. The new base area is packed with new things to do, like Merrell shoe testing booths, great new food trucks, and the Legion tent now offering 25x and 50x headbands, and of course the traditional TM start with Sean Corvelle that hits the heart every time. Avid racer and TM enthusiast Dominick Deutsch was there and had nothing but glowing reviews for what he experienced, saying,
"The new obstacles are awesome and very challenging if you don't have someone there to help you. Legionnaire only obstacles are also great and they've brought back cage crawl, which is now called 'rain man'. The Frequent Flyers club is massive and far from ordinary. Performance tees are back and are even better. TMHQ has really brought some great things to the table for the 2016 season!"
We can't wait.
---
SPARTAN SPRINT – CHARLOTTE NC
Spartan Race headed to Charlotte, North Carolina over the weekend for a chilly event. People bandy the term "hypothermia" around a bit casually these days, but those that braved this event even one of the two days seriously had to STFU.
Virginia Based FC SPARTANS team leader Tara Perdue Holley said
"It was a bear with the insane wind and the water that went chest-deep even to my 6' frame!
But even with the cold and the sun and windburn (and the amazingly long barbed wire crawls) it was a great start to our first race of the new season, and we cannot wait for the next one!"
Others that braved the elements and crushed them were Saturday podium conquerors Ryan Kent, Ryan Woods and Brian Gowiski for the men and Kate Cramer, Kim McNally and Terra Jackson for the women.
On Sunday, Ryan Woods was back, this time grabbing first place, followed by Chris Schapman and Tyler McCredie and the women stepped up with Rama Brooks, Serena Jura and Katie Salmon.
Pictures courtesy of Spartan Race and Tara Perdue Holley
---
WARRIOR DASH – AZ
Warrior Dash is known for being family-friendly, fun, and festive, and opens up the podium to folks who do not often get the opportunity to at other races at this point in their career, making it an exciting event for everyone competing. One of our community favorites, Eric Acuña was there and has this to say;
"Once again, WD didn't disappoint experienced or beginner athletes alike. It was an extremely fast Competitive wave in the morning and it brought out some very talented runners who pushed the pace over the speedy 5k course and 10 obstacles to qualify for the OCR World Championships. The rest of the day is about fun and challenges for beginners, and seasoned
athletes alike. It's not the hardest race, but it's a fun day with obstacles, mud, and friends, and isn't that what OCR's really about?"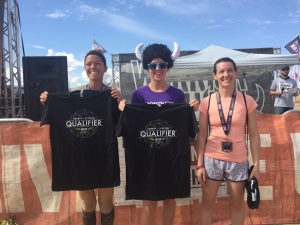 We wholeheartedly agree. Climbing on top of the WD podium were Men's winners Josh McAdams, Jim Kirtley and Mike Thatcher and Women winners Lindsay Harrell, Jodie Perry and Sarah Kelly.
Pictures courtesy of Eric Acuña
---
SAVAGE RACE – ATLANTA, GA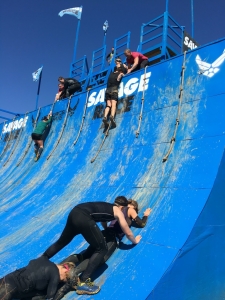 With the usual show-stoppers and sporting five brand new obstacles, Savage Race is always an eye-catching and forearm crushing event. Our own Chris Lewis was there to play around on all the blue meanies and report back.
"Savage Race in Atlanta is known for being a wet, rainy, muddy race. They decided to turn the tables on everyone by keeping it dry, but instead bringing back (Southern) winter weather. Having a new rig right before the finish line caused quite a few competitors to either have to give up their band at the last minute, or take multiple attempts to successfully complete the course failure free. Based on the race today, Savage looks to be off to a strong 2016 start.  The festival area was busy all day, and the race had impressive numbers even given the cold-snap"
The podium was packed with OCR favorites such as Yuri Force, Ken Corigliano and Gunner Gilliam and continuing that trend with the amazing women Adriane Alvord, Rachel Corvington and Rachel Watters.
Pictures courtesy of Chris Lewis
---
BATTLEFROG – NASHVILLE, TN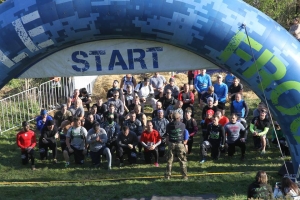 This is one BattleFrog Series location both staff and athletes alike have been looking forward to for some time. Not only is Nashville just all-around awesome, but this spot has it all, in the way of technical terrain. MRG contributor Evan Perperis was there doing lap after lap at BFX and definitely noticed what a natural obstacle it was.
"The course had challenging technical terrain with 650m of elevation gain per lap. The obstacle layout was great, with the two rigs and monkey bars spaced fairly far apart. Although the course was more obstacle dense at the beginning than most OCRs it was barely noticeable due to the challenging terrain on the back half of the course and especially "fun" was what seemed like endless switchbacks going up and down steep hills on the back third. The addition of the different lanes of difficulty on some obstacles was also a nice touch, as more new athletes are integrated into the sport. BattleFrog delivered, as always."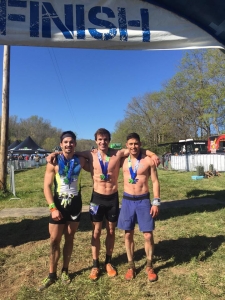 The winner's podium had a wonderful mix of both new names and familiar faces. For the men Alex Stevens, Matt Kempson and Jordan Buscemi took it home, with Lindsay Webster, Amy Pajcic and Laura Messner taking the honors for the women.
Photos courtesy of Amy Perperis, Strength and Speed
---
REDBULL NEPTUNE STEPS – GLASGOW SCOTLAND
This weekend outside of the country, in gorgeous Glasgow, was one of the most unique races I have heard of to date. With 42o meters of open water swimming, and 18 meters of elevation through canal locks and current, we couldn't let it go unnoticed. I asked one of our favorite Swedes, Adam Egerblom, in between bites of haggis if he would share some of his experiences, but when he sent in what he had, I immediately knew we needed a full review. So we will share just a teaser of what is to come:
"There was only one way to swim, upstream, and many athletes got dizzy and nauseous after their first round in the water. People stopped on top of the obstacles, just to get their head straight and feel safe enough to continue. How hard can it be to climb a net? When you have a river that's flooding your face as you try to swim against the current, it's challenging."
If that doesn't make you want more…I can't imagine what would.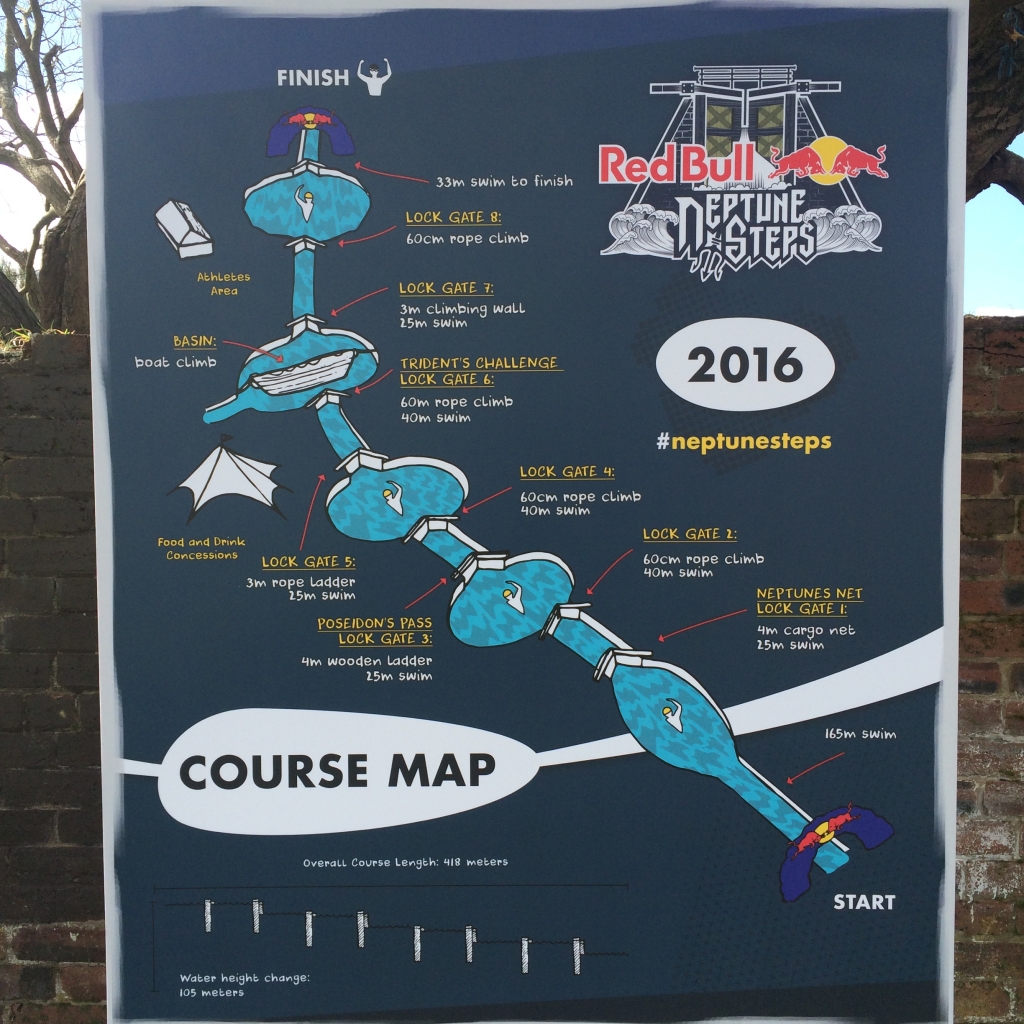 Pictures courtesy of Adam Egerblom