BattleFrog Series certainly likes to keep things interesting, right?
Way before their Fiesta Bowl sponsorship and back before season 1 of the ESPN College Championship show, BattleFrog shot into the OCR scene like a bolt of lightning. The lightning metaphor is apt; because it's impossible to harness or generally predict, and even after an amazing visual display, you're left scratching your head and wondering what you just witnessed… sort of like BattleFrog Series.
There are no shortage of emotions regarding BattleFrog Series; from the love/hate relationship with OCR groups on social media, the praise for their courses by racers, and the excitement to participate in another one again. Is Ryan still unBFeated? What does Christopher "Beard" Acord, Adam Washburn, Marco Bedard, or Ryan Atkins have in-store for the next course?
More Developments
BattleFrog has certainly made a splash since it's founding in 2014. BattleFrog Series since the beginning has put on superior races with exceptional obstacles. They were the first to introduce the short course relay format on ESPN last year with the Collegiate Championships and recently filmed season two of the show including an All-Stars Competition. This year BattleFrog Series made a massive jump in a number of events from about a dozen events in '14 & '15 to somewhere in the 40's in 2016. (Note: A few venues are still listed as TBD, so we're rounding off) BattleFrog Series is also jumping the border to the north, Marco Bedard, Ryan Atkins, Lindsey Webster, and Claude Godbout shepherding BFS into the Canadian market.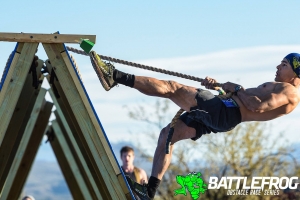 BattleFrog continues to push the envelope in the obstacle racing industry while their races continue to receive rave reviews from fans and reviewers across the country. The BattleFrog crew designed and developed a radical new modular obstacle system code-named "MOB" to allow infinite variations on obstacles both big and small. Those erector set looking pieces can be built in a variety of ways and have continued to innovate obstacle designs and decreased build time for race crew. This innovation alone has made for safer obstacles and decreased build time by 25%.
No one can deny that BattleFrog is working hard to become a household name like Spartan Race and Tough Mudder, but as close as BattleFrog is to crack into the Top 5 OCR events* they aren't anywhere near the participation numbers they need to consider all their innovation and hard work a "success" – yet.
*Top 5 Races: Tough Mudder, Spartan Race, Warrior Dash, Rugged Maniac, Savage Race… then BattleFrog Series? We went a different direction with our Best 3 OCR Events, Period article last year – tell us what you think in comments.
The Tip of the Iceberg
The game-plan for BattleFrog Series' growth is to be full-steam ahead; during several different occasions, Mud Run Guide has spoken to BattleFrog's CEO Ramiro Ortiz. Ortiz has explained BattleFrog's strategy and sees a path to the development of the entire sport of OCR. He sees the ESPN commercials and reality competitions, the Bowl Series, and investments in obstacle development (like the MOBs mentioned earlier) coupled with explosive expansion all over North America as a path to the future of the sport, obstacle course racing as a household term, or OCR 2.0 (our term).
On the surface, BattleFrog Series is sailing at full-steam, expanding markets, developing stuff, TV commercials, shows… but there may be much bigger problems hiding down below…
Let's re-state something we've re-stated about a dozen times over the last couple of years; Mud Run Guide as a company and our staff (and most likely you as well) want to see BattleFrog Series hit their mark and be wildly successful. Every single other race company I've spoken with seems thrilled by the media spend BattleFrog Series is putting up, and hoping it benefits the entire sport. Personally, I want my friends at BattleFrog to succeed beyond their wildest ambitions, this includes the ones you all see on a regular basis at events – Christopher "Beard" Acord, Adam Washburn, Corinna Coffin, Sarah Watson, the Pro Team, etc. – and it also includes the rest of their team all over the country at events, and in their Miami offices. Many good and hardworking people have devoted their lives to the success of BattleFrog. That's what makes the next paragraph a little difficult.
BattleFrog has stumbled quite a bit over the past two seasons, behind the scenes there have been multiple restructurings and firings, with a couple of them a little more public than they would've liked. Garfield Griffiths and Don Mann, just to name a few. Sometimes the quiet dismissals sting a bit more. Last year, Mud Run Guide profiled some of those "staffing changes" in BattleFrog: Traveling the Rocky Road. Recently, this restructuring seems to be starting again with two longtime BattleFrog employees being let go from their positions.
Allan Ajoy, one of the original BattleFrog employees, was recently named Director of the Ambassador Program after the dismissal of Devin Glines only 3 weeks earlier. Glines had also been overseeing the Pro Team as well as developing the Ambassador Program. The reasons for Ajoy's untimely departure from the organization are unknown and have many scratching their heads today after Ajoy posted a comment on his social media account. Glines and Ajoy were preceded by the quiet departure of one-time CMO Raul de Quesada earlier this season. As these layoffs have continued recently, BattleFrog has begun rehiring regional managers after the mass layoffs last year. During this process, many members of the Miami office have been tasked with new duties multiple times, and while some seem to be taking root, others may very well be on the downslope of Tsunami.
The Dirt?
The reactions across the OCR community have been a mixture of sadness and confusion, and based on some posts; the latest dismissals seems to have re-opened some old wounds from last season's mass exodus. Rumor, innuendo, and drama seem to spread faster than actual facts these days, so there's a lot of speculation what led to Ajoy and Glines quickly being shown the exit, and what's next for the BattleFrog Staff.
As always, Mud Run Guide will keep following the news and provide objective coverage of this, and all events in the sport of OCR.
---
Disclaimer: The viewpoints expressed by the authors do not necessarily reflect the opinions, viewpoints and official policies of Mud Run Guide LLC, or their staff. The comments posted on this Website are solely the opinions of the posters.