Normally I sign up for as many races as I possibly can but I came across a race that I just couldn't sign up for, literally.  As hard as I tried to persuade the nice folks at the Dirty Girl Mud Run to let me run their race they stuck to their theme of a women's only event.  My last ditch offer was made to run in drag but that request was also turned down.  So I did the next best thing and I signed up to volunteer for this female only event that focuses on educating women about cancer prevention and celebrates those who have battled the deadly disease.
Dirty Girl Arizona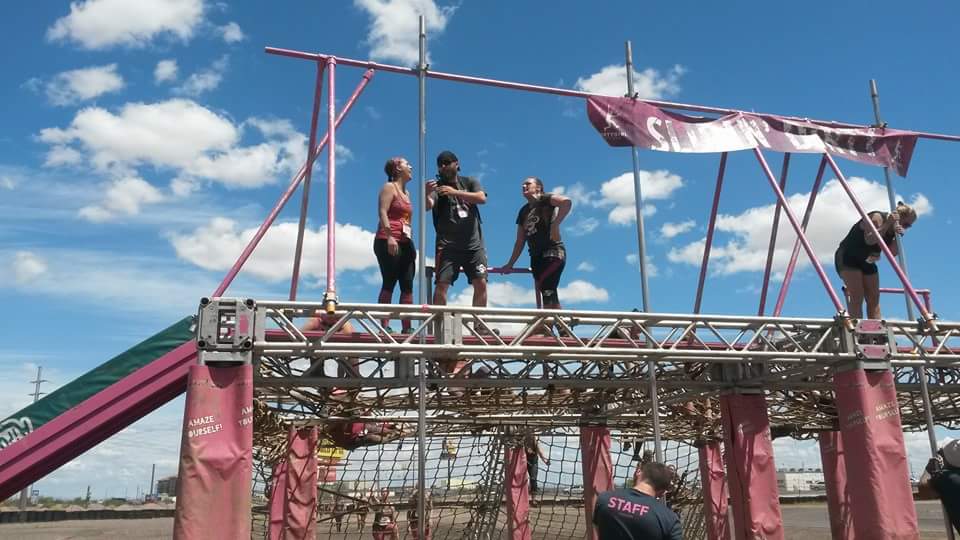 The volunteer check in process was quick, painless, and the staff seemed genuinely happy to have the help.  After being given a volunteer shirt and name tag, I was assigned to the obstacle named Sliding Dirty.  It seemed that my reputation had proceeded me.
Sliding Dirty was the final obstacle before the finish line that required participants to climb up and across a cargo net to a platform with a pole to slide down before a triumphant run to the finish.  Being perched at the highest point on the course gave me a spectacular view and I could see a large portion of the course.  As the waves of women started coming through I was reminded why I love this sport so much.
Watching these female athletes coming from all walks of life to come out and conquer this course made me smile.  Seeing the look of accomplishment on a racer's face when they overcome an obstacle is something that never gets old.   My time atop the obstacle went by quickly and right on time, I was relieved by the next wave of volunteers.  The staff was personable and very helpful throughout the whole day.
Now for the tricky part, the race review.  As mentioned before I was unable to run the course because, well, I'm a guy.  To solve this dilemma I went to the experts, some of the ladies who took on the Dirty Girl course.  I asked them what they liked about the race, what they didn't like, how would it could be improved, and finally would they do it again.  Here's what the ladies had to say:
What the Women Had to Say About Dirty Girl Mud Run
Kristin Hopple, a cancer survivor, said that the Zumba style warm up at the start line was very motivational.  She thought as a seasoned OCR athlete, the obstacles were easy enough that most anyone could do them but she wished there had been more of them along the 5K course.  Kristin would also like to be able to race with her 7-year old daughter, a seasoned veteran of kid's races.
Emily Vacanti, who was celebrating her two year anniversary of racing, said she very much enjoyed the course and the obstacles.  She would have liked to see more mud on the course and felt that there could have been more water used.
Betsie Pruett enjoyed the use of inflatable obstacles along the course.  She too would like to have had more obstacles to conquer.  She noted that the water slide was shut down when she got to it.  Betsie had expected more water and mud out on the course.
Martha Forbes felt that the girl's only setting made it for a less judgmental atmosphere.  She had fun on the course with her friends.   She echoed the feeling that there could have been more mud as well as the water slide being shut down.
Jessica Herring loved the Dirty Girl experience.  She said that the volunteers were helpful and the check in process was quick.  She did note that the cargo net obstacle did not have any volunteers at it.  While the rinse station was good the water coming out was salt water from the lake on the adjacent property.
Overall the ladies I spoke to really enjoyed the Dirty Girl Mud Run event.  The course was simple enough for all ability levels and provided a fun time.  The staff and volunteers were cheerful and helpful.  Areas that could be improved on were more obstacles and more mud for the course, this is after all, a mud run.  All six of these female athletes said they would sign up for another Dirty Girl.  I believe that this is a great race to introduce new people to the sport in an environment where they will be more comfortable to get their feet muddy in the world of Obstacle Course Racing.
Rating: 4 out of 5 stars
---
Have you done a Dirty Girl Mud Run?  Leave your own Dirty Girl Mud Run review and feedback…
Use discount code MRG10 for $10 off your Dirty Girl Mud Run registration!!