Quantity over quality or quality over quantity? How about both? If you wanted to play in the mud this weekend, there was no shortage of events! From our tried and true staples, Like Double Spartan Races, An epic showdown at BattleFrog Series, Warrior Dash, Terrain Mud Run and Rugged Maniac, to more specialized races to get excited about, like the end of an era taking place at Mud Guts and Glory, the always highly anticipated Goliathon and a welcome reminder of what we love most about OCR at Conquer the Gauntlet – this weekend had it all.
Not in the US? All over the globe people came out for some of the most anticipated and exciting series on the planet. With Nuclear Onslaught (with special kilted guest, OCRWC's and CMC's own Garfield Griffiths) in Essex UK, Nordic Race in Copenhagen and Madellin Columbia's Desafio de Guerreros, we showed the world that we are here strong and here to stay!
Let's begin with the race that had everyone buzzing long before they even got to the event…
---
BATTLEFROG – SALT LAKE CITY, UTAH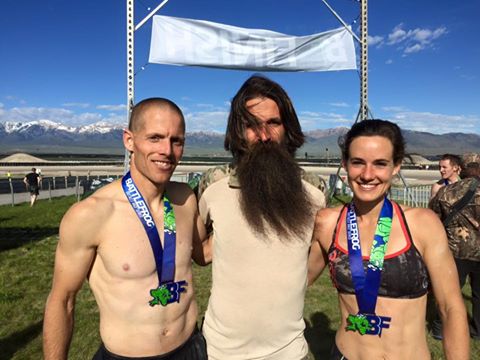 It was like being called out onto the playground after school. Hobie Call challenged Ryan Atkins to a duel at sundown – okay – not quite – but he did call him out to battle on his home turf for first place. Ryan has been tagged as "UnBFeated" – and rightly so. Without a single BattleFrog podium win at less than first place, he has seemed impossible to beat. Hobie, the veteran OCR superstar, has been training seriously, and with this race being in his backyard – it seemed the perfect time to throw down the gauntlet. With Ryan fresh off a 50 miler win, and non-stop racing, he was hardly fresh, but no one is more familiar with BattleFrog's twists and turns, and whether you were #TeamHobie or #TeamAtkins, he was the favorite to win…proof that OCR is not as predictable as one might think. They raced beautifully, but in the end, it was #TeamHobie that emerged victorious on his familiar ground, and he accepted his win with grace and class. Our own Margaret Schlachter was there with to the minute coverage and had this to say:
BattleFrog was a clash of the OCR titans over the weekend on the flat and fast course. The two battled it out and over 1300 competitors took on BattleFrog's signature obstacles on Saturday. It was the first time BattleFrog has stopped in this area and locale were excited to have another obstacle race in their backyard.
Taking home third for men was Nick Rasmussen, and in first place for women (and third place OVERALL) was Lindsay Webster, followed by Nicole Root and Sarah Watson.
Pictures courtesy of Margaret Schlachter
---
MUD GUTS AND GLORY – CINCINNATI OHIO
It is one of the favorite fixed courses of anyone who has ever tried it. Home to the OCRWC for the last two years and several other races throughout the season, racers flock here for the beautiful terrain, the challenging obstacles, and of course, that damn hill. You know the one. With Junyong Pak in attendance, it seemed like an easy guess as to who would take home first place yet again…but remember what I said about OCR not being predictable?
Always the consummate athlete, he raced beautifully but was beaten by two talented athletes no stranger to the sport themselves. First Place winner Chris Schapman was humbled by his win and the experience itself and shared this with us;
"While Mud, Guts, and Glory is home to permanent obstacles, the number of ways they can route the runners feels endless. MGG delivered again by taking runners on new paths and even having us bushwhack a new path for them. Well played, MGG. Well played. In the middle of the carry, they had a Wreckbag hoist. You had to hook up the bag, and hoist it and some other weight already on the line to the top. After lowering it, you then took the bag through the rest of the carry and over a balance obstacle. I love seeing new obstacles, in addition to the familiar favorites like The Gauntlet."
Taking second place for the men was Taylor Clark, and bringing it home for the women were Erin Brooks, Michelle Warnky, and Adriane Alvord.
Pictures courtesy of Chris Schapman
---
CONQUER THE GAUNTLET – DALLAS TEXAS
As the larger series blanket the globe, we find ourselves falling back in love with the smaller races again. Those that intentionally keep their calendar light so that every race is personalized with exactly what they want it to feel like. Not many embody this as well as the Mainprize Brothers, Stephen and David. Knee and elbow deep in mud, blood and sweat, these guys have found the loyalty of those around them by not only putting on a great event, time and time again but by treating every athlete like a member of the family. When a mere few days before the race date, the location they were scheduled to be at FLOODED, the brothers barely batted an eyelash and picked up and relocated. With the dedication of the community helping them out, they found a perfect new spot and were up and ready to go by the time the first racer arrived.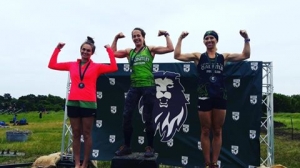 The obstacles are rugged, innovative, rustic and FUN. With their killer showpieces PEGATRON and STAIRWAY TO HEAVEN present and accounted for, both seasoned and new racers showed up and gave it their all. Not being able to do an obstacle did not feel like defeat – it merely made people want to come back. The weather was cold and rainy, but people stuck around in the festival area all day to enjoy the hospitality at the Lone Star Spartans tent, and soak up the atmosphere created by the brothers and the warm and welcoming people they surround themselves with.
Topping the podium for the men, were Beni Gifford, Evan Perperis, and Gustavo Murillo, and for the first time, the Women's podium saw THREE amazing women who kept their belts (showing obstacle completion) with Ashley Samples, Randi Lackey and Jordan Owens.
Pictures courtesy of Rachelanne Gladden
---
GOLIATHON – SOUTH NEW JERSEY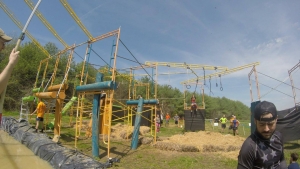 It is not often you hear the words "Non-Profit" in conjunction with a race series. Especially when those words involve 100% of proceeds going to a wonderful charity, Charity:Water – bringing safe drinking water to people in developing countries. The buzz about this race is always enormous. With ridiculously fun and ingenious obstacle designs that offer three different tiers to challenge those who came to fight for their place, and to offer accessiblity for those who came to play, this is one of those events that keep people talking for weeks after it is over, and gives those who were not there a really bad case of FOMO.
Mike Natale does not hand out praise blindly, so when I saw him promoting Goliathon on social media, I had to ask him what his take was on the race after the fact.
"For Goliathon Obstacle Challenges first sold out event, they certainly emphasized the challenge aspect this time around. Only one competitor completed all G3 (hardest tier) obstacles being crowned "David". Multiple event "David" finisher and ANW star Jamie Rahn (Captain NBC) was taken out on Goliathon's newest obstacle, Leap of Faith – a floating tire hop in water. The creativity implemented in these obstacles is something all OCR junkies need to experience. 12 obstacles doesn't sound like a lot but with the strategizing and multiple objectives required to complete each obstacle, it makes for a very unique fun filled day for all ages (10+) and athletic ability levels. Goliathon uses a unique wristband scoring system that sends you home with a medal and arm lined with colored bands. Being a nonprofit 100% charity contribution event its great knowing you're having a blast while helping a good cause."
Pictures courtesy of Alexander Sallahian
---
MUCKFEST MS – Boston
MuckFest MS kicked off their 2016 season over the weekend in Boston. Over 5,000 participants gathered to get muddy and help raise nearly $700,000 for the National MS Society in the process. Racers took on obstacles such as Mt. Muck-imanjaro and the AbbVie Spinner a spinning obstacle similar to those once showcased on the ABC show WipeOut. In addition to the money raised over the weekend many came out to race in memory of in support of loved ones who have been affected by MS. Racers  with MS were given turqouise "I Muck With MS" buffs as a reminder for others for whom they running for over the weekend. 
Photo Credit: MuckFest MS
---
Spartan Race – AT&T Stadium Race & Military Sprint
With not one, but TWO Spartan Races on the West Coast, we couldn't leave you hanging without highlighting some much deserved wins.
At the AT&T Spartan Stadium Sprint, Ryan Kent, John Yatsko and Robert Muzikowki took top male honors, while Orla "Vermonster" Walsh, Cassidy Watton and Brienne Doan took it home for the amazing ladies.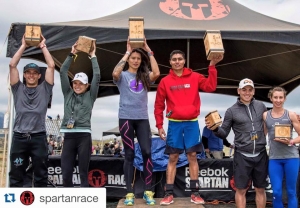 In Colorado, at the Spartan Military Super, we saw Angel Quintero, Matt Kempson and Isaiah Vidal top the Men's podium, while KK Paul, Faye Stenning and Nicole Mericle crushed it for the women.
It is also worth noting that Orla Walsh after podiuming on Saturday at the stadium race flew to Colorado after the race to make her way onto the podium again on Sunday at the Military Sprint.
Pictures courtesy of Spartan Race