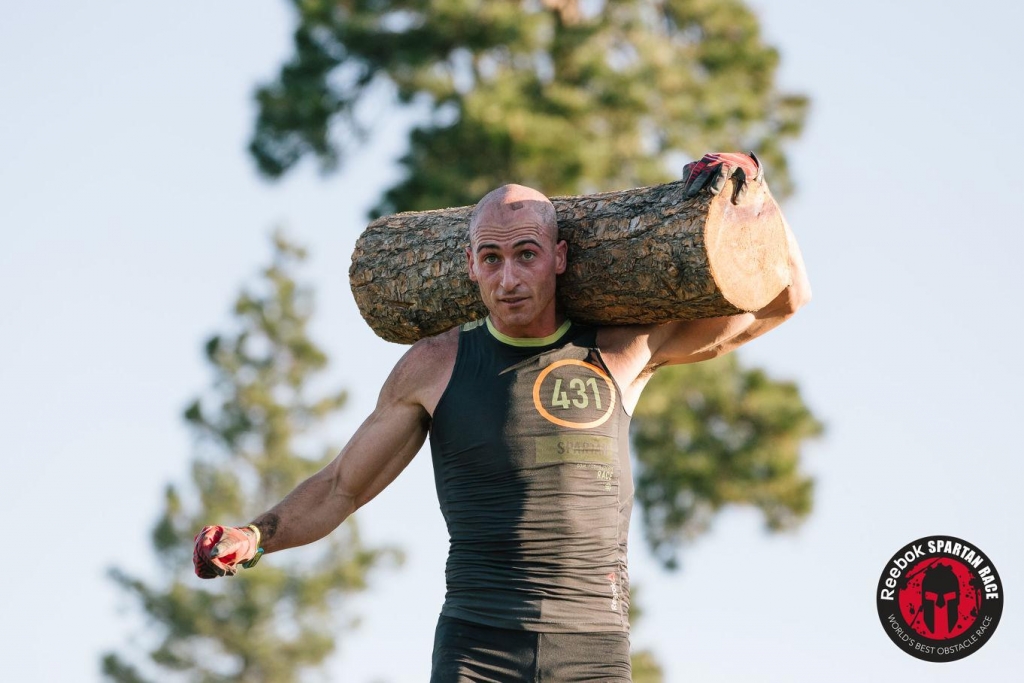 Last week we sat down with Brakken Kraker to talk about the new training system he recently launched. Kraker first mentioned his new offering during a recent Obstacle Order Podcast. Kraker is currently part of a team launching a new OCR Coaching product for Leaderboard aimed at the obstacle racing community. Below is a Mud Run Guide exclusive with Kraker talking more about Leaderboard.
Leaderboard. Give me the short version. What is it?
BK: Leaderboard is an online platform that connects athletes to coaches in order to provide an immersive, online training experience.
Athletes in general, or OCR specific athletes?
BK: OCR specific at the moment. Expansion is on the horizon, but for now we are an OCR training platform.
You have been coaching athletes for a while now. How does this differ?
BK: Yes, I've been coaching athletes for OCR competitions since 2011. Those athletes have always worked one-on-one with me, receiving personalized training plans. Leaderboard will connect athletes with other athletes of the same general ability, with the same goals and the same athletic attributes and needs. We will take groups of 10-15 similar athletes and place them into a training group. Each day the group logs into Leaderboard and receives their all-inclusive OCR training. They report their results on the group training Board and receive feedback from both myself and their teammates.
So, this is like being back in high school or college and training with a team.
BK: Yes, except that instead of every athlete on the team receiving the same workouts, the team is divided into groups of athletes who train in a similar manner. Much like a track team where the short sprinters train with the short sprinters, the middle distance runners with the middle distance runners, jumpers with the jumpers, throwers with the throwers, etc. It is personalized enough to fit the unique needs of the individual and just inclusive enough to allow the athletes to have training partners.
What is your price point for this service?
BK: 99.99 per month. With this, the athletes all receive a daily, scripted workout that contains everything you need to be successful in OCR: daily running workouts specifically designed for OCR, OCR specific grip workouts, OCR specific strength workouts, and core workouts. In addition to this, they will receive tips and training on how to warm up and cool down properly, how to taper for a race and recover after a race, race tactics and obstacle techniques, as well as much, much more.
There are several training options out there for OCR athletes looking to improve. What sets Leaderboard apart?
BK: There absolutely are, and we encourage any athlete looking for coaching to explore all options before choosing one. You need to make sure that the coaching style fits you as an athlete. What sets us apart is twofold. First of all, our online platform is completely unique. Each athlete has an entire group of teammates. Besides strength in numbers, the accountability and inherent competitiveness of these groups helps maximize your training. Any question or concern an athlete has is answered in real time via our message boards. It is simply the most immersive online coaching experience you will find. Secondly, we're unique in that this is the exact style of training that I personally use. We don't prescribe any workout that I have not personally completed several times. Through trial and error, I have developed what I believe to be the most effective means of preparing for any OCR race. This system has evolved over the years as the sport itself has changed, and will continue to do so. One advantage of having a coach who also races is that as soon as a race makes a change, that change is reflected in the training. It is a system that has allowed me to move from an 800m runner to a true endurance athlete.
Tell me a little about this system you use.
BK: This system is based upon tried and true endurance training principals. With those as a basis, I have added and subtracted pieces in order to create a hybrid training OCR system. It is based upon improving your running ability while simultaneously improving your ability to breeze through obstacles. We place a huge emphasis on improving the ability to run while fatigued from obstacles, and complete obstacles while fatigued from running. Our other main emphasis is being race-ready year round. We have a unique sport in that we have races every single weekend of the year. Our system gives the athlete the ability to race on any given weekend while still progressing steadily throughout the year.
This all sounds great in theory but have you put it into practice yet?
BK: We do! First of all, this is the system that I personally use 100% of the time. While it is tweaked and adjusted for each group of athletes, the meat and potatoes of the system remains the same. Robert Coble has created a system for analyzing and ranking the performances of every single athlete who runs the elite wave of a Spartan race. Taking into account every single athlete at every single race, his system identified me as the most consistent performer of 2015. This is something I take pride in, as it shows the steady growth and progression that this training style can produce! Winning is not always something we can control, but consistent improvement absolutely is! Last weekend, one of our athletes won the Ohio Beast and Sprint in the same weekend. A few weeks ago another athlete made his first podium. We have athletes who have dropped multiple minutes from their 5k times. We have a Master's athlete who has already made over 10 podiums this year. Everyone single athlete who has faithfully followed this system has shown consistent improvements.
Very interesting. Anything else we should know?
BK: We have just opened registration for our first training group. In order to guarantee the best possible experience for each of our athletes, we are limiting our first training group to 10 individuals. This group's target athlete is one who consistently finishes near the top of their age group and has at least 10 hours a week to dedicate to training. If this sounds like you, please apply! If it doesn't, definitely still apply! As soon as we see that this group is rolling smoothly, we will open more training groups. Those who do not receive a spot in this first group are guaranteed a spot in a future group! Head on over to Leaderboardfit.com and see what the next big thing in OCR is all about!
---