Two days ago, in the West Coast Spartans Facebook group, Michael Lopez-Paras shared a photo of a broken window on his car with a note saying his five years of Spartan Race medals had been stolen along with a few other items from the backseat of his car.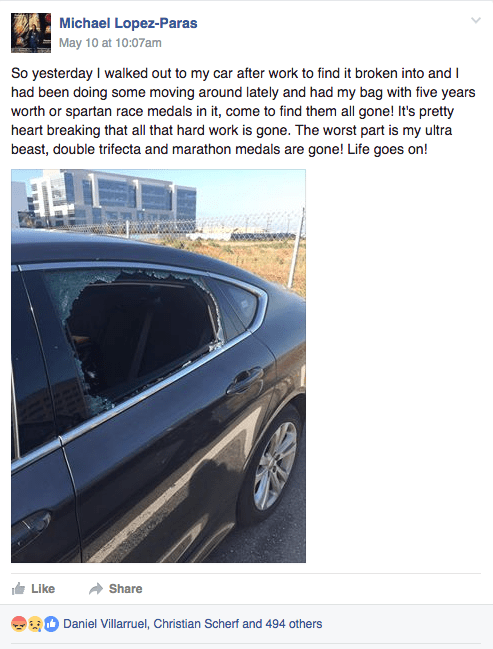 What followed under the post was an outpouring of comments from those in the community, among them was a post from JD Beebe at Spartan Race. The post included a photo of a handwritten note from Spartan Race founder Joe De Sena offering Lopez-Paras an annual pass to help him replace those stolen medals with earned new medals.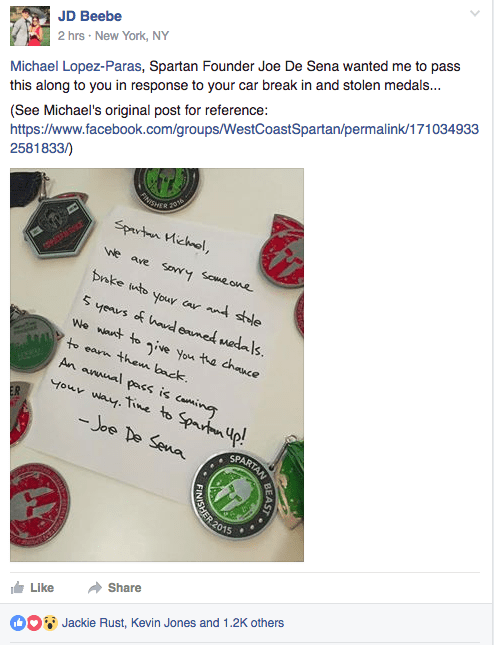 We reached out to Lopez-Paras to find out more about the story. Here is what he had to say:
I just recently moved and between moving and working I still had some bags in my back seat just my camera bag, smaller bag with my trail shoes in it and my hydration pack that I used to complete my ultra beast with and that bag I had my medals in because it's the most accomplished bag I have.

I go to work and park in the lot I normally park in didn't think much of it because I've parked there all last week and nothing happened finish a full day of work walk out to my car to find the rear window busted in which is what you see in the picture I look in disbelief, look inside the car to find all three bags gone.

Now my camera I would assume to be the most mad about right well in my case the medals and the bag were just because I pour so much in them it was like really I looked around to see if they dropped the bags or medals who really wants a bunch of metal to carry around. So I call the local police department and they said " oh you can fill out a report online." Okay I did that.

The next day I was sitting at work thinking of ways to look for my medals or just think about what I can do about them being gone. I email Spartan asking if they can replace them and since I'll be at ATT Park this weekend if there was anybody I can speak with. So since I'm apart of west coast Spartan I wanted to share my story since we all share stories about our Success and races.

Just looking for support or any other ideas over wheels with the support I felt truly supported and did feel I lost so much but was ready to start a new chapter of races. (A lot of change has happen in life the last 6 months so those medals/races kept me going i have turned to Spartan to take out anything going on in life on the course.) that being said I woke up to your post and couldn't have felt blessed to have a chance to earn some of the medals back. I will continue to volunteer which I have done at all my races.
This is not the first time a race company has stepped in to make a bad situation right. After World's Toughest Mudder one of the final competitors to come in from his las lap came back only to find his pit area had been assumed abandoned and all his gear had already made it into the donation pile and dumpster. Tough Mudder reached out to him after the event to offer him free entry to the next years race as well as a voucher for gear through Tough Mudder.
While no one can replace those five years of medals stolen from Lopez-Paras car it this story has a silver lining. With the new annual pass headed his way Lopez-Paras can now make new memories earning the next patch of medals.
---
Share your thoughts…