With the OCR World Championships heading to Canada this year, there is an increased excitement to qualify and represent in our own nation. We are fortunate enough to live close to many fantastic venues where there are qualifying races to choose from.
We decided to register for the XMan Race Series and see what all the hype was about. We had heard that they provided a well-organized event with some creative obstacles to challenge us in the three key areas: strength, agility, and speed. This would be their first time in Ontario and we had wanted to give it a try for quite some time.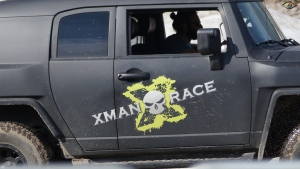 Communications for this event were great. We received emails regularly to provide us with all the necessary information including directions, accommodation options, and parking. Registration was quick and easy online at an average cost of $68-80.00 for a solo racer and other locations offered a kids course for $20.00. Responses to any emails were quick and clear.
There was ample parking that was free for race kit pick up the night before and $10.00 per car on race day. Volunteers were on hand from the moment you entered the main building to answer any questions, however, we found everything clearly marked and well laid-out.
Arrival
We were pleasantly surprised that there were little to no lines for any activities in the village. Race kit pick up was organized by surname and there were no delays in picking up our timing chips, sticker, headband, and tech t-shirts. Two choices of tech tee colors were available pink and lime green. There was a small vendor area (hats, shirts, hoodies etc…) and a bag check in the main building with a fee of $3.00. Vehicles were parked close, so there was no real need to use the bag check option except to check your car key if you did not have a willing spectator nearby.
The race was held at Horseshoe Valley Resort and racers could book a room at the base of the mountain for around $175.00 Canadian. The mountain itself has a vertical drop of 308' with a top elevation of 1332'. The race designers took full advantage of the elevation as the course wove its way across and up the mountain numerous times. Barrie, Ontario is located 1 hour north of Toronto and the town of Orillia has many food, lodging, and entertainment options within a 15-minute drive from the mountain.
XMan Race Toronto Details…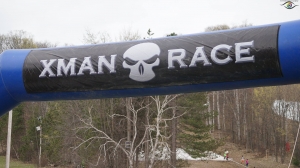 We received a quick electronic announcement that this would be considered a 'dry' course as there were some concerns that the weather would not cooperate and that there was still some snow at the base of the mountain. Again, not wanting to avoid a great opportunity, the course took full advantage of the snow elements and incorporated them into the climbs and crawls accordingly.
This was a 7.2+KM course and challenged racers to approximately 38 obstacles. There were your standard walls, crawls, and climbs but each one had a bit of a twist. Some of the more unique obstacles were the conduit pipe crossings that were elevated over mats and spun if you did not cross them with perfect balance; another was the "SuperXman" where you bounced on a trampoline up onto and over a wall, making it one of our favourites!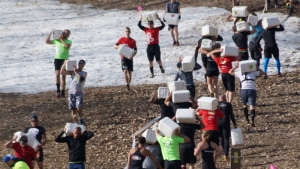 This was a spectator friendly event with ample areas to view the excitement at the start/finish lines, an outdoor bar/grill with patio, and staged photo areas with signage for Facebook photos, Instagram, and Twitter ops.
There was water available along the course, but it is recommended to carry a small supply if you plan to be out there for an extended period of time. We had some team mates complete the course within an hour or so whereas others were out there for 2.5+ hours. We were fortunate enough to have an overcast day which kept it cool enough to push our limits and it rained around noon which added to the fun 'messiness' of the course for afternoon racers.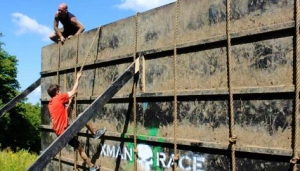 Along the course racers had the opportunity to climb some fantastic walls, some roped, and some reversed. They could also test their strength with lifting, carrying, and balancing while working their way along wooded trails and overhead challenges. Some of the carries were cinder blocks, logs and water cans. Large hay bale tunnels added to the creativity along with low crawls through snow under conduits and reverse horizontal side steps to keep you actively engaged.
The obstacles were well built and music from the village could be heard during our last few kilometers and inspired us to pick up the pace and push a little harder. The MC for this event was 'great', he was easy to understand, spoke clearly and kept us motivated from start to finish. The Elite heat departed promptly at 0900hrs with heats leaving every ½ hour to avoid any bottlenecks. A few gals (non-elite) started off in the Elite heat to give them a bit more time to complete the course and enjoyed the first heat fervour at the start line.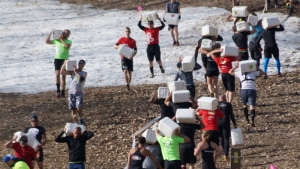 This race had loop penalties for missed obstacles where we would loop back down a section of the mountain and return while following white flags and touching an object (tree) or circling a pylon before returning. These penalties were being enforced by volunteers, however, a few racers could be seen completely avoiding a section (bear crawl) and skirting up around the marked areas. Not a lot we can do about someone's personal integrity and honesty but we know we did our best and didn't cheat, however, it would be disappointing for those trying to qualify and then being bumped out by someone who did not follow the rules. Unfortunately, with no bib numbers, they remain anonymous.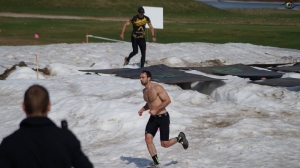 The finish line was back at the start line and volunteers awaited racers with their finisher's medal. Many racers returned back to the final ½ pipe to help other racers over the wall and show the true meaning of this sport –teamwork, camaraderie, friendship and support for others. It was posted as a 'live feed' through Facebook for those final racers who managed to complete the course and make it over the wall. A moment to celebrate, no one left behind!
Race Swag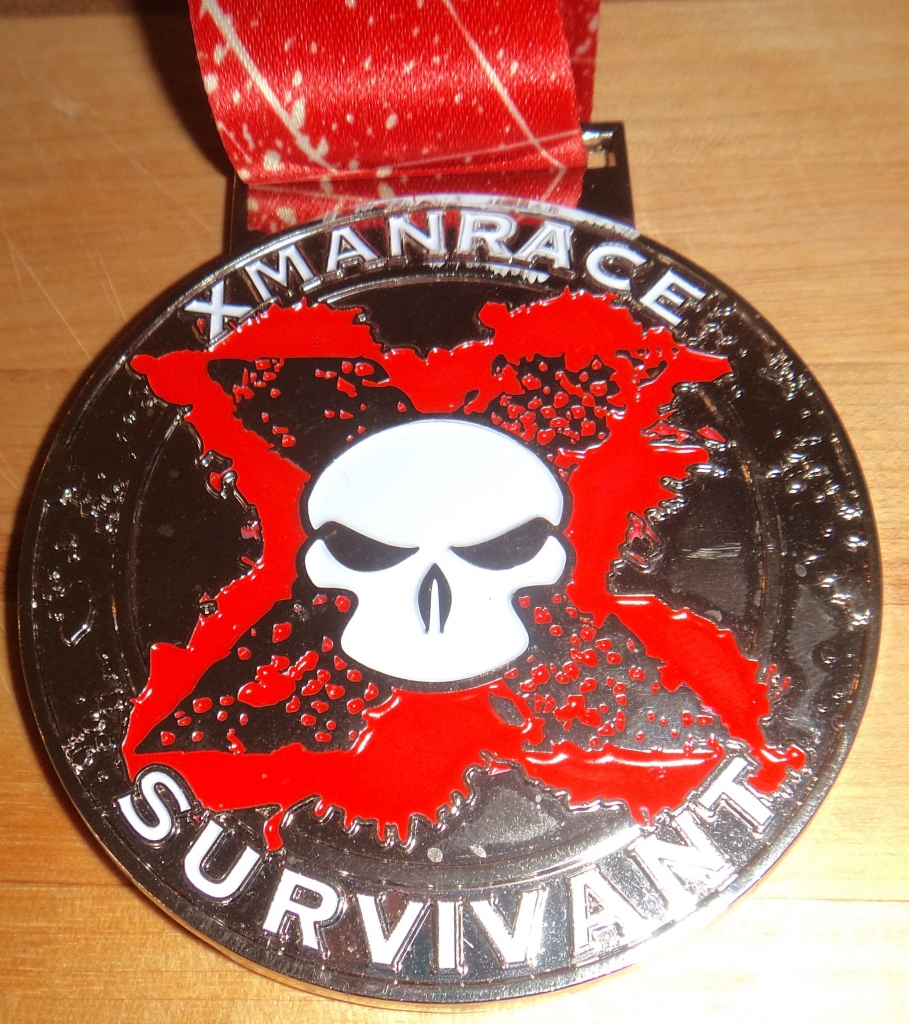 The medal received by all finishers was awesome. Big, bold and solid! The outdoor showers, provided by Tremcar, were the best I have seen yet with no line-ups and warm water! As a qualifying OCRWC race it ranked the top 10 male/female racers (141 participants) in the Elite heat and also the top 10 in each 'General' age category with 1126 participants.
See results:  http://www.quidchrono.com/en/results/
The top 3 male and female Elite also received their OCRWC t-shirt and a wooden plaque (1st, 2nd and 3rd). Special congratulations to a few of our teammates in their age categories: Kelly Morrice -1st, Kelli McRobert 7th, and Cheryl Enders 8th; all moving on to the World Championships in October.
Gear Used…
Garmin 220 watch, Pearl Izumi M2 trail shoes, Power Fist fingerless gloves, Running Skirts compression socks, Under Armour sports bra, Road ID, QALO ring, Obstacle Guard leg/arm protectors. *the arm and leg protectors are highly recommended at this event as many racers had cuts, bruises, and abrasions over both arms as legs from the dirt, rocks, sand, and snow.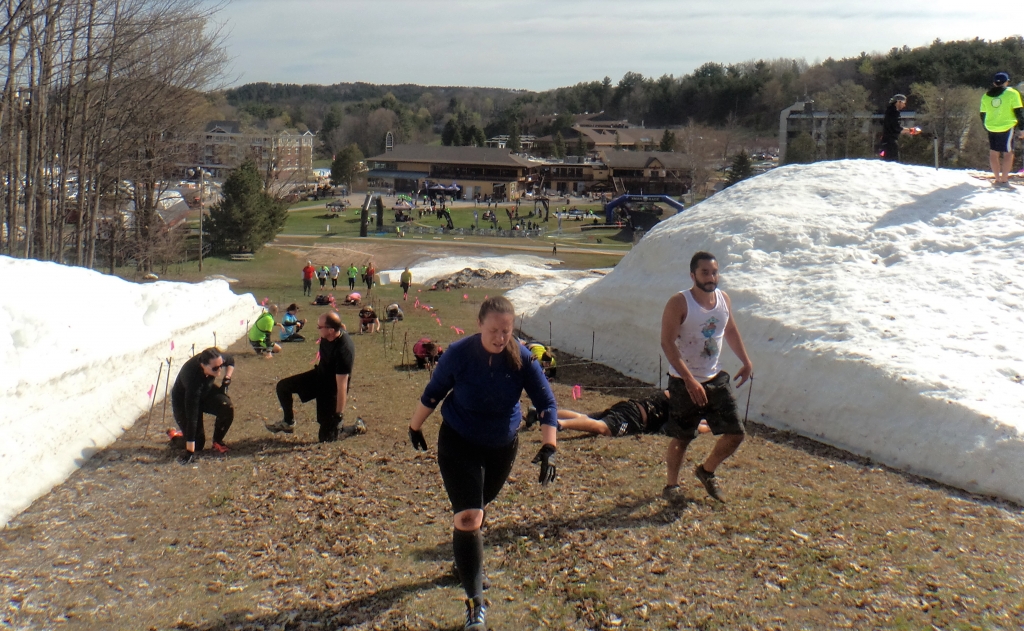 Thank you to Jesse Ward Bruce and his entire events team!
5/5 paws
---
Have you done an XMAN Race?  Leave your own XMAN Race review and feedback…