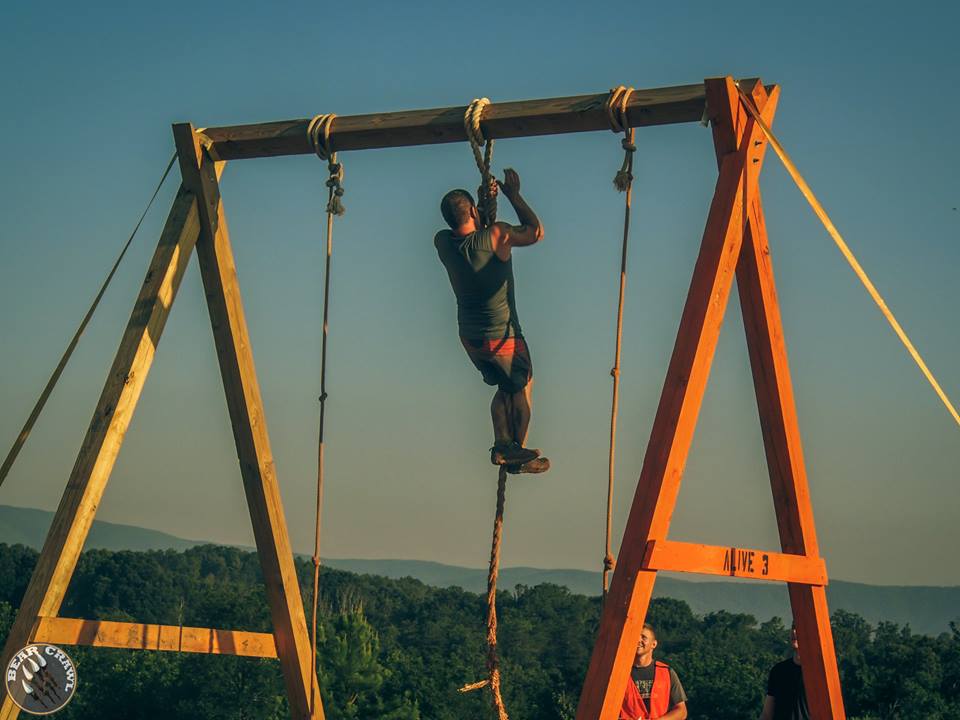 One of the things many of us love best about Obstacle Course Racing, is that the races come in so many forms. Not just the variety of obstacles and terrain, but that no matter what your skill level, there is something out there for everyone. Whether a race has 60 per year, or 6, is International, or a one-off rural labor of love – we are there having fun with our friends and family, doing what everyone else thinks we are crazy for doing, and knowing that they are the crazy ones for missing out.
This week, there were over a dozen races going on, and since many of the usual podium suspects were off at our neighbors to the North attending the wedding of a couple of beloved OCR rookies, it opened the playing field for some new names to shine – and shine they did!
(PS – Congratulations Ryan and Lindsay, you amazing humans. We love you!)
---
BATTLEFROG SERIES – SEATTLE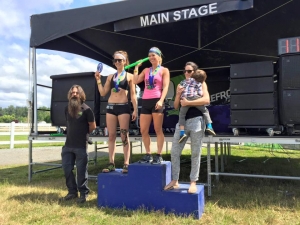 If our feed seemed a little 'Frog heavy this weekend, it was because of the amazing efforts of the beautiful Hannah Copper out on the course at BattleFrog Series Seattle. Not only did she race elite, but then killed it with the coverage. Thank you Hannah!!! She had a blast in the gorgeous Pacific NW, and has this to say about the event;
"BattleFrog Seattle was an amazing event! It was 9 miles, excellent use of the flat terrain, with only 50ft of elevation gain per lap. It mislead some into thinking it would be an easy course. The Rigs were challenging enough to eat many souls, and the Wedge Wall had a pile up in the Elite Men's category, desperately trying to keep their bands.
The volunteers were incredibly friendly and supportive, encouraging racers to not give up their bands and fight through the challenging obstacles. Athletes were full of support for one another even after they had finished their own race. Many headed back to Rig #2 to encourage and coach fellow racers. Overall an excellent example of the amazing OCR community."
The podium had both new and familiar faces with Matt Hallett, Cole Schwartz and Ian Hosek joined by women Ally Reite, Kayla Kobelin and Lauren Taksa
Pictures courtesy of Hannah Copper
---
SAVAGE RACE – PENNSYLVANIA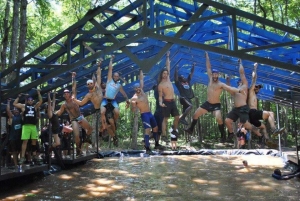 If you are tired of seeing the same things over and over again, Savage Race is the cure for the common OCR. Obstacle heavy and full of innovative ideas and fun concepts, they are quickly becoming a force (pun totally intended) to be reckoned with. Donut King James Grbac was kind enough to put down his maple bacon flavored heart attack and give us the low-down;
"Once again, Savage delivered! The course brought us in and out of the woods, across streams, through open fields, in and around paint ball war zones, and a brief run on the road.
It wove us in and out of the main festival area so that spectators could watch racers attempt some of the obstacles. The Savage staple obstacles were there, Davy Jones Locker (a high jump into water), Sawtooth (monkey bars), Wheel World (spinning wheels ala ANW), Shriveled Richard (an ice bath), finishing with Colossus ( a warped wall into a water slide).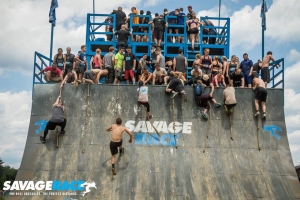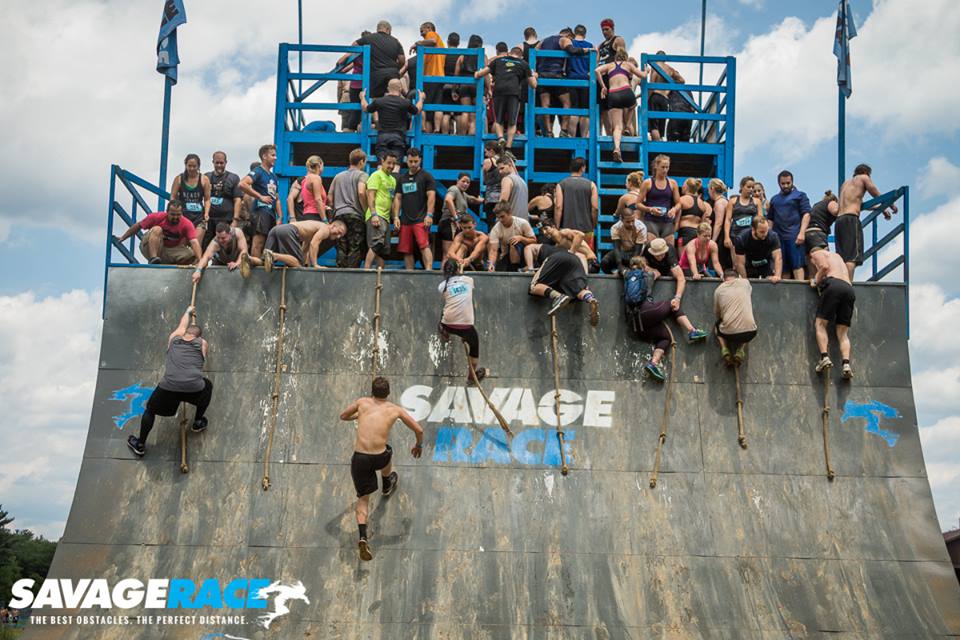 New to this location was the Savage Rig (Savage's version of a now OCR staple), Pole Cat (poles that you traverse one at your feet, one at your hands), Big Cheese (a curved climb wall with holes for feet and hands), Squeeze Play (a low crawl with barrels to get under), and On The Fence (floating chain link fence to traverse). The 5 miles of terrain and 25 obstacles made for an incredible race day."
Topping the blue pedestal this weekend was the undefeated Yuri Force (my miserable pun makes more sense now, I hope) joined by Jordan MacDougal, and Paul Reynolds with Jackie Landmark, Maria Tornudd and Katie Vitali
Pictures courtesy of Savage Race
---
CONQUER THE GAUNTLET – OKLAHOMA CITY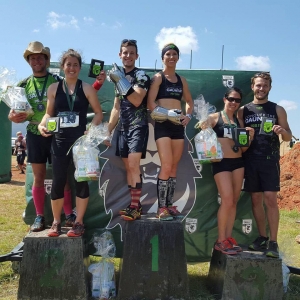 Conquer The Gauntlet is one of those races that reminds us of why we started doing this in the first place. Their die-hard fans follow them to as many as they can get to, and their Pro Team is one of the most passionate and dedicated in the business. The Mainprize Brothers have not lost one ounce of joy for the sport even with all of the challenges it presents, and it shows. The hilarious and unquestionably charming Lucas Pfannensteil is a familiar face at any CTG, and was there this weekend to tell us about it;
"Today's race brought us to a ranch in Oklahoma City, featuring over 4.5 miles of running and 25 total obstacles, including two new ones. CTG continues to provide an amazing race atmosphere for their runners and featured great wooded technical terrain with lots of quick elevation changes in and out of the woods. This was the first dry course for CTG this year, as it didn't rain the night before or morning of the event, making it a runners delight.
We started fast with numerous walls and other fun obstacles until the course brought racers back to the spectator area for a rope climb and the Tarzan Swing which features numerous lanes for each level of competition, elite male, elite female, and open wavers. We then headed back into the woods for a lot of trail running and more obstacles, including the Z-Beam (CTG's version of a balance beam), which has taken many racer belts in this mandatory obstacle completion race.
On the way back in from the woods was the much-feared Pegatron, then back to the spectator area and the infamous Stairway to Heaven and Walls of Fury. Finishing up the course was the newly released Torpedo, which sent racers up a 15' ladder climb then shot them down a tube into a pool of water. The Torpedo was perfectly placed at the finish to cool you off and made for some epic race photos. CTG again lived up to their hype of being a family friendly event with a great atmosphere and a heck of an obstacle course race."
Top Conquerors this week were Matt Campione, Nathan "NaPalm" Palmer and Bryce Robinson joined but amazing women Randi Lackey, Lauren Woodstock and Joy Strickland
Pictures courtesy of Lucas Pfannenstiel
---
BEAR CRAWL – NORTH CAROLINA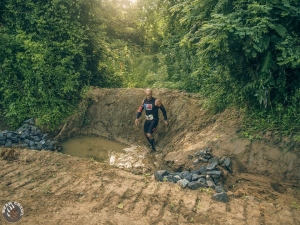 Bear Crawl is one of those smaller races that you hope will pop up somewhere remotely close to where you live. These types of events pour so much heart and soul into them, that they are worth seeking out whenever possible. . This race benefits "Alivecubed" (alivecubed.org), a 501c3 charity that is dedicated to helping others live life to the fullest. Our awesome correspondent Andy Zuber was there for the second time and had this to offer us to be jealous about;
"2015's race was a great event and this year's event promised an even tougher course than before, on a completely new piece of private property at the Bennick Compound motorcross training facility near Morganton, NC. Two length races were offered (5K and 10K) with the 10K course (elite racers ran the 10K only) being two laps of the 5K.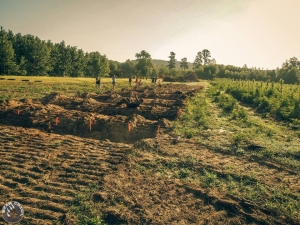 We started out with a 5 foot wall after a quick sprint from the starting corral, before weaving through a muddy motocross track with the sprinklers on, making the climbs on the track slick, then into a rolling mud pit obstacle and up a slip wall. After a single track run through the woods, racers were challenged with a Hercules hoist and a creek fording. The real fun began with a long (80+ yards) 130# atlas stone carry for the men (70lbs for the women) before a quick trip through the woods left racers faced with a long farmer carry using logs with chains attached.
Racers then faced a barrage of obstacles such as a log carry, a long barbed wire crawl, tire drag, tire flip, and spear throw before entering the "bear complex pit". In the pit, racers had to complete 3 rounds of 10 log clean and presses and 10 burpees. Then it was off to the Warped Wall before 10K racers continued on for a second lap and 5K racers jumped the wire to find relief at the finish line.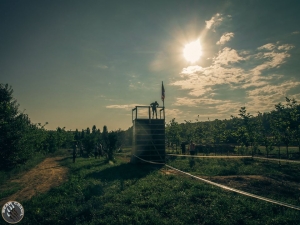 Overall the course offered a great new location and was challenging for even seasoned racers with master mind Kevin Gauthier's twist on classic course favorites. This is definitely a race that anyone in the NC or surrounding area should check out next year."
On the Bear Podium was Almon Cox, Phillip Christensen and Ken Young with Julija Soryte, Meagan Jornigan and Tina Wolfe
Pictures courtesy of Bear Crawl
---
GLADIATOR ROCK N' RUN – SAN DIEGO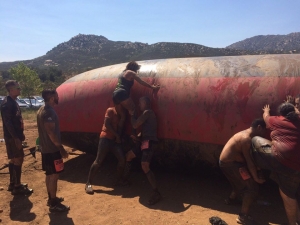 When Gladiator Rock N' Run first debuted, it was fueled by the interest of people wanting to meet its creator Dan "Nitro" Clark, of American Gladiators fame. What kept it going and has made it the growing success it is today is a combination of great obstacles, a VERY loyal fan-base, and the fact that Dan is not only a warm, engaging public figure at EVERY race, but that he LISTENS. When the racers tell him what they want, he knows that they are the most important thing about the event, and he is not afraid to learn and change based on what he takes in from every person he meets on course.
This particular race offered three distances. With Gladiator (3.2 miles and 17 obstacles), Super Gladiaator (5 miles and 25 obstacles) and Goliath (2 laps of the Super), there was something for everyone. Our resident "Will try anything especially if it is totally crazy and makes you want to throw up" reviewer Chris Cow, had this to tell us;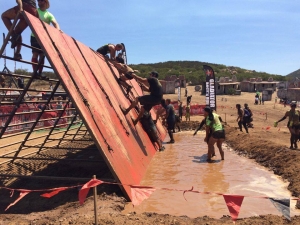 "Gladiator Rock n' Run returned to the Barona Motocross Park this weekend. I have always seen Gladiator as a near-perfect mesh of a fun, high energy mud run and more serious obstacle race for those looking for a challenge. The obstacles are simple and often strength based (long cinder block carry, cinder block lunges, etc), but also has plenty of mud crawls and a fun water slide. Unique obstacles included Tube-a-Saurus – a pair of giant and inflated tubes that required teamwork for most to get up and over, and The Beast – a 60 degree slip wall the proved a challenge to nearly everyone.
An always bustling festival area that keeps racers wanting to hang out there all day, had Push-up/plank challenges, a live band, food trucks and Dr. Bronner's providing hot showers."
Pictures courtesy of Chris Cow
---
SPARTAN RACE – IDAHO AND MINNESOTA
Spreading the love like only a race the size of Spartan Race can do, we saw races in two US locations as well as the UK. While the Manchester results are still being compiled, in Idaho, we had Cody Moat, Andrew Leichtnam and Jeff Huxhold joined by women Alyssa Hawley Leona Moat and Laurel Shearer.            
In Minnesota, the podium featured Mike Ferguson, Garrett Toll and Mark Batres with Stephanie Hochman, Julie Hartjes and Andrea Nelson.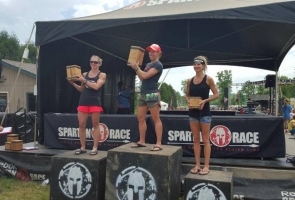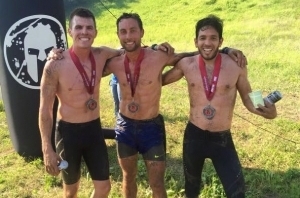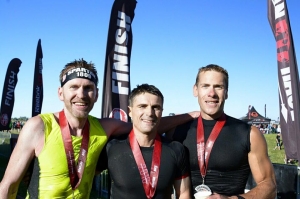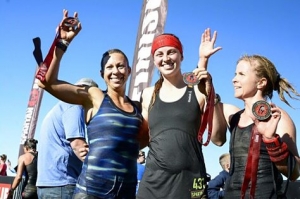 ---
OCR Across America
A special honorary shout out to MRG correspondent and CTG sponsored athlete, Evan Perperis who attacked and completed OCR AMERICA this week.
As a charity fundraiser to raise scholarship money for children whose parents were KIA/WIA, he ran OCRs at seven different permanent OCRs across the US in seven days, multi lapping each location.
Over the week he covered 161 miles (averaging 23 miles a day), 1100+ obstacles and over 30,000+ feet of elevation gain.
Show some love for his efforts by donating to Folds of Honor via his donation page.
Without the support from pacers, his pit crew, the online OCR community and the generous use of several permeant facilities (Shale Hill, Viking OCR, Newbsanity x2 , Dirt Runner) along with active support from two race series (Tough Mudder and Conquer The Gauntlet) this would not have been possible.
Pictures courtesy of Amy Perperis/Strength and Speed
---
 Join Team MRG!
As OCR continues to grow across the globe, we need your help keeping up with all the news & events!
Our Mud Run Guide Crew is staffed by some amazing OCR fanatics from all corners of the planet, and you can contribute on your own level:
OCR Hotline: Upload photos, short videos (shoot horizontal please!), and real-time race updates right from the race venue and our social media team will get it out to the world! Just email social@mudrunguide.com
Last Week in OCR: Submit quick recaps & photos to be a part of this series, email rachelanne@mudrunguide.com
Mud Run Guide Crew: Become a full-fledged member of the crew providing content on a recurring basis! Get MRG Crew-only gear, free race entries, and more! Email matt@mudrunguide.com to learn more!