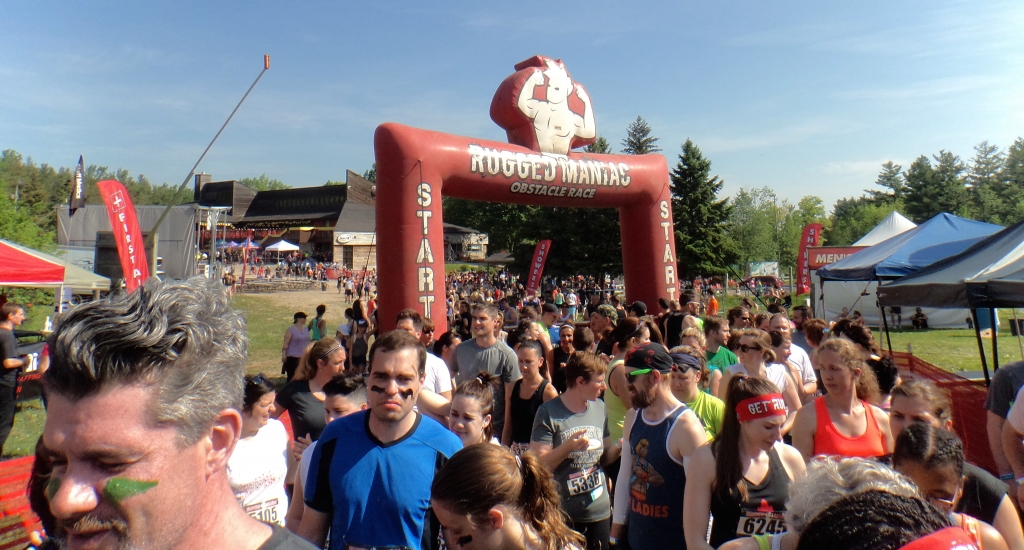 For the past three years I have been trying to get to a Rugged Maniac and finally, this year, I was able to make that a reality. The race was held at the Chicopee Ski Resort in Kitchener, Ontario. This resort is steeped in history dating back to 1805. With multiple ski runs available, it provided racers with a variety of elevations that were well marked and evenly cleared.
Communications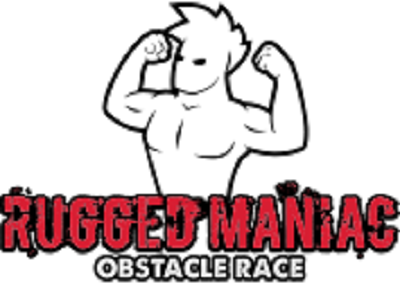 Communications for this event were great. We received emails regularly to provide us with all the necessary information including directions, heat updates, and parking. Registration was quick and easy online and early birds can register for as low at $49.00 before tax for a solo racer. Parking was an additional $20.00 for on-site and $10.00 off-site with a shuttle available. Some racers chose to park roadside and risk a ticket to help offset the additional costs. We chose the $20.00 option so we could come and go to our car as needed.
We had scoped out the venue the night before and it was well laid out and ready for participants to arrive, with no frantic organizers racing around finishing off the little details. For accommodations, we recommend the Best Western Plus located just 6 minutes from the race and it provided us with a quiet hotel room, free Wi-Fi, and included a hot breakfast in the morning. There are plenty of restaurants nearby and it is within a short distance to a local mall for anything forgotten on race day.
We were up and out of the hotel early the next morning trying to avoid missing out on the prime parking spaces. Upon arrival, the volunteers were there to greet us and directed us towards the main buildings. The central village was well laid out and included a great merch table, some vendors/sponsors (MEC, Gatorade) and even a riding bull to keep everyone entertained throughout the afternoon. The SWAG available was all reasonably priced and we spent awhile shopping from some hoodies ($30.00) and other souvenirs to remind us of a great day.
Venue/Festival
There was a large stage with plenty of tables so you could grab a bite afterwards and the music (Perfect Sounds) could be heard from all areas of the village. They definitely kept us entertained with contests (stein hoisting) running throughout the day and it provided a relaxing party-like atmosphere that made us want to hang around and chat awhile with fellow teammates. Some of the vendors had some fab handouts like Paleoethics who gave away some great shaker bottles.
Race kit pick-up opened promptly at 0900 hrs and each racer received the standard bib, t-shirt (soft cotton) and wristband to confirm their age for drinking. A special note of thanks that the organizers chose to make the ladies a Vn-eck cut, we LOVE them! Your entry fee covered off the shirt, medal, free photos and a beer.
Race Details…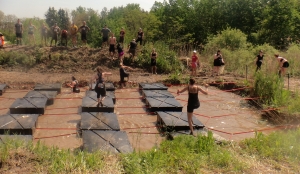 The Elite heat took off at 0945hrs and quickly swept up the side of the mountain towards 25 obstacles that wove them up and down the main face of the mountain. As we watched them take off, we could not help but feel that familiar sense of excitement build as we climbed over a small wall and into the starting corral.
After so many races you would think we would be seasoned veterans, but the fun thing about this sport, more often than not, is every race is a bit different, each one provides us with enough sneak peeks to excite us and motivate us to make the sometimes long journeys and put our family life on hold for the thrill of the unknown, the end sense of satisfaction, and the ability to post an awesome photo on Facebook to inspire others.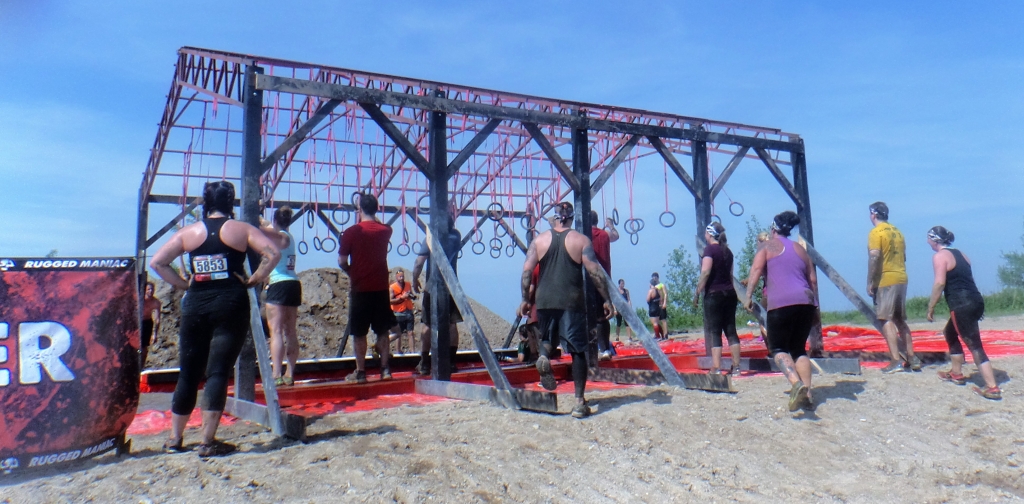 This was a 5 KM course and challenged racers to a variety of obstacles. There were your standard walls, crawls, mud, and climbs but they also added a few great twists. Some of the more unique obstacles were the 'gong' where bounced on a trampoline to reach 'Bang a Gong' and into a cool pool or the variation of a platinum rig over chilled water to cool racers off on a 30+C (88+) degree day. They ensured that racers got wet and dirty with the 'Dragnet' as we ducked and swam under a net that floated over a mucky filled pit.
It was nice to see the fire jumps for some great photo ops and also the giant slide to bring out our inner child with giddy grins and fearful frowns. Even 'Claustrophobia' had a few people walking around as it angled up the hill and kept you in the dark as you crawled under the dark hay topped tunnels. My fave is still the 'Frog Hop', I love the challenge of using momentum to cross over the treacherous floats and having the photographer there was an added bonus to document our success (or not).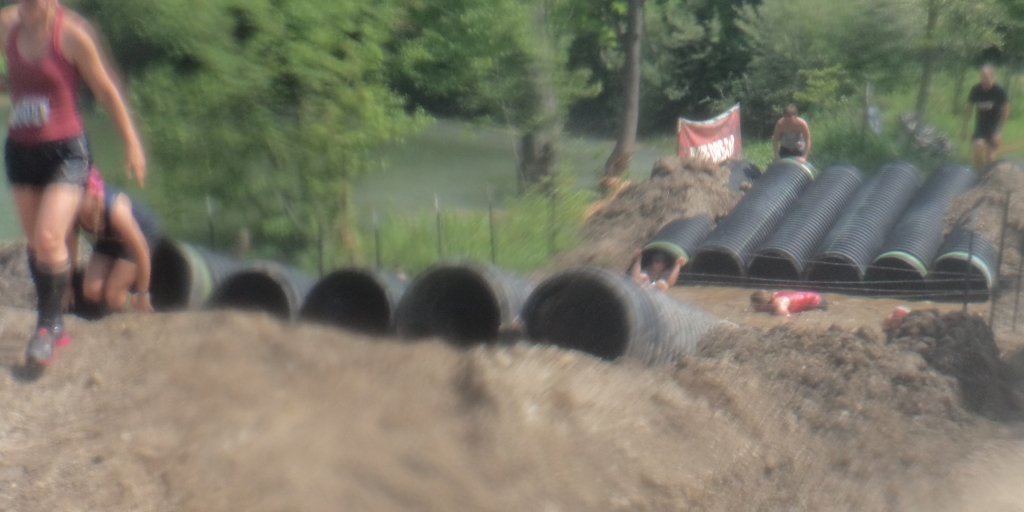 Another Kudo for this event was the addition of 'chlorine' or 'bleach' to some of the watery pits that really helped alleviate fears racers may have had from media scare tactics attempting to deter racers from these types of events for fear of disease, germs or bacteria. However, it would have been nice to add some of that to the 'Pipe Dream' as it was seriously disgusting and smelled foul as we crawled under barbed wire from pipe to pipe….YUCK.
This was a spectator friendly event with ample areas to view the excitement at the start/finish lines, and staged photo areas with signage for Facebook photos, Instagram, and Twitter ops. Signage throughout the whole area was great and we had no problem finding out way around.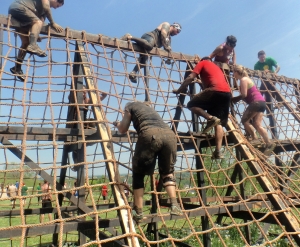 The obstacles were well built and it was fun to race towards the finish line while climbing up and over a sea container as new racers filed into the village below us. There were no penalties for the general heats and those wishing to be timed could purchase their timing chip for an additional $10.00.
Racers could find shade at a few areas and most vendors had tents that we could use if needed; there was even a station to 'foam roller' afterwards while enjoying a cool beverage from Landshark Lager.
Water stations were available along the course, but it is recommended to wear a camelback on the extreme heat days and cool off at water obstacles, when available, if you plan to be out there for an extended period of time.
The finish line was back at the start line and volunteers awaited racers with their finisher's medal, orange slices, granola bars and water. A professional photographer was also on hand and he was patient enough to do group shots without hesitation. Photos were posted (FREE) online quickly after the event and a link was sent directly to everyone's email address. I could not find any photos under my bib number; however, you could search by timings with ease through Gameface Media.
Swag and Overall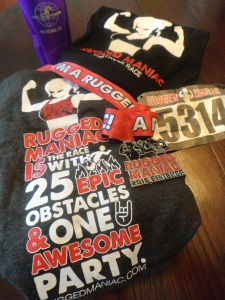 The medal received by all finishers was great. We like 'em big and bold! This is a family-friendly event, but alcohol is served on the premises. Security was highly visible, as was the police presence throughout the day, so that kept the 'rowdies' at bay.
Thanks to the countless volunteers who make these events what they are, and the organizers who came through with what they advertised! We were pleased, had a blast, and would come back again to this race and maybe even try the US version next year!
Thank you to the entire events team! Well done!
5/5 paws
---
Have you done a Rugged Maniac?  Leave your own Rugged Maniac review and feedback…
Use discount code MRG5 for $5 off your Rugged Maniac registration!