I will admit I have never once worn my Tough Mudder t-shirts. Some found their way into my mother's closet. Some were gifted to students. Others donated to Value Village.
Spartan gear on the other hand continues to prosper. Shorts, t-shirts, shoes, sweaters. I never thought twice of throwing on a piece of Spartan gear to go to the gym. Some Spartan shirts were carefully chosen (an old Ultra Beast t-shirt worn to a Spartan Sprint or Super creates just the right amount of psychological warfare).
What gives?
I just never identified as a "Mudder".
"Tough Mudder" is not a race, it's a challenge. Blah, blah, blah. Yes, we know. But Tough Mudder is also just that – an event, something you do on the weekend, a bucket list item. [Notice I am purposefully excluding the WTM community out of this discussion (primarily to decrease the likelihood of finding an angry mob at my doorstep. Get in line, people).]
Tough Mudder sells an experience, while Spartan Race sells an identity. You want to guess which one drums up more repeat business?
Search "Tough Mudder" in Google, and the first link (sponsored by Tough Mudder itself!) introduces the event as "Tough Mudder Mud Run".

When it comes to selling identity, Tough Mudder kinda took itself out of the running. It never claimed to be a sport, or a race, or to be competitive. TMHQ's mission is "Create unconventional life-changing experiences", and so it is about a fun run in the sun. It's the girls' weekend, it's the colleagues bonding, it's guys and beers.
The emphasis is on the event itself – the day, the weekend. You get your headband, and your beer, and you are done.
"I AM TOUGH MUDDER" battle cry attempts the identity sale, but seems to fall on deaf ears. With less events and shrinking attendance, it's too little too late.
Spartan takes a completely different approach.
Not "I did Tough Mudder on the weekend", but "I am Spartan".
Spartan Race looks a certain way. [Arguably, the image above is an interesting choice for the "Spartan look"].
Spartan does certain things.
There is a Spartan family.
A Spartan way of life.
Hell, there is a manifesto.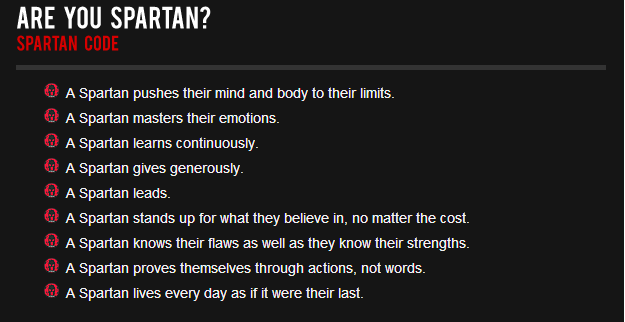 Spartan Race managed to position itself in a way, where the word "race" is dropped entirely. Not "I do Spartan", but "I AM Spartan".
I have written elsewhere about Lululemon, a great example of lifestyle brand, which recently started branching out to CrossFit and other markets, after their success with yoga wear.
As any good symbol-intensive brand, they maintain a relationship with their clients that goes above and beyond usual "brand loyalty". Similarly, Spartans are fans, champions, and the evangelists of the brand. They get Spartan tattoos, and dress their babies in Spartan gear.
Not surprisingly, research suggests that brands that are capable of engaging clients in that way outperform brands that are not.
There is a business lesson in all of this. Consider who your clients ARE, not what they DO. You can then sell them a way to be who they want to be.
Hugs,
SOLO
*I'd like to express my undying gratitude to Matt B. Davis for the original article idea.
---
Disclaimer: The viewpoints expressed by the authors do not necessarily reflect the opinions, viewpoints and official policies of Mud Run Guide LLC, or their staff. The comments posted on this Website are solely the opinions of the posters.