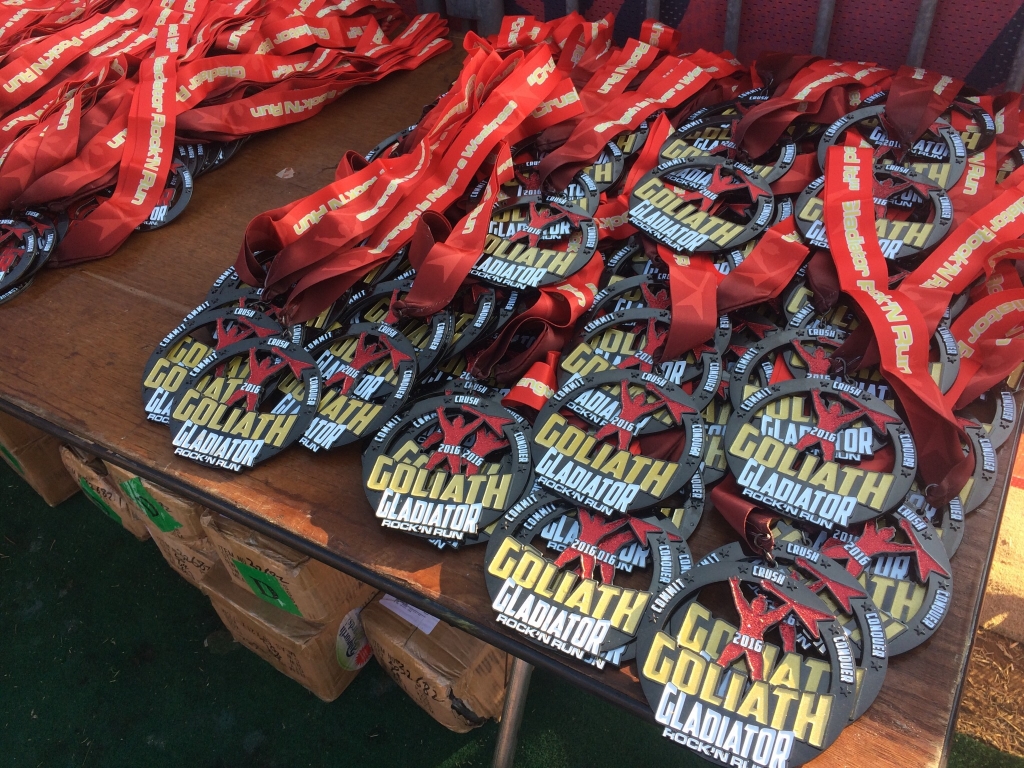 This past weekend, the Gladiator Rock'NRun returned to the Barona Motocross Park in San Diego for the first time since 2014 (they were unable to secure this venue last year for some reason). Put on by Dan "Nitro" Clark of American Gladiators fame, the Gladiator Rock'NRun is a solid fan favorite for smaller race series. It sits solidly in the middle of the spectrum, easy and fun enough for first timers looking to get muddy, and enough of a challenge to keep more serious racers interested.
This year, Gladiator Rock'NRun offered three different race options in a single day; their standard 5k race, a "Super Gladiator" 10k option, and for the first time, Goliath, a 20k race with 40+ obstacles which was actually 2 laps of the Super Gladiator course. Each race had its own medal design, and a few hardy souls took on the challenge of earning all three in a day.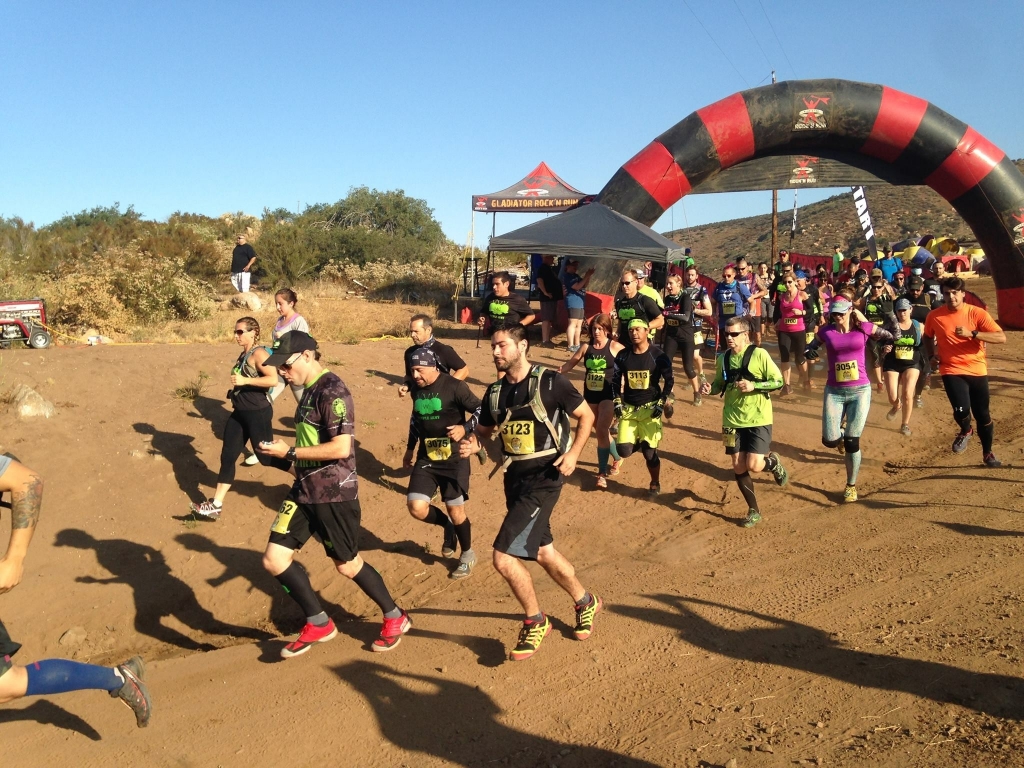 The venue is very interesting, as it combines some big hills and single track with the motocross track and a paintball facility, which provides a few bonus obstacles. The last time I ran this race, one of the more unique obstacles was "Storming the Castle", where the race went through windows in a building facade while volunteers fired paintballs in runners' direction, occasionally scoring hits on their legs or backsides. This time around, the obstacle was the same, but the patter of gunfire was absent (insurance concerns of accidental shots seems a likely reason for this change).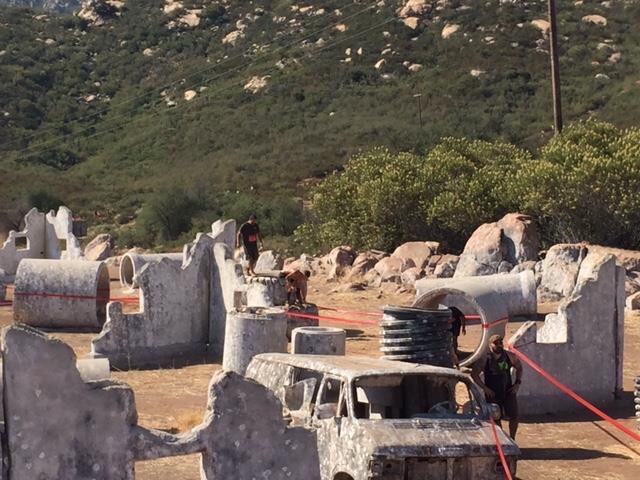 Once past the castle, runners climbed a fairly big hill above the venue and came to the next obstacle, a long cinder block carry. This would characterize many of the obstacles of this race; Dan eschews expensive, high tech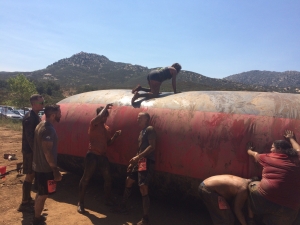 obstacles in favor of simple but effective ones that included performing cinder block overhead lunges and burpees, dumpster diving where racers have to climb into and back out of a standard (but thankfully clean) garbage dumpster, various mud pit configurations, and a big water slide to keep things fun.
Sprinkled in were a few more challenging obstacles like a standard rope climb, cargo nets, "Tube-a-saurus" – a huge inflated tube that most people require teamwork to conquer, and "The Beast" – a very challenging slip wall coming out of water and set at a somewhat ludicrous 60 degree incline with ropes that were themselves difficult to grip once they were wet.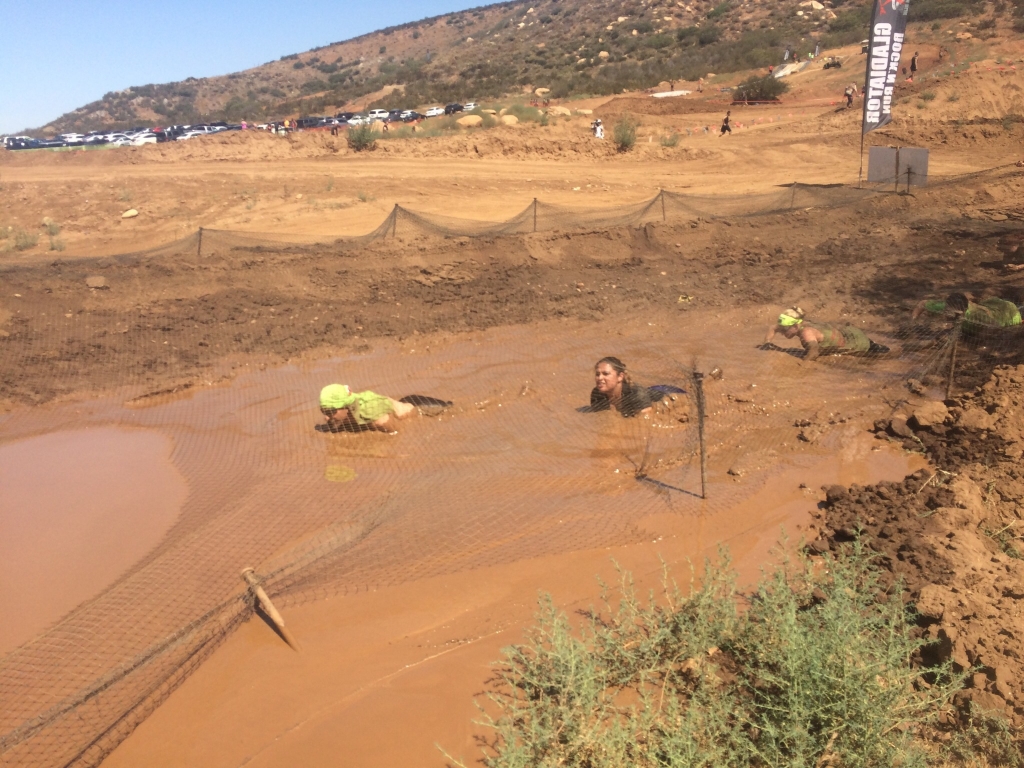 As always, the festival area was fun and high energy, featuring a live band, a couple of food trucks, a few outside vendors, and Dr. Bronner's soap truck on hand to provide racers with a hot shower to get cleaned up afterwards. Additionally, there were several challenges such as push up and plank contests by the main stage.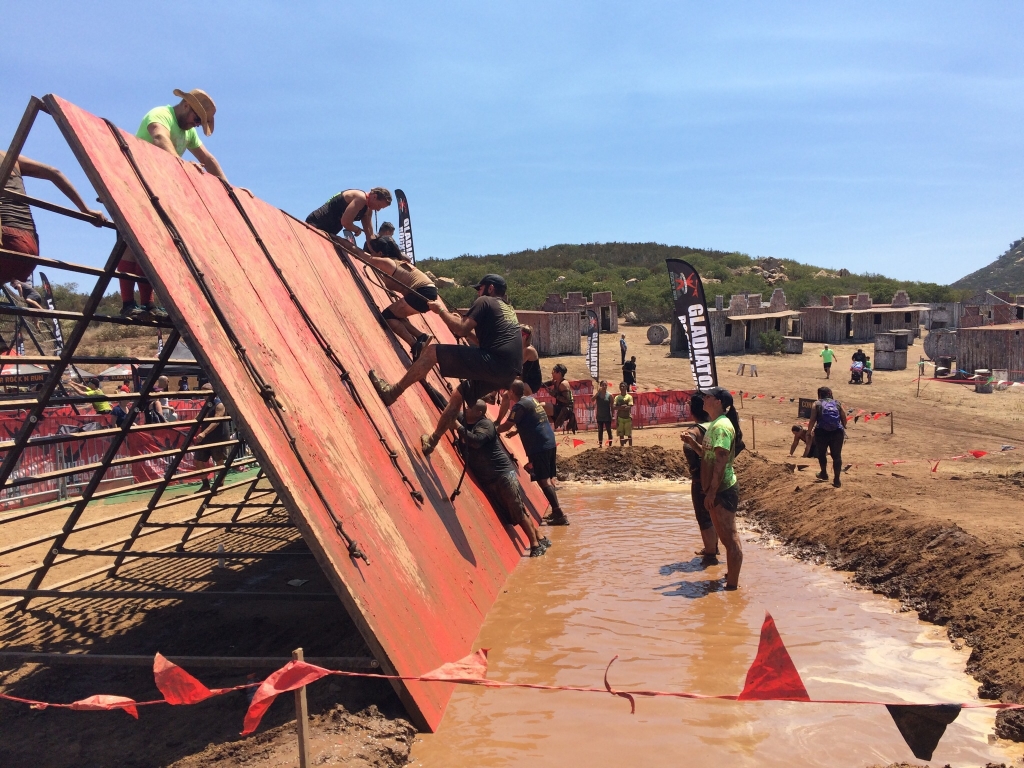 Throughout it all was Dan Clark; the driving force behind the race and a huge part of what makes this race special. Dan seemed to be everywhere; getting racers pumped up in the start corral, personally giving many their medals at the finish line, putting out fires and somehow always managing a moment to pose for pictures with fans.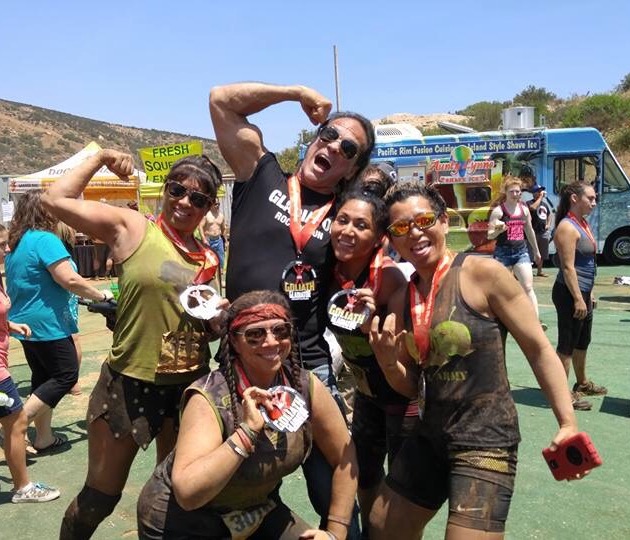 The Gladiator Rock'NRun is a great race for beginners and offers enough meat to keep veterans coming back time and again. There's a distinct feeling of camaraderie that pervades the entire event, and it remains one of my favorites.
Rating: 4/5
---
Have you done a Gladiator Rock'NRun? Leave your own Gladiator Rock'NRun review and feedback… 
Use discount code MRG2016 for 15% off your Gladiator Rock n Run registration!