Years ago, Warrior Dash was my first dip into OCR, I felt obliged to try it again four years and 92 races later. It was a super-hot day and in hindsight, perhaps, I should have postponed participating but as we continue to race our obsession sometimes takes over our better judgement. The race was held at the Mohawk Racetrack outside of Toronto, Canada and provided a flat, fast course. The terrain is mostly fields and gravel roadways and offers some variety albeit limited.
Venue:
We arrived later in the afternoon and there were no lineups to pick up our race kits. We signed our waivers and received our race bib with t-shirt and beer tickets attached. The volunteers were very friendly and told us we had about 15 minutes until the last heat at 1400 hrs set off. Parking was free and there was tons of it so you could come and go if necessary or check your bag closer to the main vendor village.
Warrior Dash Toronto Details…
Upon registration, we received a confirmation however I do not recall many emails leading up to the event day, but we were comfortable with where to go when to race and that a waiver had to be signed off on race day. The race fee at the time was $100.00 and included your finisher medal, tee shirt, Viking horns and one beer.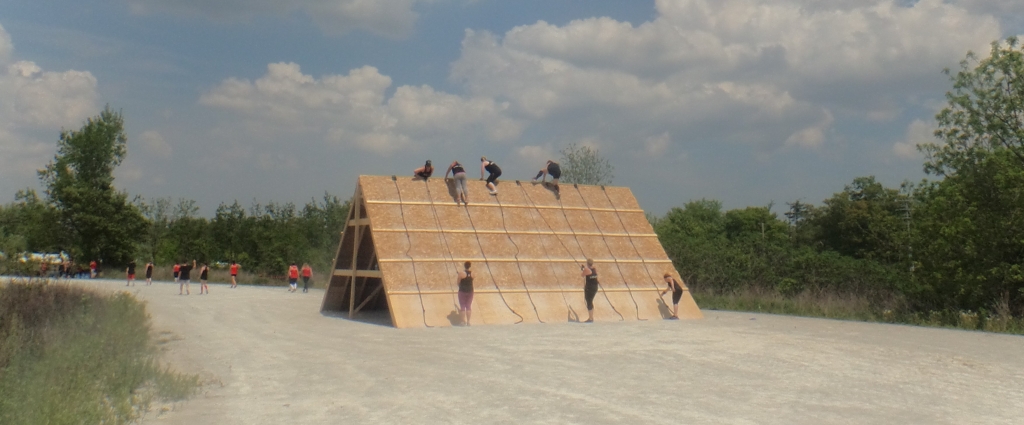 This was a 5KM course and offered racers approximately 12 obstacles. There were mostly standard walls, the traditional fire jump, a fun slide near the finish line, mud crawl and a balance beam water crossing.
At the start/finish line, spectators could watch the racers crawl their way across the finish line under a barbed wire pit and then enjoy a beer with them at the dining area where food was being sold.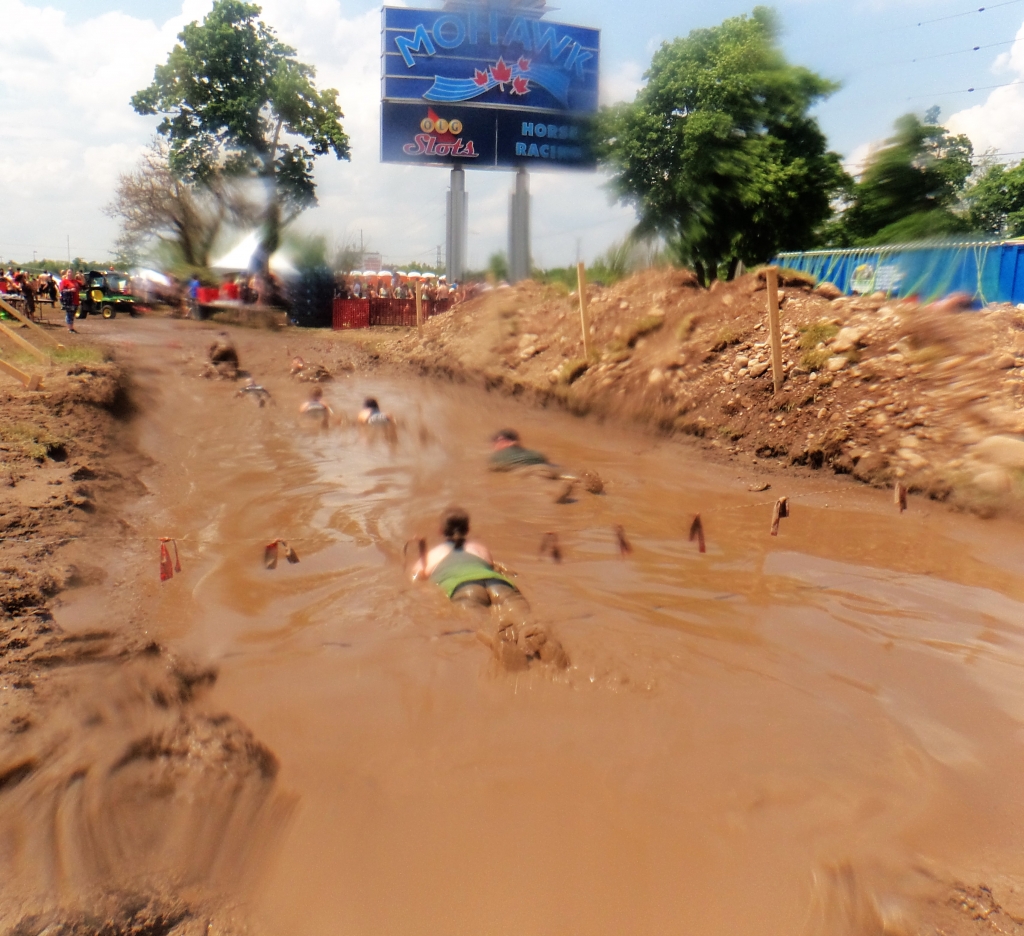 There was water available along the course at a few locations, but at this time in the afternoon it was 'hot' and they had run out of cups so we were dumping the pitchers over our heads in an attempt to stay cool. A few of us carried camelbacks which helped with the extreme heat (30+C/80+F with humidity) and little to no shady areas to stop in.
The volunteers were also feeling the heat and were trying to stay cool, many were sitting in the woods to avoid the blazing sun, and many obstacles had no volunteers at all. The obstacles that were used were well built and sturdy. Some of the signs along the route were quite humorous and engaging. The course was marked by orange flags and looped out and back and was easy to follow. There were no penalties for missed obstacles at this event. I stopped a few new racers and they expressed that they had enjoyed the event and that they were glad how easy it was as "first timers".
The finish line was back near the main village and it had showers strategically placed beside it. These were a welcome sight as racers were extremely muddy and it was nice to cool off after being out in the open fields under extreme heat conditions.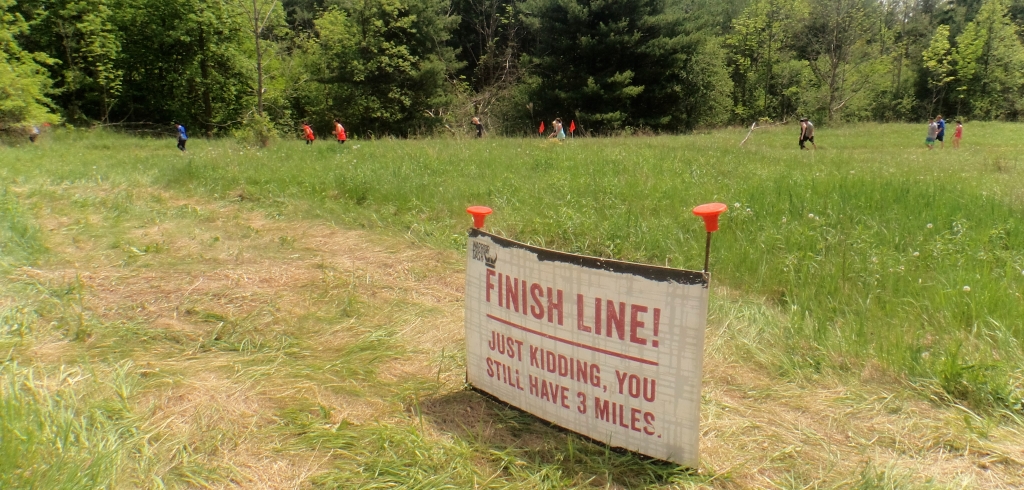 The medal received by all finishers was awesome and an improvement from previous years. The horns were red compared to black in 2012.
Overall Reaction: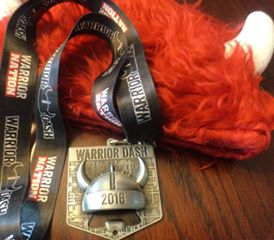 For such a hefty registration fee, I am not convinced this race is worth the money. The obstacles are average and I don't think it offered bang for the buck. Perhaps it is a good one for first-time racers or families wanting to get outdoors and try an OCR, but for seasoned veterans, it was below average and the location did not provide enough elevation changes or variety to hold our interest or inspire us to return for future events.
As a qualifying OCRWC race it ranked the top 10 male/female racers in the Elite heat and we got to congratulate one of our own local gals, Laura Skoblenick on placing in the top ten at this event!
We would also be remiss if we did not give a special thank you to the medics that were on site and took care of one of our teammates, they were exceptional! They were funny, professional, efficient, and managed to get our friend to the hospital quickly for treatment (Heat Stroke). To all the nurses and doctors at Milton General Hospital a huge thank you for everything you do especially when you get a hallway full of muddy racers who had overdone it that day! Your kindness and expertise will not be forgotten! And to the awesome security guard who allowed us to park overnight at a reduced rate! You rock!
Gear Guide…
Garmin 220 watch, Icebug Zeal2 shoes, North49 Camelback, Under Armour sports bra, Road ID, QALO ring.
Thank you to the volunteers for hanging in there in such extreme weather!
2/5 paws
---
Have you done a Warrior Dash?  Leave your own Warrior Dash review and feedback…
Use discount code WD2016MRG for $5 off your Warrior Dash registration!