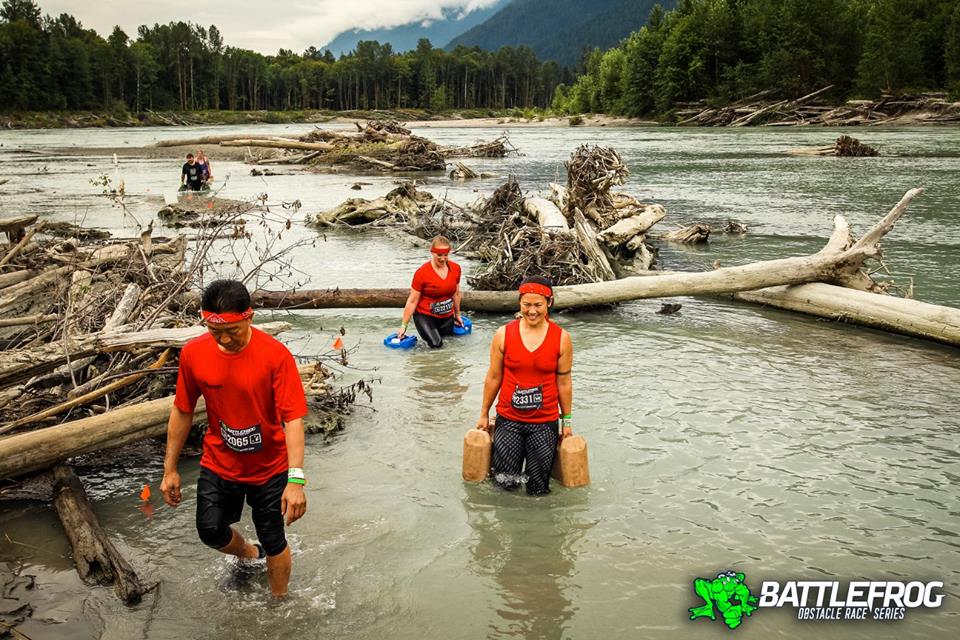 It was another stellar race weekend, and Hills, Heat and the major Elite were out in full force. We had another Canadian BattleFrog terrain use triumph, some much-loved smaller races like CTG and Mud Endeavor bringing in some impressive numbers – but the weekend belonged to Spartan Race, with three races in two locations and a true battle of the big names. The entire top twenty in Palmerton, PA. looked like a veritable who's who of OCR!
---
BattleFrog Series – Vancouver, BC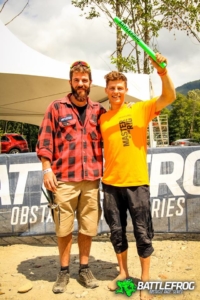 If you did not hear much from BattleFrog  central this weekend, it is because the race was held in an area so remote, it was impossible to so much as send an email. This civilization disconnect showed in the race itself in a surprisingly wonderful way, as the terrain became the ultimate obstacle. The dense woods and gorgeous mountain views made for a stunning but incredibly challenging course. Race Director Marco Bedard was given no trails to work with and literally bushwhacked the entire single track course. That, combined with his killer rig design made for a lot of technical fun for all that showed up.
Hitting the OCR star-studded podium for the men were Josh Zwonitzer, Jordan Maynard and Ian Hosek and were joined by amazing female finishers Allison Tai, Lauren Taksa and Kayla Kobelin for the women.
Pictures courtesy of BattleFrog
---
Mud Endeavor – Dade City, FL
Mud Endeavor is a local race favorite by many in the central Florida area, and they certainly reinforced that with yet another great event. Under the Lights  is one of four different locations that Mud Endeavor uses for their venues, this particular course being on a motocross track and utilizing barns and open fields. Sean "Beard" Crosswhite loves this event and was kind enough to share his experience there this weekend.
"The motocross section and the hills that came with it provided some of the best mud that one could ask for. Inside each barn was a DJ playing music, and obstacles including a foggy low ice water crawl, net crawl and tall fences to climb over.

Mud Endeavor puts a huge and FUN slide right in the middle of this course providing a great time for all runners. Most obstacles have both a beginner and intermediate side to cater to all participants from the elite runners to first timers. The elite field winners were long time Mud Endeavor favorite Air Force Ken Corigliano for the men, and Jamie Stiles for the women. There were lots of large groups running together and helping each other when needed including parents coaching their young kids through the obstacles. Mud Endeavor has really worked hard at improving and changing their obstacles with each race throughout the years, keeping them one of the true local favorites."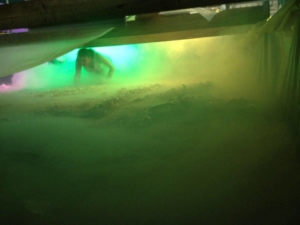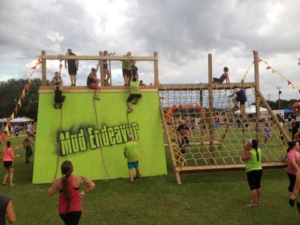 Pictures courtesy of Sean "Beard" Crosswhite
---
Conquer The Gauntlet – Des Moines IA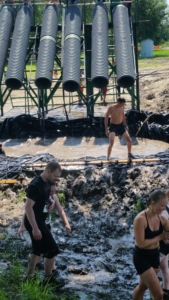 This was a new location for Conquer The Gauntlet, and while many of the tried and true were there, the new grounds brought out quite a few first-timers to this heart-filled race series. Lone Star Spartans Drew Bowker was there and told us this about the day:
"David and Stephen Mainprize brought their A-Game today for sure.  While the course was full of the signature obstacles such as Pegatron,  Stairway to Heaven,  Cliffhanger and the Tarzan swing, they also managed to find some amazing hills in what I had thought was a mostly flat state.   As the CTG race gains in popularity and venues, they continue to prove they are able to provide a premier race experience that will challenge everyone."
Taking the top honors for this weekend's event were Jordan Buscemi and Nathan "NaPalm" Palmer joined by Ashley Samples, Jena Best and Sarah Schoback
Pictures courtesy of Drew Bowker
---
Spartan Race – San Francisco, CA
This Spartan Race Super taking place in Patterson, about an hour or so outside of the city by the bay, was a far cry from the stadium races SF is used to seeing from Spartan. The hills that this part of California is known for were met with some daunting heat, and… more hills. Those who joked that they would not miss the stadium steps may have been pining for them while sitting off to the side of the course nursing their calf cramps. With so many of the big names racing in Palmerton, it gave way on the podium for some new faces to shine, while some favorites still showed up to give them a run for their money. For the men, we had Ryan Kent, Graidy Jackson and Jeff Huxhold met by women Rea Kolbl, Jessica Textoris and Nichole Root.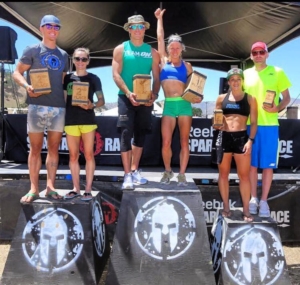 Spartan Race – Palmerton, PA
In Palmerton PA, it was a Super/Sprint weekend of epic proportions. In the past, the Blue Mountain venue has offered a compelling preview of how the World Championship might play out come the end of the season, and the mountainous terrain with dauntingly steep uphills and descents combines with some punishing carries, offer a challenge for every racer on the course. A new obstacle featuring caving ladders turned into a monkey bar configuration was also unveiled, after a sneak peek was given on social media, and was met with very positive reviews. Focused Movement Academy co-founder Christian Bizzoto was there all weekend and offered this to us:
"Palmerton PA Spartan Super proved to an extremely grueling course. As the race took off, Spartans encountered a mile of ascent broken up by a few walls to give a mental break from the climb that was brutal and very steep in some sections. As we hit the top, we were greeted by the infamous spear throw then headed back down the mountain. Grit was the name of the game on this course as it tested the will to keep going as much as the physical. The carry obstacles Bucket Brigade, Sandbags, and Log Carry were all up and down the ski slopes. Spartans got to try out a new obstacle "Ape Hanger" which proved challenging, a thin rope climb, followed by suspended monkey bars over water. The rope and the raw aluminum rungs are wet and slippery and are bouncing up and down with every grab.  Shortly after this was the Log Carry to the bottom of the mountain and then back up, the rope climb, the always challenging Rig and the finish line Dunk Wall and Fire Jump! Overall the course was fantastic!"
 The podium was truly a battle of some of the best in the business. On Saturday we had Ryan Atkins, Robert Killian and Hunter McIntyre accompanied by Lindsay Webster (who, it is worth noting also took 6th OVERALL), Faye Stenning and Alyssa Hawley. On Sunday at the Sprint, Robert Killian joined us again in second place, and was met by Angel Quintero in first, and Joshua Fiore in third. For the women, Alyssa Hawley returned, but this time taking first, with Laura Lunardi and Laurel Shearer coming in second and third respectively.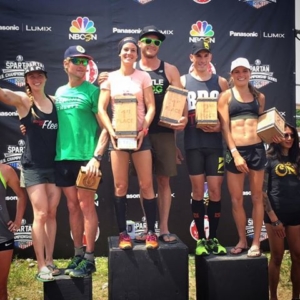 Pictures courtesy of Spartan Race
Congratulations to everyone that raced this weekend – you are all what makes our sport so amazing and keep us coming back for more!