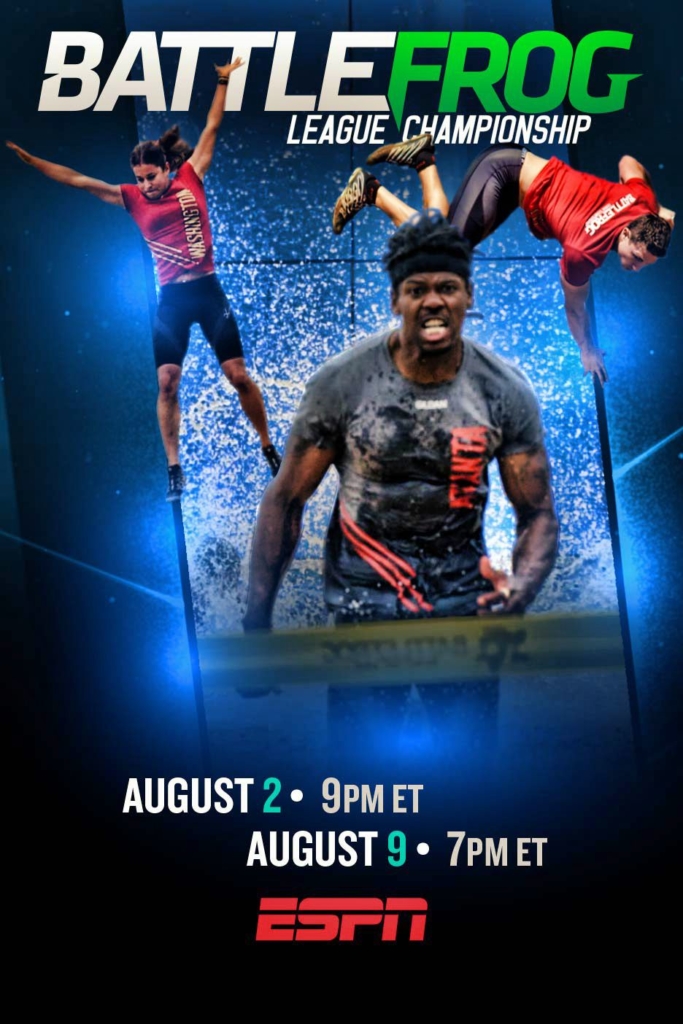 Tomorrow night some of the best in the world battle it out on the ESPN BattleFrog League Championships. Following the College Championships format which aired its second season earlier this summer. The League Championships pits countries, cities, and regional teams against each other. BattleFrog Series and ESPN invited some of the best in the world to complete on this short course. Tune in at 9pm eastern time tomorrow to see all the action.
---
The BattleFrog League Championship will premiere on ESPN at 9PM ET on August 2nd, 2016. The franchise will be airing on ESPN networks throughout the month of August. The BattleFrog League Championship follows on the success of the BattleFrog College Championship which is now in its second season. The show will feature 16 co-ed teams of four professional athletes competing on a 350-meter course of twenty (20) obstacles. The courses were inspired by former Navy SEALs, built by former Seabees, and are based on the fast-growing BattleFrog Obstacle Course Race Series featuring 44 races from coast to coast in cities throughout North America.
Director Ron Luscinski says viewers can expect surprising matchups and dazzling athletic feats. He stated, "The BattleFrog League Championship is really exciting because it brings together professional athletes from different sports all over the world, pitting them head to head on a challenging obstacle course that tests speed, strength, agility and courage. You've never seen anything like this!"
The BattleFrog League Championship is a double-elimination playoff with contending teams representing New York, Los Angeles, San Diego, Denver, Houston, Dallas, Atlanta, Charlotte, Phoenix, Chicago, Washington, D.C., Toronto, Montreal, Norway, Sweden and the Bahamas.
The field features a host of highly-decorated athletes from a number of sports including OCR champions Jon and Henriette Albon (Norway), former NFL players James Thornton (Atlanta) and "Dr. Speed" Paul Pratt (Los Angeles) as well as parkour champions Renae Dambly, Erica Madrid (Denver), and Iraq War veteran Sergio Perez (San Diego). Longtime NFL broadcaster and player Ron Pitts handles play-by-play duties with OCR superstar Amelia Boone and NBA2K host Rachel Demita providing analysis.
ESPN heralded the launch of the League Championship as a unique test in a fast growing sport. Dan Margulis, senior director of content strategy and scheduling for ESPN, said: "Obstacle course racing continues to grow in popularity and we are excited to feature the 2016 BattleFrog College and League Championships on our networks. It is a unique test of athleticism, endurance and mental strength."
The BattleFrog shows are particularly popular with millennials, said BattleFrog Executive Producer Michael McAllister. He stated: "BattleFrog is extremely well received by audiences and it shows in audience attachment, glowing social media reviews and high social media intensity. BattleFrog holds and grows its audience over three hours. The top comments we see repeatedly are 'BattleFrog is lit' and 'BattleFrog is my new favorite show'. We love hearing that families love watching the shows together."
BattleFrog CEO Ramiro Ortiz is bullish on the company's media franchises and OCR as a whole. "A BattleFrog TV race is the fastest two minutes in sports," he said excitedly. "You literally have to hold your breath. The action is so exciting!" For Ortiz, the shows are part of a larger international strategy to grow OCR and introduce BattleFrog to people who have never seen an obstacle course race before. Mr. Ortiz continued: "OCR is gaining in popularity. Our industry will pass marathons in participation this year. We are a very inclusive sport, and it is reflected in our shows. We feature co-ed teams from diverse locations throughout the world. When was the last time you saw men and women competing on the same teams as equals? That's what OCR is all about. When you watch one of our shows or come to one of our events, you are part of a big, adventurous family."
The BattleFrog League Championship is set to kick off August 2nd on ESPN at 9PM EST with replay showings throughout the week on all ESPN Networks including ESPN, ESPN2 and ESPNU. Additionally, the shows will air throughout the world including Canada, Australia, New Zealand, Japan, Europe, the Caribbean and Latin America.