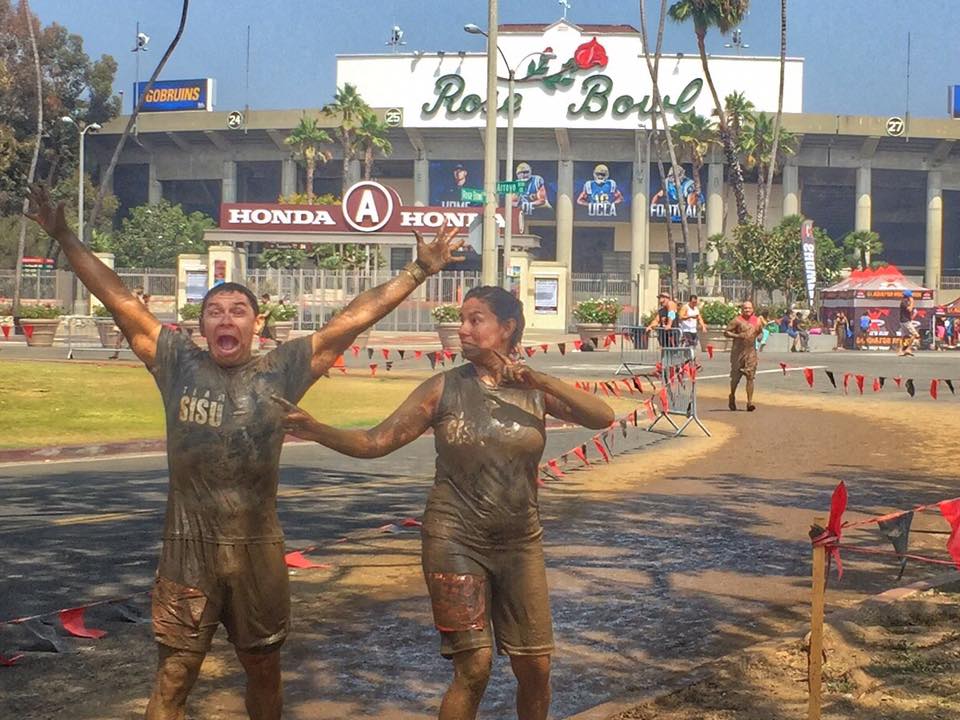 Happy Monday, you animals!
So to say this week was an emotional one for OCR is a bit of an understatement. With some of the best racers, we have out there giving it their all – those of us at home followed the action like the Olympics weren't over. Ryan Atkins wins Spartan Race point series by a single point but shockingly comes in 5th at Breckenridge. It seemed like almost every race series was out and crushing it this weekend, so we will focus on a few so that we do not wax poetic like we are so inclined to do…
---
SPARTAN RACE – WASHINGTON DC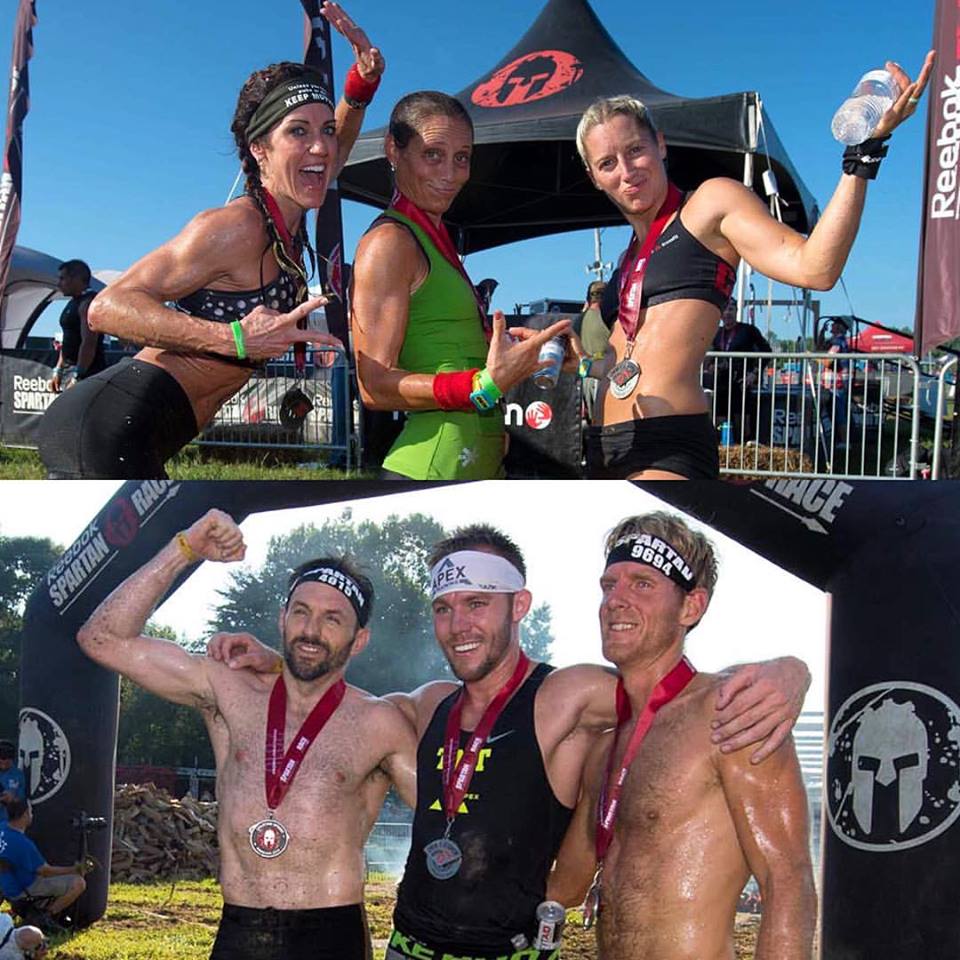 While it seemed like all the action from Spartan Race was in Colorado this weekend, Washington had no lack of amazing athletes out and loving the course. We were able to slow down OCR GEAR Race Team member, and 1st place male podium finisher Brian Gowiski long enough to hear what he had to say about the day:
The Washington DC Spartan Sprint was about a 4.4 mile course, that consisted of running through the lush forest with a variety of short climbs/descents. It was a hot weekend with temperatures reaching the upper 90s, and luckily, there was a water station at every mile. There was a bucket carry that was about a quarter mile and following that was a sandbag carry that was probably the same distance. We approached the barb wire crawl soon after that was one of the longest crawls I have seen. With the z-wall after the barb wire crawl, it took some time to get your balance back in order to make it through. A really fun course and I was very proud to give it everything I had!
Joining Brian on the podium were Ben Kinsinger and Luke Bosek, with Laura Lunardi, Tiffany Palmer and Amy  Bortoff
Pictures courtesy of Spartan Race
---
SPARTAN RACE – BRECKENRIDGE CO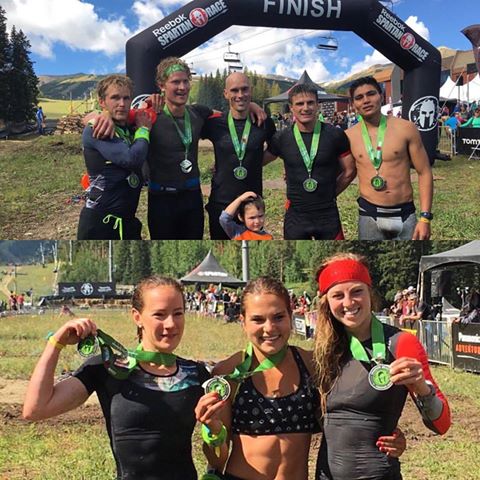 If there was ever a stacked course, this one was the epitome of a true non-championship OCR battleground. With many of the most well-known and well-followed names in OCR in the elite corrals, people were all over the place with their predictions. But at the end of the day, while the obstacles themselves were mostly standard solid Spartan Race fare, it was the terrain and elevation that allowed certain athletes to pull ahead.
Drew Bowker from Lone Star Spartans was on hand to give us this:
This was only my second Beast and my first on a mountain.  Arriving on site at Beaver Run Resort Friday for packet pickup under sunny skies any concerns about nasty weather were gone. The course was amazing.  We were run up to 11,000 ft in the first few miles only to return to the base and be sent back up to the summit.  As we reached the peak the second time we encountered probably the most talked about obstacle of the day, and while the views were amazing,  that sand bag carry up a steep incline was truly brutal. The 14 mile course up, down and across the mountain was dotted with 30 obstacles and some technical trails. While no new obstacles were unveiled here, Spartan continues to provide a consistent quality experience. I'm  looking forward to my next Beast in Glen Rose where last year's greatest obstacle was the weather. 
Taking the top honors for the day in a sea of incredible finishes were Cody Moat, Robert Killian and Angel Quintero (followed by Hunter McIntyre and Ryan Atkins) with the seemingly unstoppable Faye Stenning, Alyssa Hawley and Rose Wetzel
Pictures courtesy of Spartan Race
---
BONEFROG CHALLENGE – ATLANTA GA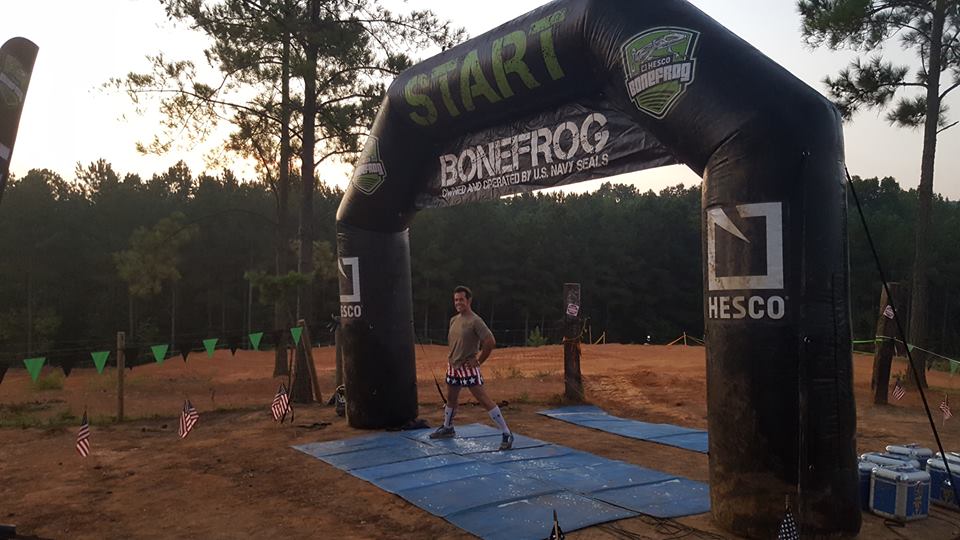 With the demise of the other 'Frog, it opened up the way for many racers to get a closer look at Bonefrog Challenge, one of the hidden gems of the OCR world. But even without the opening, they have been doing an incredible job of creating an impressive name for themselves. With fun and challenging obstacles, a very unique tier system, and a stellar staff (including the Thightastic talents of the incomparable Dustin Dorough as emcee) they brought it all to the table with this weekend's event, and the crowds have spoken – they love it.  One of their most recent and inspired new hires, Amie Booth explained the tier system a bit for us:
This company really values the success and experience of the individual, which is evident in the course options offered:  Sprint (4 mile open), Challenge (9 mile Elite/Open) and Tier 1 (Elite/Open 4 and 9 mile courses).  Elites (cash) and Open division top 3 finishers receive podium presentations and BoneFrog paddle awards, which is rarely evidenced in OCR.  
We also got the feedback of Team Blacksheep athlete Josh Andrews who enjoyed himself so much he reached out to us to give us this:
The obstacles are solidly built and they have a wide range from easy to moderately difficult. They partake in the mandatory completion concept and elites will lose their band for non-completion and for open, there is an exercise penalty option for non-completion. The course was marked very well, and they used the technical terrain to their advantage. The elites who kept their bands could move ahead to the front of the obstacles if there was a backup. Overall its a great race with awesome people running it who are passionate about making it a great experience and want to make it even better! As far as standouts go, there was Dirty Name (mentally difficult) Swingers Club (para cord ropes with a tiny nunchuck on each of them attached to a long piece of wood that is attached to a metal frame by chains) and Get A Grip – another aptly named grip-strength tester!
The Tier One Elite Podium was taken by Yuri Force, Chris Acuff and Vince Hopkins with the only two female TOE finishers being Andi Hardy and Stephanie Huntsman
Pictures courtesy of BoneFrog and Josh Andrews
---
CONQUER THE GAUNTLET – TULSA OK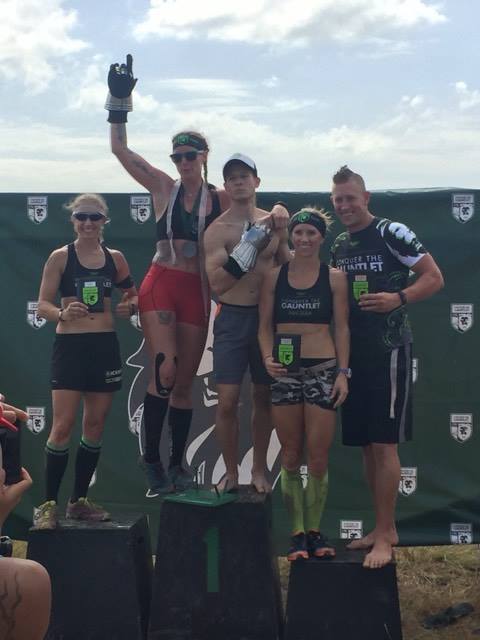 Once again, Conquer the Gauntlet packs a huge punch. With about 2500 athletes showing up to see what all the fuss is about, they got a taste of true OCR spirit. While there are those that think race teams are extraneous, the CTG race team is not only comprised of truly talented competitors (as evidenced by their domination of the podium on this day) but truly dedicated, loyal members of the team. They do not just show up on race day and trot to the corral, they pick up hammers and nails and get their hands dirty with the rest of the build crew and volunteers. And when they are done racing, they go back onto the course and help others through it. On break-down days, you will see them out there as well, long after everyone else has gone home. CTG team member, third place male finisher, and rumored boy band dreamboat Lucas Pfannenstiel spoke to us about the day:
The CTG Pro Team pulled its first ever podium sweep for both men and women this weekend in CTG's home town of Tulsa, OK. at the Post Oak Lodge, featuring the highest point in Tulsa, and the crew used the resort property well, taking us up and down the terrain multiple times with challenging footing at every step. The course measured out at nearly 4.5 miles with the usual cast of 25 epic obstacles, and revealed one new obstacle, The Torpedo this weekend (see photo).The finish line was set up for some great spectator viewing, with a great festival area gauntlet. CTG's legendary five walls, followed by the cliffhanger, finishing with torpedo. Torpedo is a very tall tube slide, that had racers finishing soaking wet, and grinning ear to ear. CTG also featured for the first time ever a short sprint course of about 50 yards and eight obstacles. Watch for this sprint course again at their races in 2017!
Joining Lucas on the Podium of Teammates, were Matt Campione and Bryce Robinson, with Brenna "Red Beast" Calvert, Amy Pajcic and Randi Lackey
Pictures courtesy of CTG and Lucas Pfannenstiel
---
GLADIATOR ROCK N' RUN – PASADENA, CA.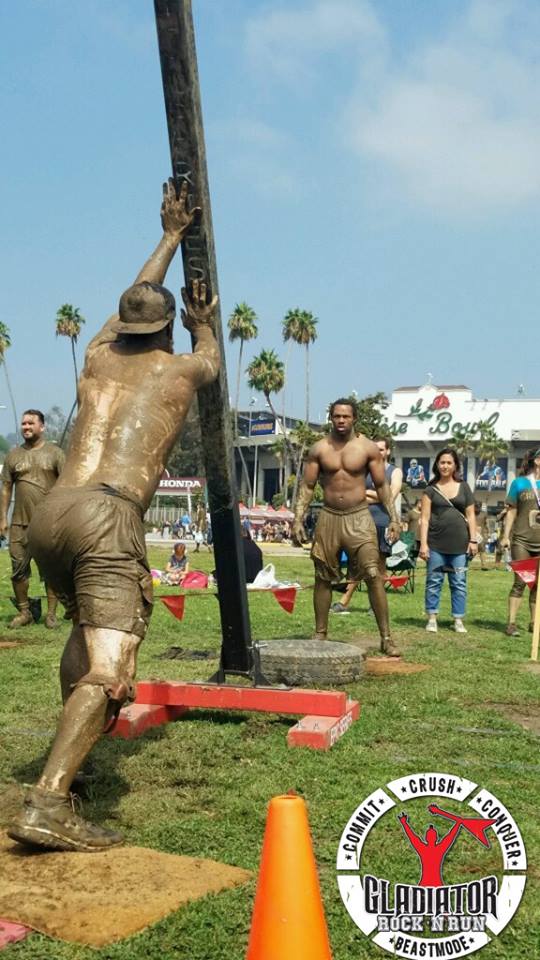 In the shadow of (and within!) the iconic Rose Bowl stadium, Gladiator RNR once again found their home base. While over the last couple of years they have begun to branch out into more areas, this location will always be considered their classic venue, and is a huge crowd-pleaser. Founder Dan "Nitro" Clark of American Gladiator and heavy-duty spandex wearing fame, is a big part of what makes this event so successful and so much fun. He is not only at every event, but he meets with every single person who wants a word, a picture, an autograph or a muddy hug. He is genuine and engaging and listens to what the athletes have to say. With that, he has crafted a fun and unique race that has people coming back over and over. With three distances this year; Standard (5k with 17 obstacles), Super (10k with 25 obstacles) and the Goliath (2 laps of the super) there is something for everyone, while the festival area boasts challenges that pay homage to his love of CrossFit – something he credits for keeping him in such great shape and for being a part of his rehabilitation after his heart attack. Weeple Army team member Mimi Schector is no stranger to this race and shared this about it:
Every year Dan Clark delivers a quality obstacle course race, and this year was no different. The course winds through the Rose Bowl stadium, including Quads of the Gods: running up and down the stairs, immediately following by Bleacher Jumps. It then winds its way up a trail and down, with obstacles strewn throughout the trail run, ending at the venue. The 'Dumpster Dive' (climbing up, in and out of huge dumpster) is very popular, and unique to Gladiator Rock'n Run. 'Dirty Drawers' lived up to its name as you drag yourself across a plastic tarp with water/mud while on your back. If you're not muddy everywhere after this, you didn't do it right!  The final obstacle, 'The Beast', aptly named, is a very slippery slip wall. After that, you cross the finish line and  it's time for a medal and a hard-earned beer. Vendors are always better than average here, and were selling a great deal of merchandise. The entire festival area stays busy all day long with music, food and physical challenges. Overall, you walk away completely satisfied!
I did not have access to the podium finishers at the time of this being written but keep an eye out on their Facebook page for updates!
---
WARRIOR DASH – LONG POND, PA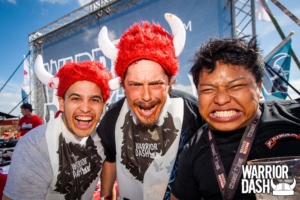 Clocking in at a little over a 5k, Warrior Dash's course at Pocono Speedway in Pennsylvania this weekend boasted 12 of their signature obstacles, plenty of mud on the course as well as beer & hot wings in the festival! Those looking to clean up before hittin' the suds and wings were treated to a pretty sweet Delta Faucet upgrade to their shower experience with the local sponsor providing the rinse-down for our muddy friends.
While the top 10 overall men & women in the competitive heat qualified for the 2016 OCR World Championships, the top 3 guys were Joshua March, Brian Louis, and Derek Domsicz. For the women, Claire Becker topped the podium followed by Jennifer Reis and Jessica McCauley
---
We hope everyone had an incredible weekend – thank you, as always, for being the best part of what makes our sport so great. Have a great week everyone!