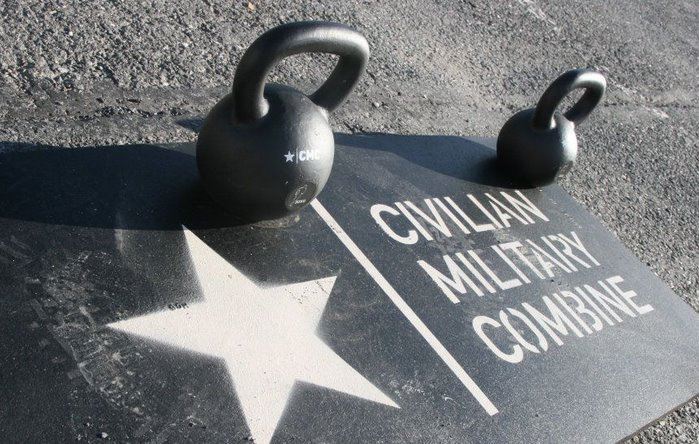 The relaunch of Civilian Military Combine is quickly approaching. Today, Civilian Military Combine announces two powerhouse names in the obstacle racing world will be appearing at the CMC relaunch on September 10 at Fort Hamilton in Brooklyn, New York. "Coach Pain" Dewayne, the beloved OCR emcee has joined the team to provide his own unique and inspiring messages for participants on race day. Also joining the team on race day is OCR legend, Amelia Boone. Boone will serve as co-host for the CMC Fort Hamilton show which will air on SNY network on Sunday, September 25, 2016.
With these two powerhouses joining CMC in Fort Hamilton, this event is quickly becoming a bucket list event of the year. Full press release below.
---
OCR Star Amelia Boone to Co-Host CMC Ft. Hamilton Show on SNY
"Coach Pain" to Inspire Racers at CMC Relaunch at NYC U.S. Army Base
Leaders of the Civilian Military Combine LLC (CMC), the hybrid obstacle course race, today announced that two of obstacle racing's most famous faces will join CMC when it relaunches its race series on September 10th at Fort Hamilton in Brooklyn. Amelia Boone, the world's #1 female obstacle racer, will join CMC to serve as the co-host of a new video feature being made about the series that will air on the SNY network this fall. Legendary OCR emcee "Coach Pain" Dewayne will bring his unique and inspiring messages to racers gathering for the event at the U.S. Army base located in New York City.
CMC Ft. Hamilton begins on Saturday, September 10, 2016 at 8 a.m. at the U.S. Army Garrison Fort Hamilton in Brooklyn, New York. Participants of any age or fitness level can race as an individual or as a team. Tickets and information are available at Civilian Military Combine.
Amelia Boone, one of the most accomplished OCR athletes in the history of the sport, will be at CMC Ft. Hamilton to serve as co-host of a new, hour-long program that will tell the story of the development of the CMC Ft. Hamilton event, share details of Ft. Hamilton's important role in American history, profile selected active duty military personnel and athletes and feature highlights from the race.
Since the launch of OCR five years ago, Boone has amassed more than 30 victories and 50 podiums. Some of her career highlights include being a three-time winner of the World's Toughest Mudder, Spartan Race World Champion 2013, Spartan Race Points Series Champion in 2013 and 2015, and three-time Death Race Finisher.
Known for his motivational speeches and fitness expertise, "Coach Pain" Dewayne has developed a loyal following in the obstacle course race community thanks to his talks to racers competing in events such as BattleFrog and the OCR World Championships. For CMC, Coach Pain will be the official emcee for The PIT™ and CMCKIDS.
"My passion is inspiring people to do their best," said Coach Pain. "I have been fortunate to have the opportunity to motivate thousands of people at events all across the country. I hope everyone I have met joins me at the next Civilian Military Combine event because it is time to conduct your business!"
Boone and Coach Pain will lead the CMC program that will tell the story of how active duty military personnel, first responders, and the public join together to observe the 15th anniversary of the 9/11 attacks by combining athleticism and patriotism. The feature is scheduled to have its world premiere on the SNY network on Sunday, September 25, 2016 at 9 p.m.
CMC stands apart from other obstacle course races because it is a true hybrid obstacle course race (OCR). The CMC heat starts in the adrenaline pumping strength element called The PIT™ followed by a five-mile race with 25-plus military-grade obstacles. The PIT™ is a Workout of the Day (WOD) functional fitness AMRAP (As Many Reps as Possible) timed component that is designed to level the playing field between strength athletes and endurance runners to determine the best overall conditioned athlete.
 A portion of the proceeds of CMC Ft. Hamilton will benefit United States Army's Family and Morale, Welfare and Recreation (MWR) program at Ft. Hamilton. Army MWR is a quality-of-life program that directly supports readiness by providing a variety of community, soldier, and family support programs, activities and services.  
---
Use discount code MRG for 30% off your Civilian Military Combine registration!