I was super excited about BattleFrog Series coming to British Columbia, as it was going to be the first time it came to western Canada. If my memory serves me correctly, I had signed up for this in September / October of 2016. At that time, I ended up getting the offer of buy one entry gets one free. There was a bit of rumbling as the prices weren't advertised in USD when I paid, but it happens.
As this race landed on the same weekend as the Pemberton Music Festival in Canada, we wanted to ensure that we left as early as possible, as we had no idea how bad or good the traffic would be. I am honestly glad that we decided to leave early, on the drive to the site it gave me a chance to try and get over my pre-race jitters. No matter how many races I do, I still get nervous.
Getting to the race site was easy; there was a decent amount of signs to get you to the site (which was located on a camp ground). Picking up our bibs was quick, as there was no line. We had to go a board to find our name and then check in which took maybe 5 minutes. The bag check was quick as well (I am realizing how important dry and warm clothes are after a race). I had taken note that there didn't seem like the race was that big, and I do believe the final number of participants were just over 400.
What BattleFrog did well: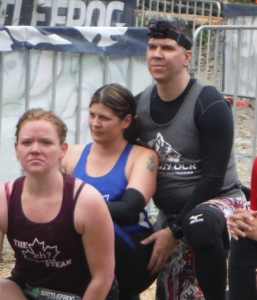 Coach Pain was very motivational as the event MC. He spoke with such courage and passion that I almost started to cry when we were getting ready to start the race. He spoke to us like this was serious business and made sure we were all aware of the "unknown" factor in the race.
The course was run on technical trail. I am an experience road runner, so having to switch gears to technical trail running was a treat. This slowed me down a bit, but I had fun with it. I have to remember to keep an eye out for roots and brambles though.
Many of the obstacles had three lanes: Novice, Advanced and Elite. Although hubs and I chose to only run one lap, it was nice to have the option to pick which level we wanted to do at the obstacles. We made sure we weren't in anyone's way and had fun with it.
There was a section of the race on a beach. You had to carry water jugs that were filled through a bit of the water on the beach, and got to run across a sandy beach to return the can to the starting point.
All of the volunteers and photographers on course were very friendly – I made it a point to say thank you to everyone I saw, as if not for them, races could not occur. The photographers were also easily recognizable, and fun to chat to post race.
Selections of obstacles were formed from part of the surrounding areas – you could tell a lot of thought was put into this. I like seeing the big bold obstacles but getting to use the items around you was fun. I like that the course was left pretty untouched in most sections.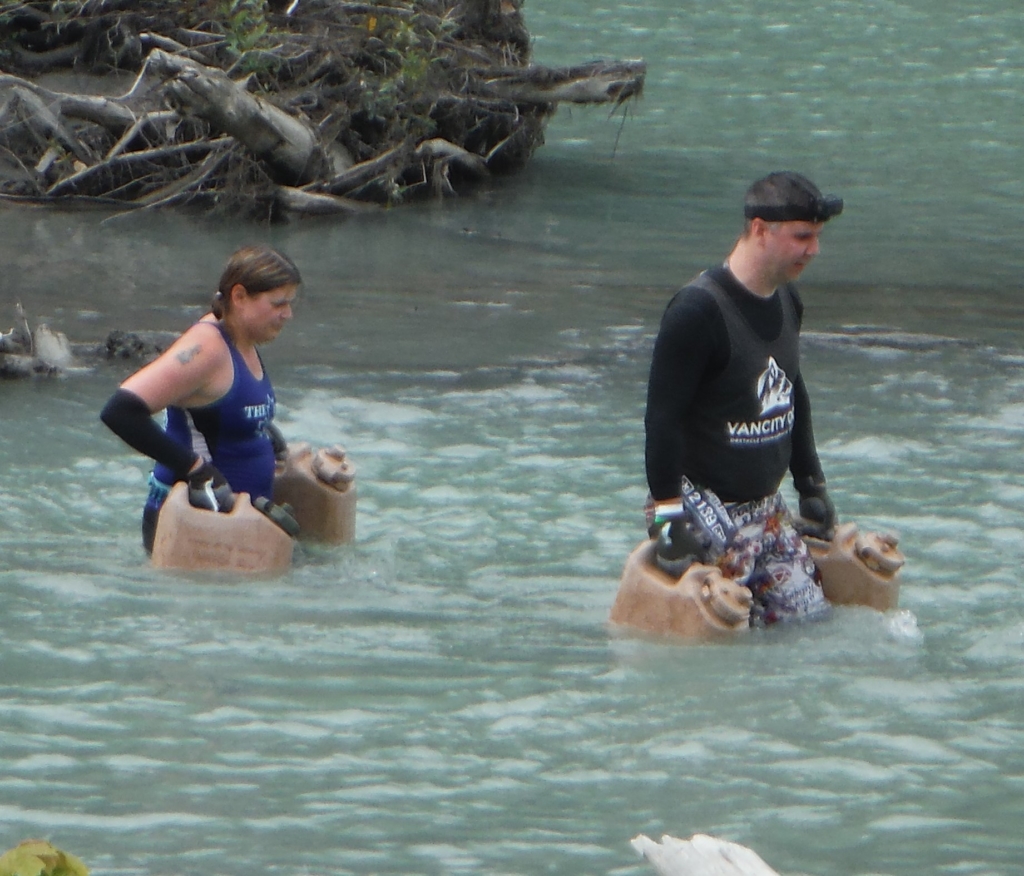 There were multiple showers to clean off with, and a decent sized changing tent. After a race the first thing I think of these days is taking off the muddy clothes and shoes and getting cleaned up a bit. It was a warm day to begin with but having a decent clean up area was a bonus.
The post-race photographer hunted us down to ensure we got a really good finishing picture, and a great picture of the Army type props. Both the MC Coach Pain, and Beard were happy to post for pictures with us which was cool. The event staff were super friendly to talk to post race as well.
Spectators were allowed to wander freely on course. We had a friend with us that wanted to check this course out, and he was given pointers on where he could get good shots, and we got to see him several times on course.
Lots of obstacles – in an 8km course, there were 33 obstacles including a rope climb, traverse walls, a sandbag carry, running, mud crawl, x2 platinum rigs, and a spider web. I could list many more, but don't want to give it all away. As a course completer, I can say you get your monies' worth and more.

What BattleFrog could do better
More food vendors please. The post-race snacks included some fruit, cans of liquid coffee, granola bars and water. I understand this was a first time in our area race, but more options for post-race goodies would have been fantastic.
Better merchandise in the tent – I ended up picking up a really nice technical shirt from the event. However, there was only a small selection of post- race t-shirts, towels and arm sleeves. I am hoping next year to see decals, rubber bracelets and maybe a few more options.
More obstacle marshalls – at a few of them, we had to figure out how to do them ourselves. I understand that most races work on a volunteer basis, but it would have been nice to see more people on course to provide some instruction and guidance.
Send out the course map and pre-race information more than a few days before the event. I like to be prepared and got worried when we received this information last minute.
Tech shirts for finishers instead of cotton – This may be a wish list item, but I honestly find I get more use out of technical shirts and cotton ones end up in a drawer.
Overall this was a gorgeous, fun and challenging race. We are already signed up to do it next year, and our friend that came out this year loved the course and the people so much he is coming with us.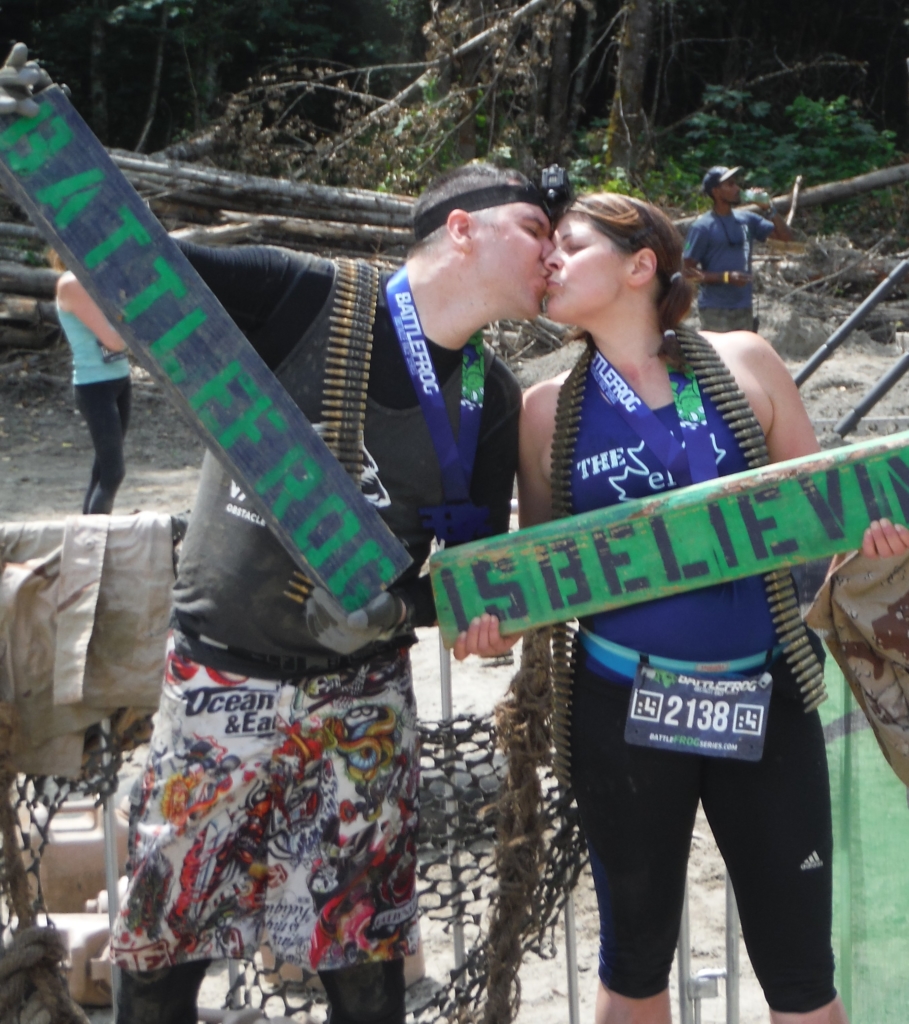 Rating: 4.5 out of 5
---
Have you done a BattleFrog Series event? Leave your own BattleFrog Series review and feedback…