Today, The Wolfpack is launching a Kickstarter campaign to bring their tour to the United States with one mission. To bring the Ninja lifestyle to every man women and child in the world with a focus on getting kids across the world involved with fitness. The Wolfpack; Ian Dory, Brian Arnold and Dr. Noah Kaufman (Megan Martin could not join us) sat down to tell Mud Run Guide  about the Kickstarter and what their hope is for the future.
"We want to bring the spirit and the magic of Ninja Warrior and obstacle course racing to kids around the world," Ian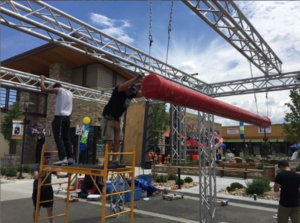 Dory said in an interview with Mud Run Guide.
"This is going to get kids active, we are going to be talking to the kids, training them along with some of the top Ninja's in the Nation," said Dr. Noah Kaufman.
Though the focus is kids, the courses are designed for all ages and ability levels.
"There is not really an age limit," said Brian Arnold. "We make stuff easy enough My three-year-old daughter can take on our smallest warped wall and we start up from there to stuff you see on the show and even harder."
The Kickstarter will support purchasing the trusses to allow them to take the tour around the country. Additionally, will allow them to share the course they have built locally to kids around the world.
Backers for the project will be able to enjoy rewards such as autographed posters, challenge coins and opportunities to meet the Wolfpack and train with them. Their goal is to make sure backers are rewarded for their efforts.
"The Kickstarter is really cool" Kaufman explained.
"We are offering a ton of value if you put 50 dollars in you should expect to get 75.00 of value. We have everything from e-books to a ticket to the Wolfpack Ninja Tour, there are VIP parties, we have these challenge coins, there is a chance to be on the Wolfpack podcasts. People are going to be able to get some really cool Wolfpack experiences"
The Wolfpack will be bringing their course to the Fort Collins Peach Festival next Saturday. Fans will be able to compete on the course, learn more about the Kickstarter and win prizes throughout the day.
Mud Run Guide is proud to be supporters of the project.  When you back the project and tweet or Facebook with #ibackthepack we will send 5 winners Mud Run Guide shirts. See what happens when we had a casual Skype conversation with Ian Dory, Brian Arnold and Dr. Noah Kaufman about training, the tour and what inspires them.
Find out about the Wolfpacks work at their website http://www.wolfpack.com
Check them out at the Fort Collins Peach Festival this Saturday, August 20th. http://fortcollinspeachfestival.com/