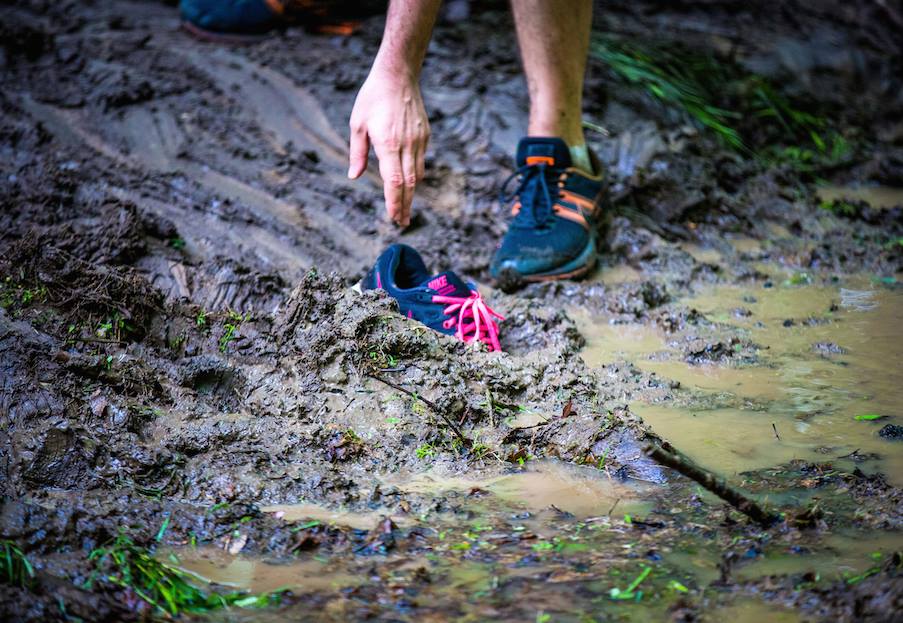 Muddy Mud Guts and Glory Masters, Warrior Dash Warriors, Beasts Beasting the UltraBeast and Conquer the Gauntlet…Conquistadors? Okay – that last one was a stretch, but you get the gist. This last weekend had no lack of races, mud, pain or fun! Whether it was a fun run or a death march you craved, OCR delivered in spades.
---
MUD GUTS AND GLORY – OHIO
King's Domain home of Mud, Guts, and Glory, host to the OCR World Championships the last two years, is a  beloved fixed course that gets more and more inventive with every event. This year, it featured some new obstacles, including a floating traverse wall that looked ridiculously fun and challenging. Ashley Hazlett was lucky enough to be there to play on all the toys and had this to say about the event:
This was the first year MGG hosted a second race in the calendar year, and Kings Domain switched up the course! Compared to their previous races, past BattleFrogs and the OCRWC courses that we are used to, this was almost unfamiliar territory. Luckily, it was extremely well marked!

There was a brief bottle neck at the very beginning of the course entering the woods. The Sternum checker was nixed (not sorry), monkey bars were after the water gauntlet, and the water slide was in the middle of the course instead of at the finish – they did not dare take that out!

It was very much a runner's course, with a lot of  natural terrain becoming major obstacles which is one of the things we love most about that course. All in all, SO much fun.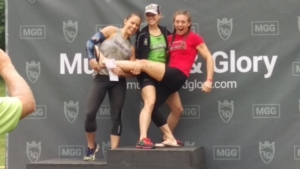 MIT TOUGH TEAM took the team award, while Jordon Buscemi, Joel Fox and Jamie McCart were joined by Amy "Magic" Pajcic, Erin Brooks and Michelle Warnky to take the podium spots!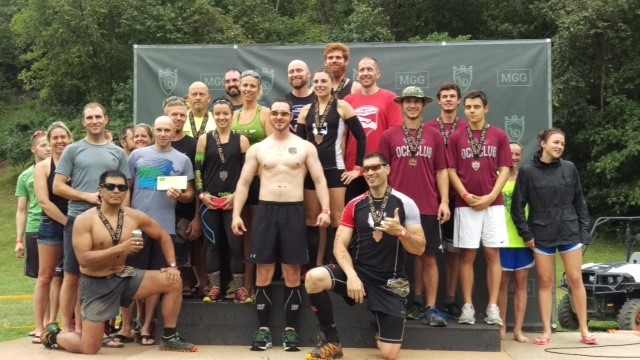 Pictures courtesy of Mud Guts and Glory and Amy Pajcic
---
CONQUER THE GAUNTLET – OKLAHOMA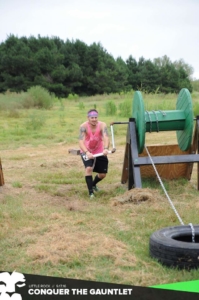 What more can be said about the amazing course at Conquer the Gauntlet that is not being touted all over the place already? Racers love the inventive obstacles that test both upper and lower body strength, and the rugged but safe feel to them that reminds us of the courses we started with when we first fell into this amazing sport.
But again, as always, it is the people that come out to this event that make it what it really is. You are family from the moment you arrive, and you are never at a loss for help once on course. The CTG Pro Team has become synonymous with the course itself, building, tearing down and assisting all day long. Brenna "RedBeast" Calvert, one of the aforementioned team, not only took 1st female but 4th overall on this challenging course, and had this to offer up:
I know I am going to sound biased, but Conquer The Gauntlet completely delivered at their last official race of the season. Race day started out cloudy and cool which was great for the runners early in the day. Little Rock did not have the terrain of a monster like Killington, but what was done with the course and obstacle setups was phenomenal. This location has been host to one of the most popular Conquer the Gauntlet's since 2012, this year bringing in 2000 participants.

CTG made sure to have all of their staple beloved obstacles there, along with some extras thrown in for fun – like a revised version of  "Tiger Trap". One of the most spectator-friendly races I've participated in, there was a paved path throughout most of the entire course for spectators to watch runners along the way. And if you were hanging out in the festival area, there were at least 5 obstacles in immediate viewing distance, plus the return of the CTG Sprint Course. I can't wait to find out what 2017 has in store!
Conquering the podium were Matt Campione, Nathan "NaPalm" Palmer, and Evan Perperis with Brenna Calvert, Shena Hardy and Lauren Woodcock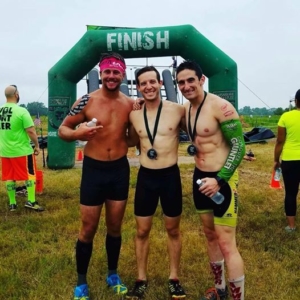 Pictures courtesy of Conquer the Gauntlet
---
WARRIOR DASH – COLORADO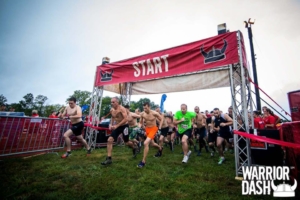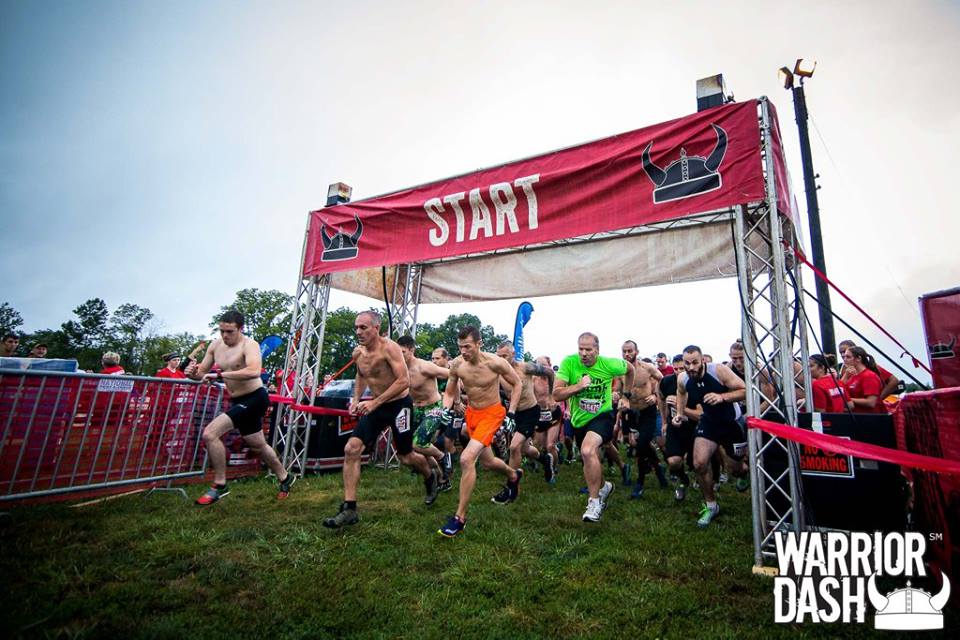 Is there a race that can compare with Warrior Dash's fun factor? If there is, let me at it…Family, Mud, Obstacles, Horned hats and beer – these are some of our favorite things on a gorgeous weekend! When it comes to beautiful backdrops, Colorado is hard to beat. With mountains for days, and the most incredible fresh air you could ask for, it was an amazing day for everyone.
Taking top honors were Tyler Veerman, Socorro Castillo and Rob Kosick joining warrior women Alicia Nelson, Cassie Mitchell and Angela Wideman-Powell
Pictures courtesy of Warrior Dash
---
SPARTAN RACE SPRINT AND BEAST #2 – SOUTHERN CALIFORNIA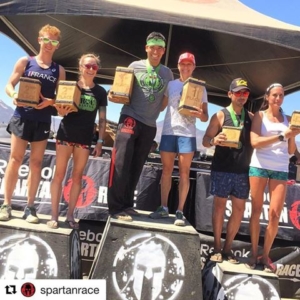 Taking place on the Pala Casino grounds, Spartan Race dominated both East and West coast this week, by playing host here to both a Sprint AND a Beast for those who could not cross the continent to fall prey to the mountain at Killington. Beast podium topper Glen Racz was kind enough to slow down long enough to tell us about his experience over the weekend!
The course had the dry, rocky terrain found in the typical SoCal races in the past. The first half of the course were mostly moderately steep hills with a lot of ankle-twisting rock hopping. There was a fun obstacle cluster with the rope climb, rig, and hoist about half way thru the 12 mile course. Great festival area with lots of spectator access to many of the obstacles. Hunter McIntyre surprised everyone when he went all out for a mile and a half and then dropped back to run with a friend, reminding us that we really do this for fun above all else!
Joining Glen on the Beast podium were Shaun Stephens-Whale and Ivan Santana with Laurel Shearer, Jessica Textoris, and Cindy Lynch. For the sprint, we saw the return of Ivan Santana, and Shaun Stephens-Whale this time in first and third place respectively, with Victor Quezada coming in second. They were joined by Yanet Urciaga, Kristin Saad and Natalie Miano
Pictures courtesy of Spartan Race
---
SPARTAN RACE ULTRABEAST, BEAST AND SPRINT WEEKEND – VERMONT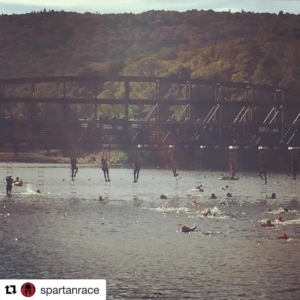 The big daddy of Spartan Race's repertoire, the one all other suckfests are measured up to, this weekend did not disappoint event the most seasoned UltraBeasters who have been lamenting of late that they have not been living up to the UB's of yore. With approximately 700 leaving the corral, only 218 crossed the finish line. And in proper UB fashion, if you signed up for this monster and only finished one lap, you were NOT considered a Beast finisher.
You asked for this sufferage, you better own it. One of the more unique and game-changing moments on the course was the water crossing. Spanning about two football fields, if you stepped up to the water, and couldn't go in, it was an automatic 30 burpees, as the first part was the crossing itself. However, the next two obstacles, the Rope ladder climb and Tarzan Swing were next – so if you couldn't get into the water at all, it was NINETY burpees you owed the devil. And he WAS counting.
FC Spartans team member, and our favorite "Bropunzel" Bobby Walton, accepted his first DNF out there this weekend with style and grace, and had this to say about the day on the mountain:
I stepped off at 6:30 AM to do the Spartan Ultra Beast in Killington, Vermont, knowing that the distance should not be an issue at all, but man – I was wrong. The course per lap was 18.11 miles and 12,313 feet of elevation gain. That was the Beast lap for those that did the Beast. Ultra Beast had to do two in 15 hours. 

The course was amazing, a lot of single track running. Obstacles were your standard Spartan Race type. But… the swim. Two football lengths, mandatory for Ultra Beast runners. The first lap started with your normal Killington flair – A climb straight to the top. Then single track down and around to another climb. Plenty of up and down routes. After all of that you get to the rope climb. Come around the corner and… boom. 1.4 miles up a 2,000 foot slope. The log carry had ENORMOUS logs. This was at mile 14 to 15 and was what could only properly be called "The Death March". The finish was changed up, with the Rig, slip wall, cargo climb. All in all, I took my lumps, went seeking a belt buckle and found a lot of humility up on that mountain – but I WILL be back!
For the Sprint, our podium athletes were Miles Bartlett, Brent Trail and Raymond Mendoza joined by Orla Marie Walsh, Abagail Serra and Rosanne VanDorn. For the Beast we saw Matt Kempson, Ethan Nedeau and Ben Rodkey with Elvy Lapointe, Katie Huber and Sarah Barnes. Ultra Beasting that Death March and taking top honors were Josh Fiore, Travor Chichosz and Mark Jones with Melissa Berke, and the incredible mother/daughter team of Sue Phillips-LeClerc and Taylor Witkiewicz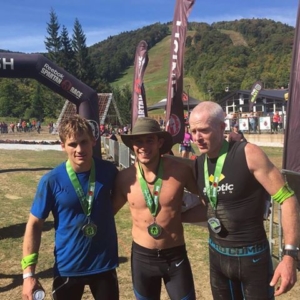 Pictures courtesy of Spartan Race and Bobby Walton
---
Incredible job to all that went out to conquer whatever obstacles they faced this weekend. You all are what makes this sport we love worth coming back for week after week. Keep up the training – 25-day countdown to OCR World Championships!!!