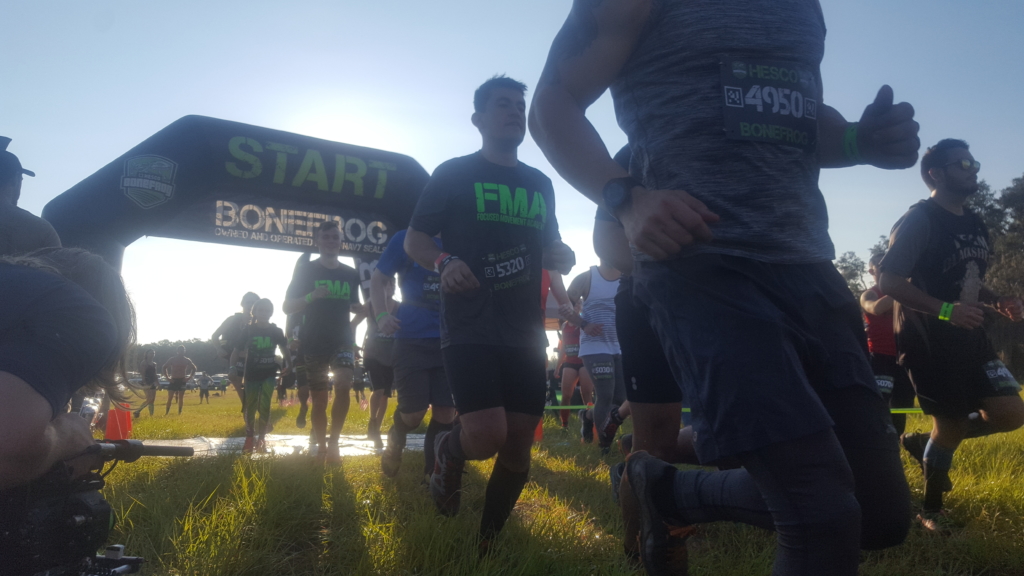 After four months of being off from Obstacle Course Racing (OCR), I was excited to be getting back on a course.  I was especially excited to be heading up to Orlando for my first Bonefrog Challenge.  In fact, unlike my most recent races, I was up early (meaning before the alarm!), so I decided to head straight over and get this show moving.  So, despite my GPS guiding me 'relatively near' the venue…which is pretty standard…I got there just after sunrise.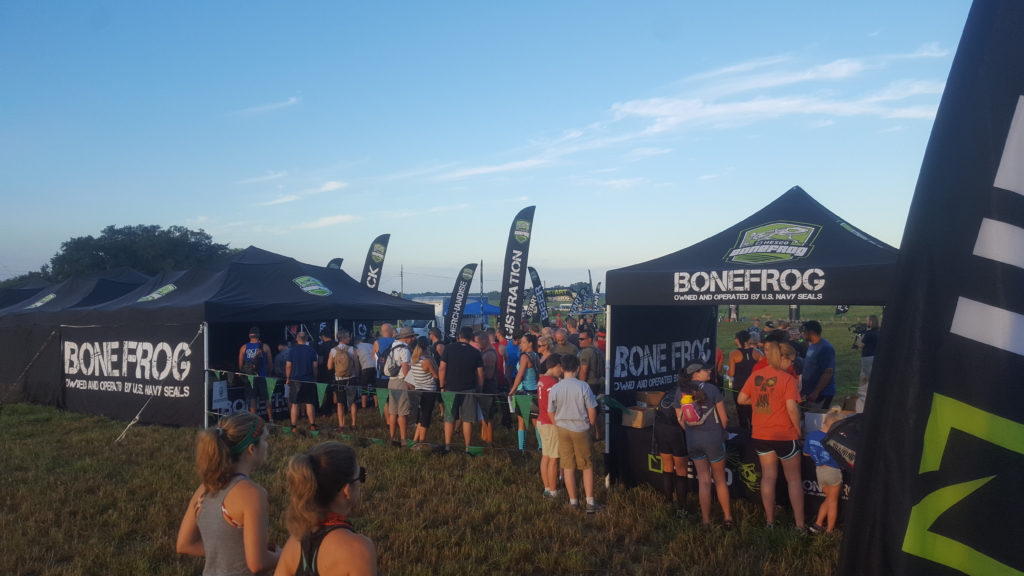 First off, parking was great!  Any spot was just a minute or two of the entrance.  I got even luckier with my timing and landed right in front of that entrance.  The only thing better would be drive-thru registration.  Speaking of registration, arriving early let me breeze through.  Although it did take a few minutes to negotiate 'down' my color band to the red, 9-mile challenge.  Trust me I said…..there is no reason for me to have this green, 13 miles Tier 1 elite band.  After a short 'sendoff speech' and a reminder to wear the timing strap on your ankle, or it wouldn't register, we were off…on time.  I know because there was a giant clock at the start line!  Although I'm still not sure who's ankle they were sizing this strap for…luckily it tucks under your sock too!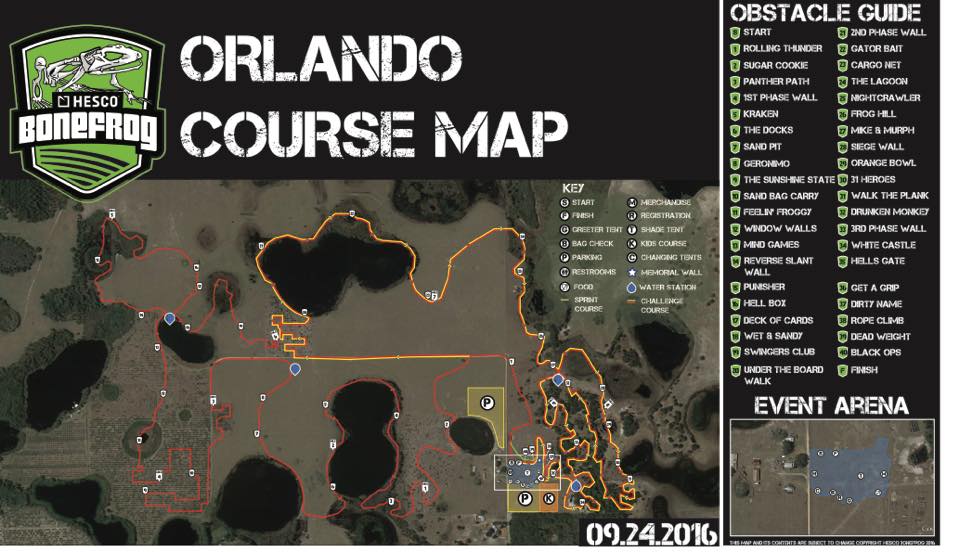 Right out of the start the opening stretch went quickly into a narrow 6-8′ ribboned path.  This had the effect of spreading out the field immediately.  Overall, the course covered relatively flat terrain, very similar to a race in this area last December.  And just like that one, there was a lot of loose dirt/sand to trudge through, making running a bit more of a struggle…think dirt sand with the occasional cow pie (not that I actually 'run' a whole lot, but you know what I mean).  And it was hot!  Hotter than I expected and not as much shade as I'd hoped.  Disappointing when you're counting on that shade for a break from the sun.  There was one stretch through a cypress lined swamp was great.  And they also made good use of some natural or enhanced pits to punish the legs, specially towards the end.  Not to mention we saw a mini stampede during that leg though the cypress forest (thanks to Jason from Fit 4 Life for passing that video on to MRG!!)
After about a mile or so, we were hitting water or mud obstacles at a fair clip.  And on some of these, we're talking some serious 'where's my shoe mud.'  Several times I stopped to try and check, but standing on one foot and lifting my leg in waist deep water while sinking further into the mud….well, let's just say it didn't start well and ended worse (thanks again to Jason…for not filming that one!).  Sometime after that, we entered a section of old groves into an "obstacle" I would have called Hell's Half…a twisting half mile of sand and cow pies and flies and blazing heat and gnarled trees.  I can only imagine what grew on those things when they were alive.  It would not have surprised me at all if flying monkeys had come down out of those!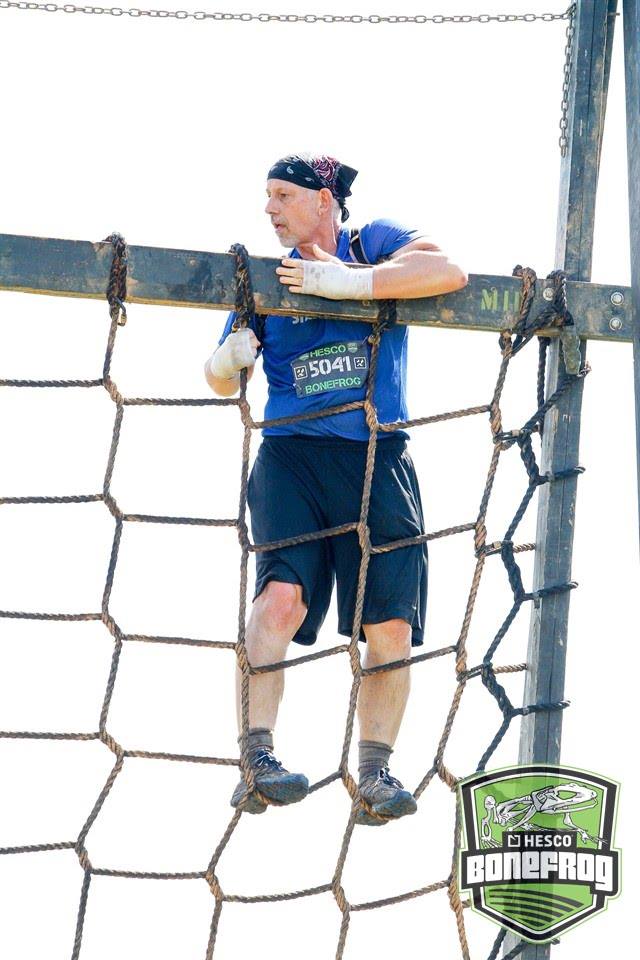 Another thing that didn't start well was my first time getting lost!  The trails were marked well enough, but somehow three of us…separately…ran right by a turn marker after the flying monkey grove and ended up back on the main trail.  Fortunately, the group behind was much more alert, and we back tracked a bit to catch up to them.  And that is how I met Sheard, Christina, and Marilou.  Interestingly enough, during the race, I discovered that they all fared from the University of Florida, which normally would be just fine.  Except for the fact that I fare from the University of Miami, as well as being a UM alum.  So there we were, violating at least a dozen Florida statutes regarding the commingling of UM and UF fans during football season!  But hey…what could we do??!!  Who knew, though, that getting lost for about 60 seconds would lead to another great and unexpected OCR experience…and some new OCR friends.
With Christina taking lead mostly, she was aggressive at the obstacles which left me abandoning my original strategy of discretion over valor, despite some recent health issues.  Naturally, it also led to conquering some obstacles I would have thought too much for me right now.  Just another day in OCR….and I've got some nice wraparound bruises to prove it.  Mostly from the walls peppered along the course…4′ walls, 6′ walls, 8′ walls, an inverted wall and a few with different twists…window walls and a series of enclosed walls.  They also got a great deal on cargo nets and ropes apparently, because I feel like I climbed over a dozen cargo nets or inclined rope walls along the course (by the way…I love cargo nets too!)
I also gave a shot at the rope swing but had to watch the others on the monkey bars, rings, and the rope climb.  And because I had no choice but to try, I was surprised and thrilled to conquer the 'dead weight' lift.  Some of my favorite obstacles though were the natural ones, which were numbered too in case we didn't know we should count those.  Purists may object to that, but I think those are the best!  I mean running through the woods and climbing over/under/through trees and rocks is really what I personal most.  After all, 'playing in the woods' is what drew me to my first race.  Although the sandbag carry and low crawls were a bit short, anything that put you on the ground after being beaten by the sun and heat is tough.  The night crawler, working your way under a mesh cover, was super tough as well because of the pits in between, really magnifying any cramping you might have.
Speaking of cramping…or not cramping maybe…water was plentiful after a pretty long initial stretch.  Towards the end though, cups ran out and the volunteers resorted to pouring it into us!  Hey…no complaints here!  And a good time to offer another big thanks to all the volunteers on the course too…very friendly and very helpful.  I'll tell you what's not helpful though…a memory test!  Although I did spend a minute memorizing it, I really didn't expect to be asked about it…thanks to other races with their 'faux' memorizations.  So while it took me a long moment to answer, I did manage to skip a penalty…while many others weren't so lucky.  And what's with the window walls?  A random punishment obstacle apparently, where you complete the obstacle…successfully…and  still have to pick a playing card and do that many burpees….plus 10 more!  Ok….color me surprised.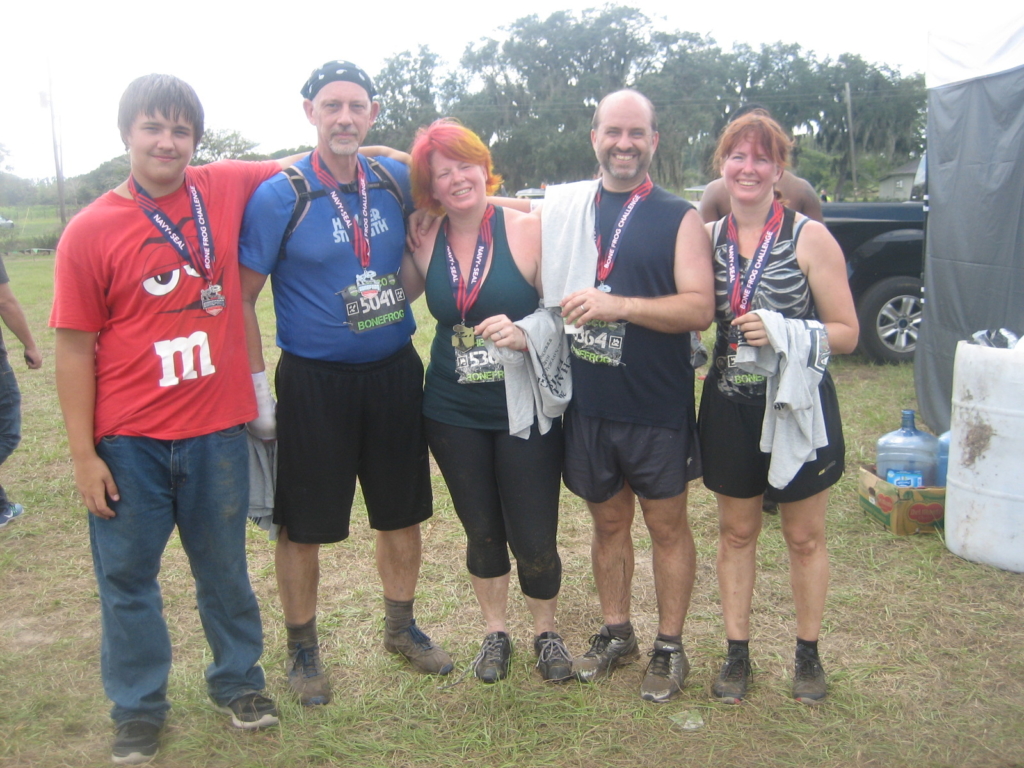 If I could change one thing though, I would lose the bell at the Black Ops obstacle…or make it the reward rather than the punishment.  Personally, I hated to ring that bell because I truly know what that means (sorry Kathleen…who oversaw the obstacle…my sense of humor can be hard to follow).  In fact, I'm not sure if it really is the best idea to have your toughest obstacle last for the weekend warriors and beginners.  Never make the last thing you remember about a race something negative.  And the same holds true for a review!  Overall I was very excited about the race going in and was rewarded handsomely for my travels!  Professionally and efficiently run, a small festival area but everything I needed (including my post race beer, which is no small feat lately), great volunteers and plenty of OCR friends….old and new!  Hopefully our paths will meet again…and hopefully when I'm closer to 100%…Nice job!
Rating: 4/5
---
Have you done a Bonefrog Challenge? Leave your own Bonefrog Challenge review and feedback…