The OCR World Championships are next week, but the course will remain a secret until athlete's arrive on site. That said, several of the obstacles have been teased or announced over the course of the year. Here's the list of obstacles that have been officially confirmed, or strongly hinted at, that will be on the course at the 2016 OCRWC.
2016 OCR World Championships OCRWC Obstacle List
F5 Skyline
Dead End Race – Warped Wall
Savage Race – Pipe Dreams
Toughest – Dragon's Back
Urban Sky
CMC – Diamond Back
Conquer the Gauntlet – Stairway to Heaven
Indian Mud Run – Floating Rock Walls
Mud Run Guide – Skull Valley
Wreck Bag Insanity
Sternum Checker
And although it's not officially confirmed at this point, I think it's safe to assume you will see at least one Platinum Rig on the course!
F5 Skyline
We received a tip, and had this video forwarded to us, that race creator & organizer Adrian Bijanada posted the following video, with "raw footage" from a "F5 Skyline". If that isn't confirmation the obstacle will be in this year's race, I don't know what is! This is further confirmed by an image posted Force5Equipment, showing the same obstacle with a OCRWC banner on it. (Which contains another video in the comments).

Dead End Race – Warped Wall
On October 3rd, OCRWC posted this video clip, revealing Dead End Race would be bringing their Warped Wall to the race for the first time.

Savage Race – Pipe Dreams
On October 5th, OCRWC posted this video clip, confirming the return of Pipe Dreams.

Toughest – Dragon's Back
This obstacle was confirmed to be coming back on October 4th as part of their obstacle countdown. Evan Dollard gave us a demo of last year's version of Dragon's Back – so watch him take a run at it for a refresher if you've blocked out any memory of this!

Urban Sky
Revealed on September 20th, this Ninja-Warrior style gauntlet, Urban Sky, will be making it's North American debut at the world championships.

CMC – Diamond Back
With CMC relaunching their race this year, they announced on September 10th that their Diamond Back obstacle would be a part of the 2016 OCR World Championships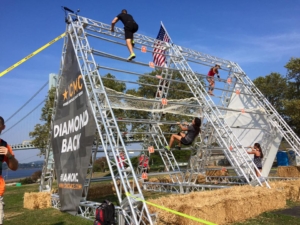 Conquer the Gauntlet – Stairway to Heaven
This was one of the first obstacles confirmed, with OCRWC strongly hinting on April 11th to expect to see Conquer the Gauntlet's Stairway to Heaven obstacle in Canada for the 2016 race.

Indian Mud Run – Floating Rock Walls
We shared on September 18th a video from previous OCRWC competitor & American Ninja Warrior Amy Pajcic stating the Floating Rock Walls by Indian Mud Run would be making an appearance in Canada. Obstacle Designer Hubie Cushman suggested on that thread that, if they did make an appearance, the configuration wouldn't necessarily look like the video posted below.

Mud Run Guide – Skull Valley
Brett Stewart, creator & designer of Skull Valley from the 2015 race, confirmed on September 17th the skulls would be making a return to the 2016 race.

Wreck Bag Insanity
Adrian & Brett took to Facebook live on July 16th while doing a course scout to announce that there would be a 50 pound Wreck Bag carry approximately 5 miles into the course, that consisted of half a mile up hill, then half a mile back down. They also hinted there would be some obstacles during that mile stretch you would complete while carrying the wreck bag.

Sternum Checker
Adrian sat down with Paul Jones on the New England Spahtens Podcast last week, and mentioned the fact a sternum checker would be there. Given the ones the previous 2 years (as seen below, photo courtesey DIYS) were from the permanant course at MG&G, it's anyone's guess what this year's will look like.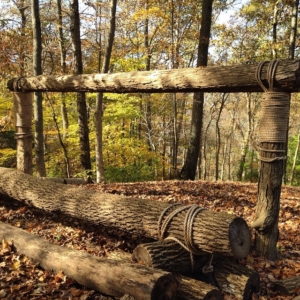 Platinum Rig
While not officially confirmed, it's an odds on favorite to return. With a wide variety of configurations possible, it will be interesting to see what version shows up for this year's race! PLEASE NOTE – Video below is the announcement video for LAST YEAR – the 2015 race!

2016 OCR World Championships Coverage & News
As always, Mud Run Guide will be at the race to bring you the latest news and updates in the week leading up to, and all throughout the event. You can find our coverage here