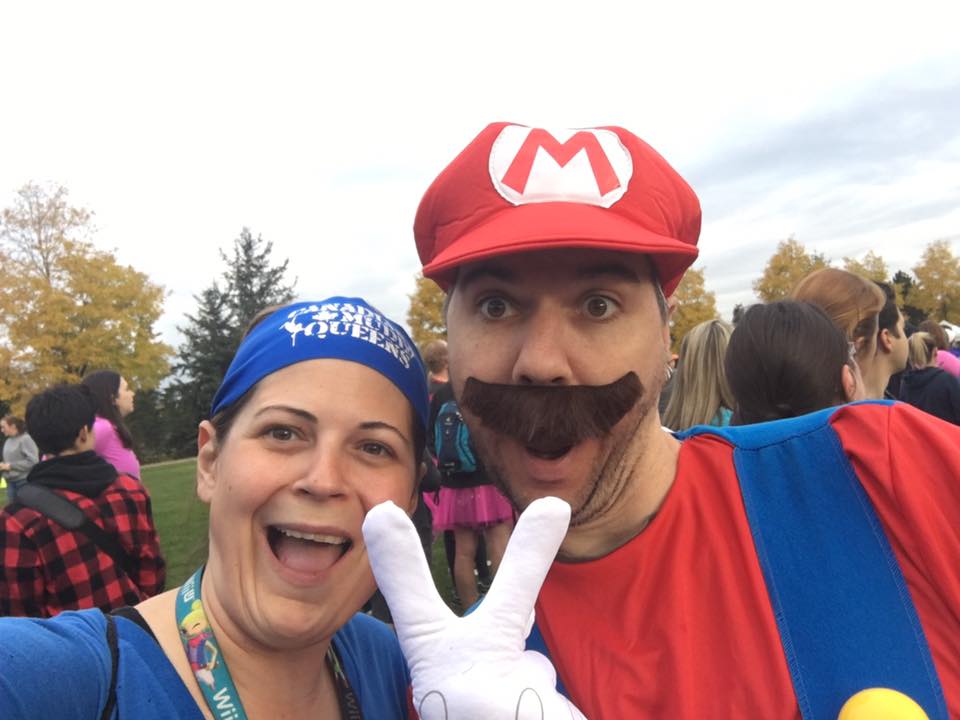 I know most people hear the words OCR (Obstacle Course Race) and think mud, barbed wire, fire, bruises, pain – but not all Obstacle Course Races are created equal. My husband Ryan had discovered the Insane Inflatable 5km race online and signed us up as it looked like fun. We love our mud and challenges, but once in a while you just have to embrace your inner child and bounce.
The race was held in Cloverdale, B.C. Canada on October 1st, 2016. After recently completing the Spartan Sprint at Sun Peaks, I was looking forward to just cutting loose and bouncing around. We decided to wear costumes to make it even more fun, and I wore my Supergirl outfit from a past Halloween, and Ryan decided to wear a Mario costume he had acquired the night before the race. I want to state now that I got a bad case of pre-race nerves, this happens before every race regardless, so I was on edge that morning. The weather predicted was rain, and although I would do the race regardless, racing in the rain is not something that I overly enjoy.
We opted not to do pre-packaged pickup, so headed to the race site early via public transit to check in, get our race bibs and check our bag. We both brought a set of warm, dry clothes as the rain was predicted to be heavy and I wanted to be dry when heading home.
The package pick-up line went quickly I think we only stood in it maybe 10 minutes. For a smaller race, they were super careful to write our race times on our bibs – a bonus for this race was the bib was a giant sticker so no putting holes in our shirts with pins.
Bag check was a breeze as well; I think ours was one of the first 100 bags checked. I like when things run smooth and quick, so this was a huge bonus to me. As we were so early, we got to listen to the MC (who was in a kilt) and got to get a sense and feel for the energy pre-run.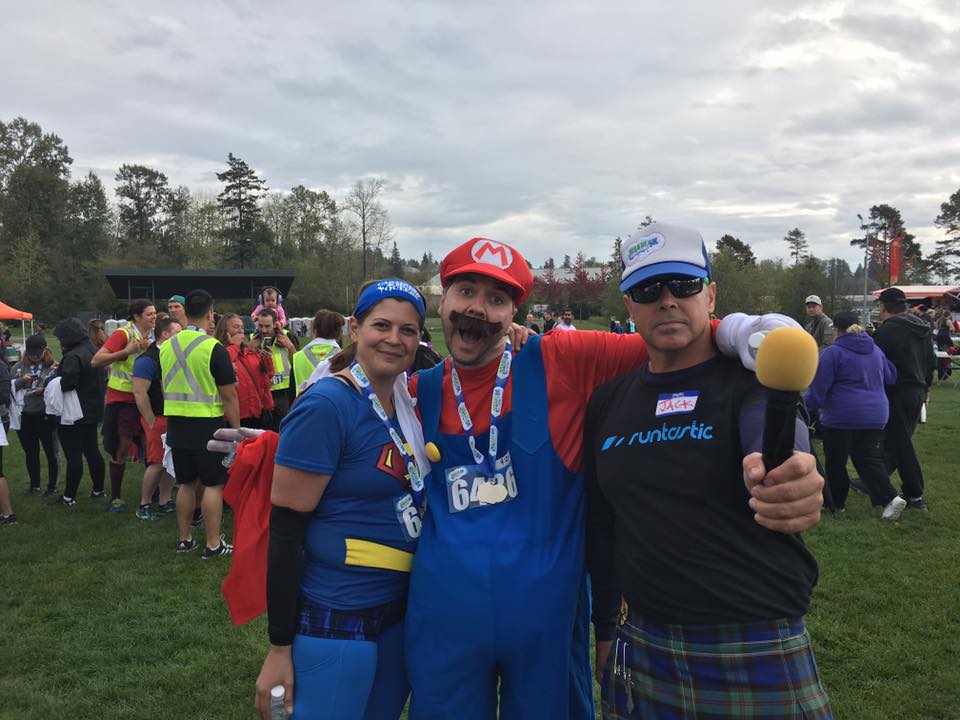 I ran into a friend in line pre-race, and we were able to chat up quite a few people. My husband's costume was a huge hit, and he played into his inner Mario very well. Before we knew it, it was time to get into our starting corral and get pumped. Getting into the corral, there were a lot of 9 am races, so we were divided into two groups – to avoid waits at obstacles I am sure. As my husband was bouncing off the walls, the MC had him blow the starting horn and we were off.
We had to crawl up a huge set of bouncy stairs, and slide down a slide at the start and then we were off. Ryan and I both opted to have fun with this one; this is how we see OCR – a chance to have fun.  We walked and ran a bit, and my husband high-fived and said "let's go" many times, which put smiles on people's faces.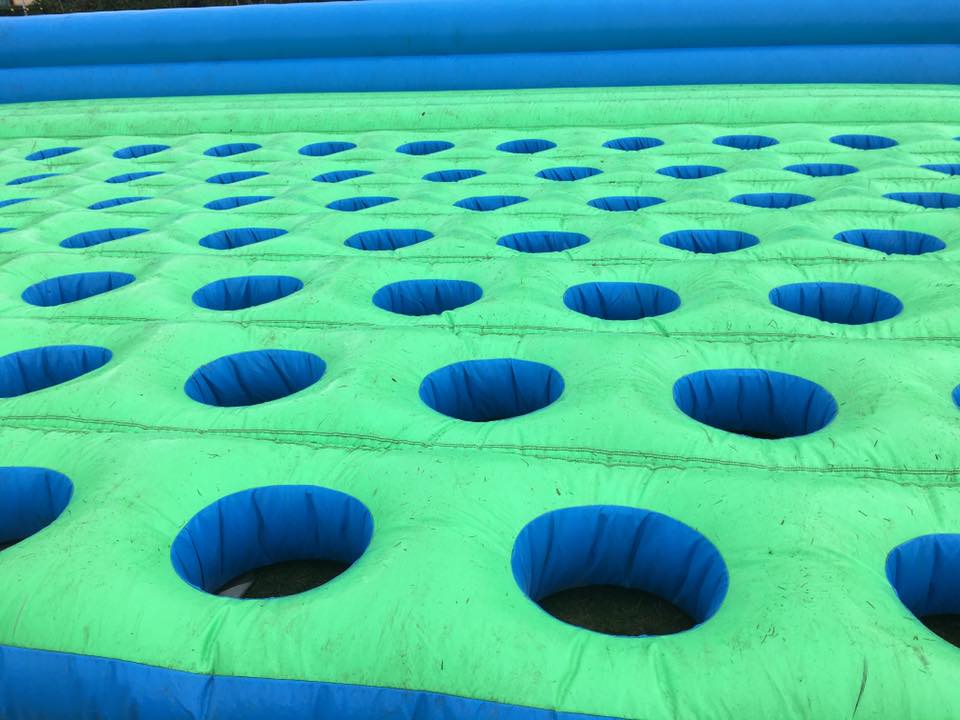 I have to admit, although this was a fun run it was challenging – some of the runs was on the street, on the trails, on gravel and we had at least 10+ bouncy obstacles including: a huge pit of massive beach type balls, a football style run through, big balls, lots of obstacles that you had to crawl under and over, slides, areas to run through, and much more (I don't want to give it all away).  We were both getting rather tired as although this was a super casual fun run, getting over the inflatable obstacles did take a lot out of you.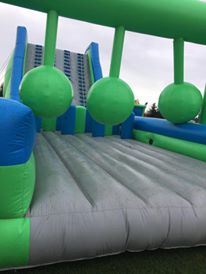 Near the end of the race, there were four massive BIG Balls similar to that of the Wipeout TV show that you had to go over. I fell off the first one but was able to climb back up and bounce over the other three.  My husband Ryan in his Mario persona made it over them all which was very impressive. The last obstacle was a huge slide, and since it did rain a bit, it was muddy but fun. Everyone that crossed the finish line received a cute medal and free water and a Kind Bar.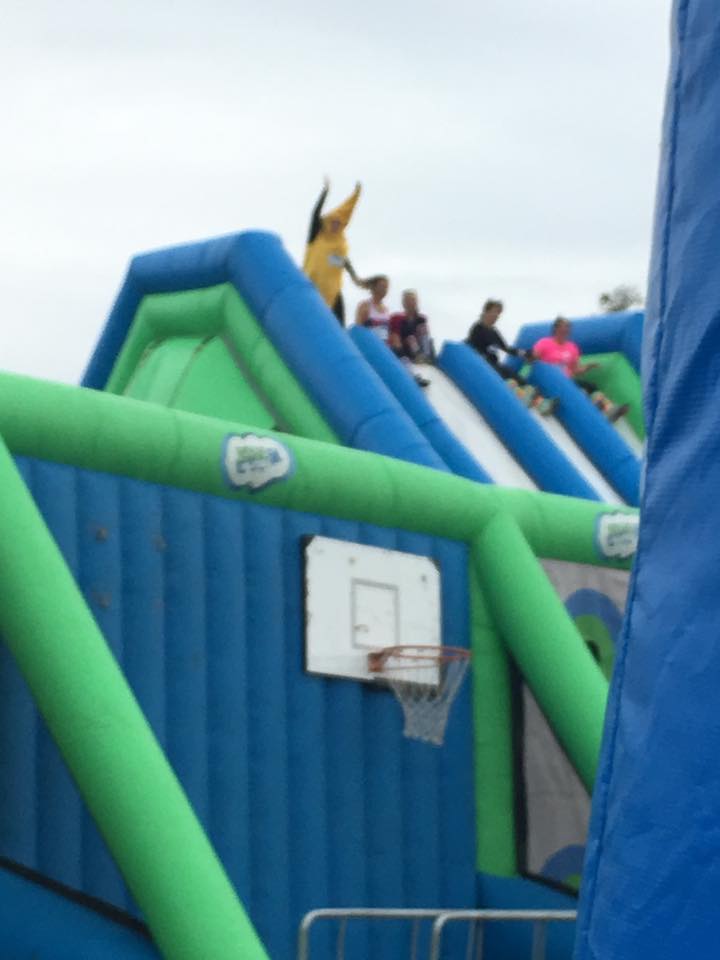 The Good:  
The MC was full of energy, the course had over 10 + bouncy obstacles to get through,  the course was decently marked, package pickup and bag check was quick, and we were out the gate quickly considering how big the 9 am heat was. The MC even asked to borrow my husband and go on tour as Ryan was living it up and getting the crowd pumped.
The Bad:
The lack of post- race food vendors – I think there was a hot dog truck and that was it – more choice would have been nice. Quite a few of us got stung by wasps in the trail part of the course – I realize that this was not something that could have been controlled, but being allergic to wasps, it would have been nice to be given a heads up of sorts.
I would do this race again if it comes back to my area, and I am hoping an early bird rate will be offered again. This race combined fun, running, bouncy obstacles, and fun for the whole family.
Overall rating 4.5 out of 5 stars