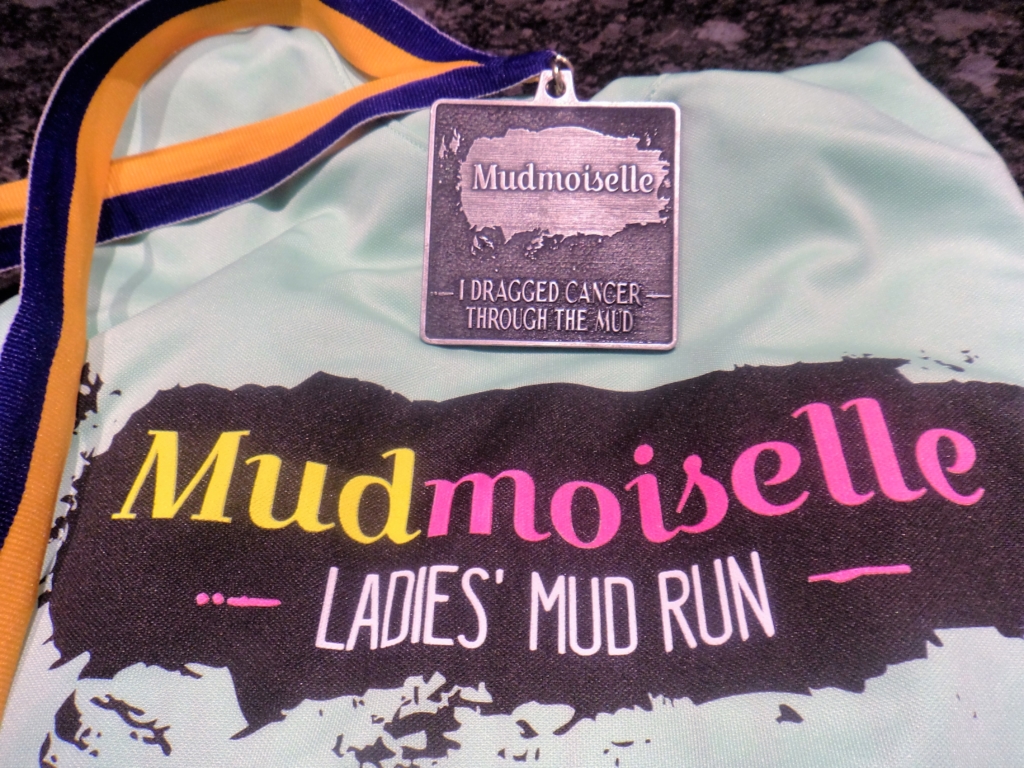 The weather was looking a bit threatening as the committee and volunteers worked through a few of the final details on race day for the Mudmoiselle Ladies Mud Run.  The vendor village was all set up and just some minor finishing touches had to be added as the racers began to arrive around 830 a.m.  The first heat out was scheduled for 10 and the dark clouds appeared to be holding off, temporarily.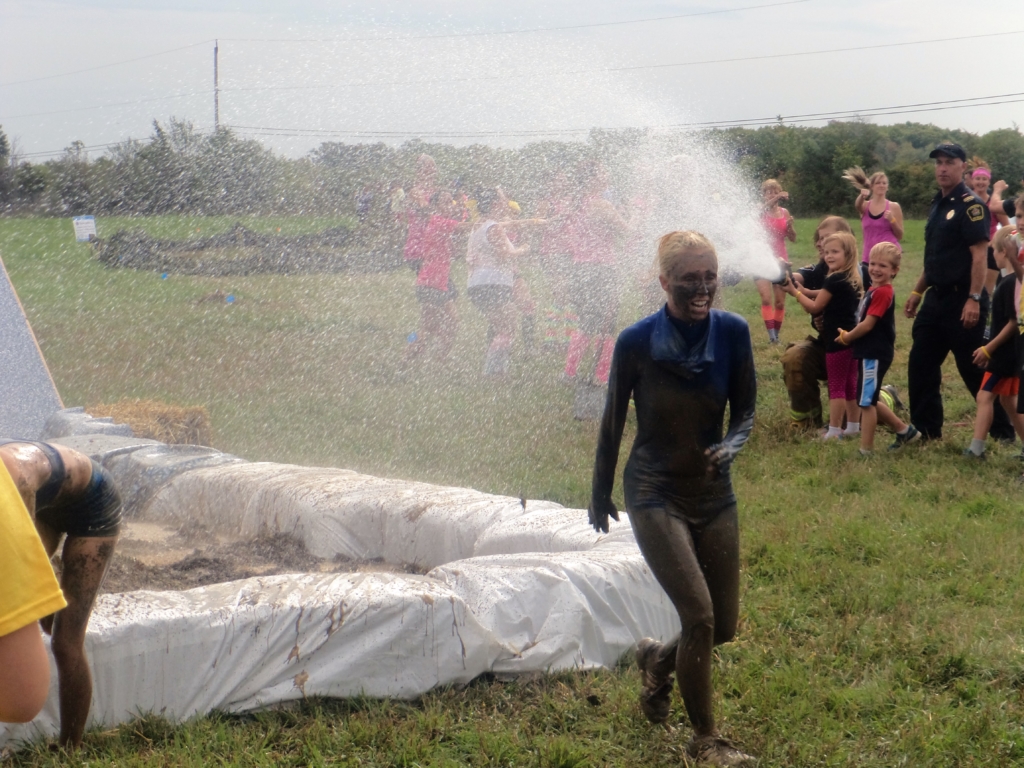 Parking was available on site for $5.00 or racers could opt to park roadside and walk in.  The vendor village was better situated this year and offered a wide selection of items varying from cosmetics to health products to race swag.Online communications were well managed and the Facebook contests kept racers involved with the latest news and prize packages available right up to race day.
Race kit pick up had a few delays and racers had to check in at three spots to register, get a swag bag and then drop off any money they had collected for the Canadian Cancer Society.  This caused a few line ups and may need to be reviewed for next year.  The swag bag was a backpack containing Gatorade, a toothbrush, toothpaste, Larabar, coupons, flyers and a magazine.
Any racer that raised over $150.00 received a nice mint green V-neck tech tee shirt and wore it proudly on race day. There was a merchandise table available to purchase a few items and bag check was available on site for $2.00.Some racers chose to wear costumes and this was a big hit for the kids that opted to try the 1K mini-mudder.  This first time event had over 150 children aged 5-14 participating in a smaller scale version of the adult course. Each participant received a full size finisher's medal and there were prizes for top 3 finishers in each age category.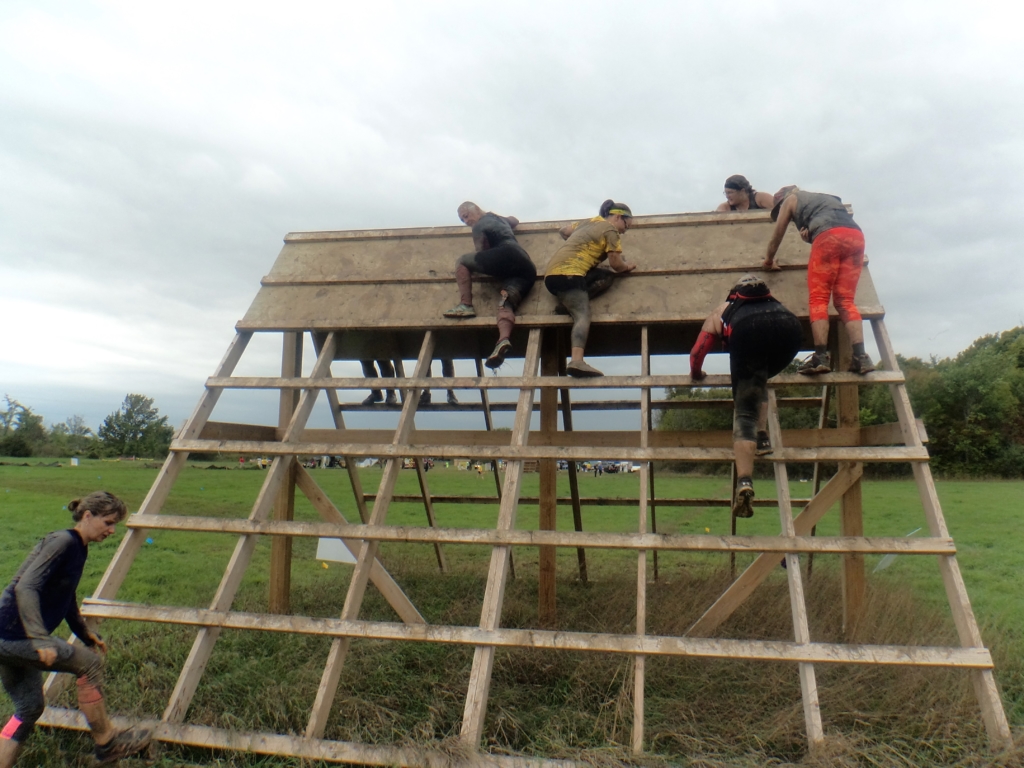 Kingston Fire was on site and provided the water for the start/finish line and this added a great interactive water obstacle for everyone to photograph. As the racers dashed off the start line, they were instantly submerged into deep mud as they crawled under heavily soaked cargo nets, you could hear the squeals of glee as the women crept into the cold liquefied muck.  Once they emerged they immediately headed towards the first climb up the A Frame wall and then did a sharp turn towards another mucky over and under obstacle…then off they went to their first 'carry' and then circled into the woods.
Throughout the wooded trails there were more tire crawls, log carries and spider webs which then led them back out to the second field of wall climbs.   After 3 levels of wall, they then continued along cut trails to another crawl under metal structures and then into the quarry for a 'surprise' challenge.  Down the hill and through the 3rd field they would go where 4 more obstacles awaited them including the tire flip, balance beam and 'climb' obstacle.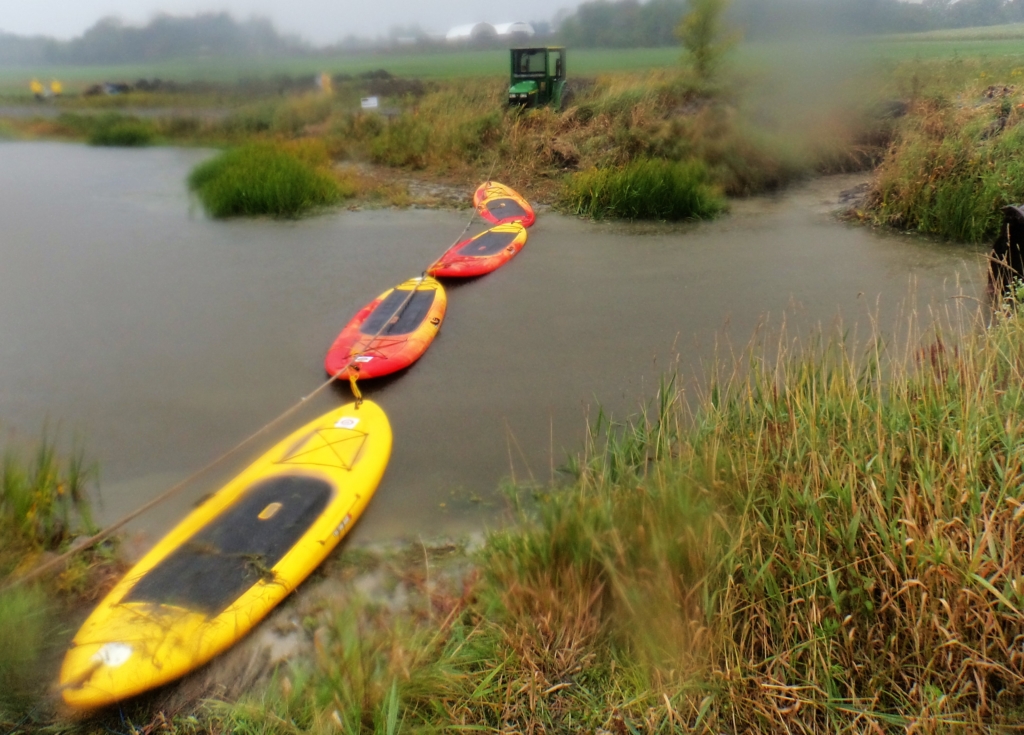 At the water crossing there was a bit of a delay as volunteers told racers to don a life jacket (these were meant for non-swimmers only), but they then crossed the SUP challenge and into a deep culvert to swim around and back to the deep mud trench.  Every so often, there would be a small downpour and this just added to the muddy fun as the areas became watered down and messy.
Off into another field for some mound climbs and a quick water break, before heading back up the incline towards the sugar shack.  Into the woods they returned for a few more climbs and crawls and then back out towards the finish line, completing their 5K challenge.  This was an untimed event adding to the 'fun factor' of just getting dirty. The finish line had a new slide that was quite steep and the firemen were there to move the mud around to help soften the landing.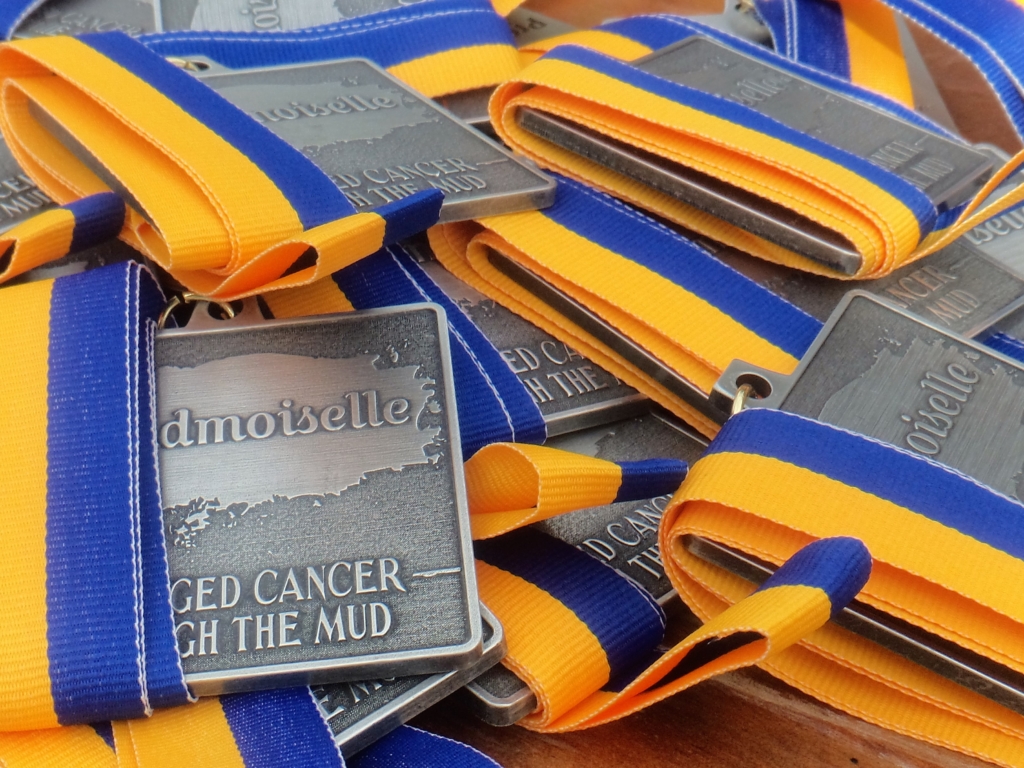 Each finisher received a Mudmoiselle medal, fresh fruit and water and then could relax at the eating area enjoying a selection of food truck fares. A water truck was on site with tented change rooms and paramedics were clearly visible. This year BioPed was on site and collected used runners to send overseas and they managed to fill a pickup truck with shoes for their charitable donation.
Men could opt to race in the final heat, along with volunteers, and this was an added bonus for spouses wanting to try out the 'women's only' course. With over 800 participants, this was a very successful event for only being its second year in Kingston and they managed to raise approximately $100,000.00 for the Canadian Cancer Society.
Rating:  4/5 paws
---
Have you done a Mudmoiselle Event? Leave Your Own Mudmoiselle review and feedback…