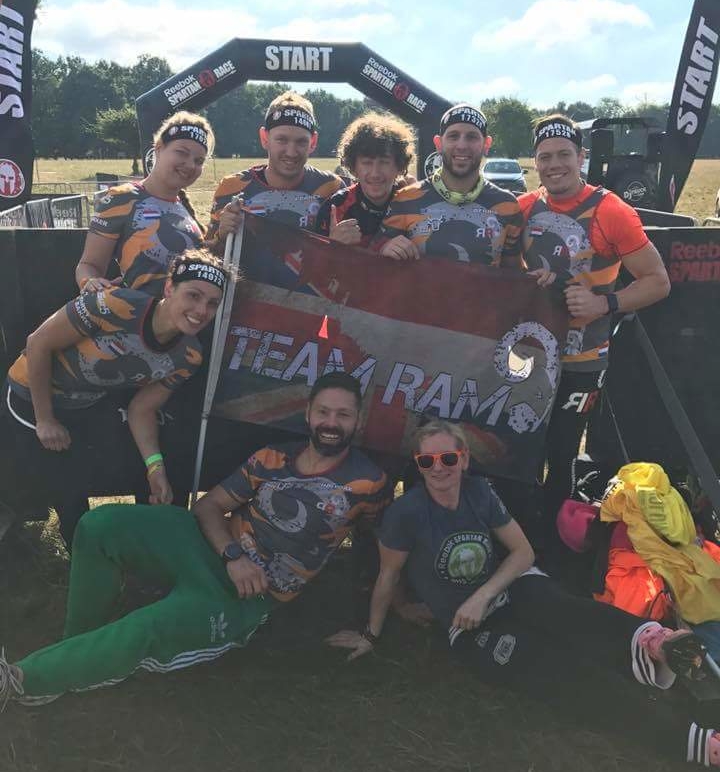 This weekend we did a double race weekend. Saturday the RAM run and Sunday the Spartan Race Beast Windsor. This was going to be my first ever Spartan Trifecta, so I was really excited! My knee got a bit worse overnight, but I felt up to it! We were on a tight schedule, having to return the car at 7 and fly home at 8, so we were happy to be able to start just before noon. At the starting area, we met up with two RAM friends volunteering there.
After being hyped up by the Spartan at the start, we were off!
I decided to take it slow and steady. First few obstacles, some walls and crawling under barbed wire, quite close to each other. I felt good. Didn't take long for me to catch up with my teammate Franek. We decided to stay together as long as possible. The distances between obstacles started to increase. We ran into the first rig with ropes and rings. Again it became painfully obvious how many runners do not know how to do a proper foot lock. Left and right people fell down trying to get to the rings, dangling from the ropes with just their arms. I picked a lane where the guy in front of me just got on the rings. I quickly moved onto the last rope, locked myself in and waited for him to finish the rig. I then followed and we were off again. Afterward, came the second longest crawl I ever did. It seemed to take ages for us to roll, crawl and creep underneath the razor sharp barbed wires.
The following 2/3 of the race was mainly a lot of trail running. We ran through the beautiful Windsor park with absolutely stunning views. The trail itself was almost completely uneven, so every step needed to be taken carefully. At that point, we were running a nice speed, so I actually didn't get to see too much of the surroundings. The obstacles were placed further apart. Log carries, Sandbag carries, a cargo net where people were astonished by the fact that we got over it with a roll-over and some other not too exciting obstacles. At around the 20km mark, the obstacles started to get closer together again. I was running on my own since my knee didn't let me run the same speed as Franek and I had no idea how long we had left to go. I did know I was missing a lot of typical Spartan obstacles.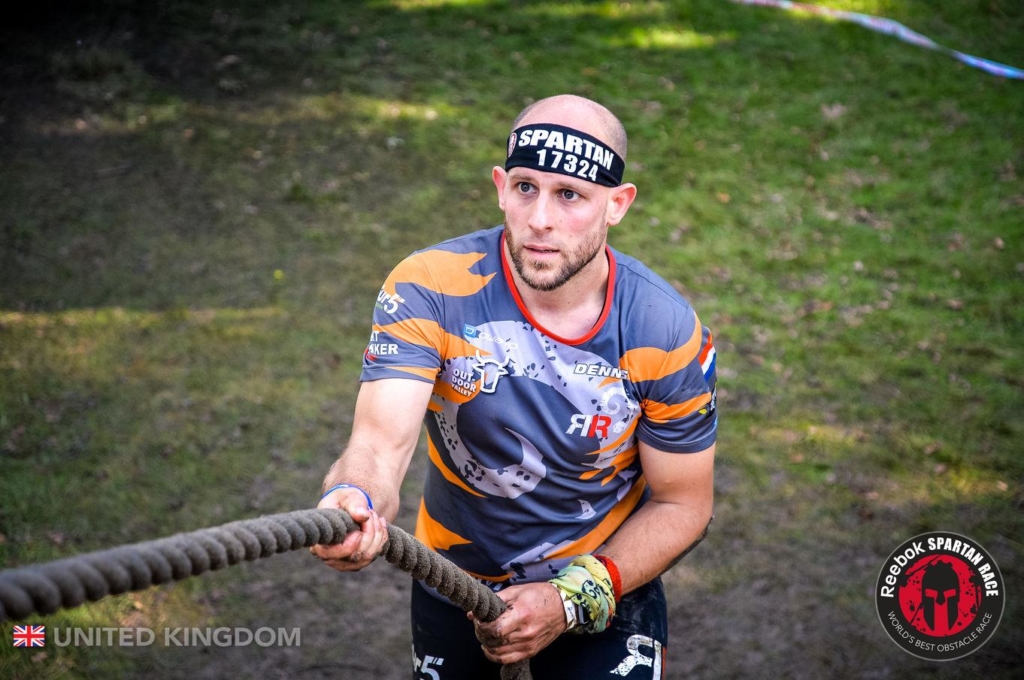 We went over a hill and I was able to see most of the remaining course. I met up with a friend running as a Spartan in the 300 wave. She told me she heard it was around 16 miles. Which meant I had at least another 5km to go. I saw a huge field with people walking around with logs, again, another log carry. After that, we had to run through a ditch with sewer pipes to crawl through. The mud was thick and sticky. Left and right people ran past on de banks of the ditch.
After that a couple obstacles in a row. One running up a declining wall and down via a cargo net and followed by some walls. it wasn't until after the bucket carry when things got a little more exciting again. Climbing on the side of a wall, monkey bars, atlas ball walking, I loved it! The monkey bars where iron pipes, not divided evenly, so I decided to do them sideways. I actually picked up speed and was able to skip a lot of bars!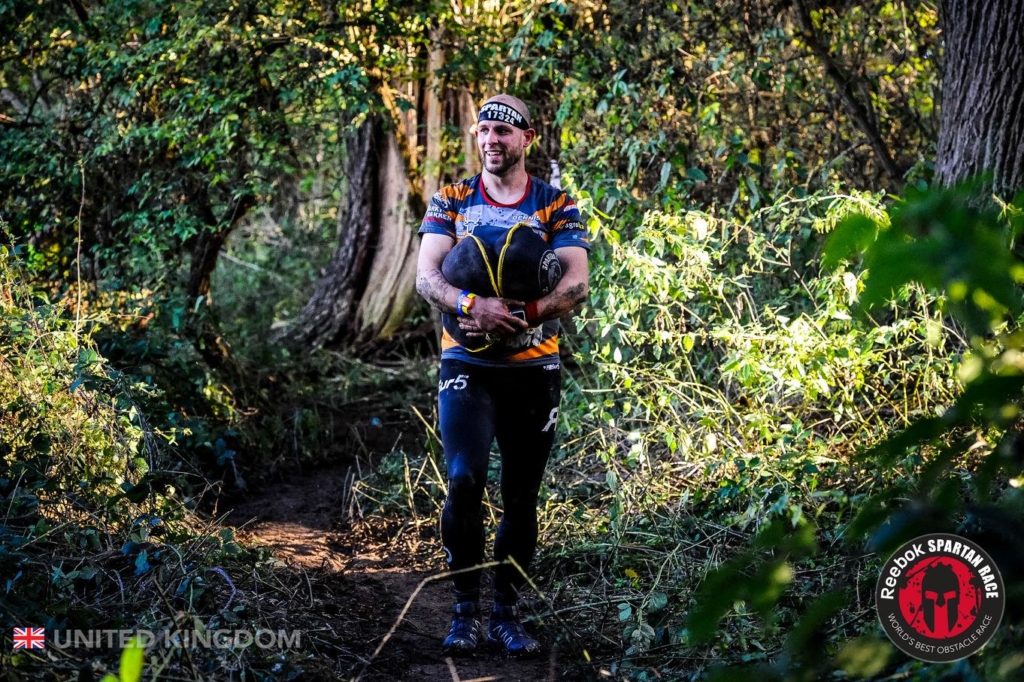 After that some smaller obstacles, more load carries and running through ditches. In particular, the carry with two 20lbs sandbags was a pain. It wasn't just the fact that there was no easy way to hold them, but also the length of the course you had to take them with you!
---
---
I started to feel I was on the edge of severe cramps in my legs. I had to keep moving. We ran up towards a fallen down tree and had to go over. People in front of us were struggling to get over the easy part of the stump. I saw an opening next to that part and decided to go for it. I jumped up, landed on my stomach on top of the stump and completely cramped up. It somehow helped me get over, but landing on the other side I had to basically stretch every muscle from the tip of my toe to my chest. At this point, I could see the finish area!
After the huge cargo net, I met my Spartan nemesis, the spear throw. My first burpees of the day (except for the 5 you had to do at the atlas balls). I quickly went on to the rope climb. Arriving there I noticed no bells where ringing. Everybody was doing burpees. What was up with that? And then I realized we came through a muddy ditch. I didn't get my hands muddy, but my legs where and I was betting other people did get their hands and arms dirty. The ropes were completely covered in wet mud. The first rope I tried was hopeless. I couldn't even get enough grip on the ropes to do the first footlock. I then switched to another rope, decided to jump up first and then try to lock in as fast as possible. It worked! My shoes did have enough grip on the rope! I was able to stand up and grab a higher part of the rope. After that it was an easy road to the bell! NO MORE BURPEES!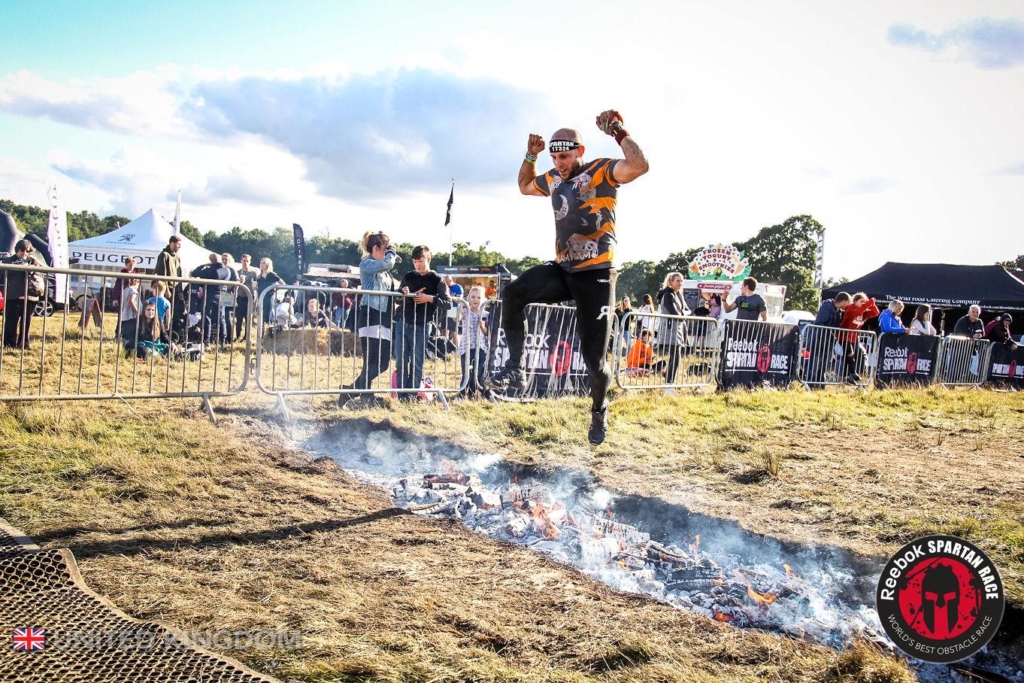 Finishing off with another log flip and two high walls I jumped the finish fire and collected my 3rd Spartan medal! My trifecta was complete!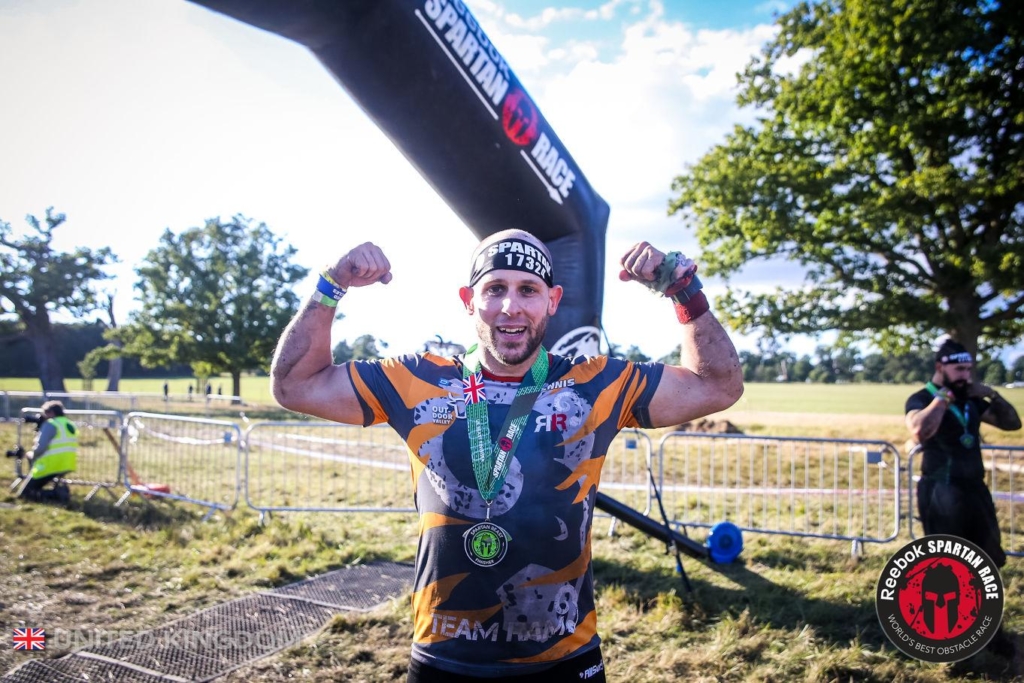 It started to sink in that my body felt like it was run over by a truck, but I quickly put on some dry clothes and stuffed my face with some chocolate. After the final team member crossed the finish we had to hurry to make it in time to our flight. We ran, well I rather limped to the car, quickly returned the car, well rather tossed the keys towards an employee of the rental company and limped to the shuttle bus to the airport. There we ran towards the Arrivals gate, realized we needed to go to the Departure gate (opposite side of where we came from) and finally reached our gate to see the flight had about an hour of delay. In the end, we made it home, had a blast of a weekend and more iron to hang on the wall!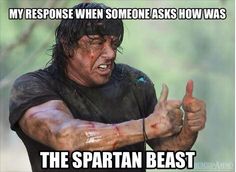 ---
Have you done a Spartan Race?  Leave your own Spartan Race review and feedback…