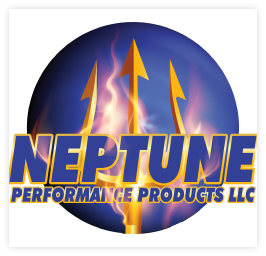 For those who love Obstacle Course Racing and participate year round, chances are your performance has been effected more than once by the cold. Whether it be an all-night sufferfest at World's Toughest Mudder (WTM), being stuck at an obstacle at the OCR World Championships or just racing on an exceptionally cold day.  Seeing the freezing updates from the 2016 Spartan World Championship and Ultra Beast, it seems like a perfect time to talk about a new product that is about to hit the market.  Jason Rulo, four time WTM veteran and The Battlegrounds Battle Corps team member, just created a product, which may be the solution to your problems with the cold, the Neptune Thermoregulation System. (If you missed Jason Rulo's article on Thermoregulation in OCR click on the link and check it out.)
What is it?
In simple terms it is a shirt with built in pockets that allow for the placement of those instant disposable heat pads pressed against your body. The shirt is a compression shirt, similar to Under Armor's Heatgear but covered in a water repellant. The pockets run across your abs, sides and lower back allowing for the placement of up to 6 different chemical heating elements. The heaters are placed inside of waterproof fabric pouches. This allows for the oxygen based chemical reaction to continue work even going in and out of water, a condition that would normally render them useless
Fit of the Product
It fit snuggly against my body. The heat pads also fit snuggly in their pouches. They proved easy to insert and easy to remove. Even better, I realized that the pouches can also double as a phone pocket or nutrition pocket, if you do not use all your heat pads for training. So as I departed on my run, I put my phone in there so I could listen to the latest episode of the Overcome and Run OCR Podcast. This means the shirt can still be used for events in warmer weather rather than trying to carry a separate pouch for holding gels. I don't think that is the intended use by the manufacturer but I thought it still worked great.
How Does it Perform?
The product is brand new so I have not had the chance to test it in an actual cold weather race environment. However, I did test it indoors and outdoors during my workouts in both dry and wet conditions.
Dry:
Dry it works amazing. Not even a doubt in my mind. Running outside I could feel the pouches getting warm on my body. After a couple mile warm up outside, I went inside for some mile repeats on the treadmill. Again I could feel the heat generated against my sides throughout my entire workout. It did not feel like I was overheating or in a sauna but I my sides were definitely warm.
Wet:
The next test I conducted was a wet test. After a warm-up outside, I ran through a sprinkler soaking half of my body in water. (Okay, it was a water fountain….actually a children's outdoor play area with fountains. Yes, lots of people were staring wondering why I was only soaking half of my body.) I then continued with my workout. The wetness definitely reduces their effectiveness (because it has to heat up little water remains in the shirt between you and pouches), but they still worked. I could feel the dry side heat my body more, but the wet side was still working, just at a slightly lower level.
Overall:
Based off my tests, the product seems absolutely perfect for events like OCR World Championship, the 2016 Spartan Race World Championships/Ultra Beast or other cold weather events with only a couple of wet obstacles. It is most useful in the event you get stuck at a rig or other obstacle and need to recover between attempts but still stay warm. The pouches will keep your body warm but also allow you to place your hands in inside to keep your hands functioning.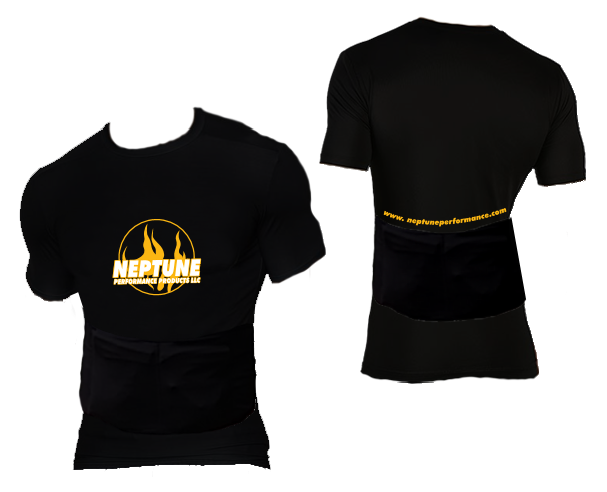 For events like WTM where you are constantly entering/exiting water it will be slightly less effective due to having to heat up the wet fabric around the heat pouches. Furthermore, when used in conjunction with a wetsuit the neoprene pressing the pads against your skin will help keep some more of that heat in as opposed to letting it dissipate to the outside air. I will have a Neptune Thermoregulation System (early release model of the actual version not a prototype) at WTM for 2016 and I look forward to using it. With all the money spent on travel, registration and equipment for WTM, adding this to your list of supplies seems like a smart move, even if it is just in your "Open in Case of Emergency" pile of kit.
The important thing to remember is this product is designed to help you and keep you in the fight, it is not designed to make you win. As with all cold weather endurance events (especially WTM), your ability to stay warm will be derived primarily from you maintaining forward momentum. This generates your own body heat and will be warmer than any product you can purchase. However, when this mindset of generating your own body heat is used in conjunction with a product like Neptune's Thermoregulation System, it could make the difference between dropping out and earning that coveted colored bib you have your sights set on.
For those looking to purchase a Neptune Thermoregulation system, check their website at www.neptuneperformance.com for the latest on release date and availability.  Currently they are scheduled for a on sale release to the public in December of 2016.  If you are heading to World's Toughest Mudder and want to see one in person, stop by and say hi to me or even better talk to its creator Jason Rulo.  We will both be at WTM previewing the system.  The initial order run of systems is limited, so make sure you get your name on the list early to get your system.