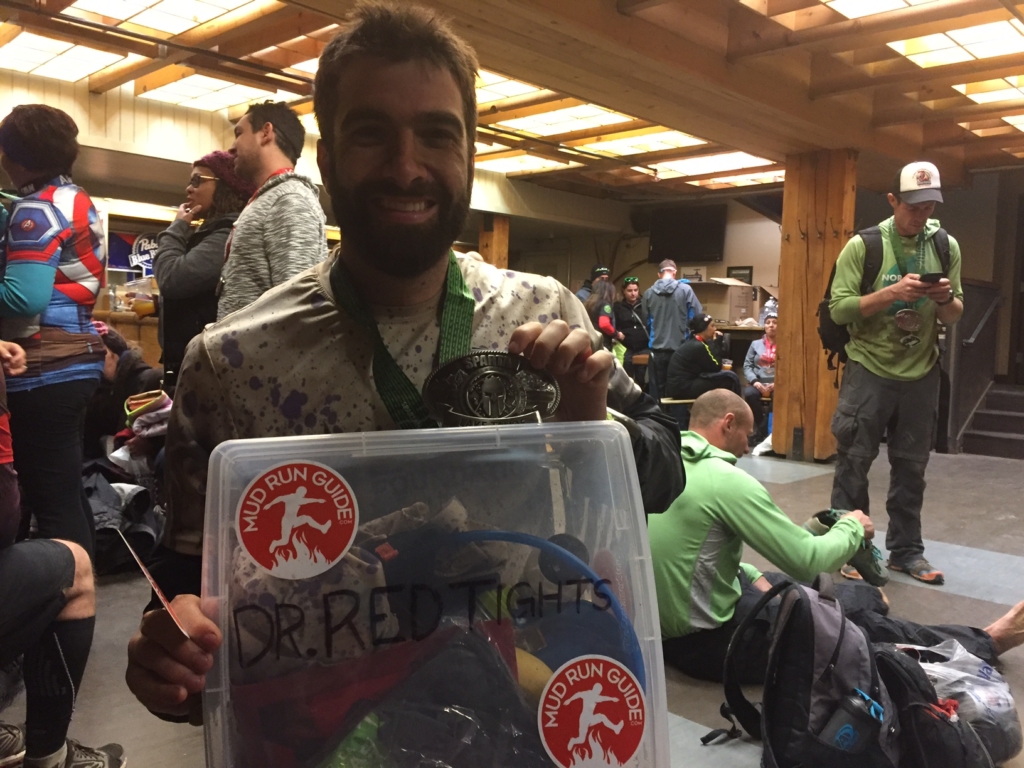 When you get into ultramarathons, especially ultra-OCRs, you will be taken through the highs and lows of performance and emotions. That makes running and watching them especially exciting. On any given day there is a good number of people could win the whole thing. Going into this event, there was a lot of hype regarding as many as 10 different guys who people thought could legitimately win the whole thing. Mine was one of the names being floated, which was an honor and put some more pressure on me. To share with you the joy and the experience of the event, here's a race recap of the event and the drama about the competition. I'll throw in helpful mini-tips for people looking to enter the ultra community or improve their racing.
Spoiler: Since this race didn't go as well as projected for me, the theme of this race recap is identifying my weaknesses so that I can make a plan for how to improve.
Note: This is written from my perspective. The perspective and experience likely differs from anyone who finished after 2pm, when it started snowing (more below).
The Day Prior
The joy of the World Championship UltraBeast is that it occurs on a Sunday, so there is the opportunity to check out the course and the obstacles on Saturday. I really enjoyed all the events around the World Championship Beast. My goal for the day was to walk a decent distance (3 mi) on site to get used to the terrain and elevation, and to check out the elites go through the new obstacles that I hadn't seen before. This ultrabeast was my first non-Hurricane Heat Spartan Race all year, so I wanted to do what I could to overcome weakness #1: inexperience with Spartan obstacles.
Other than that, I got my race packet, made sure to eat a good and balanced dinner (sweet potatoes, chicken, and other vegetables), and attempted to go to bed at a reasonable hour. Here's the math to figure out sleep/wake time: Race start 6am; Bag drop 5am, travel time 5 minutes (thank you Camp Rhino), so wake up at 4am. Goal of 8 hours of sleep puts bedtime at 8pm. Yes, my grandparents regularly go to bed after 8pm, but the math dictates pre-race planning, not social conventions.
Gear & Fueling
Since I anticipated waking up before my housemates, I set out all my gear and packed my drop box. The projected high for the day was 47F with a low of 25F plus the possibility of rain at 11am and snow at 4pm. There also was a 150m swim in very cold water. Being from Los Angeles and therefore having limited ability to become acclimated to cold, I overcome that weakness with gear.
Drop box:
3L hydration bladder with 1.5L of Tailwind (Lemon) at 1 scoop/12 oz
2x18oz bottles with Tailwind (Lemon) at 2 scoops/18 oz
3 High-protein granola bars
Electrolyte pills
Extra windbreaker
Extra shirt
Vaseline
Clothing:
Injinji knee-high compression socks
Frog skin bottoms (0.5mm neoprene, fleece)
Red Tights
Frog skin top (see below)
Cheap windbreaker
Athletes vs Epilepsy shirt
Mechanix gloves
Pre-Race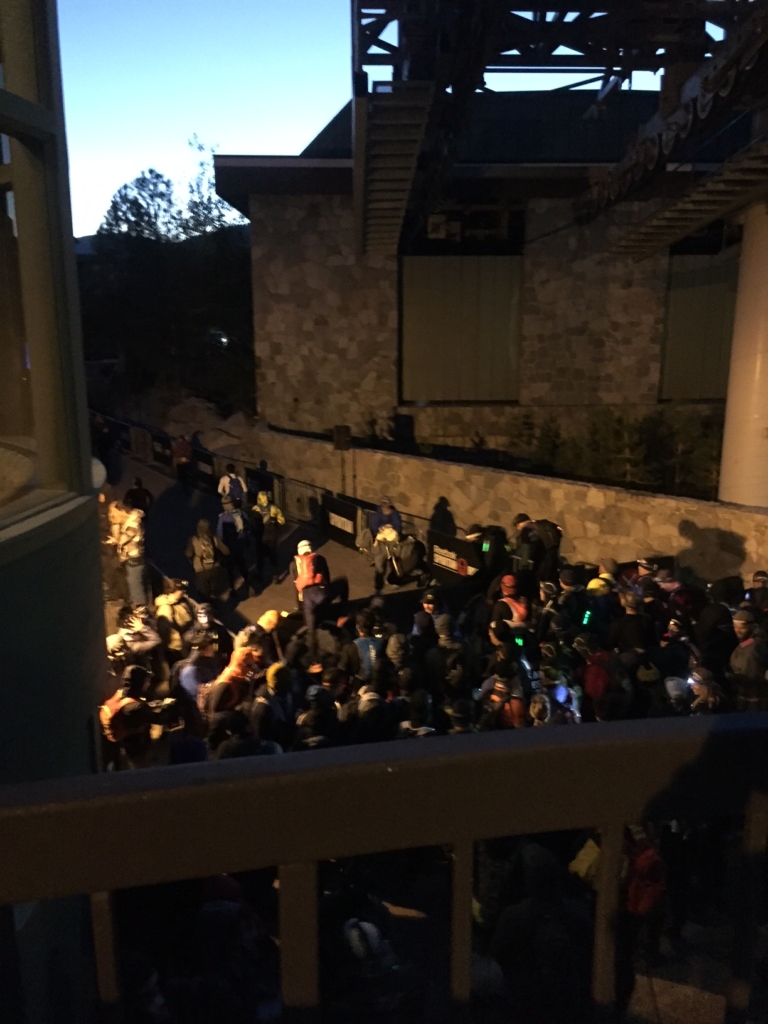 Yay 4am wake ups! Unfortunately, it's not too much earlier than my usual wake up time because of medicine. My routine is to wake up and immediately eat, so I can digest as much as possible before actually running. Breakfast: milk and honey Greek yogurt. Why? Dairy has a good mix of sugar and protein, and doesn't upset my sensitive GI system. After that, it's all about taking care of bathroom business, vaselating everywhere, and getting dressed.
I got on site at 5am, and put my drop box down in a good position given the lay out of the transition zone. The goal was to minimize the extra distance travelled and maximize the amount of organization and space I had around me for when I needed to use the drop box.
Once the drop box was set, I went into an empty parking lot protected from the wind. This helped me get used to the cold temperature without getting too cold. I warmed up a little with a light jog and some static stretches.
Once 5:45am hit, I made my way over to the start line and sat down. Standing takes energy. Ultras require you to use as much of your energy as possible, so saving as much energy as possible for the actual event. When we were let into the corral, my goal was to be near the front but not actually in the front. That way I don't get caught up into the crowd and I can run my own race.
Immediately prior to the race, we had a race briefing that told us that there would be no swim. That means all that all gear planning considering the swim were now useless, and there was no time to change that. That last minute decision-making and lack of consideration for racers foreshadowed how Spartan would act the rest of the day (more on that below).
Lap 1: Start!
As I wrote in my article last week, the ideal race plan for running your best race is pacing and not starting too fast. Consequentially, I planned on running at a comfortably moderate pace that, for me, would be around 7 minutes per mile on a flat course. So I ran that and watched a huge amount of people pass me in the first half mile.
The first introductory obstacles were not a big deal: over-under-through walls and mud pits. Right after that we started the first of the four major inclines on the course. As we got to the first incline, I felt myself working hard on the hill so I slowed down to an ultra-walk to trudge up the hill (see previous article on why walking is smart). Usually my ultra-walk has a decent clip to it and I can feel my forward progress. For some reason, I couldn't get into a good groove and I felt myself overheating.
Troubleshooting overheating in real time! Without stopping my forward progress, I took off my Athletes vs Epilepsy shirt and put it in my pack. That didn't work, so I lost the windbreaker. I was still overheating in just the Frogskin top, so I paused briefly to strip that off and put back on my Athletes vs Epilepsy shirt. There was a strong gust of wind that chilled my skin, so I put the windbreaker back on. That was the magic combination.
Even after troubleshooting, I was feeling so drained from the uphills. I couldn't get a good rhythm down and I even had to take mini-breaks for a couple breaths on the big inclines. Living in Los Angeles, most of my running has between 50-100ft of gain per mile. The ultrabeast had over twice that: 4,100 ft of gain per 14.7 mi or 278ft/mi. Since I was recovering from my 100 miler in July, I got out of the habit of doing mountain runs and 15% incline recoveries, so I felt weakness #2: incline running.
By the time I reached the top of the first climb, I must have been in 70th or 80th place. That was not a problem for me. Being a flatlander, I have a freakish ability for flat and downhill running. I knew that the ultrabeast is a long race, so I still maybe had a shot at the podium at this point. The trails were wide and the terrain didn't threaten to destroy ankles, so I put just a little bit of effort into the flat and downhills to create a controlled fall. That controlled fall lead to very quick miles. I passed at least 10 people before we hit the first new and exciting obstacle: Thighmaster.
Thighmaster is a series of boxing heavy-bags that you traverse to hit a bell. I learned from the female elites that the best way to get across was to grab the chains at the top (but not the red part that wasn't allowed) and almost entirely ignore wrapping my legs around the heavy bags. That created no problem for me.
Then we got to the second major incline that was at least twice as high as the first. I was having the same problems of having difficulty getting a groove. I felt my pace slowing and kept thinking that I really should be able to handle this. I wasn't breathing hard like the elevation was taking a toll on me. My legs weren't screaming like I was working too hard. My legs were just heavy and it took too much energy to go a decent pace. My solution: re-iterate that the ultrabeast is a long race and I need to pace it out to keep my pace consistent. I'll catch up to the others in time. The race starts at lap 2.
On the major incline I hit the A frame cargo net, and made short work of it. When climbing up, I skip a level with each leg and spread my feet so I've got 2 squares between my legs. That gives me a wide and steady base and helps me make quick work of the climb. When I reach the top, I flip over and shimmy on my butt down the rest. Technically flipping all the way down is faster, but it's also got increased risk for injury.
Next was the spear throw. As a non-regular Spartan Racer, I knew this would be a burpee generator for me. I took a few seconds to line up and make a decent effort at it. There was a lot of wind, and I tried to account for it, but my spear didn't even go close to the hay bale, as expected. I quickly went to the burpee pit and knocked out my 30 burpees in a nice relaxed pace, which ended up earning me a few places compared to other people who did burpees slower.
My next burpee generator was Olympus, which is Spartan's version of Tip of the Spear (RIP Battlefrog). Being familiar with TotS, I grabbed the chains and tried to make my way across, only to find that the chains feel very different from rope and I slipped, so more burpees for me. I watched other people pass me as I paced that set. I made quick work of plate drag and atlas carry, and found that I had lost about 100m from failing the burpees.
After a short jog, we came on a cluster of obstalces. Inverted A frame is where instead of climbing over an A frame cargo net, you climb inside it. If you use your legs to hook onto the other side when you're coming down, it's not a big problem. Tyrolean traverse is all about using both your legs and arms to make progress. Barbed wire is about alternating between rolling and crawling, depending on how much you feel like you need to puke.
Ape hanger was an awesome obstacle. It starts by a short rope climb to get onto a wire ladder strung over a body of water. It's basically a long combination of rope climb and monkey bars. When you hit the bell at the end, you needed to drop into the water, so even if you succeeded in the obstacles you still got wet. You just didn't need to do burpees. The key to success in this obstacle is having the grip endurance to make it all the way across. If your grip isn't good overhead, you'll have trouble. Since grip and bodyweight climbing is a strength of mine, I didn't have trouble.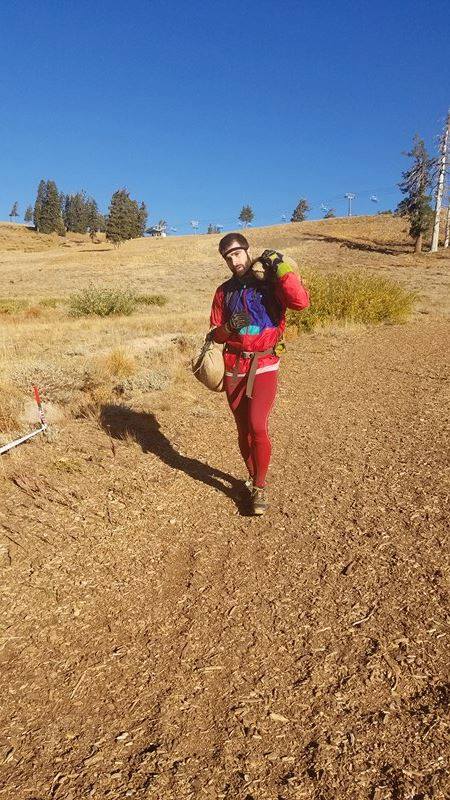 There was a little downhill, so I made up the distance that I had lost. I hit the log carry and found a good log. I trudged through it and felt reasonable. I didn't loose distance or make up distance. The double-sandbag carry, however, was ridiculous. It was about 250m each way and up a huge hill. Spartan used the basic sandbags instead of the fancy Wreck bags, so there were logistical challenges to carrying two. Combining the hill with the sandbags zapped my energy and I had to take breaks every 30-50m on the way up. I watched people pass me left and right. On the way down, I only needed a couple breaks to make it all the way.
At this point, I knew how slow I was going and how bad I felt. I was 9 miles into a 30-mile race and I was feeling my energy leave my body. This wasn't going to plan at all. There was no way that I'd be competing for the top spots, but that's not #whyIrace. I race to put myself in difficult situations so that I learn how to get myself out of them successfully and happily. This was a difficult situation that wasn't going according to plan, so I had to figure out how to make the most of it. I recognized a couple volunteers and saw Phoebe Brimer on course, so I got a few #freehugs! That raised my spirits and helped me keep on moving forward.
Then we had the big decline. The joy of mountain racing is that for every big incline that knocks me down the rankings, there's a big decline that gives me the opportunity to make up that distance. This one was about 5 miles long and I started in 60th place or so. I tried to relax down the hill and let gravity do the work. Almost instantly, I started passing people left and right. My legs were getting back into gear, finally! It just took 10 miles to warm up.
Briefly, that happy decline was interrupted by Bucket Brigade, which is my least favorite Spartan obstacle. For most obstacles there's some technique that can make the obstacle more efficient and have a good balance of effort and speed. Spartan figured out all of those tricks and disallowed them. You just carry a bucket between your waist and your chest and feel sorry for your grip and back. The poor ergonomic position just creates pain. Then you add a big incline and dirt to fill in the air spaces between the rocks in your bucket, and you get a painful obstacle. Usually I lose places on Bucket Brigade. For some reason, I gained a couple spots and otherwise didn't loose too much distance.
By the time I got down the mountain, I knew I had passed a lot of people. I made it to the balance beam, found one that didn't wobble much, and made my way across. The key for balance beam is to fall forward. If you fall past the red line, you don't need to do burpees. So I purposefully bail out when I know falling will put me past the line.
Next was Hercules Hoist, one of my nemesis obstacles. I'm around 160lbs and focus on body weight movements, so lifting a 120lb sandbag is not my strength. It takes me almost as much time and more effort to do the obstacle than to do 30 burpees, so I take my burpees. That's another weakness of mine that I overcome by doing quick and efficient burpees. In total, 30 burpees take around 2 minutes for me. For a 7-hour race, that time doesn't make a huge difference usually.
After dunk wall and slip wall (lean back, trust your grip), that brought us to the end of lap 1. Total time: 3:54. Pre-transition place: roughly 38th.
Intermission
My goal for transitions is to fix problems that I identified during the previous lap, and get fuel in the body. I didn't use my hydration pack much other than for storage of my Frogskin and the temperature was rising, so I ditched my pack. I wasn't cold but dunk wall made me wet, so I stripped my windbreaker and shirt off and replaced them with dry versions. I left my pack in the transition area because I knew I could handle 15 more miles without extra fuel. I grabbed a couple granola bars, downed some of my stashed Tailwind and got going. It's a 30 mile race, so nothing more needed to be done.
Transition time: 2 minutes. Post-transition place: roughly 34th. I made up places by being efficient.
Lap 2: The race begins!
Endurance events are defined by your ability to endure the pain. What I was betting on is that my pacing from the first lap would pay off. I didn't feel good, so I didn't speed up. I did what I needed to do to make it through without getting too far behind. I wasn't in position for podium at this point, but I had a shot at doing decently.
My policy is that lap 2 should be as fast or faster than lap 1, so I ran the beginning of lap 2 exactly as fast as I did lap 1. That resulted in me blowing by 6 other racers almost immediately. Later, Chris Herber commented that I blew by them at the start of that lap. Pacing paid off… for now.
When we got to the crazy inclines, my legs were looser and I wasn't having temperature problems, so I was able to get into a groove. I made up more spots on the incline as I encouraged the open racers every time I passed them. I even saw Faye, 3rd place beast female, on course as she was mentoring another female racer. I made mental notes of the green-banded ultrabeast racers out there as I passed them. Some people clearly were struggling with keeping pace and everyone was walking the hills, just like I did on the first lap. This time, my walking the hills resulted in passing. That told me that I paced myself well on lap 1.
The group that I passed at the beginning of lap 2 was no longer in sight. There were a couple stragglers that had caught onto my pace up until Thighmaster, so when we got into the last (4th) big incline, I walked with purpose and pushed the pace on the uphill. I saw my competition fade away as I started what I call "running the gap."
In an endurance race, you might notice that there are the top finishers, then there's a gap, and then there's everyone else. What I call "running the gap" is transitioning from being the top of the heap to being elite. It requires you to run hard, and run alone. You're competing with people that you can't see, and you won't see yourself pass anyone for a long time. That doesn't mean you're not making progress, it just means that you're "running the gap."
I got up to the top of the mountain without too much trouble. I failed the spear throw, of course, and made very quick work of those burpees. I didn't notice a single ultrabeast racer pass me. This time I used the holes on Olympus instead of the chains, so I made quick work of that one. When I got to the log carry, I suddenly noticed a lot of ultrabeast racers around me. What I thought was that I had successfully navigated the gap. Success!
But then I got to the sandbag carry, which was only a single sandbag carry this time. I saw Chris Herber in front of me. I had passed him at the beginning of lap 2 and made up good time on him. Then I noticed a lot of other people that I had passed a long time ago. How had they caught up? What happened?
Spartan cut the course.
I ran the whole thing, whereas they had skipped about a mile of running and seven obstacles: Olympus, Plate Drag, Atlas Carry, Inverted A frame, Tyrolean Travers, Barbed Wire Crawl #1 and Barbed Wire Crawl #2. Ape hanger was closed for everyone on lap 2. They hadn't done it in a uniform way. They just got the word that the summit wasn't safe, so they diverted people without keeping track of who got diverted and who ran the whole thing. There was no advanced planning or anticipation of the problem for the elites. Some open athletes that got further cut off were even denied medals.
The major issue:
I was on par or ahead of the top 3 females. I was probably in top 20 males. Since the cash purse ends at 5th place, a certain amount of sloppiness can be understood when you get to top 20. But since the women were still competing, that means that them suddenly cutting the course probably had an effect on the cash awards. If Spartan wants to be an Olympic sport or even a more recognized professional sport, mistakes and decisions like that are just unprofessional.
Finishing
Seeing all these other ultrabeast racers on course in front of me changed my mental outlook. I felt cheated, but I tried to change my outlook. Now I had people to chase to make myself go faster. I put extra work into the downhills to make up that distance that I had suddenly lost. That worked pretty well until Bucket Brigade, where as I was going up I saw people I had passed during lap 1 going down. Mentally, it broke me. I was coming up on a weakness of mine and all the hard work that I had done before was just undone. That was a very slow Bucket Brigade for me.
After Bucket Brigade, I tried to run fast on the rest of the downhill but my spirits were broken. It was hard to dig deep into the dark place where you have to go to find all of your toughness. Eventually I made it to the last set of obstacles, and felt the joy of obstacles again. As light snow began to fall, I had caught up to Chris Herber and a guy named Brendan as we reached the balance beam, so I had someone to race to the finish.
Chris had a little more trouble than me at the balance beam, so I came up on Hercules Hoist in front. I knew I wasn't going to be able to do this as quick as him, so I briefly attempted then started speed burpees. Being a regular Spartan, Chris made it through easily but another ultrabeaster, Brandon, also had failed it and was 10 burpees behind me. By the end of that set, my triceps were screaming in pain, but I knew the finish was close.
I made quick work of the dunk wall and the rope climb (thank you Cory Drumright and Camp Rhino), and made it to the final rig. I saw that Chris had already finished, so I started working on the very hard rig. Brandon came up to the rig and quickly failed. I saw him run towards the burpee pit, and I made the same decision that Lindsay Webster did the day before: drop on purpose because I knew I could do 30 burpees faster than him, but I didn't know that I could get through the rig then attempt those burpees. So we had a nice burpee off that Tera videoed. I'm not sure Brandon knew that I was racing him, but that isn't what matters (see why here). He was my rabbit to make myself work harder.
FINISHED!
Total time: 8:10. Lap 2 split: 4:16. Final place: 25th* male.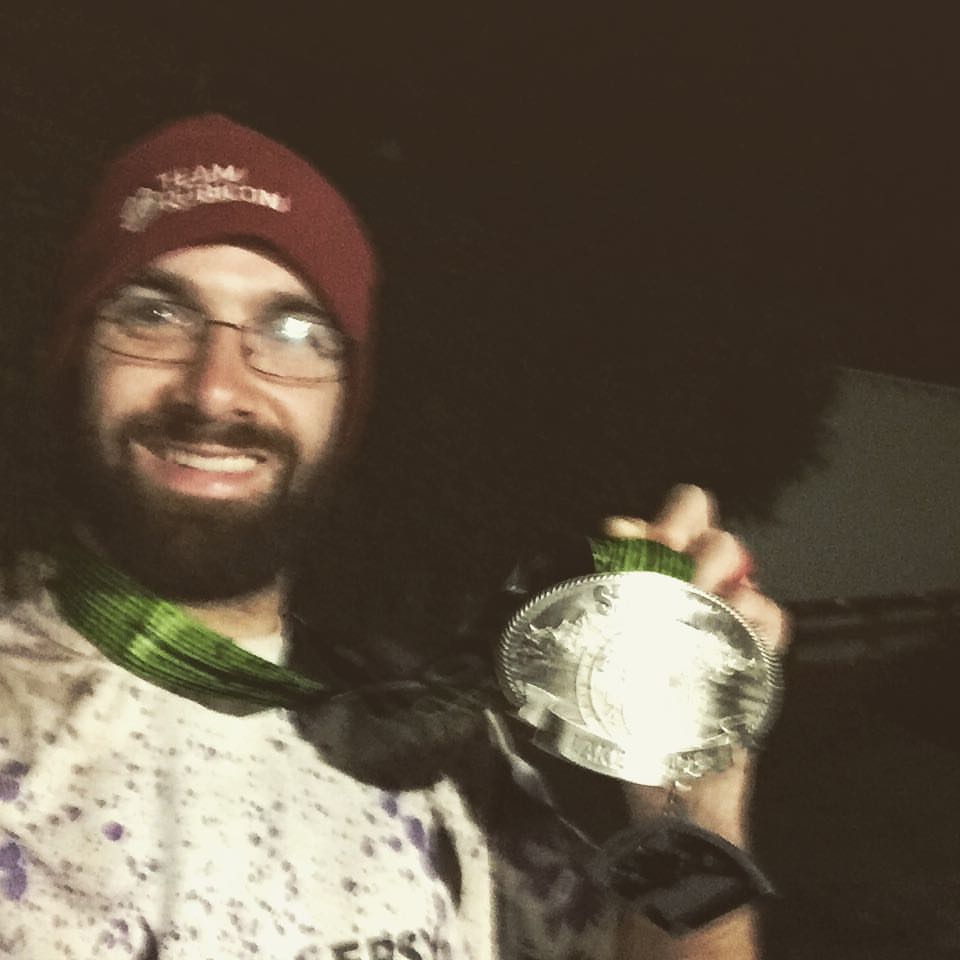 *This 25th place reflects the large number of people that were directed to cut the course, making up more than a mile and seven obstacles on me. I'm going to consider this at least a top 20 finish because, as I discussed, I was solidly ahead of at least 5 of those people, probably more like 10 of them.
Soon after I finished, the snow started coming down hard. My drop box had a layer of snow on it by the time I got to it. Those conditions made it epic for the people that were still on course. Eventually, they cut the course further due to the weather to preserve safety. I have absolute respect for everyone who finished after that point despite the weather.
Course Changes
Spartan's decisions to cut the course were based on considerations for safety, so I understand why they occurred. However, if you're running an elite competitive event there are ways to be safe and maintain the quality of the competition. A clear way to do that would be to keep open lines of communication with the event site about policies for course closures, and anticipate the dangers as compared to reacting to them. If you anticipate them, you can cut the course early so that everyone runs a standardized course. Either that or keep track of who cut the course, and make it so their final position can't be above people who ran the whole course. As Spartan grows, I hope that they will learn from other professional racing sports about how to keep the race fair no matter what happens. Overall, for an event company that prides themselves on competition, it left a bad taste in my mouth.
Despite the drama of course closures, my goal for this race was to try my hand at a very competitive race and train for my peak race, World's Toughest Mudder. My position matches how I felt about my performance: not stellar but also respectable. This race identified a few of my weaknesses that I can work on including uphill running, heavy carries, and running smoothly and quickly fluid in cold weather. My next month will be focused on working on those and getting my body ready for the joy of the desert.