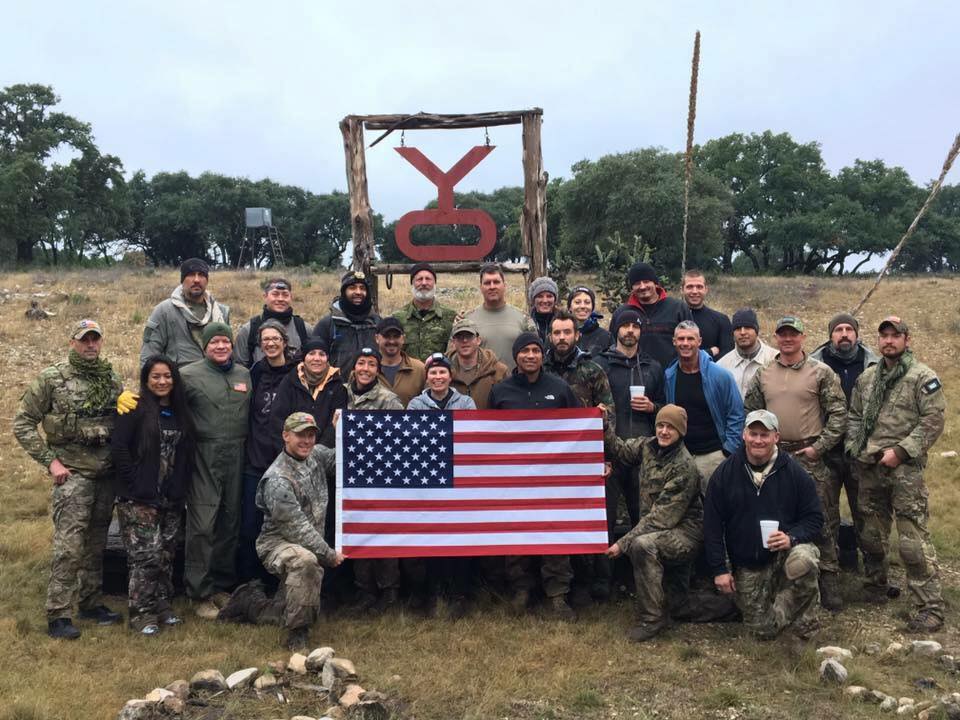 As we are driving through very remote parts of Texas, the Y.O. Ranch entrance comes into view.   The ranch encompasses massive amounts of acreage, where cattle and white-tailed deer roam freely.  Ranch houses and picnic pavilions scatter the property.  This is where the Green Beret Challenge: Behind Enemy Lines – Survival and Evasion took place.  For Mark Ballas, this is the second 24-hour event, this year, in this series of adventure/endurance races designed to take you through what it is like to be a "Candidate" for Ranger & Special Forces Assessment & Selection.
Class 002 "Happy Hour"
The event began with the Class 002 "Happy Hour" at the ranch on Friday night, Dec 2, where Candidates could partake in libations and some of the best tacos I have had in ages!  Mark Ballas and his team of Cadre spend time getting to know each of the participants or catching up with the veterans of GBC.   The team answered last minute gear questions, soothed nerves, and prepared everyone for a pep talk before the night's end.   With several active duty, veterans, and well-known endurance racers, and those who have not yet done an event of this nature, we looked to be well situated for a team based adventure.
Saturday morning, December 3, 0800 hours, each participant was to be in the picnic pavilion at Base Camp, ready for the first task of Phase I of the event, the Army Physical Fitness test.  The PT test is comprised of push-ups, sit-ups, and a 2 mile run with age specific requirements.  Candidates are lined up, backs to the PT area, and at quiet parade rest for a glimpse into the military experience. Cadre do NOT bark orders in the style of Drill Sergeants, rather, they are firm and succinct.  At the conclusion of the PT test, Class 002 is given time to change clothing, gather wet weather needs – it is pouring rain and in the 30s – and packs.  Once the Class leaves base camp, we fill sand bags, with different weights for men and women and head out for the first road march.
The event primarily is focused on the team and the Class community.  Therefore, when a Candidate of the Class falls behind, the entire Class must circle back in the road march to match their pace or take some of their burdens.  Our road march ended with Class formation and instructions on the only portion of the event focused on individuals.  As it was cold, raining, and muddy, safety was stressed and individuals were given information on signs of hypothermia.
Phase I
The solo portion was not what most expected, and was a phenomenal challenge.  This challenge was set for the individual's pace, and included a run/hike to the first task – YOKES.  If you are unfamiliar with a yoke, it is a long bar that has two weighted objects on each side, usually seen over the necks of two animals.  Each individual had to carry this, in addition to the pack on their backs (with WET sandbags inside) across muddy terrain ranging from flat to excessive climbs in unsure footing over a distance of nearly 3 miles.  After dropping our yokes, we did a small free climb leading us another short distance to our next task.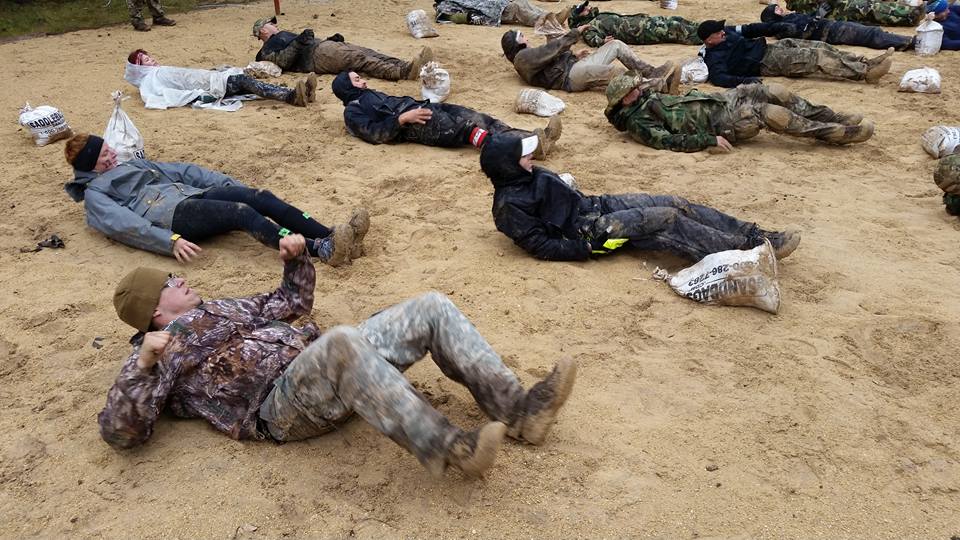 Task two had us filling a large plastic sled with dirt to the top, males having to put a rock into the dirt for added weight.  With the rain, the sleds became exponentially heavier as we traversed muddy and undulating terrain for another 3 miles until we came to the final drop point, which gave us a clue to the team tasks that were to come.  On my way back to base camp, I realized there were only 9 of us out of the 26 that were finished with the individual task, 7 males, 2 females.
We remained at base camp until the remainder of the Class completed their tasks.  We were told not to change our clothing, but to warm ourselves by the fire and eat in the meantime.  Upon the return of the entire Class, we were ordered to take our sandbags to the sand pit, where we were subjected to "sugar cookies, sandbag holds, flutter kicks, jumping jacks, and various other forms of PT in the rain and cold.  Candidates that were still participating, after this Phase, received their dog tags and further instructions. Periods of rest were built into the event format.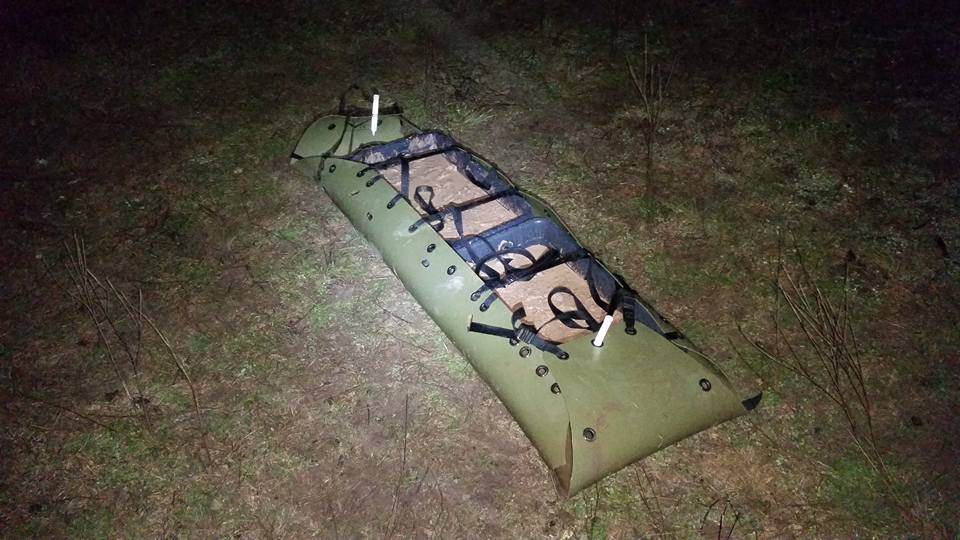 Phase II
Phase II of the event was the most surprising and useful to the Candidates.  Teams were chosen at the conclusion of Phase I, and each team was sent to learn land navigation, knots, first aid, fire building and water purification techniques, and how to build shelters and primitive weapons.  From there, teams were given chosen leaders and led on another road march to the team task.
Phase III
Teams, as part of Phase III, were to build a vehicle to transport a large log, as well as pull the gathered sleds from individual tasks on a medical spinal board.  Knot tying was a crucial piece to the vehicle assembly.  All team members had to remain together, and deliver their log and vehicles to the chosen destination.  Teams went several miles, over the same terrain as the sled pull, and we spent most of the time trying to remove excess mud from the vehicle tires.  The assembled vehicles were cumbersome and became heavier and harder to steer with the amount of mud we took on – it became our greatest challenge! Teams worked seamlessly together in this event switching roles (pull, push, etc) in order to move the apparatus forward.  Cadre stopped us at a given point, and we were led away to prepare for the last phase of our operation.
Phase IV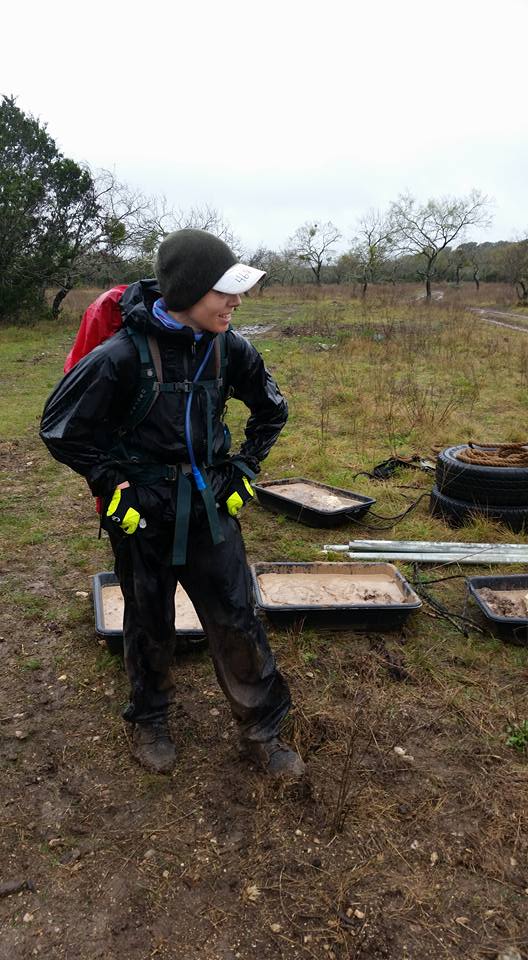 The title of the event, Behind Enemy Lines: Survival and Evasion, alludes to the last Phase (IV).  All preparation and activities have led to this "mission".  In this Phase, teams were assigned new leaders, and as a Class, were given the mission debriefing.  Our mission involved delivering items in hostile territory, in order to gather intel.  During this mission, we are sent out with one Cadre, who is "armed" and serves as our security detail and our communication.
The Class is sent to pick up items for delivery to a specified contact, and we are given identification requirements to ensure we are meeting the correct individual.  Once we are in hostile territory, we are made to wait for a specified amount of time to gather information, and change our objectives.  During this time, we are utilizing our skills learned in land navigation, determining our azimuth for our meeting point, as well as wilderness survival – we were in very cold temperatures in the rain, sitting for an undetermined amount of time, therefore the learned skills to avoid hypothermia, etc. were needed.  What happened next was…well you will just have to take part in one of the events to see for yourself.  I will say that it was exciting, and definitely gave you the feel of what goes into both planning a successful mission exercise, and what to do when it goes wrong.
In the end, Class 002 finished together, with very few DNFs (who will have the opportunity to try the event again at no cost).  Ballas and his excellent Cadre, presented us with engraved finisher's knives, and a heartfelt thanks for attending.  Following our event, I was able to visit the "war room" and see the timeline for the event.  Though there were a few needed changes due to weather conditions, as with many events in their first run, the planning was detailed and executed flawlessly.  Upon seeing the changes the event team had to make, due to the unforeseen circumstances, I was thoroughly impressed.  Not one of the Class 002 members would have known that anything we experienced was not exactly what was intended.  Oh, and breakfast was delicious!
Would I recommend this event? 
YES, absolutely.  Not just for your seasoned endurance athletes, but for anyone looking to test themselves.  Ballas and his team provide opportunities, though the event is extremely difficult, for success in a true team environment.  Start as a Class, finish as a Class.  This is not an event that looks for the smallest percentage of finishers, but the highest.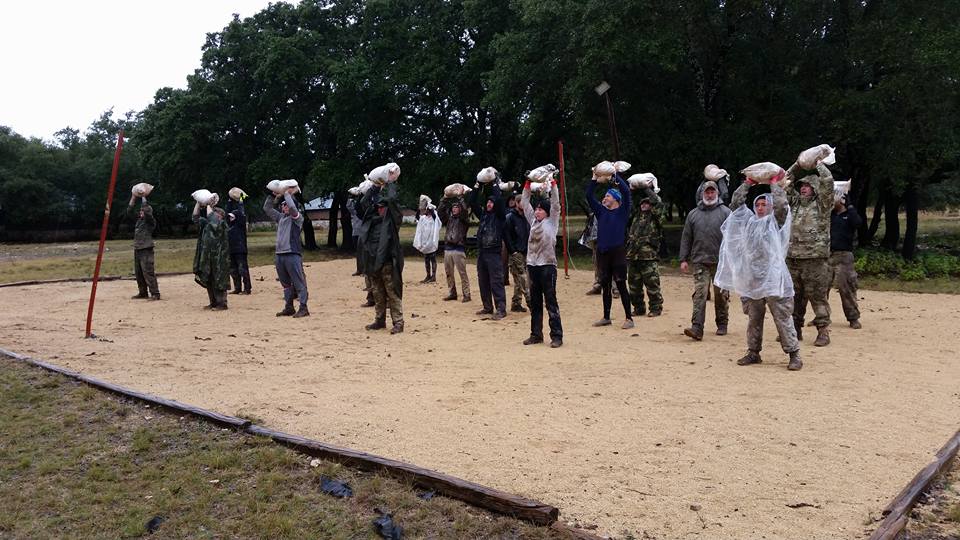 As part of some of these GBC endurance events, participants can register for just the event, or register for on-site lodging and meals as well.  The general cost for these events is roughly $300.00.  Gear needs are not excessive and would not require you to spend much.  For this event, I suggest a pack with hip belt, however, as sandbags were placed in the pack for transport.  Overall the cost of gear for this event, personally, less than $75.  This will, of course, depend on what you have available in footwear, packs, clothing, etc.  All food other than concluding meal is the responsibility of the Candidate.
---
Want to try Green Beret Challenge?
Use discount code MRG5 for $5 off your Green Beret Challenge registration!