Coming fresh off his 3rd Place Team podium win, with his partner Josh Fiore, at World's Toughest Mudder 2016 in Las Vegas I had a chance to speak with my friend Mark Jones about his endurance racing history, highs and lows and his upcoming debut as race director for The Endurance Society – Dark Rainbow Trail Series in Calgary, Alberta in 2017.
Who is Mark Jones?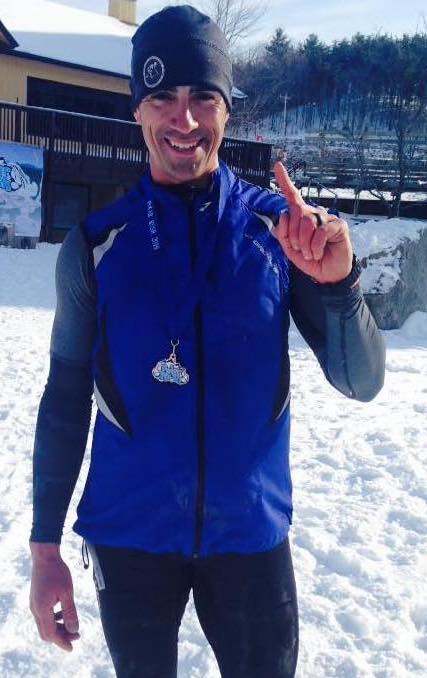 Mark is a Pennsylvania native who lived in Vermont for a couple of years before moving to Toronto, Ontario – Canada where he calls home now. He moved up here in 2015 to be with his now-wife Sarah Jones (Newham) who is also a well-known endurance athlete and their baby Declan. He is currently the Director of Athlete Morale for SISU and the Race Director for The Endurance Society's – Dark Rainbow Trail Race Series. Prior, he was the Build Director/Safety Inspector/Foreman at BattleFrog.
Having been kicked out of home at the age of 16 he joined the Marines at 17. If you ask Mark if he was always an athlete growing up he would say he was the guy in the movie Old School, who was on the track smoking a cigarette while running laps. He grew up playing soccer, baseball, basketball, and football, but loved TRACK because "that's where the ladies were at…" As you can see, he's got a great sense of humor as well!
Mark got his first taste of obstacle course racing when he joined the Marine Corps back in 2000 and believes that nothing he has done to this day has been as extreme as that. However, his first official obstacle course race was Tough Mudder in Pennsylvania.
---
Mark has an extensive race resume but his most memorable are:
Ultimate Suck first ever 2x winner (2014/2016) BEST event out there!
Texas Water Safari (Against the odds finisher) Real life, oh shit I can die type of race
WTM 2014 1st Team/2016 3rd Team
CIOR (Confederation of Interrelated Officer Reserves) Pentathlon 2012 Gold Medalist
---
With the CIOR being the one he is most proud of. Mark says the reason for that is "First and foremost, I represented my Country and brought home the Gold! Also, I couldn't even begin to think about giving the small percentage of Athletes that have had this opportunity to compete in this Pentathlon, let alone even imagine those who even know about it.
Not to mention, it's the only event where I was severely injured (Bruised rib caused by a training incident in Country (Denmark) and Planter Fasciitis) and had to dig deep, for my Team and Country, not only to finish, but to win. "
He has participated in World's Toughest Mudder 4 times; 2011, 2013, 2014, 2015. In 2014 he was part of the 4 Men Team Winning Team – The Wolf Pack. He went back out in 2015 as part of the team once again and he credits that race as his biggest race low.
Before getting into the endurance events Mark researched the top 10 hardest races in the world and conquered one that is no longer around. He says, "Of course, that list has evolved as well and now there are others emerging from the depths of hell. Forward March! Its as simple as exploration, right? I mean, think of our ancestors who ask what if, that's basically all we are doing."
The Endurance Society:
Not many people are familiar with it and I recently saw a post in a Facebook group where someone said they thought it was just another "business that also makes side money by appealing to the general need for belonging (not a bad thing necessarily) and community that many people feel…." Having been a member myself for 2 years but due to injuries unable to attend any of their events to date I love the concept of The Endurance Society and I know many incredible athletes who are part of it.
Mark has been good friends with Andy Weinberg and Jack Cary, the founders of The Endurance Society for years now. Andy asked Mark to be a part of TES somehow and says that "the company itself is all about bringing ALL athletes together for one cause, Endurance! Recently, we all decided that a buddy of mine (Dallas) who lives out west and I would run the Canadian sector."
---
What is Dark Rainbow Trail Series?
With the recent launch of The Endurance Society Dark Rainbow Trail Series and announcement of it's inaugural Canadian event in Calgary, Alberta in 2017 we spoke a bit about that:
Why and how did you come up with the name "Dark Rainbow" for the series?
It's funny, I was talking with a buddy about putting on events, but he is extremely busy and has some amazing things going on in his life right now. However, he joked about having a hard race with a cute kind of name. Something like cotton candy or pink unicorn. I wanted to bring a sense of fear into an event, without the over populated skull and crossbones, and have it relate to the event itself.
Coincidentally, I came up with the name and looked it up. Well, below is the actual meaning:
A person who is a) confused b) torn between two social groups or c) likes to confuse people
You are going to be the Race Director the Dark Rainbow Trail Series. Can you please share more details about the race?
Yes, so currently, we are trying to get more events out in Canada. If there is anyone interested in hosting us or know of any cool venues, please contact me.
Dark Rainbow is a trail run 4, 8, 12, 16hrs of whatever you want to make out of it. One catch, absolutely NO watches or GPS is allowed. Loops are unknown distances and unknown terrain. Choose one or choose them all. Our goal is to get in the heads of the Athletes without making them do some stupid and pointless task. After hours of running, Athletes will be guessing which path is the best without a sense of real time. Oh yeah, most of the race will be at night…….and a 24 hr event will also happen along with a possible snowshoe version.
Will there be a cap of # of runners who can participate?
Cap will be at 1200 (Would be amazing to hit that number year 1)
Location, how did you decide on the location?
Dallas chose the location. He is my partner in crime. He pretty much runs the West and I have the East.  
What do people need to do in order to feel qualified?
All they have to do is run! They can sign up for any timeframe they want and will receive "milestones" throughout the event for their achievements. This race is also meant for communication. We want athletes to discuss the various trails and what they did to complete each loop. We want that interaction to take place, along with the personal attention each athlete receives from the Event Staff.
What special training should they incorporate into their training sessions for this race?
A positive go-getter attitude! Smiles finish races.
Can a beginner take this on?
Do beginners take on half marathons? YES, right! We will have a half marathon milestone and this IS attainable in 4hrs.
Will you be providing everyone with the race course prior to the event?
No one will get the race course except Dallas, Myself, and key personnel at the venue for safety reasons. We want distances and terrain to be unknown
Will there only be one distance available?
There are 4-time groups and milestones all the way up to 100 miles. Plenty of opportunity for all. 
Can we expect to see more announcements for other series events across Canada in 2017?
Dark Rainbow will be a trail series- you can register here. We are currently looking at having 3 of those and our BIG one will be a 48hr race like no other.
Will Dark Rainbow be a Canadian only series?
I would like it to be. The Endurance Society US has their own Ultra/races and we do not want to saturate the market. 
---
At the time of our conversation, Mark was taking some forced mandatory rest that he swore an oath to complete and that was ending the day after our conversation. But seriously he says, "my time off is training or being with family. Sarah and Declan are fun to be around." And waiting for his next challenge which is to "bring new races that have never existed before, to Canada!
Toughest series and WTM next year and learning something new every day for the entire year. Since our Q&A, Mark received the good news that he will be the RD for the NorthEast Suck that will be in Pennsylvania in June 2017!  It was wonderful speaking to Mark and getting to share a bit of his story and the excitement that surrounds Dark Rainbow and The Endurance Society. Check out The Endurance Society and it's many events it offers from snowshoe races to trail runs and become a member today!