As I write this, it's now a couple of weeks since Tough Mudder hosted the World's Toughest Mudder in Las Vegas, and since I took on this challenge.  Normally, I'm much quicker to the draw in doing a write-up, but I'll admit I've been struggling with this one: how to write it up in a way that would make any sense whatsoever to someone who wasn't there, and even whether or not to bother since it was a deeply personal battle for me and for so many of the other ~1500 athletes who took on this course for 24h in the desert.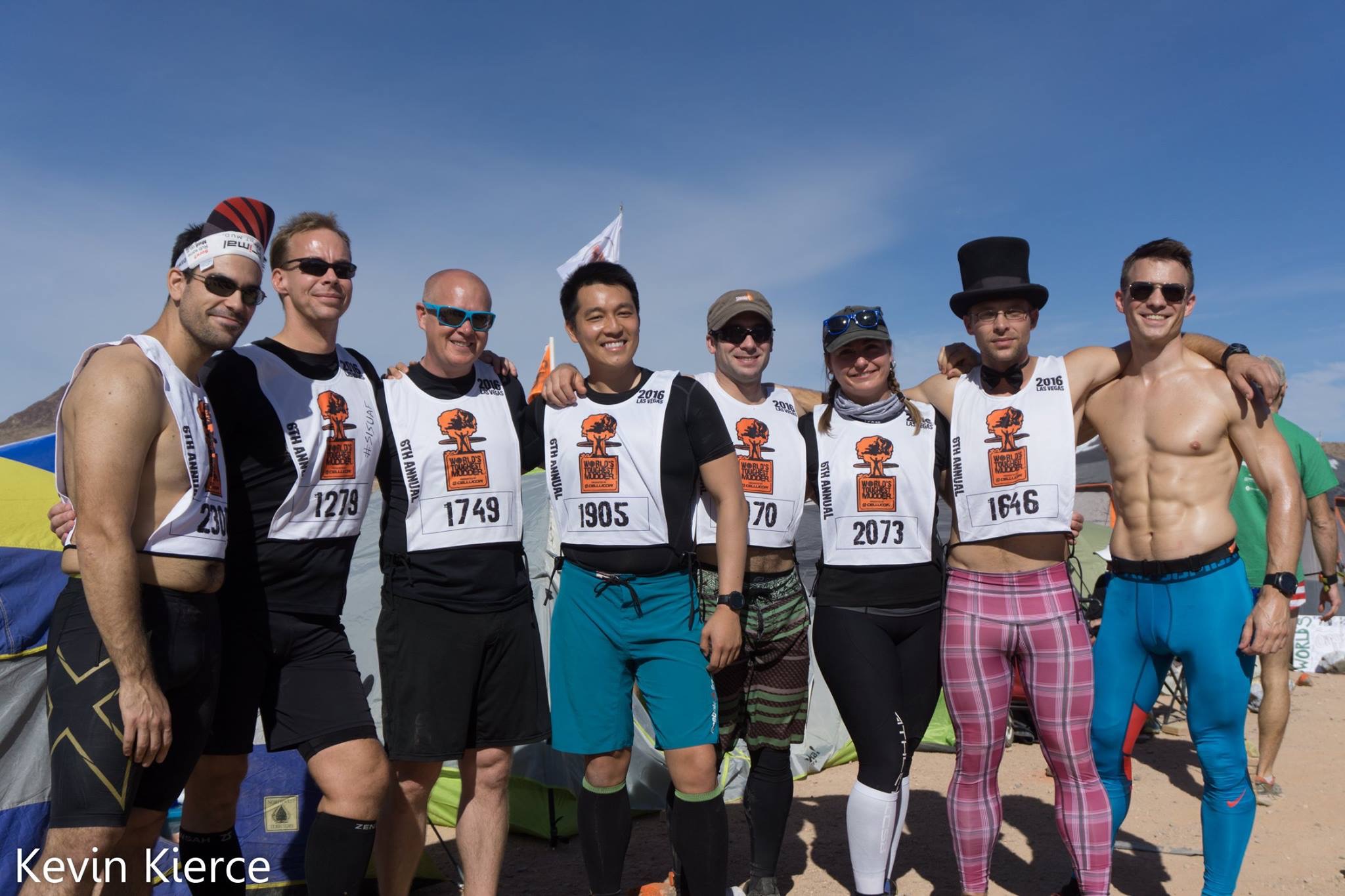 Even more so than many other races and events I've done, WTM is a personal journey, and no two people had the same experiences on the course or faced the same demons.
This was an event I signed up for as soon as registration opened shortly after last year's event, and I'd been anticipating it and working towards it for a long time.  It was to be the culmination of my year and my training in OCR, and in spite of this, as the date loomed closer, I came very close to not going on multiple occasions.
Now, cold feet is hardly new to endurance events.  I know people who joke about the sudden rash of tragedies involving grandparents the week before a big event.  I'm no stranger to doubt or fear but have never let them rule me before other big events.  This one felt different, though.  Several weeks of tough challenges including the Spartan Race World Championships and OCR World Championships left me battered and had reactivated a torn rotator cuff in my shoulder, and I'd been dealing with a bad knee for months which severely limited training.  I didn't have the mileage going in that I'd have liked, or anywhere even close to it really.  Then, two weeks before the event I hit another speedbump, as on a light run my foot started hurting in a way it never had before.  A consultation with Dr. Google (followed by a couple of appointments with more qualified MD's) confirmed a diagnosis of Plantar Fasciitis.
So then I was looking at 5-mile loops at Lake Las Vegas for 24h with no idea if I could run at all, and I was at a new low mentally because of this.  I might have been able to defer my entry to another year, but the uncertainty on the 2017 venue and whether or not I'd be better off by then made it an unattractive choice.  With lowered expectations on my  performance I "manned up" and headed for Vegas with my awesome Pit Crew.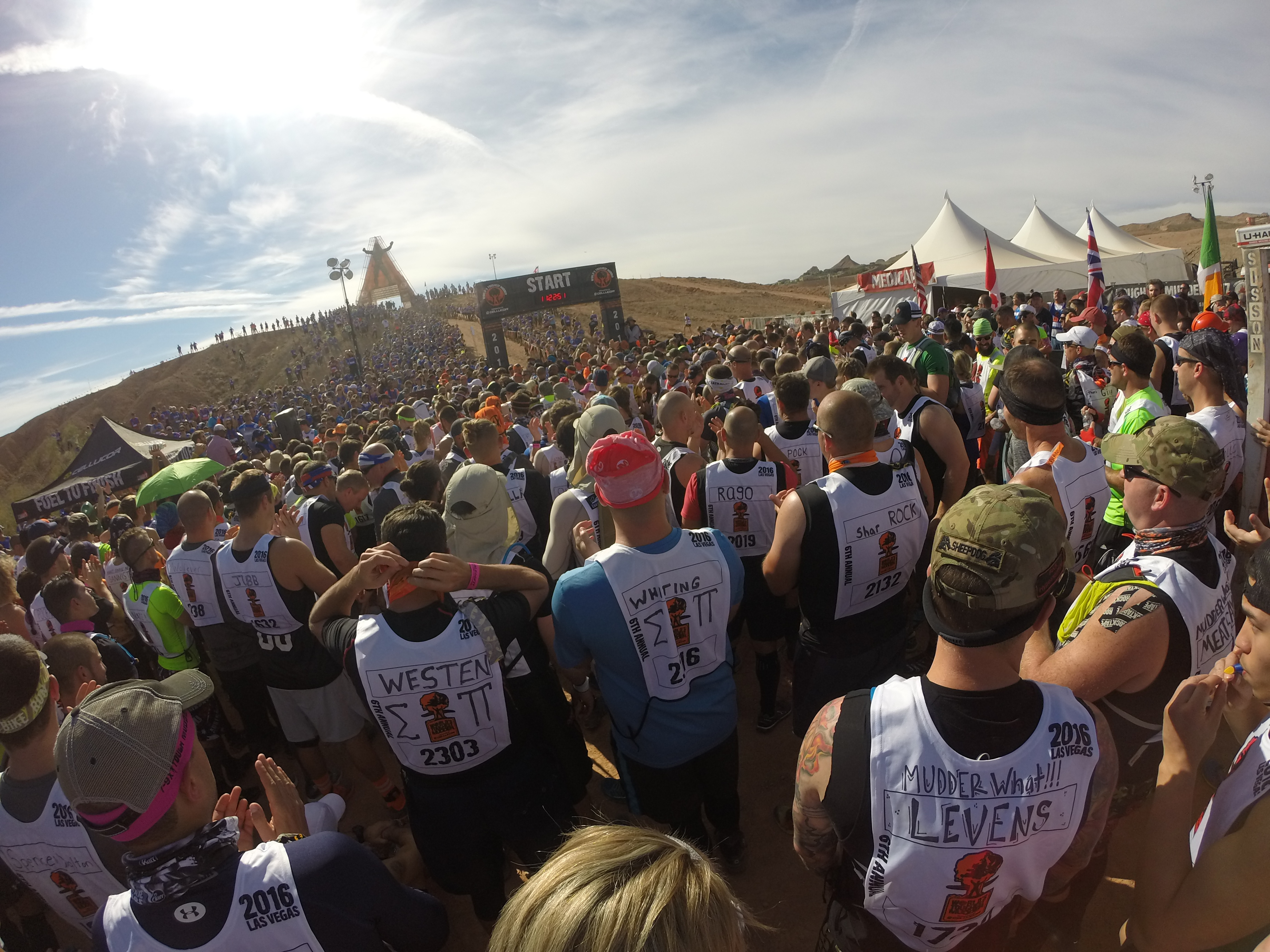 Fast forward now through the many familiar faces, a registration that was faster and smoother than I could have imagined, setting up the Pit, the long line at the Community Dinner at the Fiesta, watching a  few friends get their heads shaved as part of a fundraiser for St. Baldrick's (the group raised >$125,000 in total), and suddenly I'm in the starting corral being briefed on the rules and getting hyped up by the voice of Tough Mudder, Sean Corvelle.  And then the clock hits noon, and we're off… or at least the lead people are.  It takes me almost 4 minutes to cross the starting gate with the crowd, which is itself significant since all the obstacles are closed for the first hour – the "sprint lap" designed to spread athletes out on the course and minimize backlogs on the obstacles.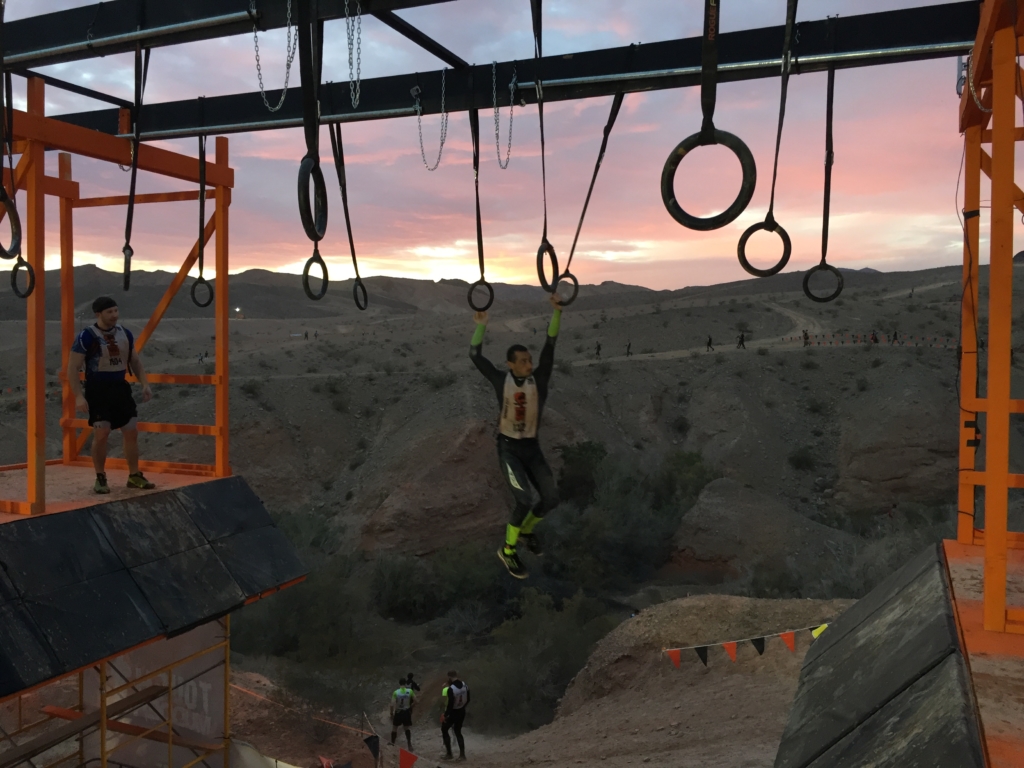 At a moderate pace, I don't quite finish the first lap before the horn sounds to open the obstacles, but I did make it past the last obstacle currently on the course (Kong), so I finish off the rest and head back out, at a steady power hiking pace now which is all I can muster for the rest of the event.  There are 20 obstacles per lap, and these were well distributed between physical grind (short cliff climbs and descents with a rope, the massively high cargo net that was Giant Wedgie, Pyramid Scheme, the dreaded Backstabber, and others), skill obstacles (which included a new version of Funky Monkey – Revolutions, Double Rainbow, Kong, and Twinkle Toes), team obstacles (Everest 2.0 and Blockness Monster) and the mental obstacles (Operation, Turdunken, and later, of course, the Cliff Jump).
Several of these had penalty loops – a moderate distance to cover, some with a sandbag in tow, to add distance and time to your lap if you failed or opted out of an obstacle.  Additionally, a few obstacles including Funky Monkey and Kong would be modified as the race went on to account for people's changing physicality and keep the runners engaged throughout.
After my second lap, I switched into my wetsuit and quickly regretted it.  Compared to previous years, this WTM was unseasonably warm, and I quickly found myself overheating a little between the water obstacles, and unzipped the back of the wetsuit to compensate.  I also discovered on this lap that the water from my wetsuit would continuously drip onto my hands, making the "grip" obstacles much more treacherous; this was solved with a little pit surgery where I sliced open the forearms of the wetsuit.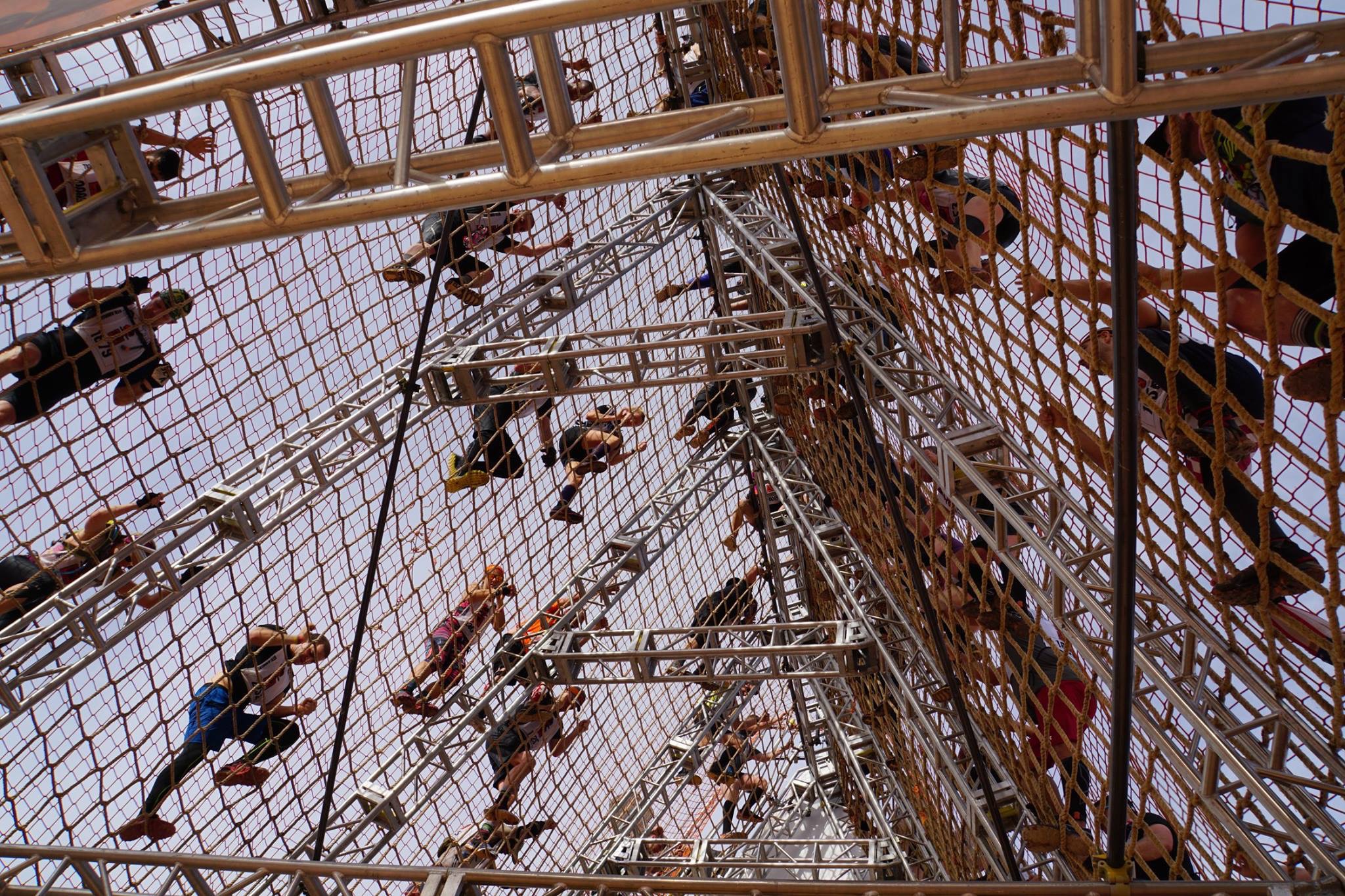 Laps 2 and 3 went fairly well (at my hiking pace), then I started on my 4th lap.  At roughly the 1.5 mile mark, I came on Everest again, and ran up to grab the two outstretched hands that were reaching back for me.  As I grabbed them, I felt a very sharp pain in my foot.  The one that I'd recently had a cortisone shot for to quell the inflammation of Plantar Fasciitis.  The rest of the lap, from that point on, was an exercise in the evolution of pain.  My pace slowed to a crawl as I limped from obstacle to obstacle, eventually making it back to the Pit area.
Not knowing at this point whether I could or should continue (two completely different questions),  I took a longer pit break, downing a few slices of hot pizza that had miraculously appeared and several different painkillers.  Time passed, and my crew kept urging me to get back out there.  And I kept telling them "not yet".  Finally, I was enticed to head back out around 10 pm with a friend so we would hit the Cliff shortly after it opened.  For many, the Cliff was an obstacle to dread, but I'd been looking forward to it.  I've never had a problem with heights, and have done some smaller cliff jumps and bungee jumping before, so had no doubts about this one.  Miraculously, as we headed out, not only did my foot feel much better (yay painkillers), but I also had my BEST lap, conquering Funky Monkey and Double Rainbow for the first and unfortunately last time (though I would come THIS close on several others).  I barely paused before heading back out for a sixth lap.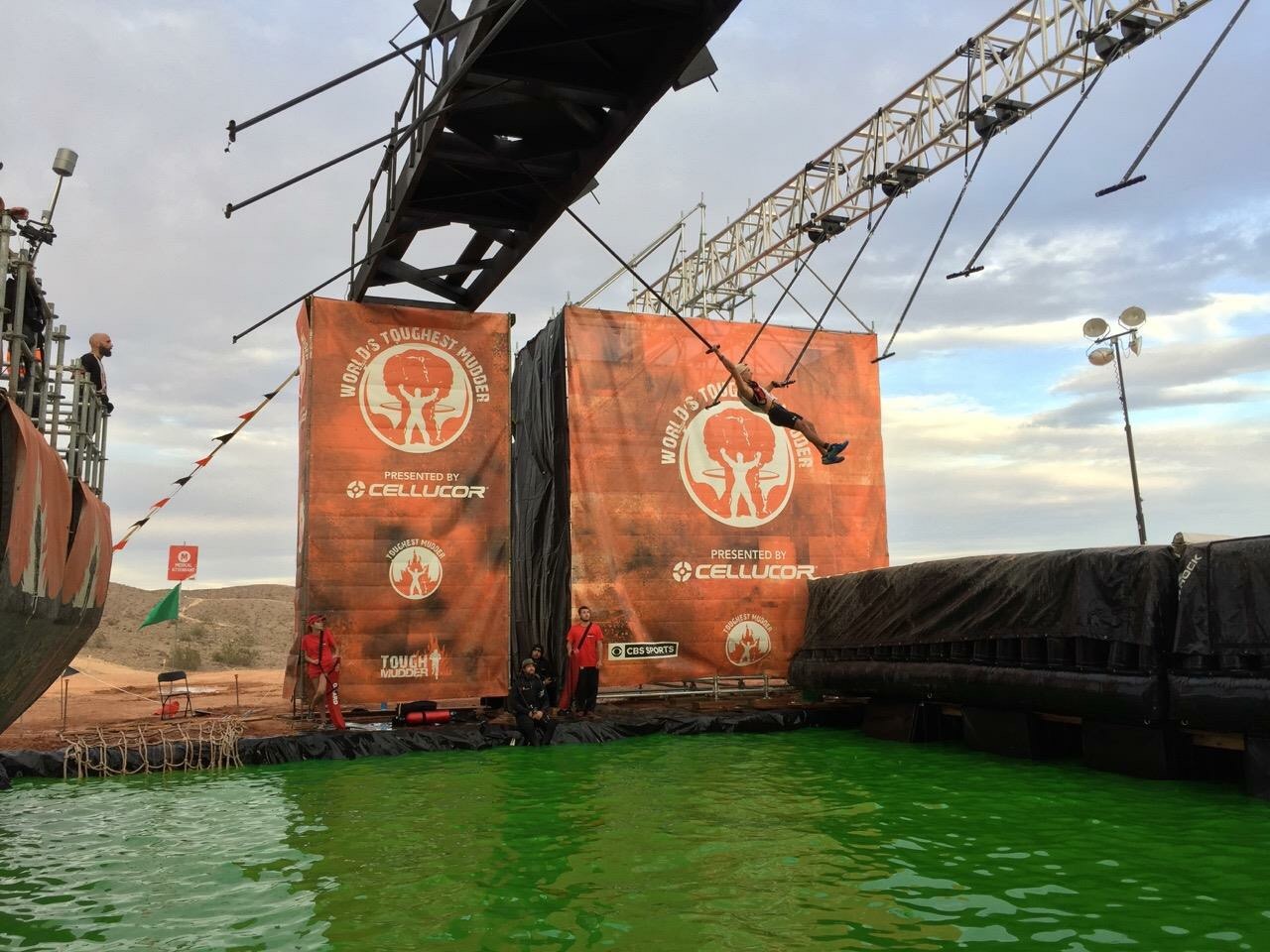 By the end of this one, things were starting to tighten up and get painful again, so I made a strategic call.  My original goal of 50 miles had already been upended by the long pit break after lap 4 (at my walking pace), so I set my new sights on 40.  That meant only two laps to go, with plenty of hours to do it.  So I took an extended pit again through some of the coldest parts of the night, and set out at 4:30 to catch the sunrise.  Then one more at 9-ish, now out of my horribly abused wetsuit to get the last lap in with a goal of finishing shortly after the 12 noon mark as required to earn my 24h headband.  This worked well, and I managed to time my arrival at the Cliff at 11:58 in time to talk my way past the officials who were in the process of closing it to non-contenders: "We still have two more minutes!"  One last exhilarating jump, a short swim, and I actually managed to run across the finish line of my first WTM.
It turns out that as innovative and cool as they are, the biggest obstacles are rarely the ones on the course, even at an event like the World's Toughest Mudder.  Instead, they're the physical and mental obstacles we bring with us.  
I am proud that I managed to conquer a few of these myself out there in the desert.  During this time, I witnessed many others conquer their own personal demons and perform some truly inspiring acts.  From watching Jon Albon and Ryan Atkins conquer the goal of 100+ miles as a team, while always taking the time to lend a hand to those around them, to coming across "Blind Pete" Cossaboon and his friend and trainer Joey McGlamory working their way through the course, to seeing people conquer their fears at obstacles or continue to push on despite really good reasons to just stop and give themselves a break.
Events like WTM are far more than a race.  They are a crucible to burn away the dross and find out what you're made of.  Perhaps this is the real reason why so many athletes keep returning to it.