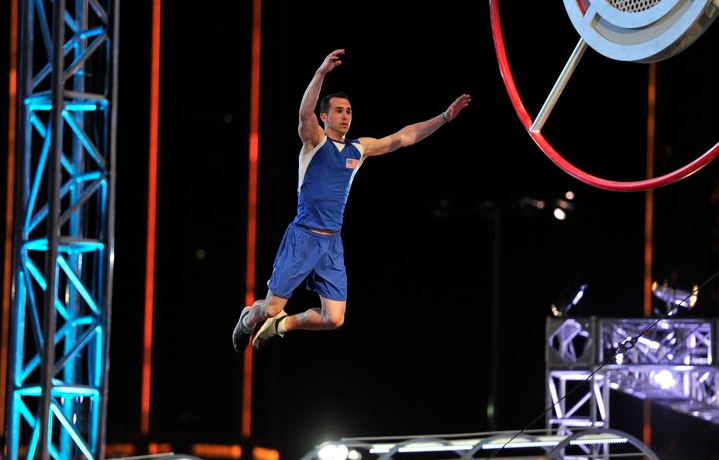 For The "Ninja Weatherman" Joe Moravsky, the end of season 6 of American Ninja Warrior was a wake-up call.
"I have never fallen on stage 2 until then," he said. "But it was a blessing; I refocused, it reminded me not to expect success to be easy." Moravsky has witnessed the evolution of the obstacles and training for ANW since his debut during season 5.
"When I look back, at season 5 I want to kick myself," he said. "Those were easy," Moravsky explained that during his first season he focused a lot on legs, forearms, and grip. That focus has not changed, but he has added to that.
"I train to mimic the course," he said.
There was a lot of conversation that the last season of American Ninja Warrior was the toughest season. Moravksy agrees with this. But he also believes that success on city finals course; will tell a lot of finals success.
"If you can beat a city finals course," he said.  "You should be able to make stage 2."
This year his focus has been on climbing, power, and endurance, but he confesses the endurance part has not been easy. "If you take the two weeks off from endurance work," he said. "It is hard to get it back" The climbing has helped him with his strength especially in his biceps. He also enjoys a run from time to time."I feel like I am the strongest I have been," he said.
Team Ninja Warrior has been a part of the evolution.
"Team Ninja is so much fun; there is not as much pressure," he said. "It is faster, trickier, and it forces you to make the big plays."The evolution has also included his outlook.  This year his goal is not to worry so much."My best season was the year I cared the least," he said. "My first year my wedding was the same weekend as Vegas. I was okay with messing up."He also realizes he cannot take his success on any obstacle for granted.
"I have had so much success," he said. " Last year reminded me to not take any obstacle for granted. You have to work for it." He has been waiting for a year to conquer the course again. He is confident in his ability to win the course, but it cautious. "It has to be the right day; everything has to come together."
The evolution has also expanded the business of ninja. Moravsky recently signed a deal with Macy's to promote their brand, ID Ideology. Moravsky sees this as the next chapter for ANW. He also sees this as help for athletes who are juggling part-time jobs while training.
"People are starting to realize it is more than a TV show," he said. "It is the people behind it.  This is the next thing for us. I see ad space, endorsement deals.  It will be a source of income and give the athletes something for their hard work. It is opening the eyes of the producers."
Another part of this evolution is events. Moravsky will be part of the upcoming Wolfpack Ninja Tour. The tour, which takes place April 29th and 30th will feature a kids event, which Moravsky is excited to be a part of.
"We have kids who look up to us," Moravsky explained. "This is a chance to make those kids happy. What the Wolfpack is doing can be an opportunity to bring ninja to kids around the world."
Moravsky sums up his goal for 2017 in simple terms.
"To put on a show."
Reach Joe on his social media channels.
Facebook: https://www.facebook.com/JoeMoravsky
Instagram: https://www.instagram.com/ninjaweatherman/
Twitter: https://twitter.com/NinjaWeatherman