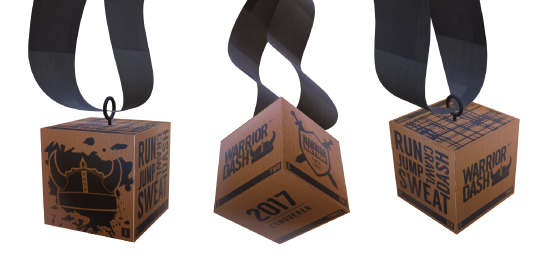 Warrior Dash enters its 9th season in 2017. This year Warrior Dash is out with new obstacles, t-shirts, medals and more. Warrior Dash continues to be one of the best events for those looking to jump into obstacle racing and mud runs. For the competitive athlete, Warrior Dash continues to have their timed first heat of the day which is an OCR World Championship Qualifier.
Check out the new obstacles, new medals and more in the press release below from Warrior Dash.
---
Entering its ninth season, Warrior Dash, the 5K obstacle course race that more than 3 million people have completed since 2009, will feature 24 stops across North America beginning in Florida this February. As the obstacle course race that anyone can start and everyone can finish, this year will feature multiple new obstacles with the return of many fan-favorites. 
"Heading into our 9th season of Warrior Dash, we've challenged more than 3 million participants since our inception," says Ryan Kunkel, Co-CEO of Red Frog Events, the producers of Warrior Dash. "For many runners, Warrior Dash is their first organized race and glimpse into the obstacle racing industry. We're proud to be the gateway for so many people to find their fitness inspiration and do something different during their weekend."
Obstacles
With 12 obstacles making up the 5k Warrior Dash course, many signature obstacles will return to the Battleground in 2017 including Muddy Mayhem, Warrior Roast, Goliath, Alcatraz, Pipeline, Fisherman's Catch, and more. New obstacles debuting in 2017 include: