This morning, members of Tough Mudder's Mudder Nation rejoiced as they opened their emails this morning to receive last minute early pricing deals on World's Toughest Mudder 2017. Past emails have been sent to participants but this email included the most important and until now secret – the location. According to the email, this morning Tough Mudder is returning to Lake Las Vegas in 2017.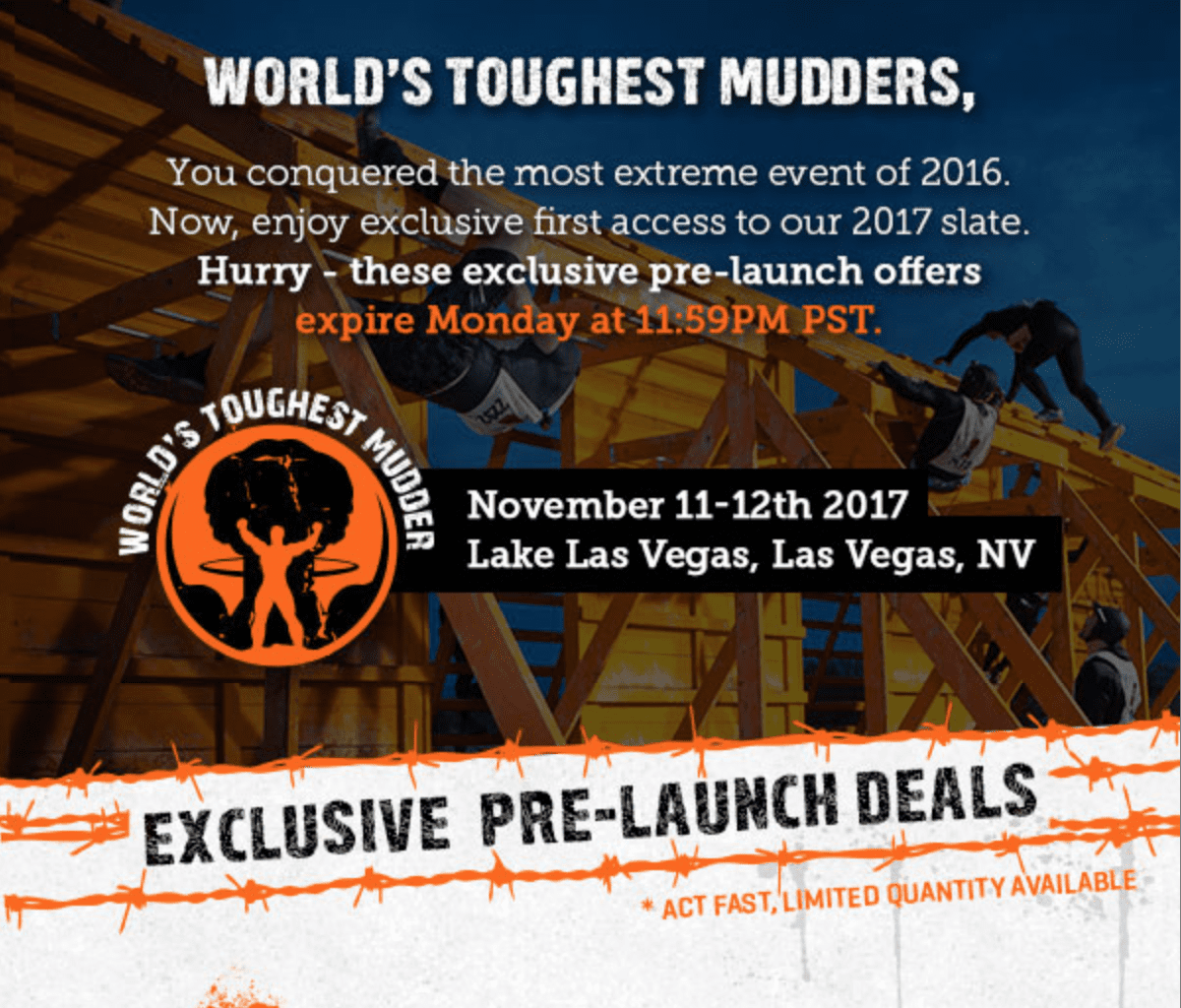 Members of the World's Toughest Mudder Community are plotting out travel plans and getting registrations in with the news this morning. The email did not indicate a start time for the event, but for diehards and those looking to plan their 2017 season, World's Toughest Mudder now has a date and location. For many, they will have another year for redemption in the desert.
We reached out to a few racers to get their reactions this morning to the news.
Junyong Pak – Multiple WTM Champion
I love WTM and I think that venue in Vegas is the world's perfect location for a championship OCR event. But I think for the community's sake it could use a refresh… though on the flip side I totally get why TMHQ would hold it there another year. With CBS entering the fray, there are reasons to do things most of us would never understand.
Stefanie Bishop – 2016 Women's Winner
Even though I can live without that dust, I'm excited! No matter where WTM lands, it's bound to be a unique and memorable race. The location will always play a factor into how an event plays out, but the people are the ones that take it to the next level.
Jon Albon – 2015 & 2016 Team Winner
Although lake Las Vegas is an amazing venue for WTM having the race return there for the fourth time is somewhat of a disappointment. Much like the Spartan World Championships and inevitably the OCR world championships competitions are becoming very accustomed to same course.
Yes, certain obstacles and routes can be changed/deviated much remains the same in the way of climate, terrain and inevitably the race outcome. Without changing the location racers can already predict a lot about the experience they will have and will therefore not have their adaptability tested, which is key to make a truly great obstacle course race.
Both sentiments have been echoed this morning throughout the WTM community some glad it's back so they can complete some unfinished business others were looking forward to a change. But overall, everyone in the World's Toughest Mudder community can let our a sigh of relief knowing where they will be on November 11-12, 2017.
---
As of publication the Tough Mudder website had not been updated to include World's Toughest Mudder information for 2017.