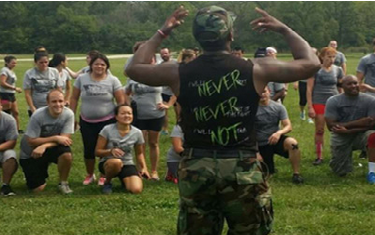 It took a great amount of courage for me to approach Coach Pain for a sit-down chat. I had met him at BattleFrog in Squamish, B.C. but wasn't sure if he would be willing to share with me how he developed his passion, his strength and what makes him Coach Payne. To my humble surprise, he was more than willing to sit down with me over Skype and share with me how he has become such a driving force.
He is a strong man that uses his voice and his passion for life to motivate people not only at the start lines of multiple events including BattleFrog and OCRWC, but to help people live their very best lives, and to "Conduct their Business"
What has been your greatest challenge/accomplishment to date?
It was competing in the Ironman for the Midwest in 2011-2012. The next day however, I suffered a tragic loss (the death of my mother). This was a challenge that I had to overcome and that day even though she had passed, I pushed through the pain and continued on. I used her death as the fuel to pursue my true calling.  Coach Pain was born from both my proudest achievement and my greatest pain.
I am very sorry for your loss. I have never lost a parent and cannot imagine going through that. From the conversation that we have had, although you suffered, it made you realize your passion and your gift to the world.
In terms of surviving that experience, do you believe as people we should live in the past, or live in the moment?
The past is gone. Yesterday was a set of moments that are no longer in front of you. I believe you should live each moment as it happens and be in the now. You can't change the past, but you can learn from it and use it to fuel your passion. You can't let the past determine what you do now. IF we put ourselves in a position where the past holds us from the now, we can't understand what we need to accomplish at that moment.
Everyone knows your tag line of "Conduct your Business", what does that mean to you?
It means getting up every day and doing what you have to do, no matter what is put in front of you. It may not always be easy, but you need to make sure you get it done. Everything we do is conducting our business. It's everything – your job, your family, getting serious about what you do.
As people we tend to aim for that one goal or achievement and then become complacent. What are your thoughts about this?
You always need to be hungry and wanting more. I respect every goal or milestone that a person has achieved, but once you have done something you need to think "what's next?" You need to figure out where you want to go and what barriers you want to break. If you do the same thing all the time is there a point to that? Always reach for the top, work for more, be more. Once you reach your level of accomplishment are you going to stay in that realm or go further?

What does the OCR (Obstacle Course Racing Community) mean to you?
It's about the people overcoming what they thought mentally and physically they could not achieve. It's about getting over your fears and facing your "unknown". The people and their stories are the OCR community.
Do you feel that being healthy and fit is most important to a person's life
If a person wants to take control of their life and be fit and the best they can be, that is what is important. Each person is different and has their own goals and way of seeing things, and if you are willing to take a change and commit to yourself and "Conduct your Business" that is what is most important. There is only one of you, and it is your choice to get out of bed and make every day count.
What's one person / set of philosophies you can relate to?
Coach Pain and I chatted about a couple of specific quotes:
"Empty your mind. Be formless, shapeless, like water. You put water into a cup, it becomes the cup. You put water into a bottle, it becomes the bottle. You put it into a teapot, it becomes the teapot. Now water can flow or it can crash. Be water, my friend" – Bruce Lee
"When the opponent expands, l contract. When he contracts, l expand. And when there is an opportunity… l do not hit…it hits all by itself"
Thank you again for taking the time to talk to me. If you had some parting words to wrap things up here, what would they be:
Be true to yourself. Always strive to reach beyond what you think is possible. The body will only believe what you tell it do. Inspire each other, help one another, be the best that you can be. Never stop trying to push past your limits. Make every day and each moment count. Laziness is the mind being bored.
Don't be afraid to fail. Celebrate failure and successes. Do not chase the crowd, find your own niche.
Conduct your Business.
Coach Pain can be reached on the following Social Media Channels:
Instagram – Coach_Pain
Facebook: Coach Pain
Website: http://coachpain.net/