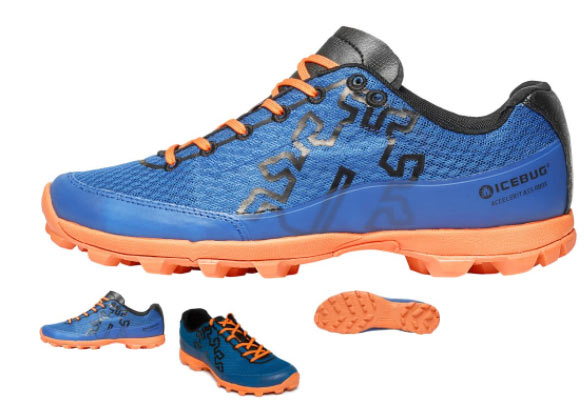 Here's What They Say:
Acceleritas5 is minimalism the Icebug way, a must-have for the thrill-seeking runner venturing into swimrun, obstacle race or beyond the beaten track!
The upper materials have been updated to a super soft and airy textile, so light and smooth it feels like being barefoot.  The water pickup is minimal, the drainage is excellent and hence the wet weight is almost as low as when it's dry.  The midsole is very flexible and keeps the weight down.  The height of the heel cup is slightly reduced in order to reduce pressure at the Achilles tendon.  Terrain feel is remarkable thanks to the low profile of the sole.
The shoe promotes the natural movement of the foot, it's like running in a pair of socks, but socks that provide thermal and impact protection and traction.
The outsole is designed with a pattern that is optimized to grip on hand as well as on soft surface, with an aggressive pattern where dirt is steered away to the sides in diagonal channels (it's the same principal as in tractor tires).  Acceleritas5 outsole is crowned with the jewel among sticky rubbers: RB9X.  This innovative rubber compound provides incredible traction on both wet and dry surfaces, without compromising the durability.
Who is it for? Those venturing into swimrun, OCR, or off the beaten track looking for a minimalistic feel.
More "Evolution" Than "Update"
Acceleritas3 were my first introduction to Icebug trail shoes, and the fit, ground feel, traction, and durability quickly (almost instantly) made them one of my all-time favorite shoes. That first pair was worn for over a year of abuse on the sharp, rocky trails around my home in Northern Phoenix, AZ and held up exceptionally well. Due to their extreme flexibility and the RB9X sole's pliability, the shoe can conform to nearly any surface and provides non-slip offroad traction paired with a minimalist fit that provides immediate feedback to underfoot conditions. Acceleritas are light, nimble, and snug; they almost "disappear" on your feet during a trail run and allow you to dig into the terrain with no fear of slippage.
The above paragraph holds true for every model of Acceleritas that I've worn over the past 3 years: Accel 3, 4, and the special edition OCR LE model. The updates from 3 to 4 were mostly cosmetic aside from a slightly lower heel cup. Full disclosure, the teal Acceleritas4 were my least favorites of all. While version 5 retains all the above positive points (note: you can interpret "snug" as a negative if you are wide-footed), the changes made by the design team in Sweden from racer feedback has manifested in a new wolf in the old sheep's clothing.
Acceleritas 5 Evolution:
Lighter than previous models (I know, if you do a little research you can see OCR LE's listed at 180g while Acceleritas5 specs show 200g, and I say hooey. I'm holding them in my hand right now, and the 5 is lighter.)
Even more flexible – if that's even possible. Previous versions' weather-resistant uppers would "pucker" where the new textile conforms to any position the RB9X sole can get you into.
Breathable. Aah, yes. Hot AZ trail running isn't quite so hot on my feet!
Water-resistant where it matters; light & airy where it doesn't. 1/2″ or so of protection wraps the shoe right above the midsole to keep water out; above that it lets your toes breathe!
Perforated tongue: Earlier Acceleritas models were plagued with water retention issues as there was nowhere for water to exit efficiently; with the mesh upper and perforated tongue, water has an exit path
Softer foam & even more pliable RB9X? – In my hands-on testing while writing this comparing Accel5 to OCR LE's, and during today's 5 mile trail run, I can tell the cushioning is softer, and I can flex the lugs with less pressure. With only 4mm of drop, every little bit of cushioning helps.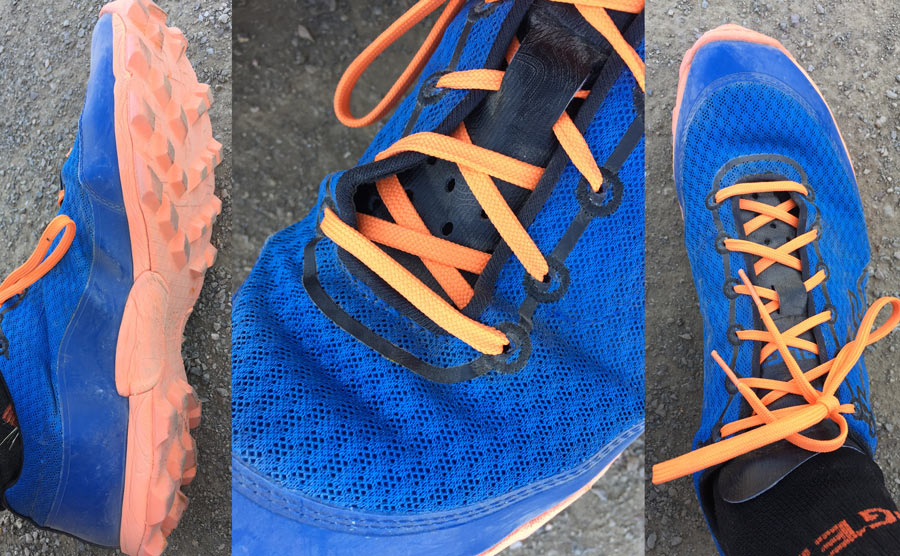 Tests 1 & 1a – 5k Trail Jog/Hike & 5 Mile Trail Run
Following 3 days of record-setting temperatures, today's hike & run in Sonoran Foothills was surely a scorcher, so with my good buddy Paul Kent, founder of Flagstaff Extreme Adventure Course in tow and freshly unboxed Acceleritas5 on my feet, we set out for a moderate hike with some easy jogging around the upper perimeter trail for a little over 5k total. Paul headed out to make his afternoon meeting, and I refilled my water bottle and headed back up for a moderate run.
While the new changes aren't earth-shattering, they are incremental improvements that are surely noticed and appreciated by an Acceleritas aficionado. I found them to be light, nimble, and flexible with uncompromising traction. Oh, and a teeny bit more cushioned than previous versions.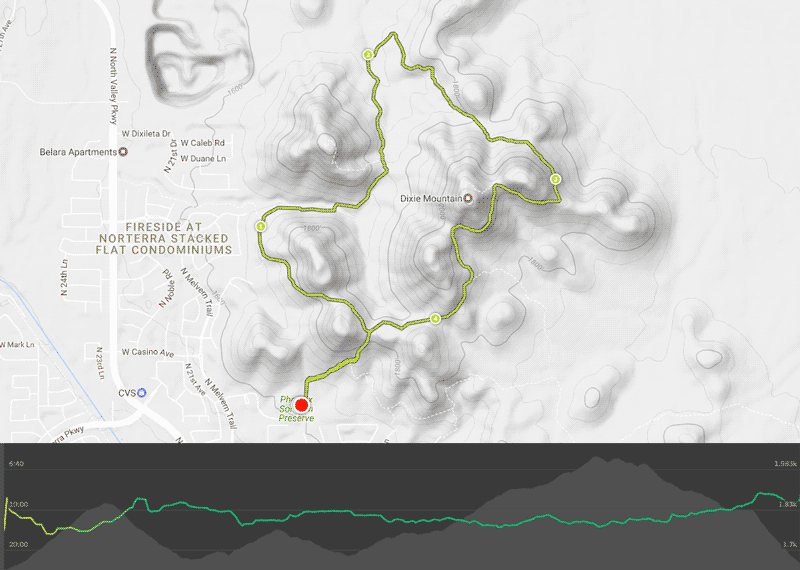 Fit & Sizing
Acceleritas' have always been a narrow last, but I've never felt them to be too tight in toebox width, but after a dozen or so tough miles on the trails I would notice some my big toe making a lot of contact. To rectify this, I moved up 1/2 size this year for the Acceleritas5. While it's not listed on their site, a little birdie told me they are slightly wider this year than previous models. All in all, the 1/2 size jump went unnoticed by me while running out on the trail, and I think I will appreciate the extra room during trail marathons or ultras.
Should You Go Up 1/2 Size?
I'm literally right in-between sizes, so I could best describe my perfect size at 9 3/4. In Nikes I wear a 10, Reeboks I wear a 9.5, etc. I'm happy with my move up to a 10 in the Acceleritas5 (and all 2017 Icebug models), if you're a little snug in a current size, you're probably not going to be upset moving up 1/2 size.
Stiff Out Of the Box
If you're buying Icebugs for the first time, take note – they are "stiff" right out of the box. That means they may feel tight laterally in the toe box, the heel cup may be somewhat inflexible, or the instep may feel pronounced under the arch of your foot. As someone who has worn every model of Icebug over the last 3+ years, THIS IS NORMAL. The crew in Sweden uses high quality, highly durable materials for all parts of the shoe, and they require a little time to conform to your foot. Now, if your toes hit the end of the shoe, you are clearly in the wrong size; aside from that, just give them a little time to adjust to your feet.
That Soft Part on Your Instep and Outstep That Gets Thrashed
If you check out the left most photo above from my trail run today, you will see the orange "arch support / instep plate" gets pretty beaten up quickly, and that is by design and I helped it along quite a lot. I've worn these shoes on sharp rocks for long enough that when I want to really put them through the wringer, I literally stomp on every nasty part of the trail possible during a run – today was no exception. Actually, today was probably the nastiest I've ever treated these shoes as my bud at Icebug asked me to punish them. You see, swapping from the previous impenetrable uppers to the new breathable fabric was a pretty big stretch when it comes to overall durability, and they really wanted honest feedback. While that soft foam / RB9X concoction can take a beating, it surely shows signs of wear – yet lives on to take more and more punishment. On the OCR LE version, they went with a more durable compound, and that resulted in a slightly heavier and less flexible shoe – this was the right move in my book. So, if your instep looks nasty like mine, good work – keep punishing 'em!
First-Look 2017 Shoe Overview
Special appearances by Vivi and Shelby, camera work by the one-and-only K Stew.
My Take?
Duh. If you read above, you already know what I think.
These shoes are for you if:
You like traction and a minimalist ground feel with almost no drop (4mm)
Your foot is standard to narrow width
ORCs, trail runs, or SwimRun is in your future
Should You?
'Bugs are not cheap, at $125+ for Acceleritas5 you are buying a shoe that will last at least a full season, provide the traction, fit, and drainage you're looking for in a high-performance piece of footwear. If you're investing $100 in a mud run once a year, then you probably don't have the proper "pot odds" to make you go all in on these (thanks for indulging my poker metaphor). If you're planning on 3+ OCRs in a year, or qualifying for the OCR World Championships? Acceleritas5 for narrow/standard-width runners (contemplate 1/2 size up) or Zeal3 for slightly wider-footed athletes (review coming soon).