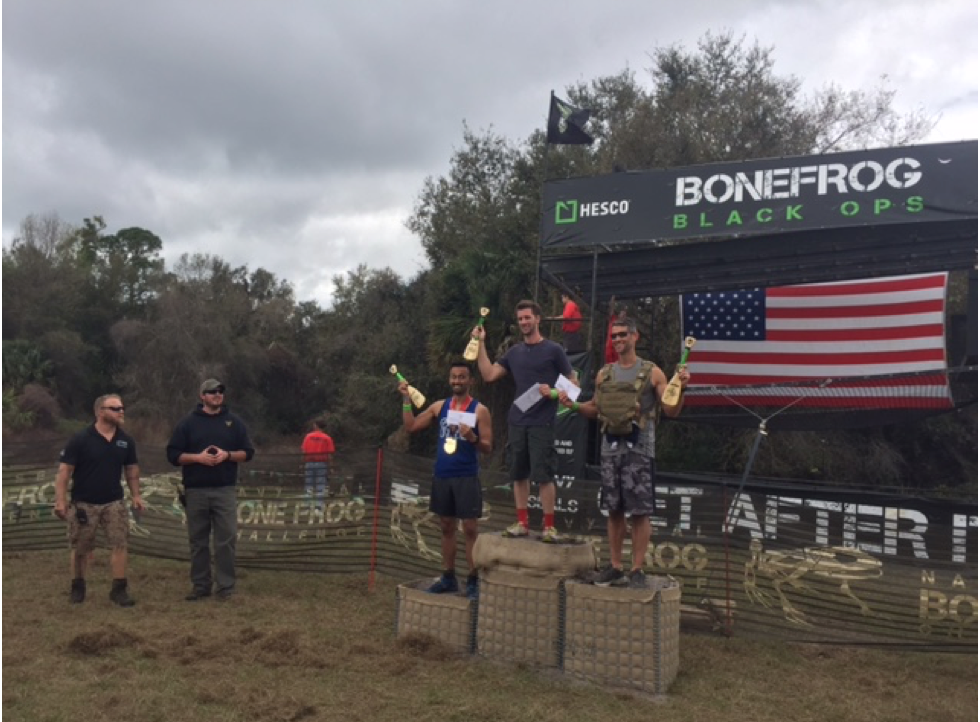 Rock Springs Run State Reserve is a gorgeous venue for local events. The venue is known to many as the location of the 2015 BattleFrog Championship race. As beautiful as the venue is, the trails are sugar sand providing a new challenge to runners from anywhere but Florida. Saturday morning was cool and cloudy, a welcome relief from the recent eighty degree days. There was a lot of excitement among racers because Bonefrog Challenge was the start of the 2017 season for many. Coach Pain opened up the event with one of his motivational speeches inspiring those at the starting line to "conduct their business". There was also a pre-race summary of the rules for the elite wave where participants could learn the expectations and ask any remaining questions.
Bonefrog Challenge was familiar to me as I had run the Atlantic City event last year and volunteered at the Central Florida event. Many of the obstacles were similar to past events. At this event there were three different race distances athletes could conquer- Sprint- 3 miles, Challenge 8 miles (GPS closer to 9 miles) and Tier 1 which is the Sprint plus the Challenge making a 12-mile course. As for obstacles the crowd favorite is Get a Grip. This obstacle is made of tubes suspended by ropes where competitors have to swing from hold to hold. Their signature photo opportunity obstacle, Black Ops did not disappoint! It is comprised of three lane inclined monkey bars backed by a large American Flag.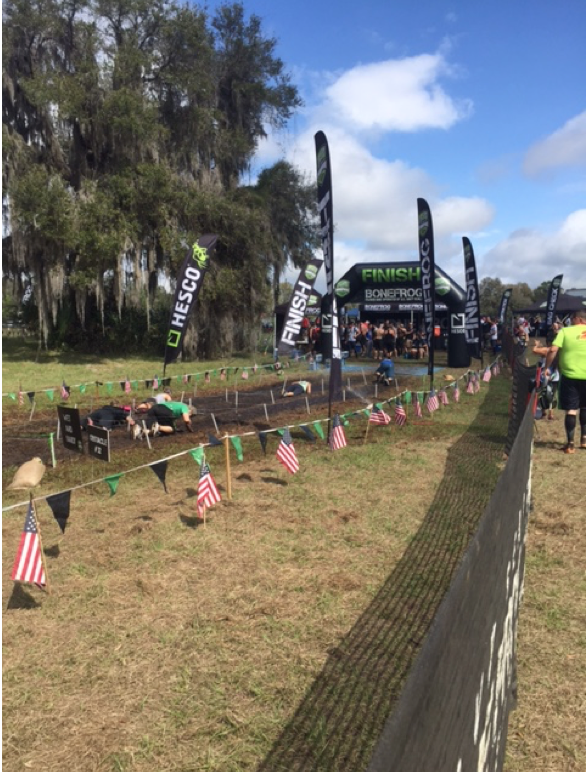 There were two obstacles that many people struggled with, including me. The first was a 9ft wall- towering a foot taller than the typical 8ft wall racers are used to approaching. Sugar sand at the base of the wall added to the degree of difficulty. Many women had to hand over their elite band at this obstacle after being unable to conquer it, at 5ft 2in it was no easy task. The other challenge for those who are height-challenged was Rolling Thunder which can be best described as a giant hurdle with tires threaded onto the crossbar. As an athlete attempts to clear the obstacles the tires roll back and send the racer back to the side they started on. There were many low crawls throughout the course, some complained too many- but this was one thing that worked to the advantage of smaller people. While new racers seemed to love the muddy low crawl to the finish, seasoned racers were frustrated with getting muddy right at the end of an otherwise clean, dry course. There were an abundance of volunteers who were both knowledgeable and helpful. The course was extremely well marked and the obstacles were spaced out to avoid long stretches of just running. Many people anticipated their new obstacles which were not found at this event.
---
Want to try out Bonefrog Challenge yourself?
Use discount code MRG5 for $5 off your next Bonefrog.
---
The festival area was large with offerings of merchandise, food, vendors, and beer. Showers were made available as well as a changing tent for women. The awards ceremony went off on time.
Names were announced and the top competitors in the Challenge and Tier 1 categories were awarded a paddle and a payout based on placement. Questions have arisen at the Orlando event- both years as to whether the top placements should accept an award if they did not keep their elite band.
Neither event would have a full Tier 1 podium (women) if that is the case. While I like the option of both a Tier 1 and Challenge option- it seems as though the series would be better off with only one or the other being "elite" for the sake of competition and payout. This event is an OCR World Championship qualifier. Top 5 in the elite division of Bonefrog qualify for the pro wave. OCRWC was on location to hand out the 2017 qualifier shirts, solidifying the accomplishments of those athletes.
For a Personal Review
This was my first race back post baby- 10 weeks postpartum. It was a hard race coming in at almost 9 miles- which was further than any training runs I had done. Certain movements proved to be uncomfortable, specifically those utilizing the lower abdominal muscles like throwing a leg over a tall wall. There is something quite freeing about being able to run again and to suddenly be 15 lbs lighter! I would also like to congratulate Rachel Corvington Corigliano who finished first in the Sprint after having a baby only 6 weeks ago. It was great to have someone else in the OCR community to share this journey with. The "secret" to the quick return to the sport was staying active throughout the course of the pregnancy and modifying workouts with the approval of health care professionals. I believe we both set out to show others that pregnancy is not a disability or an excuse but rather an opportunity to showcase what a woman's body is capable of.
Rating: 3.5/5
---
Have you done a Bonefrog Challenge?  Leave your own Bonefrog Challenge review and feedback…
---