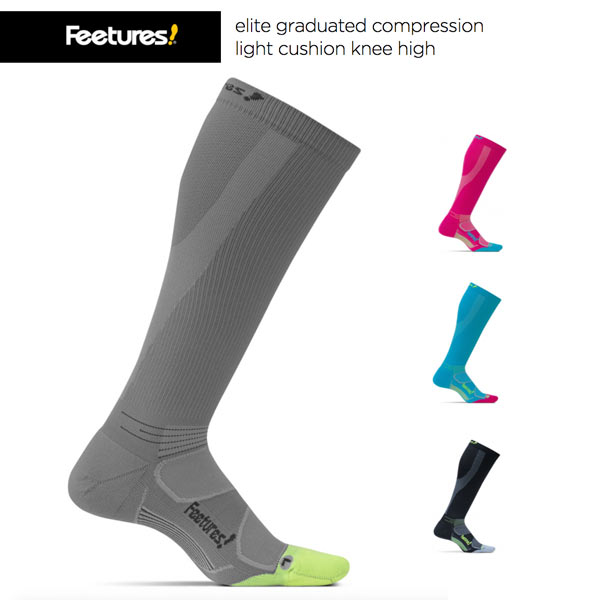 elite graduated compression
light cushion knee high
Anatomical right and left foot design enhances fit, delivering maximum comfort and protection by helping to eliminate blisters.
Patented Sock-Lock Technology to provide targeted compression where it's needed most.
The Perfect Toe (No irritating toe seam.)
iWick fibers wick moisture to keep feet dry and odor-free.
Features 15-20mmHg of compression at the ankle
79% iWick Nylon, 13% Polyester, 8% Lycra Spandex
First Test & Review
UPS showed up at my door about 15 minutes before I was about to head out on a 5 mile run, so the timing was perfect to give the Feetures! Elite Graduated Compression Light Cushion Knee High socks a quick test.
The socks are anatomically fit, so of course I put the left one on my right foot before I noticed the "L" and "R". They are pretty stretchy, but still tight enough that I had to fight my feet into 'em a little bit, and play around with the toe and heel to get proper alignment. As a Men's US size 9.5, I'm on the low end of the large size, but they don't feel too loose on my toes or bunch up in my shoes at all. The light cushioning in the toe area along with the lack of compression or a seam (The Perfect Toe) adds to the comfort, and they didn't feel too thick at all in my shoes while running, too constricting on my toes or allow them to slide around inside the sock. One thing I took note of was the stitching on the medial (inside) side of each big toe appears to be a possible failure point down the road, as I can see my big toe through the stitching on both socks. I checked other Feetures! socks that I've had for a while and this stitching isn't prevalent in other models.
The foot appears to have some light compression, and I'd probably appreciate just a little more squeeze across my instep. Because my feet are on the small side for size large, the heel is a tiny bit displaced and the midfoot/heel seam runs right across the middle of my heel. I didn't notice it while running, but that was only 5 miles and I'll have to test for longer runs.
When I pulled the socks up over my calves, these "knee highs" quickly became over-the-knee socks, so I folded them down as visible in the photos below. I know I'm not that tall or long-legged at 5'9″, and I was a little surprised how long they are. I attempted to reposition them to fit below the knee, but that meant either a bunched up area at my ankle or at the collar; neither are optimal. Doubling up the compression on my upper calf felt relatively comfortable at first and during my run, after wearing them for a couple hours afterwards I started to feel the extra squeeze and was slightly concerned about proper blood flow.
Overall Impressions
The toe box is really comfortable, and the calf compression is substantial. If these fit me just a little better, I may wear them a bit more often for long training runs or marathons. At $44.95 they are right in-between the price of a pair of Mudgear Compression socks and Nike Elite Compression socks and possibly a good choice for someone closer to the middle top of the size chart to get the right calf length.